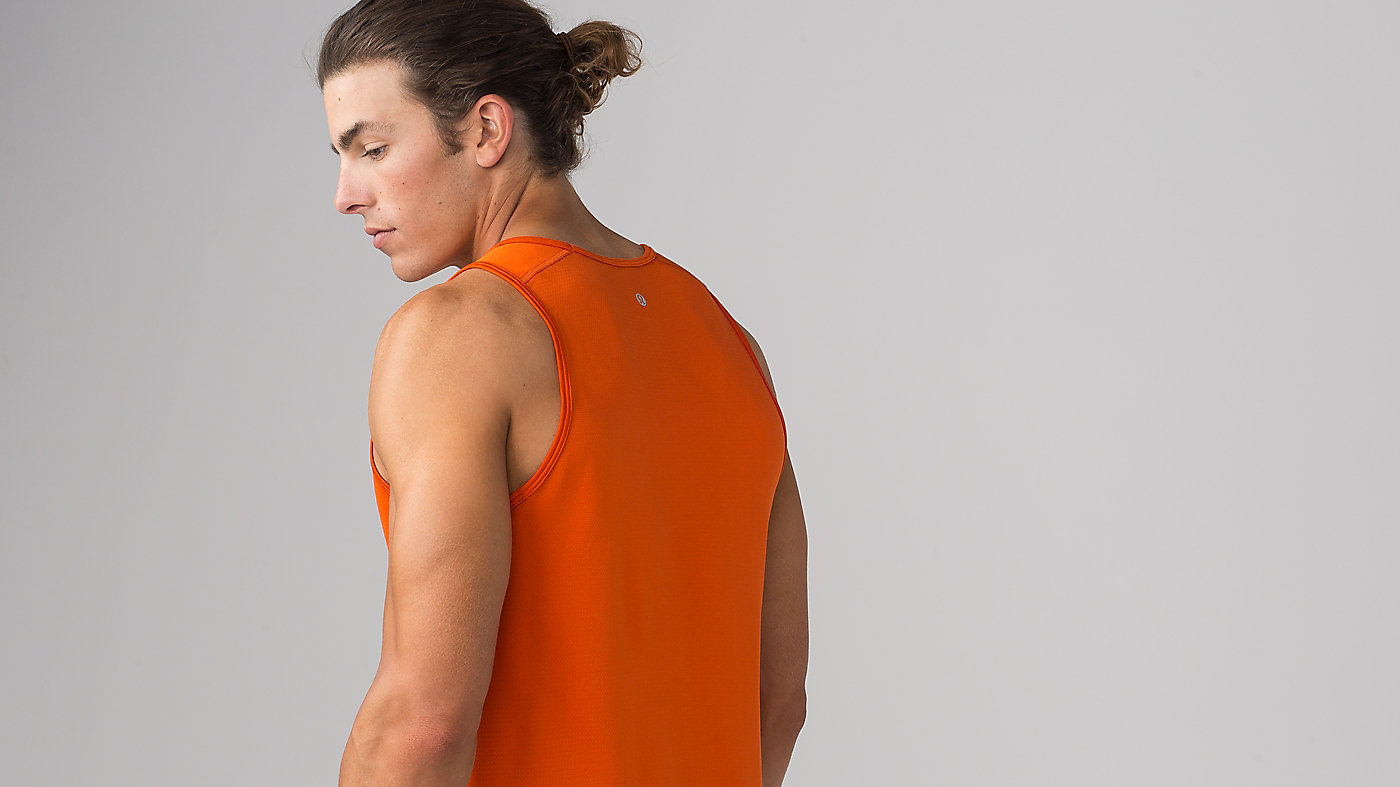 Article conçu pour
La course, l'entraînement
---
aération
Construction en maille pour stimuler la circulation de l'air
---
technologie SilverescentMD
Propulsée par la fibre X-STATICMD, elle entrave la croissance des bactéries qui causent les odeurs dans le vêtement

Metal Vent Tech Tank
is rated out of
5
by
53
.
Rated

5

out of

5
by
Swish41
from
This tank is absolutely money!
I have two of these metal vent tanks and they are my favourites. You cannot go wrong with a metal vent tank they are absolutely money! Great fit and awesome colors.
Date published: 2017-05-29
Rated

1

out of

5
by
Smelly
from
Shirt retains body oder smell!
This shirt retains odor! No matter how many times I wash this shirt, it will not stop smelling. I have never had an issue like this before with a piece of clothing. Something must be defective with the product. The shirt smells worse straight out of the washing machine than another shirt that I have just worked out in. The website should take down the claim that it "inhibits the growth of odour-causing bacteria on the shirt".....that is blatant false advertising--- it literally does the complete opposite.
Date published: 2017-04-16
Rated

1

out of

5
by
EthanRaleigh
from
Medium has become too large
I have been a fan of lulu since my friend got me hooked on it 4 years ago., and I've bought new tanks every year in M size Last year I noticed the fit of the tanks around the waste was getting larger, and now this year with this tank, it's even larger. I'm 6'1", athletic, and I love the slimness of the old tanks. Please bring back the slim, or I'm going to have to start looking for something else. The chest fits perfectly, but it's just too baggy around the belly area.
Date published: 2017-04-12
Rated

1

out of

5
by
ryand
from
Terrible for the gym and sweating
I've been a lulu buyer for a couple years now and recently got a pair of these tanks to replace my old ones for working out. These are not the same quality as before. I wear these to play basketball and weight lifting, and let me tell you, they are not great quality for those type of exercises. The tanks are supposed to wick off sweat for lightness and breathability but it acts more like a sponge. They absorb all my sweat and weighs it down after 20 minutes of exercise (fyi, I'm not a heady sweater, just normal). The sweat absorption causes you to get very cold if you don't have a spare shirt to change in. It actually caused me to get a mildly sick one time due to how much liquid was on my body and the cold temperature of the gym. Ever since, I either avoid wearing these or bring a spare shirt to change if I'm out of workout clothes (a huge inconvenience in the middle of a workout). I would definitely stay away from these and try a different brand that will do what it is meant to do. If you like to wear tanks normally without exercising in them, these are not a bad option but at this price point, it's not worth it.
Date published: 2017-03-10
Rated

2

out of

5
by
MrTekles
from
Bring Back the Old Metal Vent Shirts/Tanks
These tanks, I have two, are comfortable and look nice, but I do prefer the technical looking back design from the former metal vents. The fit from the last versions also were a tad more fitted, while these are a bit looser around my mid-section (160lbs, 5'10", narrow/athletic build). Also, it does loosen up a bit when soaked in sweat. Frankly, mid-CrossFit WOD, I just end up taking it off. The length, however, is pretty perfect. Regarding the stink factor, I think the silverescent technology works just fine. If yours stinks that bad, consider showering and/or changing your diet...just my $0.02. I don't believe I will be buying anymore of these, but will instead wait to see what else is due out. I prefer the look of the "T.H.E." and fit of the "License to Train" tanks over these.
Date published: 2017-03-01
Rated

1

out of

5
by
Teslabull
from
Anti-stink tank that STINKS
I purchased this tank 3 days ago and wore it for the first time yesterday. I am not the a smelly or overly sweaty guy, I bought the tank because I liked the look and fit not necessarily the anti-stink feature. Let me tell you the shirt STINKS before you even wear it, right out of the wash the shirt smells I couldn't even stand the smell through out my work out. It smells like some kind of copper or metal (hence the name). But I don't understand this logic, why make a shirt that is suppose to mitigate POTENTIAL stinkiness coming from sweat and bacteria by creating a product/fabric and inherently stinks to begin with. I was very upset when it made all my other clothes in the wash stink as well. I tried washing it again after the first wash with more detergent and the smell would not go away. I wouldn't recommend buy anything from the metal vent line for this reason. Lululemon shorts are second-to-none, I have dozens of their shorts but this tank is a no no. Luckily, I didn't wash or wear the metal vent henley I also bought so I will definitely be returning that. Now I don't know what to do with this stinky tank......
Date published: 2017-02-15
Rated

1

out of

5
by
Brianchicago
from
More like Stretch Tank
I have been buying Lululemon for ten years now. Thankfully I stocked up on Tanks and Tees 2-3 years ago. I went to buy more this past month and the product has become 1 star. This tank soaks up sweat, stretches down/out and pretty much is ruined after just 5 workouts. This could push me towards other brands.
Date published: 2017-02-01
Rated

1

out of

5
by
YogiMB
from
Not a shirt you sweat in
I practice yoga in this shirt and also run in it, sad to say that this shirt is something that doesn't hold up to sweat very well, and it loses its shape. Have been a lemon client for years and sad to see this happen to my tank!
Date published: 2017-01-17
Rated

5

out of

5
by
DallasW
from
Exactly what I was looking for
I am generally very picky about my athletic shirts in general. As a personal trainer I need apparel that works when I am working with clients as well as when I am pursing my own fitness work. This shirt was just right, fits well so that it is not loose and in the way when working out, but is still very comfortable and resistant to abrasions. I liked it so much that I purchased two different colors, blue and tan. And they are my go to training tanks. I will definitely be purchasing more in the future.
Date published: 2016-12-22
Rated

5

out of

5
by
Tuvale
from
My favorite top for the gym.
I powerlift and cross train. This tank is perfect. It really feels like I'm wearing nothing which is a good thing. Free of distractions. They go with me to gym, come off me and into the wash with no issues. It's also a small ego booster and will show off your arms nicely.
Date published: 2016-11-28