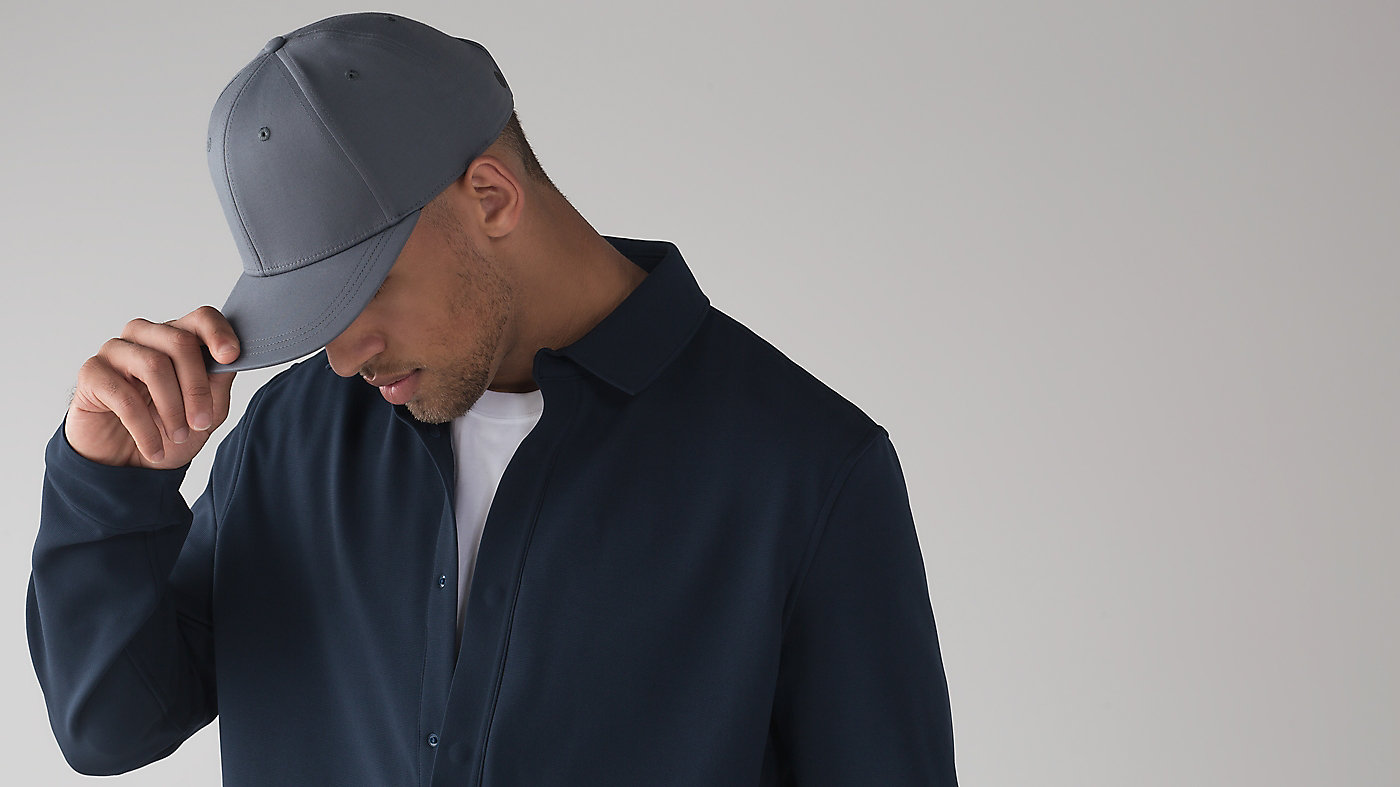 Article conçu pour
L'aller-retour
---
technologie SilverescentMD
Conçu avec la fibre X-STATICMD, pour entraver la croissance des bactéries qui causent les odeurs sur le vêtement
---
fermeture ajustable
Personnalisez la taille grâce à la fermeture arrière ajustable

On The Fly Ball Cap
is rated out of
5
by
11
.
Rated

2

out of

5
by
EveryDayHatGuy
from
Cool looking hat, stains with sweat!
When I first got this hat I thought it looked so simple and cool. A quality hat with a simple, solid color that could go well with a lot of different outfits. Unfortunately that was short-lived as the hat started to develop a sweat stain on the brim. I attempted to remove the sweat stain using cold water, handwashing with a small amount of laundry detergent and then scrubbing and soaking....no luck. The stain lived on. So now I have a hat that is stained and I can't wear for anything other than maybe mowing my lawn. Fortunately, I did contact lululemon and they offered to provide me with a gift card after I return the hat (thanks lululemon!). Hoping that they sort out the sweat stain issue because the hat looks great and I'm sure with a little QA/improvements in the material, they could knock it out of the park.
Date published: 2017-06-21
Rated

2

out of

5
by
TrevCO
from
Great hat & fit, BUT stains badly
I've owned (3) of these now, and have had the same issue with each hat. The front easily discolors from even light sweat (I do not sweat easily / frequently). I've tried washing in a hat saver, in a steam washer and dryer, and nothing seems to work. I love the look and fit of the hat, but the stains are a bummer.
Date published: 2017-06-15
Rated

2

out of

5
by
PTBran
from
Awesome Hat, not as awesome quality
Im gonna start of by saying that, I Love Lululemons clothes, they're awesome, make you feel comfortable and feel great on the skin, so i was super excited to try one of their hats. This hat started out great. looks good, kept the sweat out my eyes, kept its form and the color is awesome.. Pros: - Colour - Fit - A couple months later , it inst so great - it has an UN-removable sweat stain and discoloration on the brim - The anti stink technology doesn't seem to work as well either. Cons: - Sweat stains don't come out - Discoloration - Anti stink doesn't work after washing it Be careful when you wash this hat, or spray hat saver on . TL : DR dont sweat in to too much , it will badly strain the brim
Date published: 2017-06-03
Rated

2

out of

5
by
baileyatxz
from
Great design, with a BIG flaw
Couldn't have been more excited about this hat. It has the look of a regular ballcap instead of a running hat, but is made of breathable materials, and has a clean design instead of a huge logo. I wore it and got lots of compliments. But over time, I started to notice a small white sweat stain on the brim. Unfortunately, the stain got worse, expanded to other parts of the hat, and started to turn RED. I tried to wash it but that didnt work, and now I cant wear it.
Date published: 2017-05-02
Rated

3

out of

5
by
Josh20
from
GREAT HAT! Poor Material
Overall, I love the hat. The fit, the look, everything was perfect when I first got it. Then shortly after my vacation over spring break I found that the sun in combination with my sweat had stained the material on the brim. This wouldn't be a big deal if i could clean the hat, but after washing it, not much has changed. All this said, if you want to wear the hat for everyday ventures like touring LAX, this hat is the perfect hat for you. If you want this hat to be your everyday, outdoor/workout hat, the appearance will likely not last you too long. The hat will still feel great on your head, but it simply won't look nearly as good as the first day you got it.
Date published: 2017-04-07
Rated

5

out of

5
by
Tarnaz
from
Amazing
I'm a big ball cap wearer, new era and forty seven is the only brand I worn for years. Mind you I wear this cap as my a go to everyday kind of cap, and it's more comfortable then all my new era and forty seven hats. And the best part is I don't have to argue with the typical sports fan about a specific team because there is no logo. I live in Saint Louis and if your wearing anything other than a cardinals hat you may get into a altercation.
Date published: 2017-03-19
Rated

3

out of

5
by
coreys
from
Good hat, bad material
I bought this hat about a month ago and while I love the way it fits, I only wore it for maybe 2 weeks before staining & discoloration started to appear around the rim of the hat. It started off as sweat stains and then started to turn red. I tried washing it twice but to no avail. Great fitting hat but its durability left much to be desired.
Date published: 2017-02-09
Rated

3

out of

5
by
brettmichael
from
Quality Material, Weird Fit
I wear this hat some, but not near as much as I'd like mainly because of the way it fits. The bill stays completely flat, and it sort of sits high on my head. If I pull it all the way down it would cover most of my forehead. I also don't like the way it looks worn backwards. It's a quality product, just not my favorite. I'd love for Lulu to send me a more fitted hat-- perhaps that's what I need.
Date published: 2017-01-01
Rated

5

out of

5
by
BoBuddy
from
Finally!
Finally a hat that fits an adult head without moving the snaps to the outer edges!! Finally a hat that looks professional. Finally a hat that doesn't have logos or teams blasted all around it. This hat fits & feels better than any other hat I have ever worn. No joke. These are dialed in perfectly. I absolutely love these hats. I purchased all 3 colors currently available. I have over 50 hats from various retailers. Lululemon's "On The Fly Ball Cap" are superior in every way shape and form. I absolutely love them. I receive compliments and questions almost overtime I wear them.
Date published: 2016-12-12
Rated

3

out of

5
by
JasonH
from
Awesome Fit...Difficult to Clean
Excellent fit, lightweight material, stays cool, water resistant, and doesn't smell! I wear them to the gym, and for general use. When you sweat, it stains the crease between the brim and hat, which is normal. The problem is that if you try to clean it, all of the odor fighting and water beading qualities no longer remain. Also, the stain itself must be a discoloring of the fabric, because it also remains. I use these hats often, so they need to be replaced frequently. I would like to know if there recommended methods to clean these hats?
Date published: 2016-09-21