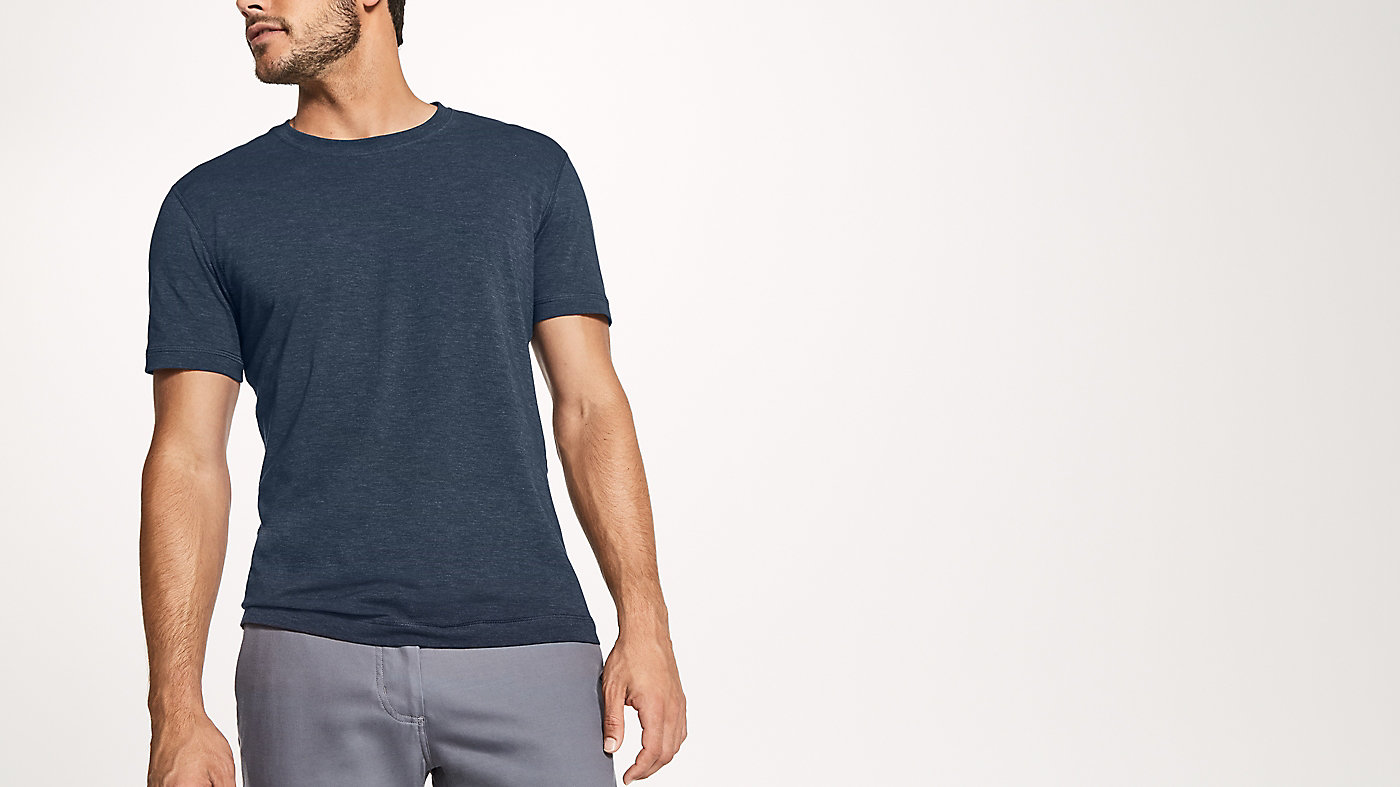 Article conçu pour
L'aller-retour
---
lycra®
Le tissu extensible conserve sa forme grâce à l'ajout de fibres Lycra®

5 Year Basic Tee
is rated out of
5
by
157
.
Rated

2

out of

5
by
connor36
from
Seemed to be good quality until washed
Big fan of Lululemon in general: I own some long sleeve shirts that have held up nicely; however, when I bought the white 5 Year Basic Tee a couple months ago it began to wear down after a couple washes, especially in the neck which became "warped".
Date published: 2017-05-28
Rated

2

out of

5
by
PeterA
from
Disappointing
I'm a big fan of their apparel for yoga and expected the same quality in this T-shirt, but I have to say its quality is very mediocre. Only bought this shirt based on recommendation from my girlfriend, who swears by the brand. I have only used it for about 3 months and the neck seems to be super worn out/stretched. The colors of the T-shirt are worn out too.
Date published: 2017-05-19
Rated

2

out of

5
by
Ninja73
from
Lulu... Please... Fix these shirts.
Dear Lululemon, First let me just say, I'm a fan. I own literally thousands of dollars in pants, shirts, shorts, socks, etc. My absolute go-to over the years has been the 5 Year T, and 5 Year V. I have probably gone through 15 of them over a 5 year span. I started buying them about 4-5 years ago, and sadly, somewhere along the line (mid-2016?) the design/fabric/quality went south. What draws me to these shirts is the fit and feel. The fabric is really soft (silk-like), and out of the box they fit my body really well. I work out quite a bit, and like my shirts to hug my body. Unfortunately, I cannot buy these shirts anymore. In the hopes that you guys can get the train back on the tracks, I will explain why... 1) The Fabric has clearly changed. The shirts no longer hold their shape. They have always stretched when worn, but after a wash/dry cycle (at low temp), they would rebound perfectly. This is no longer the case. They now stretch permanently. Please go back to your supplier, and get the old fabric - It was so much better. 2) What's with all the drab colors and heathering? Your colors for men these days feel like - military. 3) Why change the shape of the V-neck? They were perfect before. The V was deep on the chest. Now they look like every other run-of-the-mill (i.e. Banana Republic, The Gap) V-necks, with a V that is clearly too high on the neck. 4) What's with the 1" hems on the sleeves/neck? 1" hems belong on Hanes underwear, not high end shirts. My suggestion - Fire the knuckheads who are behind these decisions. Don't feel bad, they'll get re-hired by Banana Republic, or Walmart George. Lulu became popular by offering clothing that is a cut above in terms of design, fit, and finish. Don't allow your business to get overly Corporatized.
Date published: 2017-05-19
Rated

2

out of

5
by
Cindyrowe2
from
disappointed
I buy a lot of lulu items for myself and wanted to get some nice t-shirts for my husband. I purchased this one hoping it would be one he could wear for years (since thats how long he wears his t's) but it has not held up very well at all. The collar is stretched out and a little wrinkled. He is not happy with it as well. A little disappointed at the quality for the price.
Date published: 2017-05-15
Rated

1

out of

5
by
Lululover877
from
Recently Disapointed
I've been wearing Lulu for several years and I swear by their products. I've convinced many hesitant friends coworkers to try Lulu and now they all own several items. The 5 Year Basic Tee has been my go-to item and I own multiple shirts. I am a bartender and I wear the 5 year in black for every shift. Recently I bought 2, but they have not held up. The collar has lost it's shape after only a couple wears, and there are wrinkles that seem to be permanent. The fit has also changed. I usually recommend this shirt to everyone I meet, but I will no longer do that unless I see reviews that the quality has improved
Date published: 2017-04-24
Rated

2

out of

5
by
dsibae
from
Very comfortable and disappointing
I recently got into the Lulu game after years of hesitancy. Finally got myself one 5-year basic shirt and loved it so much that I bought 3 more. So far, I have the maroon, black, grey, and inkwell colors. I followed all washing/drying information and the collars are no longer holding shape. This happened after the first wash. I would understand if this happened over the course of 10 or so washes but one is very alarming. I should have picked a better Lulu product to buy as my first purchase.
Date published: 2017-04-19
Rated

2

out of

5
by
Chuck324
from
Great Shirt, not for 5 years....
The 5 year tee was a great shirt with a great fit when I first got it, but it doesn't take long before the collar stretches from washing and general wear. If they could change the material in the collar its a shirt I'd buy again and again.
Date published: 2017-04-08
Rated

1

out of

5
by
chadnich
from
poor quality material
I've only had this shirt for maybe a year and after about a dozen washes the rim of the neck has come apart at the seams basically ruining the shirt. The seams at the bottom/sleeves are still fine but the quality materials is cheap quality. I also got a tiny hole from a tree twig in the back so the quality goes to show. I recommend the Metal Vent's if looking for good quality shirts. I own at 8 of them as it is as a daily shirt for me, and my first one I bought back in 2013 still looks like new after wearing/washing weekly. I would take this one back to the store but I no longer have the receipt and has been a big disappointment. I think they meant to call this one the "5 month tee" because that's pretty much how much life I got out of it.
Date published: 2017-03-31
Rated

5

out of

5
by
ReviewNickName
from
More colors?
Fit is perfect. Tapered a little bit through the whole body unlike most competing shirts that are a little too loose in the midsection. Can't comment on the durability yet. How about some more colors? Like a red, maybe a forest green, a sort-of muted teal? All this grey, white, black is boring.
Date published: 2017-03-27
Rated

1

out of

5
by
samfelix
from
5 year tee??
I received this shirt for a Christmas gift. As such, I've only worn it 3 times(cold weather, tee shirt etc...). Anyway, the neck is now stretched out and the bottom of the shirt has now spread so I need to tuck it in when I work out. At over $55/each that is unacceptable. I own pants as well. The color is fading fast. At Lulu's price points this simply cannot happen. I should go back to Kohl's or Dick's for disposable stuff if Lulu is gonna pull this. We realize Wall St is holding management's feet to the fire, but this short term cost savings on materials and labor will ultimately crush Lulu in the longer term. Retail companies like Lulu are a dime a dozen. Be careful.
Date published: 2017-03-25