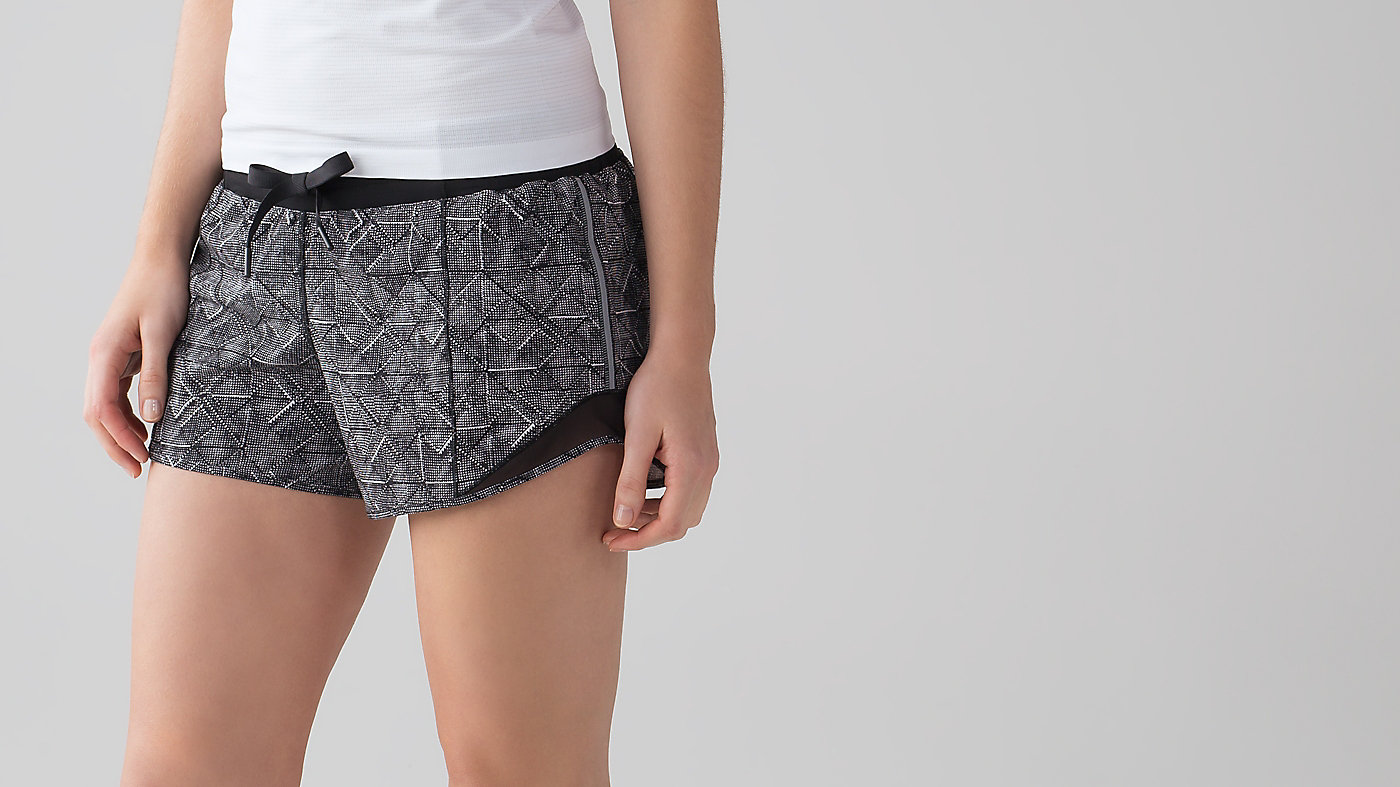 Article conçu pour
La course
---
poche secrète
Poche secrète à l'intérieur de la doublure
---
détails réfléchissants
Disposés pour plus de visibilité dans la pénombre
---
Ceinture confortable
La ceinture lisse repose à plat sur votre peau sans s'y incruster
---
lycra®
Le tissu extensible conserve sa forme grâce à l'ajout de fibres Lycra®
---
taille basse
Vous garde au frais tout en vous couvrant bien
---
---
sensation détendue
Vous donne la sensation géniale de n'avoir aucune embûche; il repose loin du corps pour vous permettre de bouger comme bon vous semble

Hotty Hot Short (Long)
is rated out of
5
by
91
.
Rated

4

out of

5
by
Anonymous
from
Everyday shorts
I have long legs and a booty and these shorts are perfect. I can chase around my toddler and not have to worry about showing my goods. I got the magnum color and it does not match the color online, I thought it was a grayish purple, these are more grey.
Date published: 2017-06-20
Rated

2

out of

5
by
pennstater28
from
Love them until they started poking me
I bought three pairs of these shorts within the last week because I loved them so much. After just one wash though I experienced the sharp poke on the left side of the waistband. I have no idea what this is that is causing the problem but it makes the shorts nearly unwearable.
Date published: 2017-06-18
Rated

4

out of

5
by
RunningAficionado
from
Amazing shorts BUT ...
So, the good first: these are super comfy and much roomier in the leg than the speed shorts and even the run times shorts. After 2 kids, I can still get into my size 6 Lulu gear, but my thighs and hips are a little wider these days. :( Cute fit, sweat wicking, all that jazz. I opted for the longer lengths since I'm 5"10 and stayed with my regular size (6). The meh: I don't love the draw string. I'd recommend getting rid of that. It pokes out when wearing fitted tops, so I usually just tuck the strings inside. The bad: It's true what other reviewers said about something really sharp poking you in the waistband. :( It didn't happen until the fourth time I wore it, and I can't for the life of me figure out what it is. And it's only on the left side. Ugh!! After my run I had a red mark on my skin right where it rubbed/poked. Not cool, especially since I paid full price for them. I may put a piece of tape over it next time, I guess?? Not sure what to do.
Date published: 2017-06-10
Rated

2

out of

5
by
MamaMayhem
from
Folding Waistband
Okay - I really like the idea of these shorts. The length is great and the cut around the back of the leg is great. The problem is with the flat part of the waistband (right in front). After the first wash, the top rolled/folded over. Now the waistband doesn't flat against my torso. I still wear them because they provide good coverage and because they were pricey, but they feel and look pretty bulky at the waist. I have relegated them to just lounge around the house shorts. I have never had any problem with the Run Times so I was pretty bummed when these didn't hold up.
Date published: 2017-06-09
Rated

4

out of

5
by
adia717
from
Love these shorts except...
These shorts are a great length, and are super flattering. I absolutely love them except...as others have said there is something sharp and pointy coming out of the top of the elastic waistband (only on one of the 2 pairs I bought though) that is scratchy and uncomfortable. I don't know how to fix this, if you have any pointers I'd love to hear and I'd buy one in every color if I was sure they wouldn't scratch me.
Date published: 2017-06-09
Rated

4

out of

5
by
Carly17
from
Great Everyday Shorts
So about a year ago I purchased these shorts. They are great shorts and have been holding up very well, but can be too long sometimes. I also own a pair of the short version of these shorts, and they are too short. I wish there was an in between, because I love the style. Also I realized that on two pairs of these shorts, one the long version and one the short, that the waist band had plastic pieces sticking out of it. I did take them back and they were not very happy to return them, but they allowed it.
Date published: 2017-06-06
Rated

5

out of

5
by
yogi1234909i
from
Favorite pair!
These are my favorite Lululemon shorts so far. They are good quality, I haven't had any problems. I love the material and the overall fit. I never have to mess with them or pull them down/up during my workout! Purchasing more colors.
Date published: 2017-06-01
Rated

3

out of

5
by
CollegeStudentRunner
from
Great shorts but don't last long
I really loved the fit of these shorts and they are great for working out, running, and walking to classes for school. They also fit my body type very well because I am fuller on the bottom than top. The only downside is the shorts are starting to pill at the top of the waistband of the shorts and I just got them for christmas. I do where them a lot, but I have not had them that long and wish they would hold up longer.
Date published: 2017-06-01
Rated

5

out of

5
by
Cas3luvslulu
from
The best shorts!
I have more muscular legs, so it can be hard for me to find shorts that fit comfortably and look flattering. These shorts are the best! They give me plenty of room to move around, but they're not too lose. They're also a great length. Highly recommend these shorts! Please make more colors!
Date published: 2017-05-29
Rated

3

out of

5
by
Lauren112
from
Cute but uncomfortable
I love these shorts and they fit super cute. I started wearing them often as they became my favorite shorts, but as I started to wear them more they became more and more uncomfortable as somewhere in the waistband started to scratch me. I wore them for so long one day that it actually made a scratch in my waist and made me bleed. I can no longer wear these shorts as they are not comfortable at all in that area. Super disappointed because they are SO cute!!
Date published: 2017-05-20