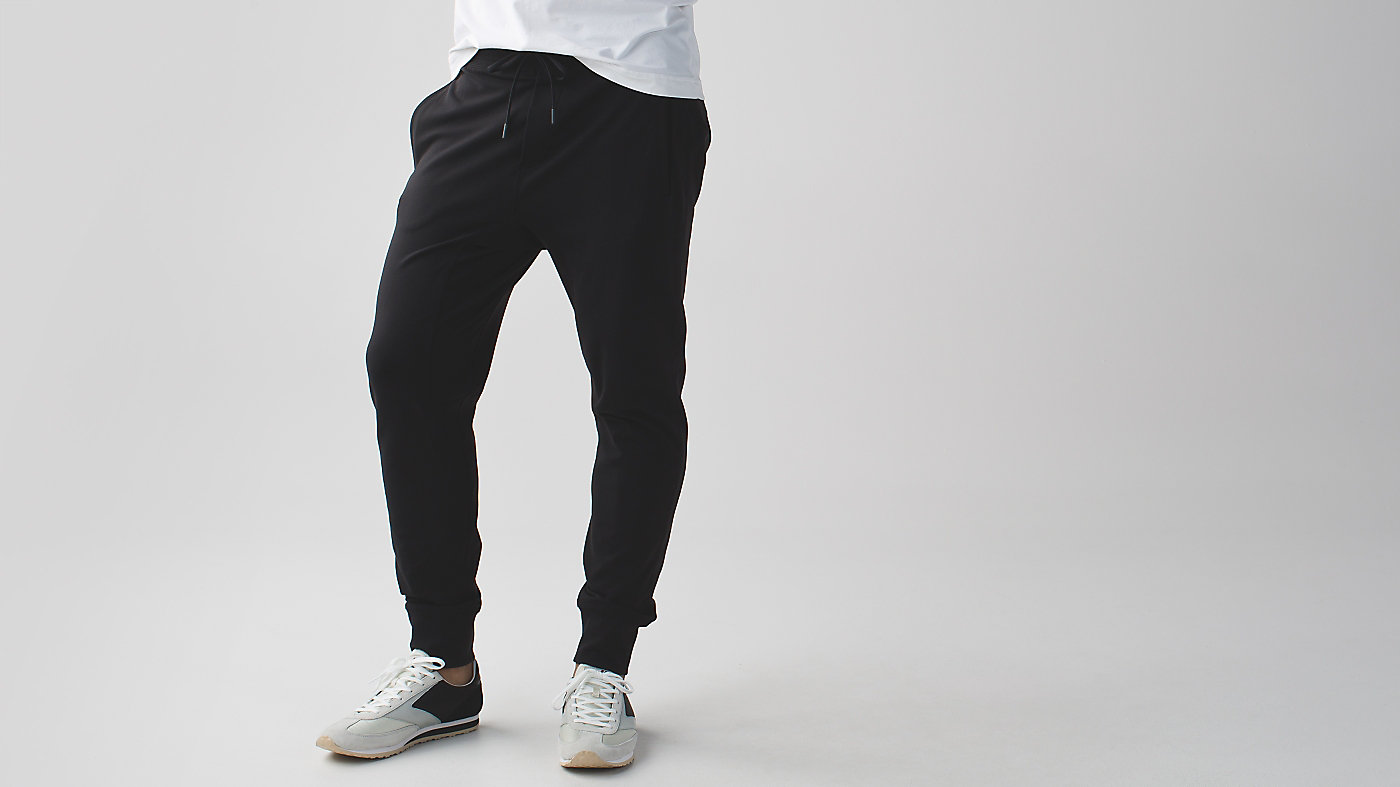 Article conçu pour
Le yoga
---
lycra®
Le tissu extensible conserve sa forme grâce à l'ajout de fibres Lycra®
---
panneau à l'entrejambe
Le panneau stratégique à l'entrejambe fait en sorte que les coutures n'encombrent pas vos précieux atouts
---
CONÇU POUR BOUGER
Conçu pour reposer sur les hanches; coupe ample des fesses aux cuisses puis étroite des genoux aux revers
---

Intent Pant
is rated out of
5
by
81
.
Rated

2

out of

5
by
Andromeda
from
Great looking pants but don't last long
I loved these pants when I tried them on, almost bought 2. Most comfortable sweatpants I've worn and they look great and well fitted too. Fast forward a few months and sadly the pants have started majorly pilling which bothers me a lot. I've had the same issue with another of their pants so I'm glad I only got 1 pair of these ones. It's too bad, Lulu lemon has really gone downhill in the quality of the material they use.
Date published: 2017-05-31
Rated

2

out of

5
by
sheltocj
from
Nice Pants Except for Pilling
I bought these pants a little while back and loved how they were a more lightweight alternative to the city jogger sweats that I'd owned. However, after a couple washes that followed the instructions outlined on the tag, the started pilling on the back. The pilling is now pretty severe, which is unfortunate given the price of the pants.
Date published: 2017-05-25
Rated

1

out of

5
by
jwhyrock
from
Lululemon's return policy deeply concerning... Especially for 1st time customer.
I was referred to Lululemon by a friend and regular Yoga practitioner. Also read many positive reviews about Lululemon pants specifically for hot yoga/Bikram which is what I want them for. Lululemon only had these pants as an option for me (pants, not shorts) at the time of this review. I almost purchased them and then decided to read reviews. Thank God I did. Page after page of negative reviews due to product failure with one as recent as yesterday. Not finding other hot yoga pant options online, and all reviews stating everything great except product failing, I thought I'd reach out to customer service first by chat. Here's the 1st thing the Lululemon rep said --> "The intent pant are made specifically for yoga and low impact activities. Unfortunately people often wear the pants for more strenuous activities and they start to pill. I wish it didn't happen!" Blaming every single reviewer here for doing crazy things with the pants. Then --> "If the product doesn't perform for you, we can definitely take it back!" Sounds good! but... "If you find that the pants are not working for you, you can contact us back and we can set up a return for you to gift card. Thats the best I can offer!" So even though there is no other item on the website that fits what I need or want in this crazy price range (deservedly for the items that don't fall apart/pill) they will only let me get a gift card. What I want is defective and I don't get my money back just a gift card I have no desire to use. Think twice about doing business with this company. Not just on this pair of pants they are still selling regardless of the overwhelmingly negative reviews. Disturbing.
Date published: 2017-05-25
Rated

1

out of

5
by
Johnnyyoga123493
from
Buyer beware
I purchased these pants in-store and was extremely excited after wearing them a few times. I went online to order them in a second color, only to find these poor reviews and warnings of pilling. As I had yet to wash mine, I decided to wait. I am happy that I did. Sure enough, immediately following my second luluwash there were signs of deteriation. By the third wash, these pants look like a face towel. Definitely not Lululemon quality.
Date published: 2017-05-23
Rated

1

out of

5
by
angrycustomer
from
Poor Decision
I bought these pants in-store. Clearly I should have looked at the reviews online. These pants are pilling already after the 3rd wash. Don't waste your money on these.
Date published: 2017-05-22
Rated

1

out of

5
by
Billryan
from
Disappointed
I bought these pants in December, and I wish I had read the reviews before buying them. Three washes and the pants started pilling. I'm not sure why this is happening, I've washed them the as the instructions had stated. I wish I read the reviews before going into the store. Pants from Lululemon used to last, but it seems the quality is no longer a priority.
Date published: 2017-05-10
Rated

2

out of

5
by
Acooper130
from
Wish I read the reviews
I was very excited to get my first pair of lulu pants because of what many of my peers have said about your products, however I was not expecting to have so much pilling on these pants. I've attempted to use a lint roller multiple times but it isn't able to take off much of the pilling, so then I have to pull them off individually myself. These pants are incredibly comfortable and I would definitely recommend this product to a friend if pilling wasn't much of an issue.
Date published: 2017-04-21
Rated

2

out of

5
by
MrLuLu42
from
Love Them & Hate Them
I absolutely love the feel and fit of these pants. I think they look really great from afar. However, like most of these others reviewers have stated, only 2 or 3 washes and they've started pilling which is unfortunately because now I feel like I can't wash them very much more, which is a big problem when you'd like to work out in them and wear them as much as I want to.
Date published: 2017-04-17
Rated

1

out of

5
by
Darrel
from
Very disappointed
I bought these pants hoping they would stay in similar condition to my past lulu purchases; however, this was not the case. After a few washes pilling is very evident, especially on the black pair. The cuffs have stretched out significantly and the fabric was uncomfortable on my legs. I attempted to take these pants back to a lululemon store and explained that these pants did not preform well for me and I figured that the company's "Quality promise" would cover me taking this product back, but the lady said that since they had been washed there was nothing she could do. I have loved my past lulu products but after buying the Intent pant I don't see myself rushing to a store any time soon.
Date published: 2017-04-16
Rated

2

out of

5
by
BuckEyeguy614
from
Great at first, don't hold up well
I've been pretty regular in the gym for the past 4 years or so and I've never really seen the allure of paying for high end workout gear. A few of the guys at my gym raved about lululemon products so I decided to give these pants a shot along with 2 pairs of the "T.H.E. 9" linerless shorts. Long story short, the shorts held up great, the pants not so much. I've had the pants for about 4 months now and after the first few washes the pilling situation got out of control. I really like how comfortable they feel, but when paying this much, I also expected them to hold up to a few washes. I was hoping for better form to go along with the function. Not sure I'd buy another pair of pants from Lulu.
Date published: 2017-04-05