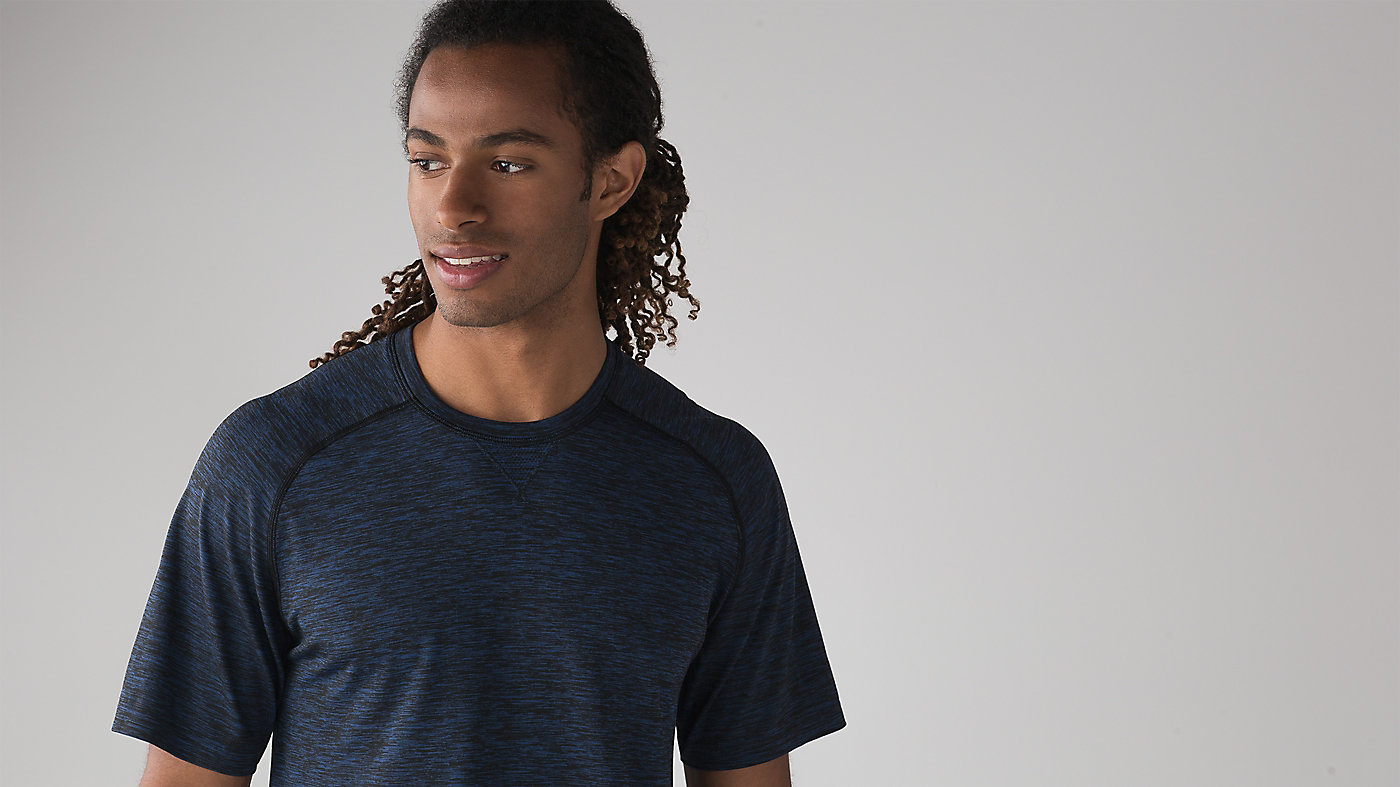 Article conçu pour
L'entraînement
---
aération
Construction en maille pour stimuler la circulation de l'air
---
technologie SilverescentMD
Conçu avec la fibre X-STATICMD, pour entraver la croissance des bactéries qui causent les odeurs sur le vêtement

Metal Vent Tech Short Sleeve
is rated out of
5
by
40
.
Rated

2

out of

5
by
Notmyrealnamegame
from
Quality?
Have lots of lululemon through the years. Have a light blue shirt that has subtle pilling. Didn't think this was possible on this shirt. Have had others of these that lasted 5+ years.
Date published: 2017-06-17
Rated

5

out of

5
by
Swish41
from
Amazing Shirts
These shirts are amazing. Great fit and absolutely indestructable.
Date published: 2017-05-29
Rated

2

out of

5
by
Tanktop24
from
Didn't last long
After a great experience with my Surge 7" shorts, I presumed it would be suitable to try out the great looking Metal Vent Shirt that caught my eye at the store. After trying it on it was an easy decision to buy, the only question was in how many colors! I'm 5'11, 220 lbs with a muscular build and can have a difficult time finding shirts with a good cut for my frame. Well, I didn't look any further as this shirt seemingly had it all, perfect fit and length, great feel and a stylish look that worked both for football training and gym. If I wrote this review after the first few times I wore the shirt it would have received 5 stars. After a few washes and adhering to the care instructions I was bummed out when I noticed that the shirt started to develop bacon strips on the collar which is unacceptable (especially at the cost) and disappointing as I thought my search was over for training shirts moving forward I was totally ready to pick up one for every day of the week in a variety of colors. I'm writing this review to make Lulu aware of the problem (unless perhaps it is an isolated issue with my shirt) so they may share with their research & development unit and perhaps make an adjustment and help correct this matter.
Date published: 2017-05-08
Rated

2

out of

5
by
JoeSmith
from
Loses Shape
I have a white T in size L. After a few washes it started to stretch out, especially in the collar. Very disappointing for such an expensive T shirt!
Date published: 2017-04-29
Rated

2

out of

5
by
jmalandrino
from
The darker colours are anti-stink, lighter ones not so much.
As the title says. The darker colours really hold up to the claim that they're anti-stink (black, dark grey, heathered black). The lighter ones don't, they seem to hold on to the stink (blue, yellow, etc..) I follow the care instructions RELIGIOUSLY. machine wash cold on gentle, tumble dry low on delicate or hang to dry. Lesson learned - I'll only buy the darker colours from now on.
Date published: 2017-03-07
Rated

2

out of

5
by
luluuu
from
Own 2 of these, 1 is fantastic, 1 is horrible
I own 2 lululemon metalvent tech shirts. One of them is my favourite workout shirt and is incredibly comfortable- I absolutely love it. I liked it so much I bought a second one in yellow. Upon arrival, the colour is a lot different than in the pictures, and the feel/fit of it is not nearly as nice as my first one. Overall I'm dissapointed in the lack of consistency in the shirt, considering I love 1 of these shirts and hate the other one (I almost never wear it)
Date published: 2017-02-02
Rated

2

out of

5
by
nick123
from
great to start, but lost its color
Great color and fit to begin with , but unfortunately after a few washes the color started fading and it started losing its shape. I was happy with the 'anti-stink' technology, felt like it worked in that respect.
Date published: 2017-01-23
Rated

3

out of

5
by
lacrosseplayer14
from
great shirt poor quilty
I love this shirt but there is just 1 problem with it. The problem is that it pills really easy and I have washed the shirt only 4 times with no dryer. Kinda disappointed. But I still love lululemon just wish it didn't pill
Date published: 2017-01-23
Rated

1

out of

5
by
Sumo500
from
Definitely NOT Silverscent
Was looking for more shirt and liked the pattern on this one plus it was on sale ! - Felt a little different than the regular vent techs so asked the sales associate - he said that it has more polyester bc of the pattern but assured me it was the same as the other shirts. Wore it to the gym today and it STUNK by the end of my workout - the way cheap free T shirts you get at races do. Guess its going into the pile with all the other unworn race shirts - not worth the savings for sure!
Date published: 2017-01-14
Rated

2

out of

5
by
RunnerDude
from
Loses Fit
The shirt fits well initially, but after a few uses tends to stretch out quite a bit and lose their form. I own this same metal vent tech in a long sleeve version and I haven't recognized and similar change in sizing which is nice, but also may indicate that the short sleeve versions are a bit substandard. Spending this much money on a shirt, you would really like it to last more than a few uses... After personally batting .500 on the metal vent tech shirts, it's really your call if you want to take the risk.
Date published: 2017-01-03