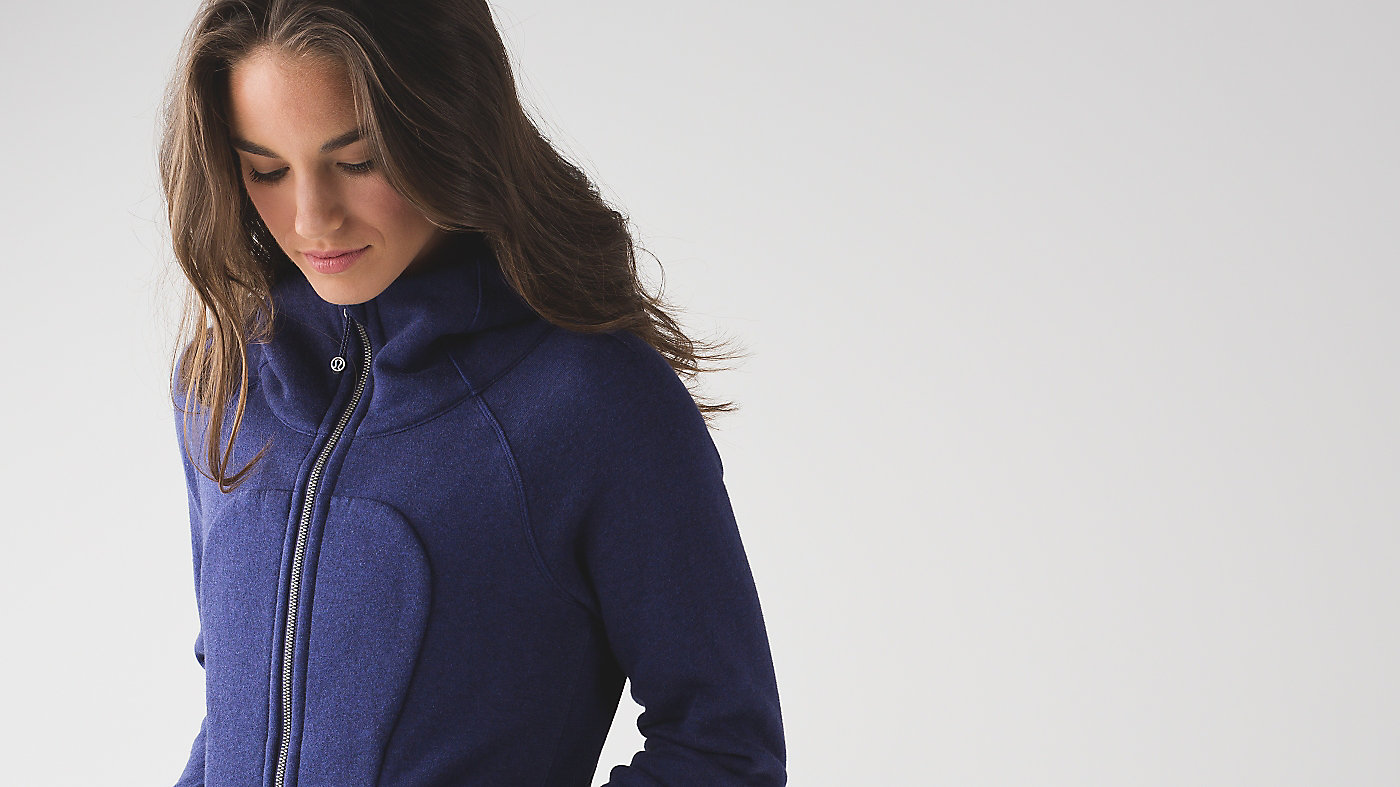 Article conçu pour
L'aller-retour
---
chaleur
Le large capuchon s'occupe de couvrir vos cheveux après l'entraînement
---
élastique à cheveux d'urgence
La fermeture éclair est munie d'un élastique à cheveux d'urgence
---
trous pour les pouces
Vous aident à tenir vos manches en place et vos mains au chaud
---
poche multimédia
Ouverture pour écouteurs pour un fil qui ne s'emmêle pas
---
COUPE DÉCONTRACTÉE, LONGUEUR HANCHE
Se superpose facilement et vous donne de la place pour bouger

Scuba Hoodie III
is rated out of
5
by
457
.
Rated

2

out of

5
by
WifeMotherGoddess
from
Great hoodie but quality is lacking
I own this in light gray and wear it almost every day! I couldn't understand the other negative reviews until I decided to purchase the blue color. The inside of the blue is lined in what looks like a white felt - and looks extremely cheap and unfinished. When the jacket isn't zipped or is only half zipped, you can see the white on the inside and it looks very strange (a few friends even commented that it looks like white felt). The outside is still the same soft beautiful fabric, but honestly the inside is embarrassing. It looks like it's a $30 sweatshirt, not a $115 one. The light gray did not have this issue as the inside was exactly like the outside. Also, this runs SMALL. I'm an 8 normally but had to size up to a 12 so it fit like a sweatshirt should. Sadly, the blue is going back to the store. I would buy another color if the inside was given as much thought as the outside. I'd love to know why they put this cheap white fabric on the inside.
Date published: 2017-06-15
Rated

1

out of

5
by
EllyG
from
Material is giving out ALREADY
I am so dissapointed lulu!! Already the material is deteriorating at the ends of both arms and at the thumb holes! I am so sad that my hoodie is falling apart after only a few times of wearing it! I would not reccomend : (
Date published: 2017-06-12
Rated

3

out of

5
by
amanada
from
Retention Loss!
While I love the heavy fabric...the material of the hem and sides has really stretched out and does not go back into shape after washing. It now looks so bad because it flares at the bottom. I am very disappointed because I was in love at first :(
Date published: 2017-06-12
Rated

2

out of

5
by
mandypdx
from
STRETCHED OUT :(
This is super warm and I love the over-sized hood...I was so pleased originally, I went back to the store and purchased another the same week. After less than 5 wears each, the bottom hem has become majorly stretched out. The hem has also faded dramatically after only a few washes (cold, line dry). I suggest sizing down, and purchasing a heathered color so fading isn't as obvious.
Date published: 2017-06-11
Rated

1

out of

5
by
Br1t
from
Very very Disappointing...
I was so excited to try the scuba hoodie when my best friend got it for me a few months ago, little did I know, the quality was very bad, it started to fade as I washed it and I started to notice small tears along the pockets. The stitching wasn't done well also so that lead to tears and holes... very disappointing on the quality that lululemon is making, it has been going down it seems but prices has been going up. The price definitely doesn't justify their quality of products.
Date published: 2017-06-10
Rated

1

out of

5
by
PJ51
from
really unhappy
For the price i paid the sweater should have lasted longer. It has stretched out to the max. I . love the way it fit when i got it but now its too big to even wear out in public, super disappointed.
Date published: 2017-06-08
Rated

3

out of

5
by
StJohnsJen
from
Scuba Hoodie
At first I absolutely LOVED it! Super comfortable and great for daily wear. However only a few months after having it, there were holes in both the pockets from keeping my phone in them. This shouldn't happen, especially after they are called media pockets. Very disappointed and will likely not get another one.
Date published: 2017-06-05
Rated

1

out of

5
by
Gingershvite
from
Disappointing
I am really disappointed in the quality of this hoodie. After washing it only a few times the color has faded, and the fabric is piling. It is in worse shape than the Lululemon hoodie I have from years ago. Definitely no longer worth the $118.
Date published: 2017-06-04
Rated

4

out of

5
by
Gunna
from
A bit disppointed
I just bought the darkest magenta scuba III hoodie and was so excited to see the beautiful color - until I unfolded it and saw that it is lined with white and the white shows unless it's fully zipped. Why make a gorgeous colored hoodie and then line it in white - and have the white show??? In my opinion that's just really weird and disappointing. As for the hoodie itself - I love the fit and the color enough to keep it. It is quite a bit thinner material than my other scuba III's but the fit is really nice.
Date published: 2017-05-30
Rated

1

out of

5
by
VL19128
from
Tears Easily and color fades fast!!
I got this as a gift a few months back and I've been wearing it perhaps 3-4 days a week and I already see a tear on the inside of the pockets and on the corners. For $118, I would expect something more durable and not so easily ripped on its own. I wash it 1x a week and it's already fading tremendously, so disappointing with all the rips and fading.I expected better quality from lulu lemon as I tend to shop there quite often. Very disappointed and not satisfied with this hoodie. I would not recommend it to friends or buy it again.
Date published: 2017-05-30