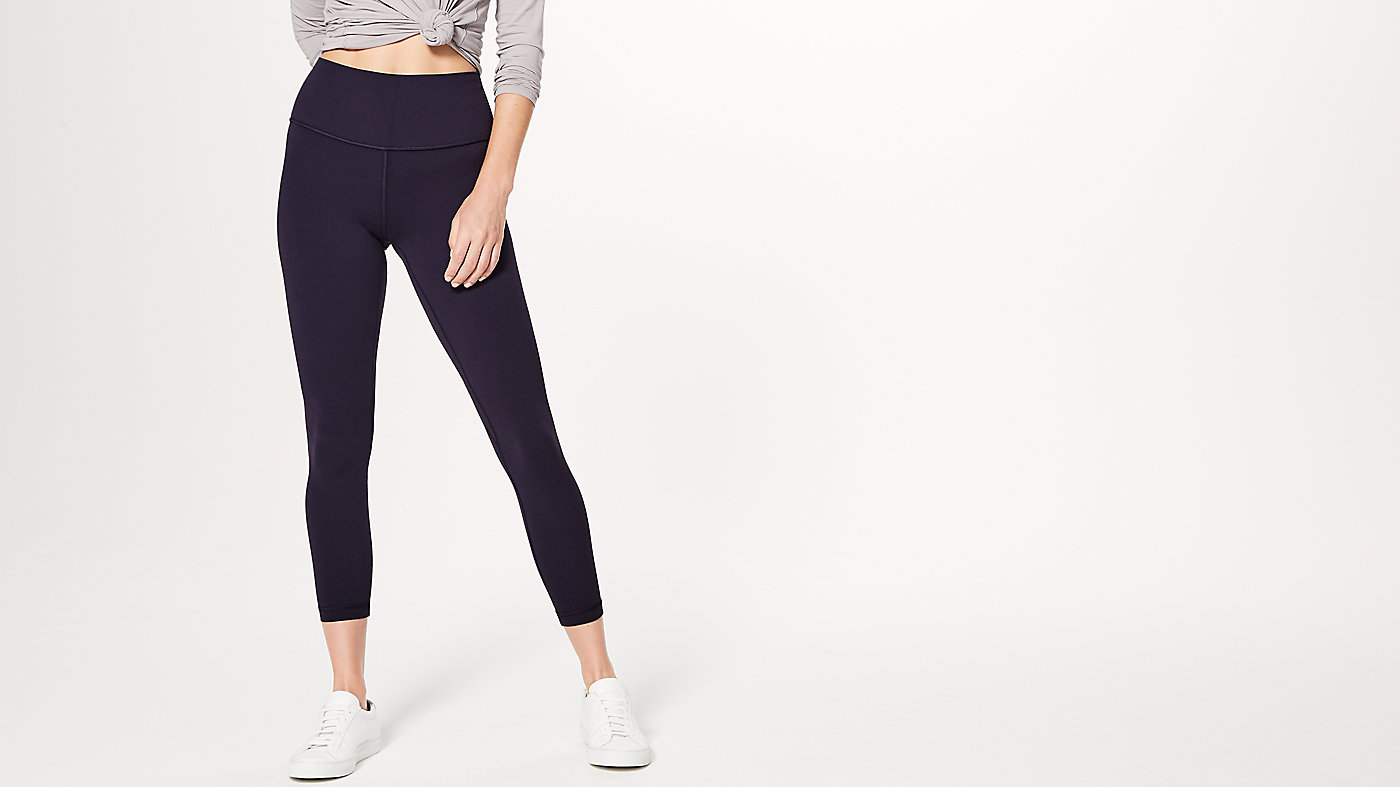 Article conçu pour
Le yoga
---
ceinture confortable
La ceinture plate ne s'incrustera pas dans la peau
---
taille haute
Aide à vous couvrir en toute sécurité
---
longueur cheville
La longueur 7/8 ne vous gênera pas
---
sensation nue
Comme une seconde peau, il deviendra votre petit préféré – tout léger, vous oublierez que vous le portez
---
POCHE CACHÉE POUR CARTE
Poche cachée à la ceinture pour votre clé ou une carte
---

Align Pant II
is rated out of
5
by
729
.
Rated

3

out of

5
by
Anonymous
from
Super soft, but they pill horribly :(
I absolutely loved these pants. Loved the feel and the length. HOWEVER, they pill horribly between the legs, to the point where they clearly show, and it makes the pants look really bad. Within a week, they were pilling, and they are good quality pants and not cheap, so I was quite surprised.
Date published: 2017-06-20
Rated

1

out of

5
by
Anonymous
from
Product doesn't last!
I was so happy when I bought these leggings! At first, they were soft and super comfy. A few washes later, the material easily deteriorate and piles. Even when you follow the wash instructions, this product doesn't seem to last. I am super disappointed with product, especially with the amount I have paid!
Date published: 2017-06-20
Rated

2

out of

5
by
canadianmommabear
from
Great Fit, Low quality
I love the way these pants look! They are super flattering! If only they could hold up to anything. These pants pill so fast and so easy. Mine had major pilling after just one barre class. I am scared to even sit down in them for fear of them pilling or snagging. I would love this same seams lines and fit in a sturdier fabric.
Date published: 2017-06-20
Rated

1

out of

5
by
lh1014
from
Not Worth Your Money
I absolutely loved the feeling of these pants as soon as I tried them on, but I was hesitant to buy them based on the reviews. I ended up buying them - since I couldn't stop thinking about them and wore them to ONE yoga class (a yin class) and the next day went to put them on again to wear to yoga and noticed that there were pills all over the thigh!! I honestly thought the reviews were being a little dramatic about how badly these pill but I was really shocked that after one class and wearing them for about 2 hours (if that) that they already had pills. Am so so disappointed as these feel amazing on. Unfortunately, would never recommend these to anyone at this price and feel like I just wasted over 100$ on something that was not worth it at all.
Date published: 2017-06-19
Rated

3

out of

5
by
Hailey5555
from
Love Hate
I bought these because I fell inlove with the feeling. The buttery soft feel and material its made out of has made all lulu leggings look bad cause these were the gods sent leggings. Anyways, after the first washed it started pilling at the top where the logo is and as I continuously wash it the pilling gets worse and worse, I never put my lulu items in the dryer. As I looked down on my left foot, I noticed on the ankle that the thread is randomly coming undone. also on the side of my calf aswell which sucks because I love these pants.
Date published: 2017-06-18
Rated

3

out of

5
by
N1kki1
from
Disapointed
when i first baught these i was in LOVE.. they feel amazing on, almost as if your not wearing pants so i also baught a second pair and am very disapointed.. they feel the same but something must have changed because ive only washed them a few times and they are already getting those piles all over and starting to look old.. i expect longer wear when paying for a quality legging
Date published: 2017-06-16
Rated

5

out of

5
by
Lexacamp
from
Favourite pants I've ever worn
I don't know why everybody is ripping on the quality of these pants! They are my favourite pants ive ever owned! I hace four pairs of them I love them so much and I've had my first pair for about a year ans have had zero problems with them. The people complaining must not be doing something right like not handling them with care or they must be doing some crazy rough activities in them. I dont even wear any of the other leggings that I own ever since I got these because nothing even compares! I would highly highly revommend these! It feels like you are naked when you weat them!
Date published: 2017-06-16
Rated

5

out of

5
by
mdanis
from
Absolutely Amazing Align
These pants are my new favourite legging to date. I love that for someone short like me (5'1) they dont roll at the end as much as some of my pants. I love the high waist band and they truely feel like a second skin. I love the attention to detail on all of the aspects of this pant like the seem on the bum. Love how versatile these pants are. I wear them for my most extreme workouts as well as school, and even out for the evening (so easy to dress up!) Already have 3 pairs and will for sure be buying more!
Date published: 2017-06-16
Rated

2

out of

5
by
af77
from
Sad because I love them so much
When I first purchased these crops they were AMAZING and I loved that they were so lightweight and SOFT!!! Sadly after only 2 washes (inside out on gentle all by itself and hung to dry) and a month of having them they started to pill :( I purchased both the crops and the full length version and I really do love them just wish they didn't pill so fast with only minimal use :( For the price of these they should look better for the amount of wear and time I've owned them.
Date published: 2017-06-15
Rated

1

out of

5
by
jacluvslulu
from
too good to be true
When I first bought these pants I was in absolute comfort heaven!! the softest pants EVER...I named them my "second skins" ;) so, naturally, I bought an other colour and the capri style as well! unfortunately....they didn't wear well...at all!! they pilled after a few washes, the colour faded and looks like I've worn them every day for a year straight! So not worth the money and wish I didn't invest in two more pairs before knowing how they would turn out.
Date published: 2017-06-14