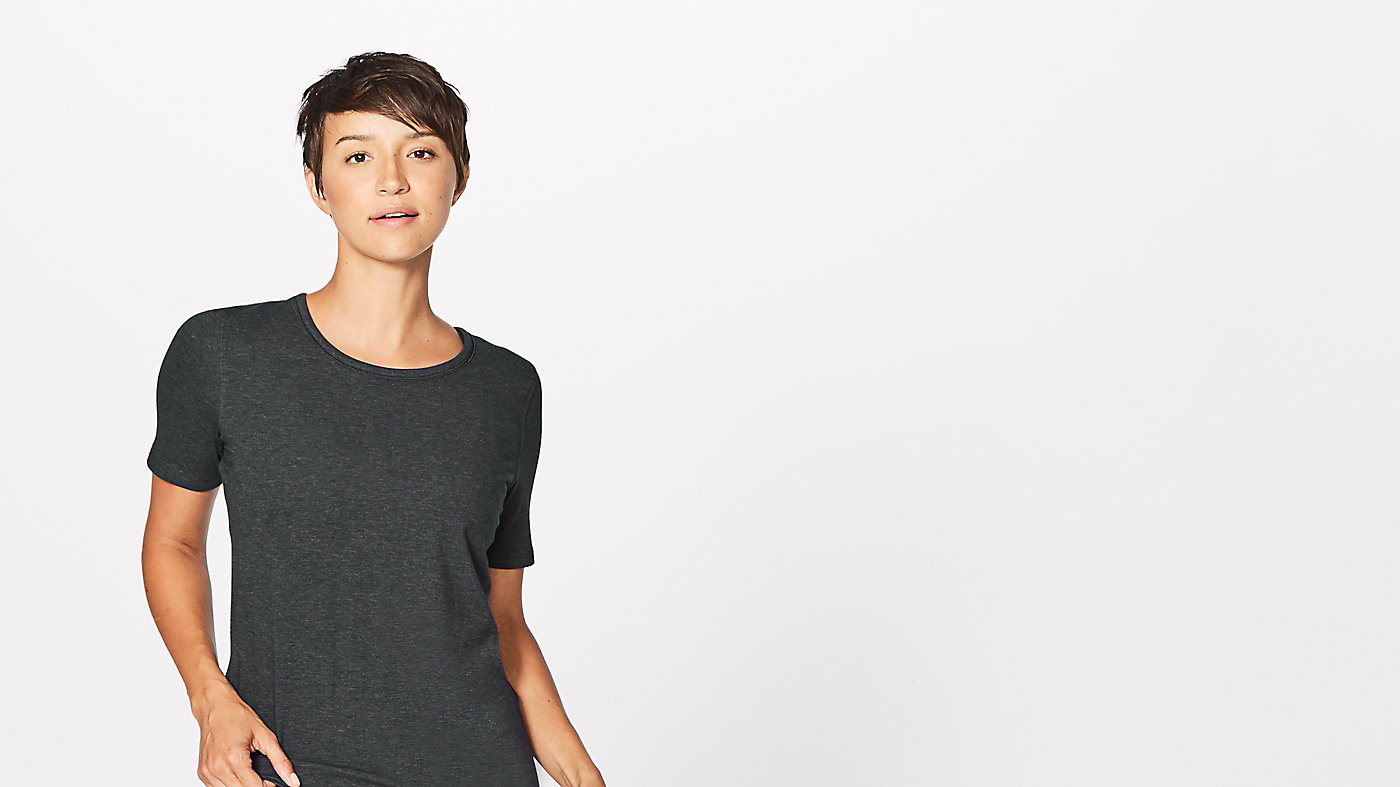 Article conçu pour
L'aller-retour
---
lycra®
Le tissu extensible conserve sa forme grâce à l'ajout de fibres Lycra®
---
COUPE DÉCONTRACTÉE, LONGUEUR HANCHE
Se superpose facilement et vous donne de la place pour bouger

Love Tee Crew II
is rated out of
5
by
19
.
Rated

5

out of

5
by
ccalma
from
New favorite top!
I own the V-neck love crew, and I didn't like the deep v-neck line. When I bought my first love crew, I was pleasantly surprised on how well it looked. Ended up purchasing more colors. Perfect length, and these tees are perfect for on the go and workouts.
Date published: 2017-06-15
Rated

4

out of

5
by
lofo32
from
This shirt is great, but....
First of all, as someone who generally has no shape or curves at all, I am SO happy to have finally found a plain t-shirt with crew neck (not scoop or v-neck) and normal (not cap) sleeves. I really wanted to love the v-neck love tee, but it was way too revealing. I love the longer length of this shirt and find it very versatile. That being said, I do wish they had the curved hem of the first version. I agree with the reviews that the straight hem of the crew II just hangs there and doesn't give any real shape to the shirt. I found the curved hem to be very flattering on me. I don't think the straight hem would stop me from buying it in a color I really loved, but I find myself reaching for my love crew I's way more frequently. I wish there were more colors, particularly brighter or more vibrant colors, than the almost literal 50 shades of grey they have right now. I'd love an iteration of the toothpaste, bleacher blue, or electric coral that have popped up this spring. I bought the royal blue one, and I love how saturated the color is.
Date published: 2017-06-11
Rated

5

out of

5
by
katsta
from
The Perfect Tee
I am OBSESSED with these tees. Great fit, great fabric. I personally like the straight hem -- it gives the shirt a bit more versatility. I can wear it casually, to yoga class, but I've also worn this tucked into a pencil skirt with a blazer. I hope they keep producing it because I'd like to buy many more! For record, I'm 5'6 and 125lbs and wear a size 2.
Date published: 2017-06-07
Rated

3

out of

5
by
4allseasons
from
BRING BACK THE CURVED HEM
By changing this tee to a straight hem totally changes the silhouette to plain and boring and it also changes the fit. This tee is quite long but with a curved hem it doesn't feel or look too long. Now with a straight hem the length is very obvious and not very appealing. I pull mine up and bunch fabric around my hips to make it shorter but it's not a great look. I never have to do this with my curved hem tees. Some may say well just knot it as shown in the model pics but that is not how I want to wear my tees and with this thin pima cotton I fear by knotting the fabric it will loose shape fast. I found this tee too big in my tts especially in the shoulders so I sized down to get the proper fit in the shoulders but it is quite a narrow fitting tee. What used to be a tee with a twist with the curved hem is now just plain and boring and I won't be buying anymore.
Date published: 2017-05-20
Rated

5

out of

5
by
jjyz
from
My favorite top!
I love the material--it's super soft and comfortable, and you can wear it casually or for a workout. I only wear this top for my workouts now and I own it in multiple colors. I would highly recommend it!
Date published: 2017-05-13
Rated

4

out of

5
by
SantoniRose
from
Love the High Neck
I love this shirt! I have a few V neck, and now I love this crew neck! So perfect for teaching (teenagers) that the crew neck keeps me covered. Haven't noticed anything about the straight hem, but I love this shirt. I need more colors!
Date published: 2017-05-09
Rated

1

out of

5
by
Lululemonholic
from
Please Bring Back The Original Love Tee
I agree with some of the reviewers here. This latest version of Love Tee II, with the straight hem, has a really unflattering boxy fit. I'm returning it. The original version with curved hem looks way more feminine & stylish. I have most of the colours of the original Love Tee, so please bring back the curved hem. I'm either a size 6 or 8 depending on the fit
Date published: 2017-05-07
Rated

1

out of

5
by
lulumomof4
from
hate this new hem
The straight hem is awful. Please bring back the curved hem. I usually buy a handful of love tees every year, I loved the relaxed but not sloppy fit. The fit is just so off with the straight hem, fitted at the bottom but loose on top. I wont' be buying any until the hem changes. So sad.
Date published: 2017-04-21
Rated

2

out of

5
by
roxy123
from
Love Tee
I loved my Love Tees until my light gray Love Tee got little holes in the front. I only wore it once! I'm very disappointed.
Date published: 2017-04-05
Rated

4

out of

5
by
catenthusiast
from
Great basic top, not as form fitting as I'd like
I got this top in white as a basic top to wear to weightlifting. The top is nice and the material is really pleasant on the skin. I would have expected the size 2 to be a little bit more form-fitting (I am 5'2" and 106 lb). The top has a bit of a boxy feel also, I wish the curved hem was brought back.
Date published: 2017-03-27