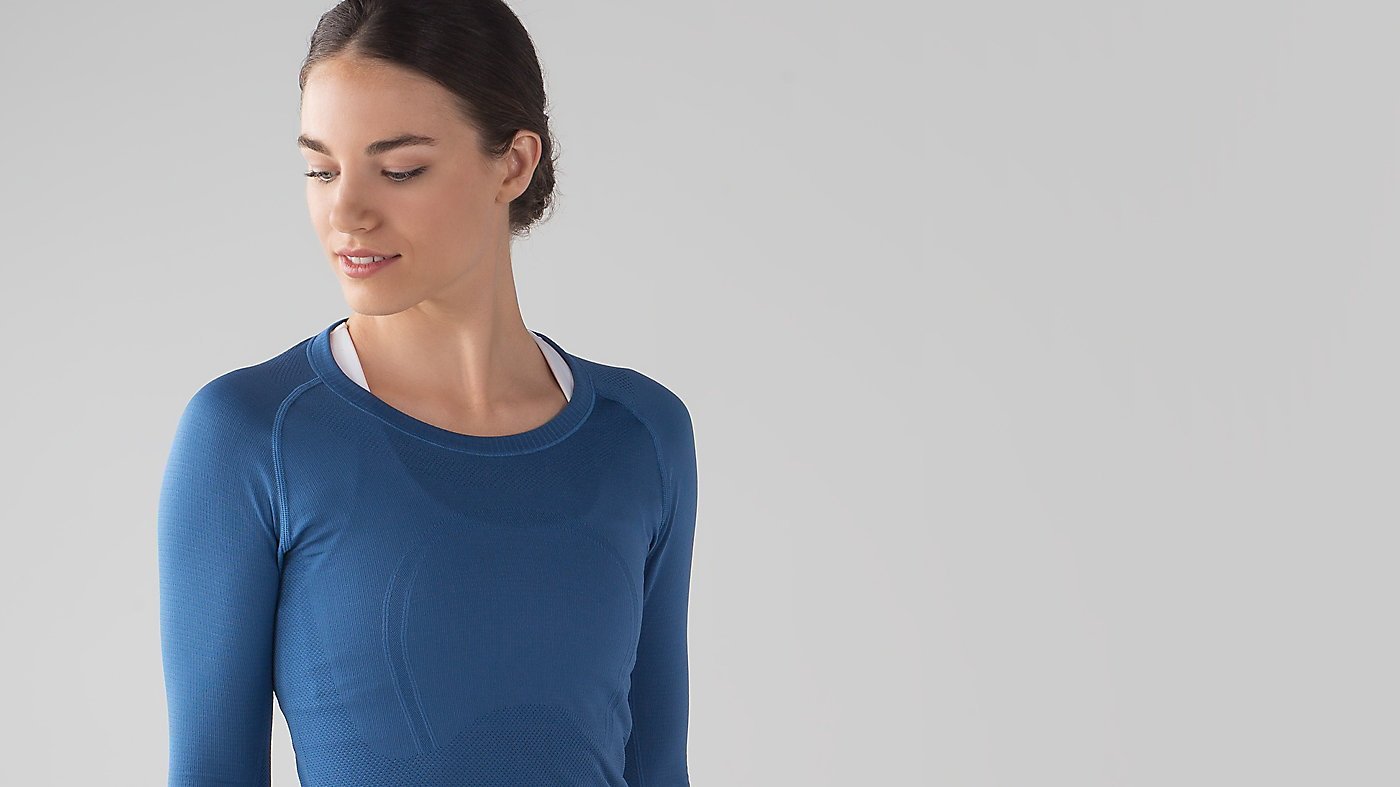 Article conçu pour
La course, l'entraînement
---
anti-irritation
Construction sans coutures pour aider à prévenir l'irritation
---
trous pour les pouces
Vous aident à tenir vos manches en place et vos mains au chaud
---
Technologie SilverescentMD
Propulsé par la fibre X-STATICMD, pour entraver la croissance des bactéries qui causent les odeurs dans le haut
---
coupe ajustée, longueur hanche
La coupe ajustée épouse votre corps et évacue la sueur pendant l'effort

Swiftly Tech Long Sleeve Crew
is rated out of
5
by
265
.
Rated

1

out of

5
by
MA10
from
Not very good quality
I have a long swiftly long sleeve in heathered grey. At the beginning I loved it, when I tried it on in store. After a few wears it continued to ride up and would not stay down! Especially during a workout it was extremely annoying! I NEVER wear it now because I hate the fit of it. It pulls so easily and I take really good care of my lululemon items, but overall I'm really disappointed with it. Thumbs down!
Date published: 2017-06-16
Rated

4

out of

5
by
Rummblestrips
from
I can fit my boobs into this? whoa....
I bought the black and grey version that starts as black up top and ends at grey. I LOVE it! While I normally take a 4, I decided on a 6 as it's still very slimming around the waist, and, get this, it fits my size dd-h (depending on the bra) sized boobs! wow! With Lulu, that rarely happens. This top stays put, which makes me happy if I'm stair climbing or just out working out. It's comfortable. It keeps me warm and it looks pretty darn amazing. Now if they could get back to creating bras that fit us large chested women....
Date published: 2017-06-16
Rated

3

out of

5
by
Arun
from
Could be better
The shirt feels great and is fitted however it constantly runs up during all my workouts! It never stays down. I have tried different sizes and they all give me the same issue! I can wear it for a casual time or with jeans but I can not wear it with my workout attire. Considering I bought this shirt cause it was made for running, I was quite disappointed.
Date published: 2017-06-07
Rated

5

out of

5
by
Roni23
from
Fave shirt
In love with this top!! It fits perfectly and the quality is amazing. Dont understand the bad reviews as i wear mine all the time and have had no issues with any of them. I have the tshirt and the tank and while they're also great, the long sleeve is my fave because the fit is just amazing. Highly recommend!
Date published: 2017-06-05
Rated

2

out of

5
by
Outdoors247
from
The good and the bad
I bought this shirt in the black currant colour. Loved the fit, how comfortable it is to wear and how light it is. However, after two wears and one wash, it is fraying on the inside seam of the elbow. Initially I loved it so much I considered buying another, but at this price I can't justify it based on the quality.
Date published: 2017-06-04
Rated

1

out of

5
by
gunnerarmorvada
from
Best Shirts Ever but Poor Quality Sad to Say
I have purchased 15 lulu tops over the last couple of months ranging from swiftly tech tanks, short and long sleeve tops. I stopped purchasing tops from lulu tops for quite sometime due to quality issues but I said let's give it another try and go for it and am sadly disappointed that I did. After second wear with one of my long sleeve swiftly tech tops the mesh at the elbow is opening and moving down to the solid arm material! I only wear my lulu tops for casual errands and nothing more so this shouldn't be happening. (Never workout in these tops as I think they can't handle it). I care for my lulu items like no other. Wash tops inside out with only other lulu tops (cold water and lay flat to dry -brand new washing machine too). Worried to wear my other tops now due to this issue - are those going to open or tear as well? I am an absolute Lulu addict and purchase items constantly and at this price point I am every disappointed with the quality. Love these tops so much and want to buy more but i'm super hesitant due to quality. Lulu please make better quality so these things don't happen!
Date published: 2017-06-03
Rated

2

out of

5
by
runneranddancer
from
Awesome shirt but not worth the money
I bought the Swifty Tech Long Sleeve Crew shirt in the colour black current. I have purchased it three days ago just to realize it has already snagged on the sleeve. I have worn it once and it is already torn. I love this shirt but I do not recommend it for the price. I have not done anything to have the shirt snag, it has not even been washed yet. Not impressed.
Date published: 2017-06-02
Rated

5

out of

5
by
lululoverforever13
from
My favorite one
SO COMFORTABLE. Wear it all the time. I am in love with the fabric, so soft. Fit true to size. My favorite ever.
Date published: 2017-05-31
Rated

1

out of

5
by
Flynn
from
Poor Quality Fabric
I purchased this top and absolutely loved the way it looks on. The second time I wore it I was pulling up the sleeve and my nail went right through the fabric. I don't have sharp nails by the way. I took it into the store to see if they would repair it but they said they aren't responsible to repair snag. It's an expensive top to only wear twice.
Date published: 2017-05-29
Rated

1

out of

5
by
fuzzysocks
from
I see things haven't changed
I was thinking about purchasing another swiftly long sleeve, however after reading the comments , I am thinking otherwise. I have a swiftly long sleeve that I got a couple of years ago, however it has developed so many holes it's unwearable.( I always hang to dry). I was hoping that the quality of the material would have improved.
Date published: 2017-05-24