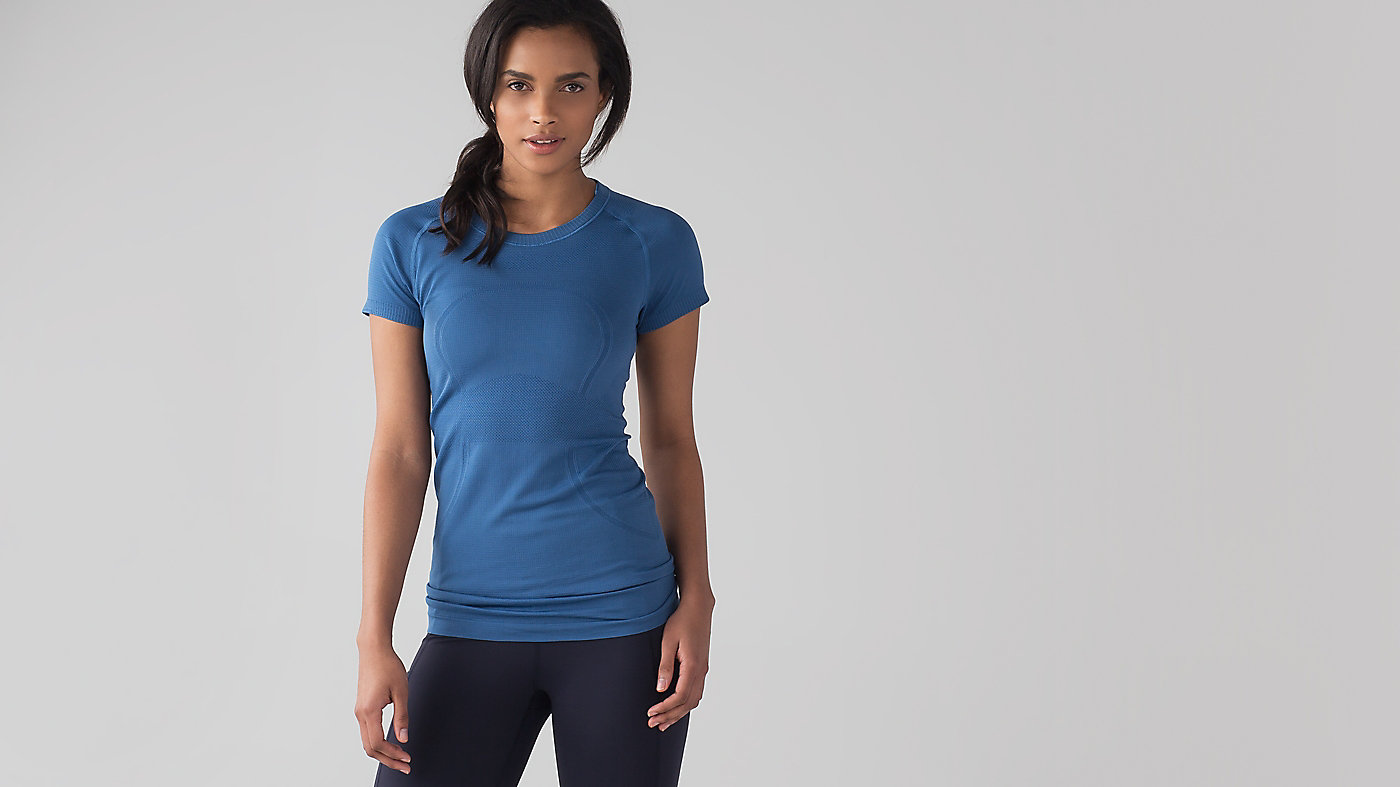 Article conçu pour
La course
---
anti-irritation
Construction sans coutures pour aider à prévenir l'irritation
---
coupe
Près du corps, à la hanche
---
technologie SilverescentMD
Conçu avec la fibre X-STATICMD, pour entraver la croissance des bactéries qui causent les odeurs sur le vêtement

Swiftly Tech Short Sleeve Crew
is rated out of
5
by
125
.
Rated

5

out of

5
by
Kristory
from
Score!
This top is classic lulu. Bought the black and I love it. Great cut, great feel, nice quality. It washes up welll. No regrets with this one.
Date published: 2017-05-12
Rated

4

out of

5
by
srowe
from
Classic Top
The sleeves are a bit unflattering on me but this is nitpicking. I like the overall fit - it's snug but not too snug. It's quite long, which I appreciate as I'm tall. Would be interested in purchasing the long sleeve version.
Date published: 2017-05-05
Rated

1

out of

5
by
karinamalina
from
Used to love these
I have the swiftly tech in 4 colours and my first one was purchased close to 7 years ago now. However, I have gone out to purchase a black one recently and when I put it on the one day I noticed I could see my bra underneath on one side and, when I started looking into that area, I noticed that for whatever reason there were 4-5 holes created on the side of my boob. These are not snags but it looks like the fibers have been pulled apart. I can't wear this one anymore and this is my newest swiftly tech, has the fabric changed? I have a 7 year old one that is still fine! Quality really seems to have dropped with Lulu.
Date published: 2017-04-30
Rated

5

out of

5
by
OGMP
from
Have it in long sleeve so I had to buy the short!
I am so excited to get this top! I got it in black/white speckle and if it is anything like my long sleeve then I will love it too. It is very breathable and so stylish. They are pretty durable I find but watch out for velcro or jagged fingernails!
Date published: 2017-04-21
Rated

3

out of

5
by
atcandidate
from
So many snags!
I adore these shirts. The fit and high neckline are great. Glad to see more dark and saturated colours. However, these shirts snag and run like nylons quite easily not awesome for hiking or for work. Wish they were more durable.
Date published: 2017-04-16
Rated

5

out of

5
by
NMAISON22
from
Great Purchase
Love this shirt!! very comfortable to wear and love the colour (marvel/black)
Date published: 2017-04-07
Rated

5

out of

5
by
SK2104
from
FANTASTIC top!
You can wear this top for absolutely anything. Every yogi/athlete should have this shirt in their closet. It's a must-have! I've had mine for 5 years and still wear it! Also, in writing this review I realize that i should probably get a black one since I just got reminded that I've had mine forever and it's a gear investment. Thanks LULU!
Date published: 2017-03-13
Rated

4

out of

5
by
Soph1097
from
Love this shirt
I normally wear tank tops when I work out but I saw this top when i was shopping and thought that I would give it a try. It is extremely lightweight and very flattering on, I love how breathable the fabric is.
Date published: 2017-03-13
Rated

4

out of

5
by
Cellomir
from
Great shirt but very fragile
I have two of these shirts. I love them, because even during the sweatiest workouts, I don't feel like I'm getting "weighed down" by sweat. The anti-stink technology makes me less self-conscious. What I don't like is how fragile the fabric is. When I tried one on in-store, it already had a pulled thread, so I didn't buy one right away. I am VERY careful with these tops; I wash them on a gentle cycle with nothing else, and I am careful to keep my cat far, far away from them. I get paranoid about pulled threads for a fairly pricey shirt, but overall it is great for running/gym workouts.
Date published: 2017-02-27
Rated

3

out of

5
by
run2befree
from
Love this shirt, but poor quality
I have 3 of these shirts, and I love them for running because of how well they wick sweat and stay comfortable throughout my runs. Unfortunately, one of these has been very disappointing in the quality of the material and how badly it snags! I have no problem paying for a quality product, but at $58 and only having the shirt for a few months, I expected way better. I am a loyal Lululemon fan and I have purchased many quality products over the last 12 years that I have been buying them. I hope that you can make some quality control improvements to make this top as awesome as the older versions.
Date published: 2017-02-25