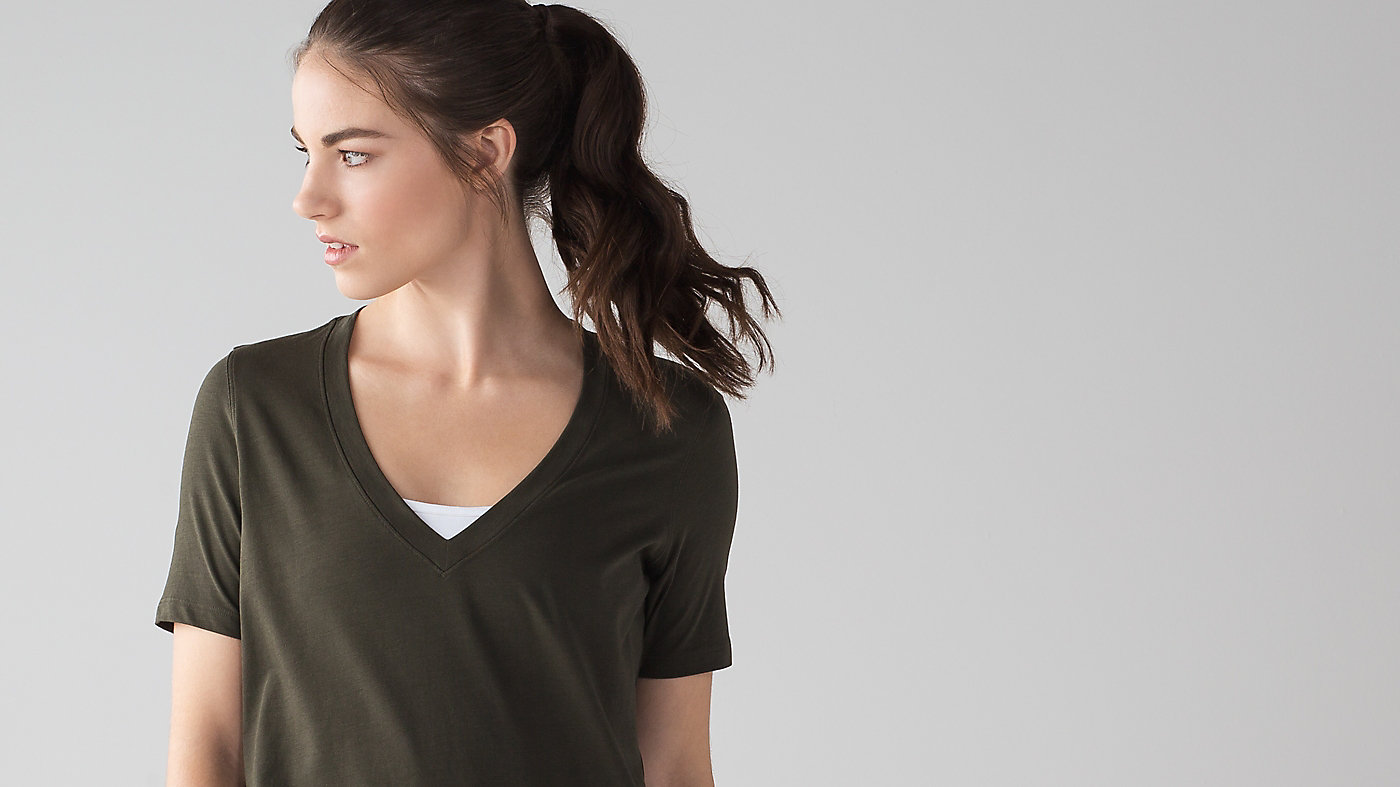 Article conçu pour
L'aller-retour
---
coupe décontractée
Vous permet de bouger sans restriction
---
Longueur hanche
S'enfile facilement
---
lycra®
Le tissu extensible conserve sa forme grâce à l'ajout de fibres Lycra®

Love Tee Iv
is rated out of
5
by
27
.
Rated

5

out of

5
by
GoGirl47
from
This is definitely the LOVE Tee
I have purchased this shirt in 6 different colors, the fit and fabric are great. They wash well and hold their shape pretty well, but I do recommend sizing down. Normally I would wear an 8 or 10 in a top, but got these in a size 6. These are perfect to wear with jeans and a boyfriend cardigan, I add a necklace and wear one to work everyday.
Date published: 2017-05-31
Rated

5

out of

5
by
603Skier
from
Amazing T-Shirt
Although this shirt might just seems like any other t-shirt, and you may think lululemon is just trying to rip you off, THINK AGAIN. I am a dedicated lulu fan, and this is my favorite t-shirt. It's soft, and fits perfectly. AND its not to long, because I am short sometimes things are a little long. For reference I'm 5' 3" and around 150, and I wear a 6. I would hands down recommend this shirt to everyone I know!
Date published: 2017-05-30
Rated

2

out of

5
by
bronda
from
Lost shape after a few washes
I really like these shirts at first, however after only a few washes they've started to loose shape. I'm pretty disappointed seeing as I bought four.
Date published: 2017-05-28
Rated

3

out of

5
by
whosamjones
from
HIt and Miss
Let me start off by saying that I have the Love Tee III in white, and it's the most comfortable shirt ever, but the material looks like it's bagged out in some places and wearing thinner in some areas, strange. I was really hoping that this issue had been solved. I bought two Love Tee IVs in both White and Heathered Inkwell. The white is the same thin material as the previous, but again the most comfortable thing ever. I like the change in hemline. The lack of a sleeve cuff allows this shirt to layer better under fitted jackets. It remains to be seen if it will bag out like its previous iteration. HOWEVER, the Heathered Inkwell is my favorite T shirt EVER. The material is thicker than the white. It's nice and stretchy. I don't really even see the seems of my tights showing through. Length is awesome. It's nice and long, but doesn't cover my entire bum. So, it doesn't look like I've had a "Long-A**" day, if you know what I mean. I'm 5'9", with a long torso. I bought a 6. I'm obsessed with the color. It's both blue AND black. So, it's pretty versatile. I would definitely recommend the heathered colors.
Date published: 2017-05-19
Rated

1

out of

5
by
mommyof3boys
from
Nice but..............
I wasnt going to write a review on this until i found my receipt and realized i paid $68 for this t-shirt. I have only worn it a few times and always lay flat to dry and hand wash. Upon going to wear it i noticed a pull in the material. Im super disappointed as I havent even worn it out of the house!!! And now I have paid a pretty penny for a t-shirt i am afraid to wear again :( Other than this it really is a great shirt. Just a little sad it didnt last long.
Date published: 2017-05-18
Rated

1

out of

5
by
ChicagoGal
from
Love Tees keep getting worse and worse...the II was perfect! Why change it?
I was already disappointed in the Love Tee III when compared to the Love Tee II and now the IV is even worse. LOVED the Love Tee II's scooped bottom, slim waist, thin v-neckline and rolled sleeves (although the rolls aren't as big of a deal as the other points). Love Tee III went with a boxier waist and thicker v-neckline which was also deeper cut (and too deep IMO). Now comes the IV with a straight bottom. Ick. Totally disappointed again. Guess I will keep trying to find the Love Tee IIs on the secondary market :-(
Date published: 2017-05-09
Rated

2

out of

5
by
stacyp
from
Bring back the Love Tee III
I received Love Tee VI as a gift from my husband. Super soft and comfortable but the quality is lacking. What's going on LuLu? I have several of the Love Tee III and have worn and washed them a million times and look as good as the day I bought them. Love Tee III had a great curved bottom and now the VI looks like every stand V-neck out there..
Date published: 2017-04-26
Rated

2

out of

5
by
LoRo
from
great fit, disappointing quality
Torn on if I'd recommend this. It's very comfortable and I love the fit, I actually have two. However, the one I have in midnight blue has not held up in quality. I've worn it three times and cared for it according to the wash instructions on the label and the under arm area is now very clearly discolored. Very disappointed :(
Date published: 2017-04-25
Rated

4

out of

5
by
Run23
from
Bring back the curved hem!
I love the flattering fit of this shirt. I own 3 and have not had any of the quality control issues the other reviewers have had. I wash it in the washer, dry it in the dryer, etc and no problems. However, I much much much prefer the curved hem on the old tees, as it covered my bum in leggings just perfectly and had a much more finished and stylish look. The new shirt just looks like a regular tee.
Date published: 2017-04-24
Rated

5

out of

5
by
Kateryna88
from
probably best t-shirt I have
let me start by saying i am huge lulu fan. this t-shirt is super flattering and extremely comfy. already own it 2 colours and about to order 3rd. only one suggestion i would add please add more colours something bright and summery would be lovely.
Date published: 2017-04-22