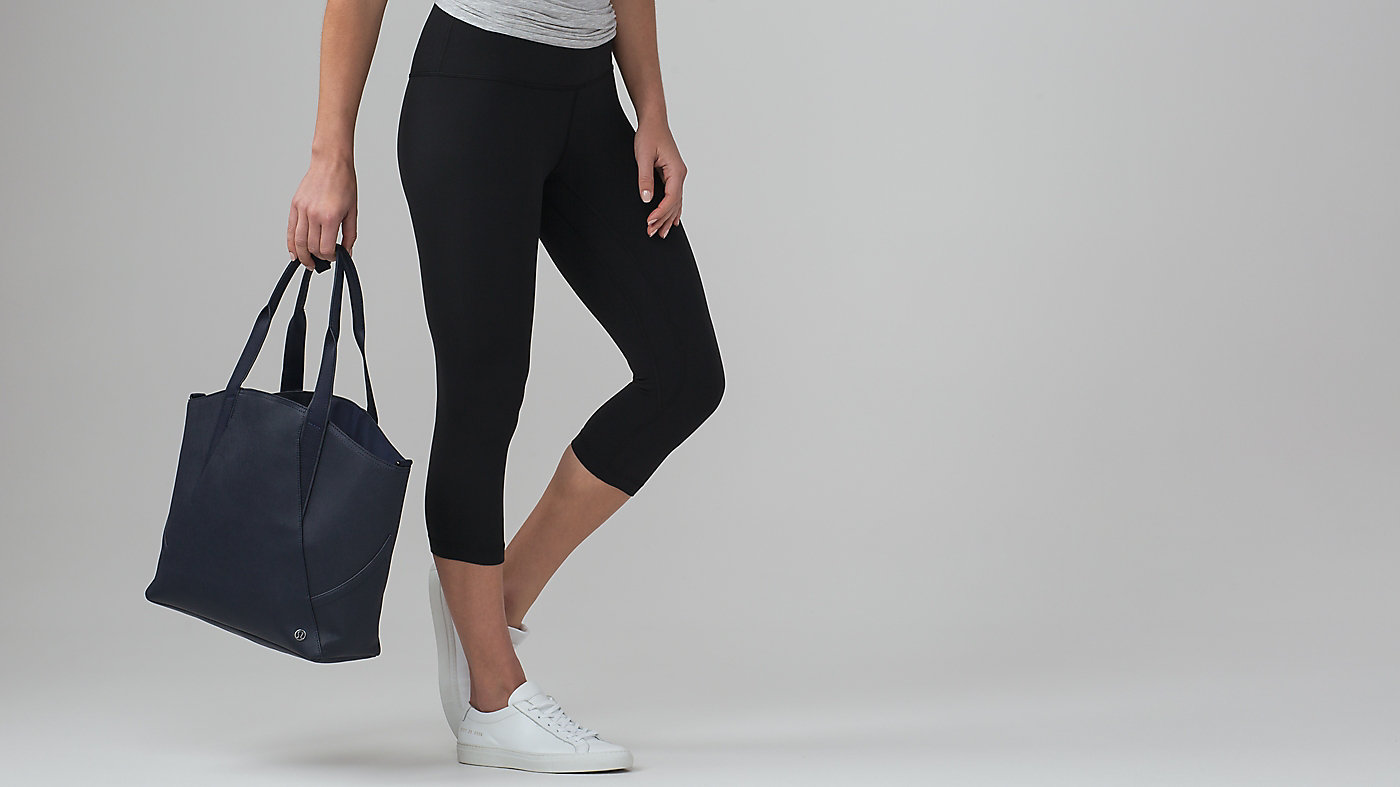 Article conçu pour
L'aller-retour
---
pochette intérieure étanche
Pour isoler vos affaires trempées de sueur
---
DIMENSIONS
33cm x 13cm x 28cm (13" x 5" x 11")
---
POCHES INTÉRIEURES
Poches intérieures pour organiser les petits objets
---
POCHETTE AMOVIBLE
Pochette amovible pour vous aider à rester organisé. Rangez-la dans la poche intérieure lorsque vous ne l'utilisez pas.
---

All Day Tote Mini
is rated out of
5
by
30
.
Rated

2

out of

5
by
Gretch
from
I wanted so badly for mine to be different :(
My husband bought this for me in the blue color a few months ago while it was on sale and gave it to me as a gift to celebrate a work achievement at the beginning of May. Being the Lulu junky that I am I had seen the bag and the not-so-great reviews about its quality online and I hoped against hope that somehow mine would be different...three weeks of use in and I can confirm that unfortunately it is not. Two of the bottom corners have begun peeling away and I cannot express how disappointed I am that mine appears to be the same terrible quality as everyone else who bothered to leave a review trying to warn others not to waste close to 100$ on a bag that won't last a month. I'm heartbroken - this bag is perfect for my everyday use in every way (like I'm seriously in love with it) but its quality. I've had a bowling bag that Lulu stopped making for close to a decade now that still looks new so I guess the quality has changed? Poor husband thought he'd bought the perfect gift too and waited until just the right time to give it to me only to have it begin to fall apart less than a month later. In a town 160km away from the nearest store for a WMTM gift my husband didn't keep the receipt for, I don't see "making it right" happening for this girl anytime soon.
Date published: 2017-05-29
Rated

1

out of

5
by
M96M
from
poor quality
was very excited to get this bag but unfortunately did not read the reviews or would have not bought the bag. Peeling on the straps is already starting after having it for less than a month. Would have expected more from a bag at this price tag.
Date published: 2017-05-23
Rated

2

out of

5
by
lexlexie
from
Quality is terrible, unfortunately!
I bought this bag in November so we've had six months together. I give it two stars for the beautiful design and the awesome interior pockets & compartments , but that's where the praise ends. Even though I've treated it with the upmost respect, and despite the fact that it has either been hanging in my closet, over my shoulder to/from the gym, or hanging on a hook in a gym locker, the corners are peeling. I have never put it on the ground EVER, yet it looks awful. After a few months of delicate use, it should not look like this! For $128.33 ($118 + tax), I expect much better quality.
Date published: 2017-05-23
Rated

1

out of

5
by
booboobanana
from
Nice Try...
I wanted so badly for the negative reviews on these bags to be wrong. They weren't. These bags are cheap. The corners of the smaller bag started peeling within hours of purchasing. The black paint on the hooks chipped off as well. I already returned the bag (purchased the larger size too and returned that before even using it) The idea of these are great and if they were made of quality would have loved them. Lululemon is overpriced garbage in my opinion.
Date published: 2017-05-19
Rated

3

out of

5
by
totelovingcollegestudent
from
School Bag
my boyfriend bought me this for my birthday and I use it literally everyday either for school or just my daily bag. However, I am unhappy with how the material has held up. The stitching is coming undone one one of the straps and the material on the bottom of the bag is flaking off...it doesn't take away from my ability to use it (yet), but I got this back in November and I would think that a bag this expensive would hold up. I only ever have as much as my laptop (lightweight macbook air), a spiral notebook, and my wallet, phone and keys. It's never too heavy for me to carry comfortably so I don't think the amount and weight of the stuff I am putting in it is causing the bag to fall apart. I really REALLY love the design and size of this bag. Just super bummed that it probably won't hold up for another year. Please improve the durability of this bag!
Date published: 2017-05-19
Rated

4

out of

5
by
someonesmom
from
My new favorite bag
LOVE LOVE LOVE THIS BAG! it is a great size fits lot and the pockets help aswell!! the color is a plus. i took a chance after the reviews but i am sure glad i did. no issue yet. my only issue is i wish it had a zipper to close the whole bag. not a deal breaker though.
Date published: 2017-05-12
Rated

1

out of

5
by
mom90
from
Piping keeps falling apart
I really love the idea of the bag -- it's the perfect size and sturdiness to carry my laptop and a few things back and forth from work. However, I received this as a Christmas gift and the piping started peeling off almost immediately -- I had it replaced in February-ish hoping it was just a fluke with the one bag I had, but the replacement started doing the same as well. It starts making the bag look cheap very quickly, like something you've had in your closet for years. Given my experience, I wouldn't recommend this bag to anyone who wants it to hold up more than a month.
Date published: 2017-05-02
Rated

2

out of

5
by
Kamitc7e
from
Poor quality
I loved the design of this bag, but I am sorry to say after only a few weeks the outer shell is coming off and logo is tarnished. I don't think I will be using it too much longer. Disappointing quality.
Date published: 2017-05-01
Rated

2

out of

5
by
tkenway
from
Breaking Down
I loved the look of this bag and was excited to get it. I haven't had it very long and already the material is cracking and pieces coming off. I wish it also closed on the top, even with a clip or magnet so that things couldn't always been totally seen inside. Rarely use it since it doesn't look as great now.
Date published: 2017-04-27
Rated

4

out of

5
by
Lv2run
from
So Far So Good
Ive only had this bag a few days but its very handy. I use it to bring my stuff in the gym, i.e.. bands, gloves, my water bottle. I used to use the small lulu shopping bag but it never had enough space. This is much classier. I hope it holds up as i only use it in the gym and not as a purse. Love the purple color.
Date published: 2017-04-25