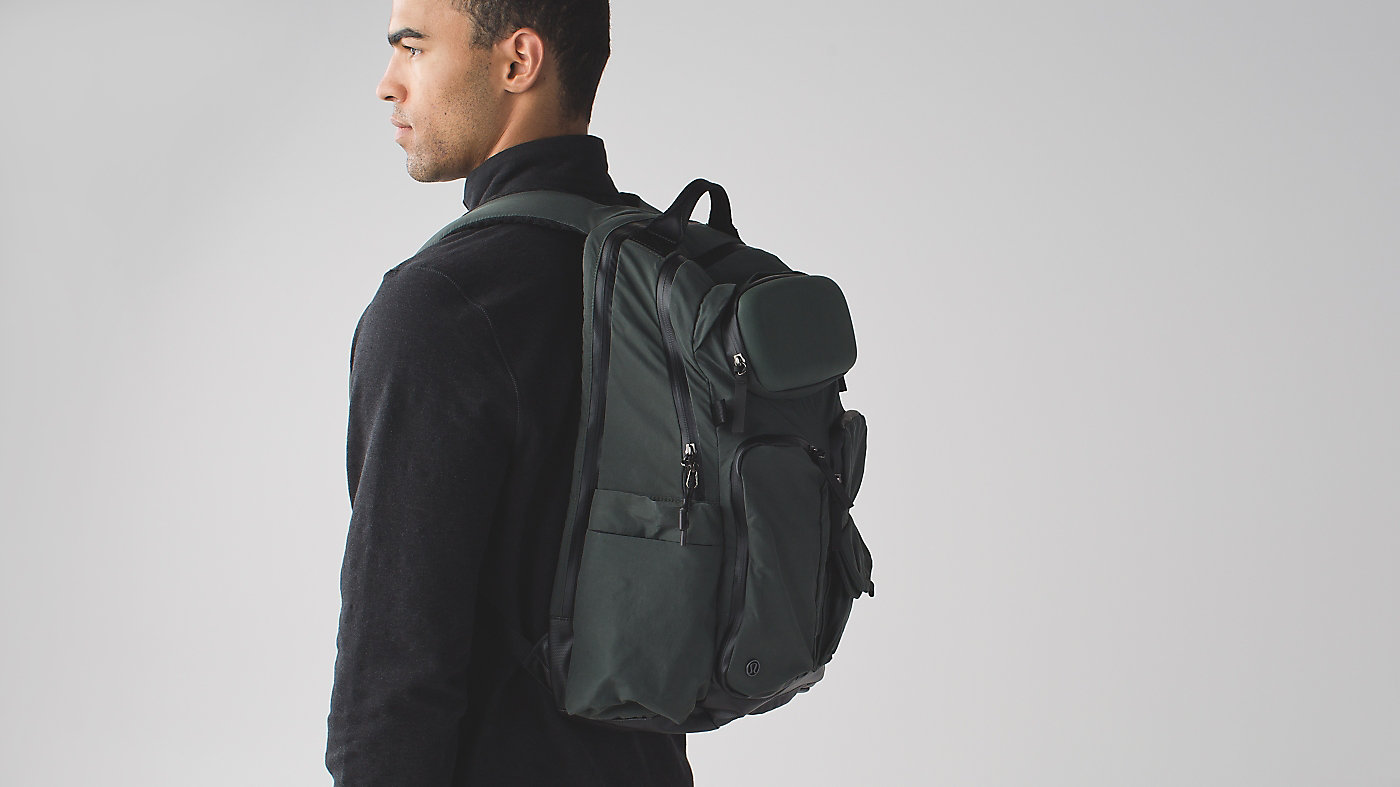 Article conçu pour
Vie quotidienne
---
RANGEMENT
Poches extérieures pour un accès pratique à vos essentiels.
---
Poche structurée
La poche structurée protège vos lunettes de soleil
---
Rangement de tapis
Sangle et panier escamotables pour ranger un tapis
---
rangement pour ordinateur portable
Poche rembourrée extérieure pour ordinateur portable de 15 pouces
---
Dimensions
Dimensions : 28 cm x 19 cm x 48 cm
---

Cruiser Backpack *22L
is rated out of
5
by
165
.
Rated

4

out of

5
by
LC13
from
Cruiser Backpack
I've had this backpack for a few years now and I've always loved it. The various compartments are quite functional, including the laptop slot, sunglasses pocket and removable straps for a yoga mat. I've used this as a daily commuting bag, including while riding my bike, as well as a carry on for travel. The entire bag, but especially the padded bottom, is easy to clean, making it perfect for resting on subway floors or the park. The across-chest strap makes for a stable carrying load, particularly if you're carrying a lot. I would certainly recommend this bag, but also wouldn't say it's perfect. I don't find the tinier pockets on the front of the bag to be as functional as I'd like. When less full, the bag tends to fall over, seemingly weighed down by the sunglasses case, which is a bit frustrating. I also found quite soon after purchasing it that there was significant discolouring on every zipper. This was almost pinkish in colour, so unfortunately in quite a contrast to the bag's dark grey. And now, sadly, the zipper for the largest compartment has since broken :( So, my time with the Cruiser Backpack was overall good, but seemingly now over due to the zipper.
Date published: 2020-01-06
Rated

5

out of

5
by
Pazzarella
from
Perfect in every way
Right size, right weight, great fabric and easy to access - what else could a person want?
Date published: 2020-01-04
Rated

4

out of

5
by
Realfunguy
from
Fantastic pack with some minor issues
Disclaimer: My version of this pack is from 4 years ago and it appears they've made some adjustments, but wanted to share my thoughts at the End of Life of my pack. There appear to be minor changes, with the structure of the pack appearing to be the same I bought this pack with the intention of using it for university. The pack performed swimmingly with a number of key benefits: - separate laptop compartment - spacious internal storage (with 3-4 different organization compartments) - a lot of compartmentalizations to stay organized on the front and side of the pack - sturdy sunglass compartment - came with a small, separate "stink" bag that you could put your gym clothes into Some issues I have also encountered while using this bag: - the pack itself is quite heavy, if you are hauling it for a long while (i.e hiking or during travel) - the zippers on my version didn't last, and broke off quite soon on a few compartments - the ventilation they have for the back is non-existent and it is very easy to get very warm while using this pack - the yoga mat holder was not as useful as intended, and I think a built-in rain cover would be more handy Overall, I would recommend this backpack if you will not be planning to carry it for a prolonged time during use, or if you like being highly organized.
Date published: 2019-12-23
Rated

4

out of

5
by
WillWorkout4Carbs
from
Good gymbag
Negatives: Not a lot of space inside the bag to put things if you used the inside clean zipper compartment. The water bottle holder does not stretch very well so it's difficult to store large bottles. The bottom right pocket on the exeterior is kinda useless. There's not a lot of things you can put in there unless you want to have it fall out easily. I never use the yoga strap compartment. Positive: Good compartment to store laptop. The sun glasses compartment is great, very durable, Im not worried that it will get crushed.
Date published: 2019-11-09
Rated

5

out of

5
by
AMHan
from
Fantastic for travel!
I bought this backpack specifically for a trip to Europe, as I was trying to fit everything for the trip as carry-on. Plus, I had to bring my laptop to work on course assignments during the trip. Excellent size and durability. The chest strap doubled as a way to strap the pack to sit atop my little suitcase. Double water bottle pockets are deep enough to keep my beverage containers safe. All I would wish for is an easy-access cellphone pocket.
Date published: 2019-11-05
Rated

5

out of

5
by
ricerocket
from
Life Changing Backpack
I have back problems, especially with my lower back and I can honestly say this backpack changed my life when I switched over to it recently. It is so light but so durable. At the same time, all of the things I had in my old backpack fit nicely with all of the pockets! 10/10 would recommend.
Date published: 2019-11-05
Rated

2

out of

5
by
SheNotXtraSheJustRiteAmnt
from
I want the Old Cruiser back
I'll start off by echoing what so many have already said: This review is in comparison to the old Cruiser Backpack from several years ago. What started as complete and total excitement seeing the Cruiser make it's return to the stores and website quickly turned into a confused disappointment when I received my new backpack in the mail. Unfortunately I'm not thrilled with the changes Lulu made with this updated design. There are maybe a half to full dozen pockets/compartments missing from this model. And changes made to the compartments they kept are actually a down grade (particularly the side water bottle pockets; the old Cruiser had an elastic opening on one side and flap closure on the other side). There was no removable laundry/sweaty gear bag. I can't for the life of me find this "quick phone access panel on the left shoulder strap"; it was quite easy to find and useful on my old Cruiser. The shoulder straps in general don't feel as padded/comfortable. And if the zippers aren't completely zipped they unzip, opening that particular pocket causing what you can imagine to be quite the scene on public transit. If you've never owned a Cruiser Backpack then I'm sure you'll love it. But for me, instead of handing down my old Cruiser to a friend I wish I would've kept it and given him this new one.
Date published: 2019-10-31
Rated

5

out of

5
by
MarioD
from
Great bag
Well organized, durable, and comfortable. Would recommend!!!
Date published: 2019-09-30
Rated

1

out of

5
by
MBuns
from
Disappointed
I had an earlier model of this backpack and it was great, best bag I have ever had. Really nice materials, high quality zippers, and just an overall quality... It felt nice to have on. This bag? Not so much. Cheap materials, cheap craftsmanship, cheap zippers... Very disappointing. So I returned the bag. If you are coming back because you had an early model, around 2014, it is not the same bag any more! If Lululemon ever makes the bag the way they used to, I would buy it again... Unfortunately I don't think that will happen.
Date published: 2019-09-19
Rated

5

out of

5
by
Ldawg13
from
So much functionality
Bought this backpack for my boyfriend, he absolutely loves it. He makes use of every pocket/section of the backpack.
Date published: 2019-09-12