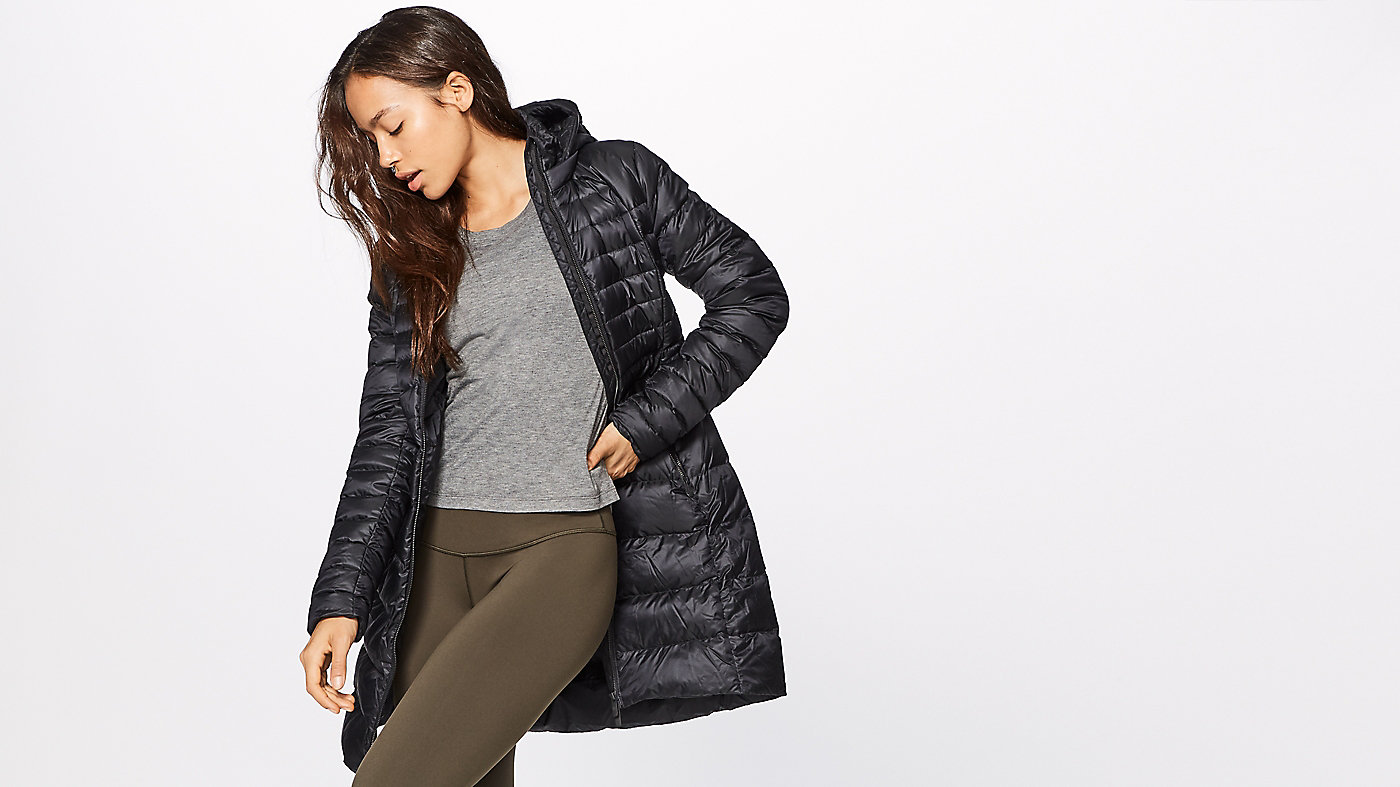 Article conçu pour
Vie quotidienne
---
capuchon amovible
Ce capuchon amovible offre plusieurs possibilités
---
cordon
Personnalisez la coupe à l'aide du cordon à la taille
---
Rangement
Poches à fermeture éclair, pochette pour téléphone
---
Poches
Poche intérieure à fermeture éclair
---
Isolant de duvet
Le duvet d'oie à capacité de remplissage 700 est placé de façon stratégique pour procurer de la chaleur.

Brave The Cold Jacket
is rated out of
5
by
95
.
Rated

2

out of

5
by
Shondizzle
from
Feathers EVERYWHERE
I was really excited when I first got this jacket but soon after I realized how much it sheds feathers. I like that it is lightweight and still pretty warm but after only wearing it for a month my car seats are covered with stray feathers. I worry at this rate it wont be warm for much longer.
Date published: 2020-02-20
Rated

1

out of

5
by
Pghrunner
from
Half of it has no feathers anymore
Bought this jacket last year and wore it on lighter winter days - not a lot in Pittsburgh - and never washed it. When I got it out this season, realize it is completely devoid of feathers on the right side now. I paid a premium for this coat and really liked it but it's basically useless after one season. Terrible quality! Do not buy!
Date published: 2020-02-16
Rated

2

out of

5
by
TROSBORNE1
from
Disappointed
I bought this coat only 3 1/2 months ago. Was super excited and loved it. However it has been loosing feathers consistently. I washed it today following the instructions very carefully as I do with all my lulu gear. It has gone super flat it is more like my rain jacket than like a puffer winter coat. Considering the amount I paid it is very disappointing to have this happen.
Date published: 2020-02-15
Rated

1

out of

5
by
KiMarie15
from
Disappointed
I absolutely loved this coat for the first couple months having it. I got it back in September/October and already in February the feathers have fallen out like crazy!! Theres a few patches on the back that are completely empty/flat and basically useless now. I went into the store to try to see if I could get a replacement as Iv'e only had the coat for a few months and they're all out online and in store in my size. Super upset and disappointed :(
Date published: 2020-02-12
Rated

1

out of

5
by
KLynn16
from
Puff gone
I received this jacket as a gift, and I wore it a handful of times. I decided to wash it following the instructions exactly, as I do with all my lulu clothes. My coat is now flat, feels smaller, some feathers are bunched in corners and feels like there isn't any filling or puff in 1/2 of the coat. I am super upset, as its no longer a "puffer" and warm. For the price- I wish the quality was there. Sadly, I would not recommend this coat.
Date published: 2020-02-11
Rated

3

out of

5
by
Yacobacko
from
Love the coat, but didn't last...
Purchased last winter, and unfortunately some of the teeth in the zipper have started to fall off. Lululemon can't repair it b/c it is a waterproof jacket and repair will effect the integrity of the waterproofing. A bit of a bummer, and super wasteful, as it's basically unwearable. Otherwise, I was enjoying the coat and would have recommended it!
Date published: 2020-02-07
Rated

1

out of

5
by
sageea
from
Feathers everywhere, waste of money
I got this as a gift last winter. I needed a good jacket to keep me warm in Boston, and this down jacket seemed promising. However, it sheds feathers like crazy and is quickly deflating. Not to mention that the fit is strange, with the bottom constantly flipping up. I could only wear this a handful of times. Disappointing considering the price.
Date published: 2020-02-03
Rated

2

out of

5
by
lp2323
from
Love but letdown
Love the fit of this coat! However, sadly the zipper broke after only 1 season. (Second Time). So not convenient in the winter! As well, the down fill is basically gone from the bottom half of my coat and there are empty spots. So disappointed again.
Date published: 2020-02-03
Rated

1

out of

5
by
Suzy399
from
Disappointed in quality
Really disappointed in this jacket. I had one a few years ago and it held up very well. I got a new one this year becuase I needed a different size and for the $$ this cost, the quality was terrible. The down fill is coming out of all of the seams and I am constantly picking feathers off of it. I've had it maybe 2 months and the fill has already decreased so much that some parts don't have any!! Love the fit and style, but man what a disappointment for $300. Won't ever purchase a jacket like this again from you.
Date published: 2020-01-29
Rated

1

out of

5
by
Akarah
from
Washed once, completely flat
I tried washing and following the instructions. The jacket is now completely flat as if it has no lining it. There are also now feather clumps in the jacket that you can see and feel and flat everywhere else. Very expensive jacket for this issue. Extremely disappointed and hope I can be compensated for this defective product
Date published: 2020-01-26