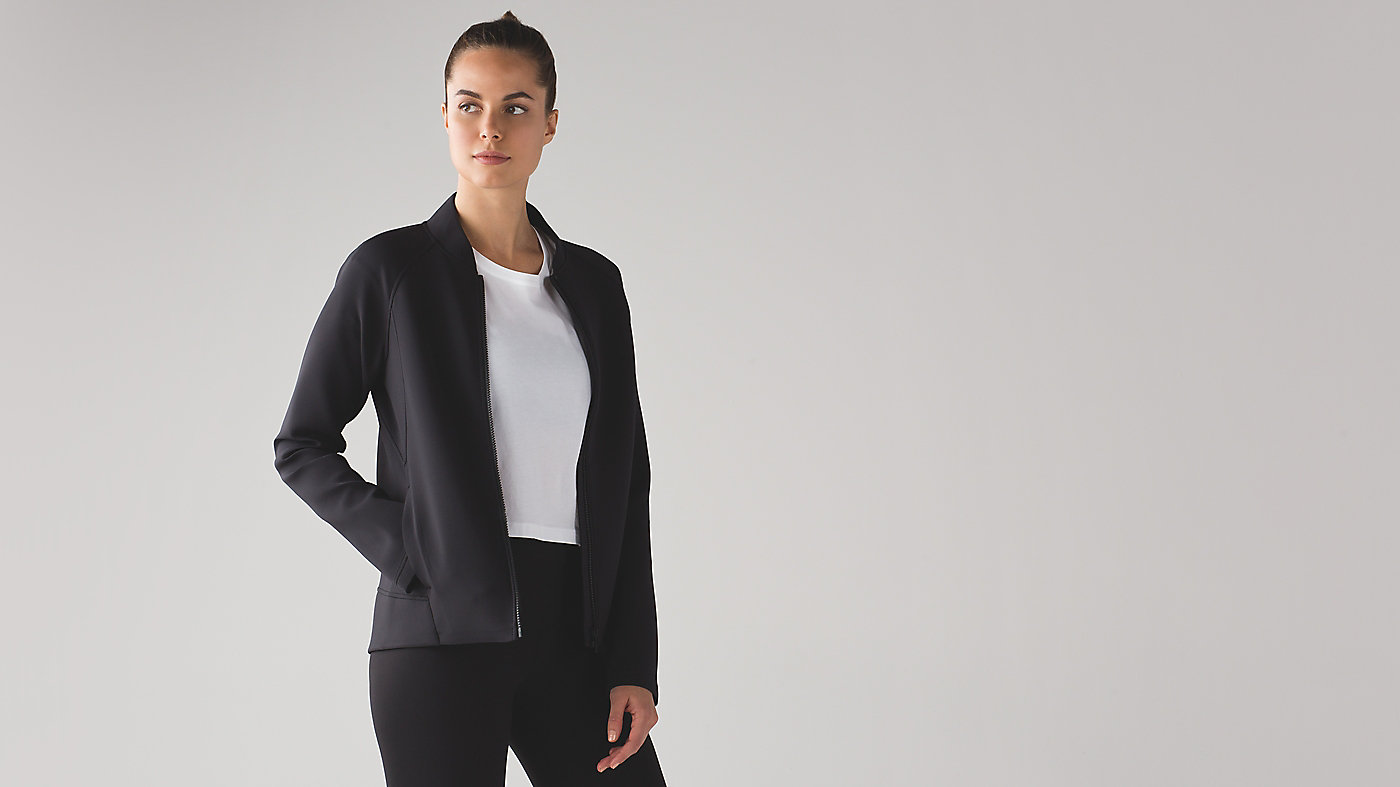 Article conçu pour
L'aller-retour
---
mobilité
Les manches articulées vous laissent de l'espace pour bouger
---
poche dissimulée
Rangez vos essentiels dans la poche dissimulée
---
anti-irritation
Construction sans coutures pour aider à prévenir l'irritation
---
facile à accrocher
Muni d'une boucle pour facilement le suspendre dans le vestiaire
Embrace The Space Jacket
is rated out of
5
by
26
.
Rated

1

out of

5
by
arjo
from
Ugh! My most disappointing Lulu purchased
This jacket has so much going for it but it is way to delicate. I have treated it with caution but it has war in some strange places like along the back of the spine seam and collar. The fit is super and the colour is beautiful. I like the weight and warmth it provides while being breathable but It looks a mess already and I've worn it very little. I was hoping it would be a casual weekend piece for lounging or to and from the studio but it's not durable enough for that.
Date published: 2017-06-20
Rated

1

out of

5
by
luvshopping7
from
really wanted it to be different
First of all, this jacket would have been one of my most favorite pieces to wear. I love the style, fit, feel, and how light the jacket is on but, keeps me warm when the temps cool a little. However, the fabric is really too delicate!! I really wanted my jacket to be different from the others that people had been commenting on. I was extremely careful all day wearing the jacket and then at the end of the night, I noticed a snag on the front of the jacket! I was so disappointed in the quality of this jacket. Also, given how delicate I was, I thought this was too extreme for a jacket that I should be able to be comfortable and free moving without fearing that it would snag...so sad...I would buy this jacket again in a heartbeat if it was in more durable fabric...
Date published: 2017-06-16
Rated

1

out of

5
by
jenniferluz
from
Great style, but horrible quality
I recently purchased this jacket as an early birthday present to myself, and I have to say that I am gravely disappointed. I read previous reviews that described overall poor quality, but I really loved the style and decided to give it a chance. Here I am on my second wear of the jacket, and it is already pilling in two areas! If you are deciding between this jacket and another, DO NOT BUY THIS ONE. I would have rather spent a little bit more money on a different jacket of better quality. I hope Lululemon brings back this style, but with a different fabric.
Date published: 2017-05-03
Rated

1

out of

5
by
JanTL
from
great fit but fabric not so great
loved the fit and style of jacket but after wearing just once, the fabric had many pulls and snags. durability was not what i expected relative to some other pieces in the spacer fabric that i have. would try again in a more durable fabric. .
Date published: 2017-04-28
Rated

5

out of

5
by
runningisfun
from
The perfect lightweight bomber jacket
I just got this in the mail today, so I can't speak for the durability of the fabric, but after reading earlier reviews I am definitely going to be careful with it. I ordered this jacket in white in my size down (4) and it is perfect. It fits through the body perfectly, the sleeves are the perfect length although probably would be too long for someone petite. The fabric is so soft, lightweight and beautiful. I can't wait to wear it on cool spring days and summer nights. It can be casual or could be worn for going out.
Date published: 2017-04-26
Rated

2

out of

5
by
namasteinbed
from
Love at first sight... BUT
I got this in store and thought it was a very unique material. I loved how it was a comfortable, relaxed fit and the colour was stunning (i got the blue). Its true to size and is super comfy. However, after wearing it only ONCE there is severe pilling on the shoulder from my seat belt.. I drove to the store (it was a 6 minute drive). I am a huge lululemon supporter and have a large collection, I have been a supporter of the company for almost 8 years now. I take pride in the clothing I love and i take care of them all to the specific instructions for each material. But the pilling on the shoulder and I found another snag on the lower belly and I am not impressed at all. The area with the pilling is super noticeable because the colour became significantly lighter where its pilled. Im hoping something can be done about this. Its super soft and beautiful BUT I would skip it unless you can guarantee it wont touch anything.
Date published: 2017-04-25
Rated

1

out of

5
by
Daner
from
Terrible Quality-Pulls easily
I would consider myself the poster child for lululemon, avidly believing in the company, mantra and everything they stand for. I shop there all the time-often enough I've become friends with many of the employees at my local store, but have to say this is the worst lulu purchase I've ever made. There are pulls everywhere making it unwearable after only two wears (to and from the gym-in it less than 1/2 hour total). I have the Embrace the Space crew neck for much longer and have not had any issues. The quality of the jacket is far inferior. Disappointed I can not bring this back since it was purchased on Final Sale.
Date published: 2017-04-25
Rated

4

out of

5
by
Zsui
from
Love this Jacket
Bought the blue in store love the feel and versatility. When I arrived home my daughter fell in love with it and I realized I needed the black so I ordered it. I wore the blue on my trip to Niagara Falls held up very well. My daughter wore the black on her Nashville trip and it also held up. I am thinking now I need the white one. Really think this a great jacket!
Date published: 2017-04-22
Rated

3

out of

5
by
AudieKay
from
Love it but
I love the fit and style of this jacket! Excited that I could wear it casually or dress it up for work. Wanted to buy in black until the first day I wore it. Snags and pilling on the front and under the arms. Would purchase again if it was in a more durable fabric.
Date published: 2017-04-21
Rated

4

out of

5
by
MilkaRan
from
Love it
I bought this jacket in grey, and wanted to get the white, but the size I need is sold out. I'm a weird size, slim but chesty, I listened and bought this in a 2 (5'6 and 130lb) and it is perfect. Super cute with jeans, but also with other track pants. Perhaps it's the color but it's not showing too much wear so far. Fingers crossed :)
Date published: 2017-04-17