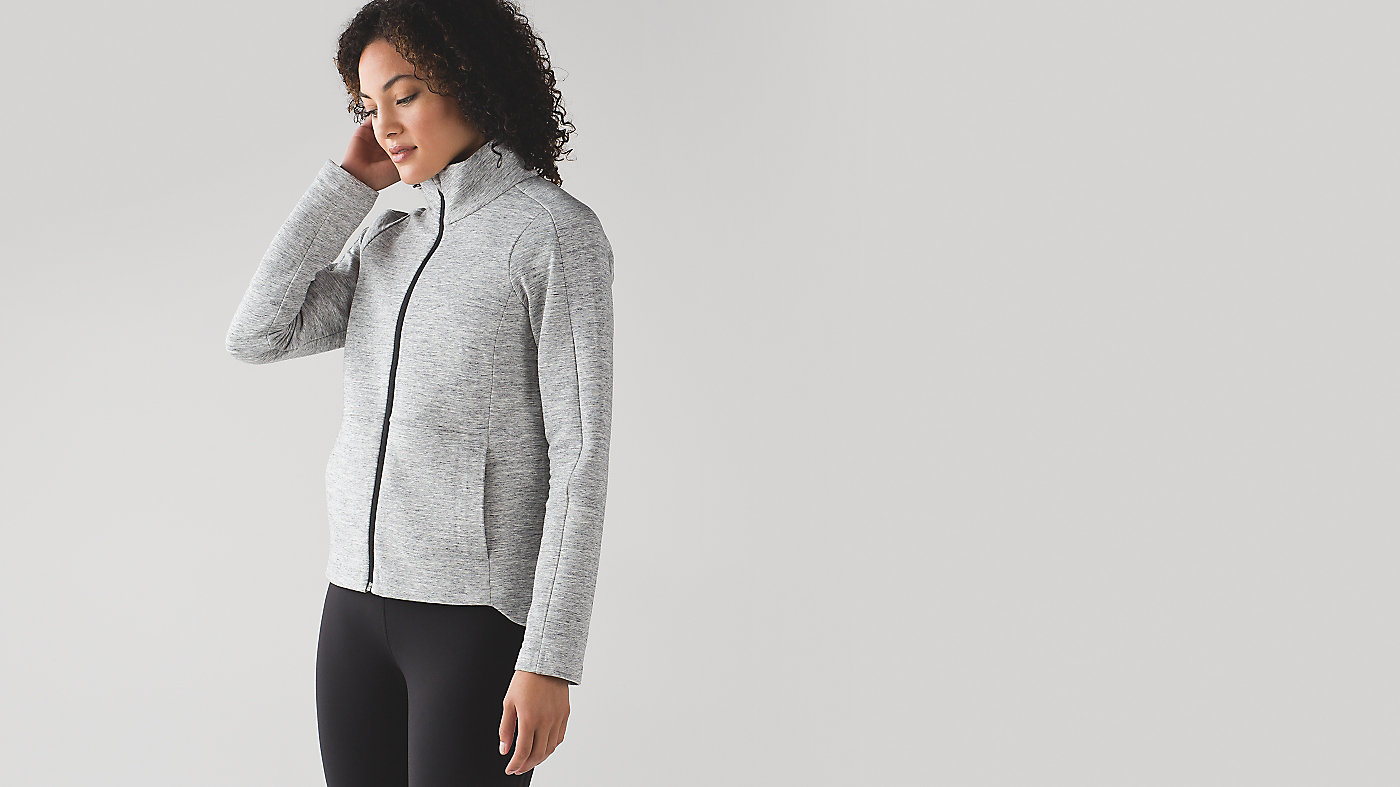 Article conçu pour
L'aller-retour
---
garage pour fermeture éclair
Aide à prévenir l'irritation
---
facile à accrocher
Muni d'une boucle pour facilement le suspendre dans le vestiaire
---
coupe décontractée
Se superpose facilement et vous donne de la place pour bouger
---
Longueur hanche
Bouge avec vous sans vous encombrer
Going Places Jacket
is rated out of
5
by
22
.
Rated

2

out of

5
by
meeI
from
it's a black, NOT!
i am not really using it anymore because after 3 washes it looks so old. it has faded to look way older than all the previous lulu's i have bought from their website . i have bought it at "we made too much", cheaper than regular priced Lulu's, but for the price and it's name i would never think they will make and sell such poor quality ones ...
Date published: 2017-06-21
Rated

2

out of

5
by
ChristineBM
from
Odd
It's just an odd jacket. odd fit. Odd material. I hardly wear it in all honesty. It is stiff and boxy. Not figuring flattering. It just hides your figure in a box. Regret this purchase.
Date published: 2017-06-18
Rated

1

out of

5
by
Tace
from
Black to gray...
I bought this jacket in a Size 10 and it fits so well. I washed it once and it has faded to a gray...it looks like I've had it for years when really, I bought it, wore it for a few gym days, and rarely wear it now.
Date published: 2017-06-10
Rated

2

out of

5
by
Chagie
from
Color fades
It was so true color fades after one wash. I can wear them again but looks like i wore them for several years.
Date published: 2017-06-09
Rated

1

out of

5
by
Zazz
from
Looked great till one wash
I purchased this jacket about a month ago. I loved the fit and the material was nice and soft. I found that it fits pretty true to size. However, after washing the jacket just once, the lower portion of the sleeves started to fade and at the neck area. By two washes, it is completed faded and looks like the jacket is super worn out. Definately not what I expect from Lululemon as I purchase often, especially from online and everything I have purchased has looked great, felt great and fit true to size. Im truly disappointed with this purchase and would advise anyone on here to not waste there money purchasing this jacket even if you are getting it at a discounted cost. The worse part is, you can't even return it or exchange it for something else, so now I am stuck with a useless jacket.
Date published: 2017-05-08
Rated

5

out of

5
by
AlyJ17
from
Beautiful
Let me start by saying i have not washed this yet... BUT I have purchased special detergent for dark colored clothing to prevent fading and I plan to hand wash it when the time comes so hopefully no fading problems. This jacket is very soft and extremely comfortable. I have no complaints so far!
Date published: 2017-04-21
Rated

3

out of

5
by
Sumac
from
Keeping warm
I bought this jacket in both black and the lighter grey. True to size fit ... I'm 5'2" and always wear a size4 and these jackets were right on. I have washed the black and it has lightened a little bit. My disappointment is that because I'm petite, the collar comes up too high to my jaw and is always rubbing on my chin. I am always turning the front of the collars inwards so they don't irritate. The quality is great and they are really nice and warm.
Date published: 2017-03-28
Rated

2

out of

5
by
ABCCHIQ
from
Love this jacket only if the black color didn't fade
Really cute jacket! Loved everything about it! However after washing it three times, i noticed the edges by the neck area started to fade significantly and the whole jacket just doesn't look black anymore - It's clearly a faded black now. The neck area becomes an embarassment up close because it just look slike there's make up stain/transfer on it when in reality, it's just the discoloration of the fabric. I wish it still looks new.... It looks like an old jacket now when I wear it and I've only had it barely 3 months. Maybe the gray color would not have been as bad, but the black definetely fades.
Date published: 2017-03-26
Rated

1

out of

5
by
N443TC
from
Disappointed
Very disappointed in the Going Places Jacket. Purchased for $128.00 in black, and it has faded and fabric is so worn looking. Jacket is cute cut, but do not recommend the fabric. Thanks for opportunity to review.
Date published: 2017-02-15
Rated

4

out of

5
by
MilkaRan
from
Love it so far
bought this jacket recently on WMTM and so far I love it. I listened to the other reviews and sized down to a 2. (i'm 135lb and 5,6") and it is perfect. Fits me just like on the model...well below the belly button on the front, and covers most of my behind. I haven't washed it yet, but I know that LLL stands behind the quality of their products, so if any issues arise I know that they will take care of it. Important to note that this jacket is super cute to wear with leggings or track pants, but also if you have jeans and a tshirt and just want to add a bit of warmth...I will be wearing this a lot.
Date published: 2017-02-12