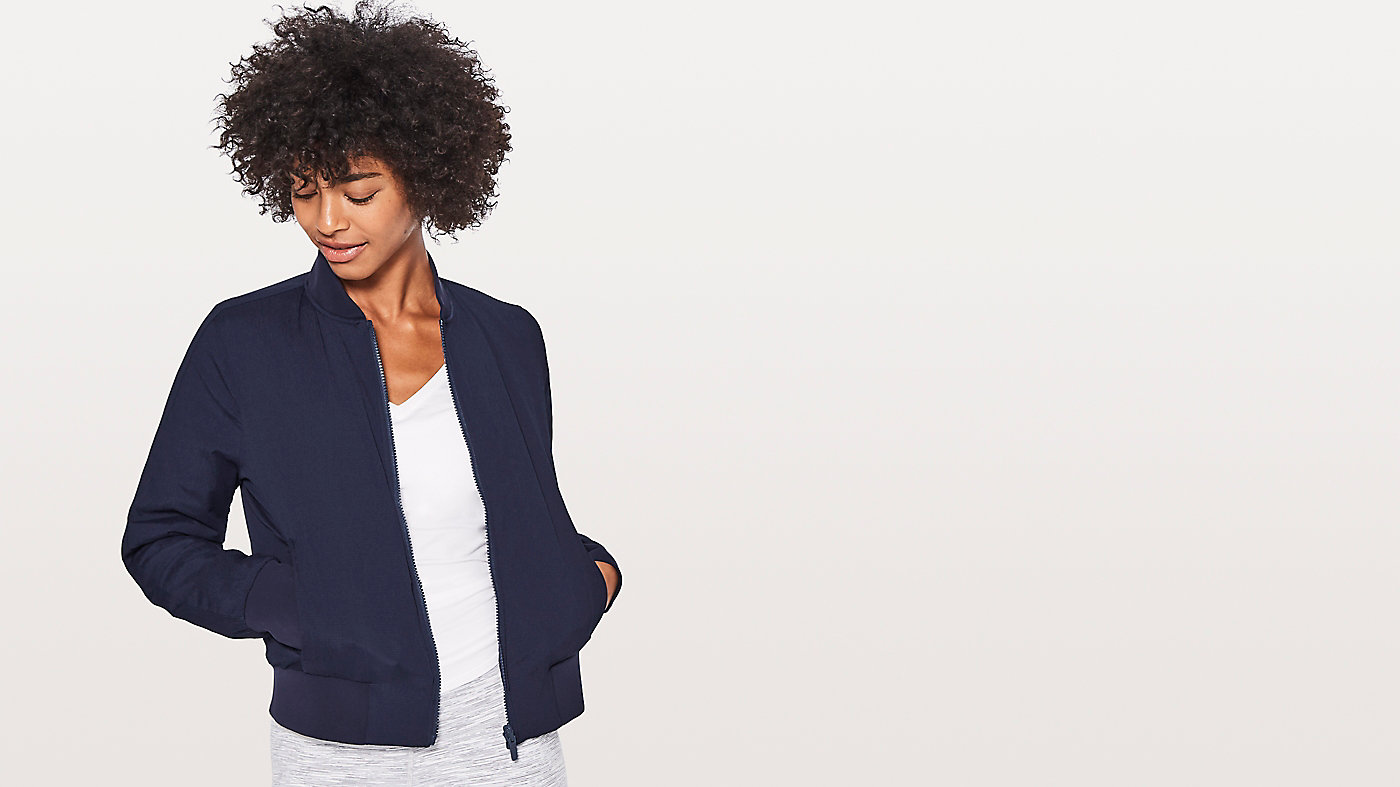 Article conçu pour
Vie quotidienne
---
CHAUD MÊME SI MOUILLÉ
L'isolant dans le haut de la veste reste chaud même mouillé.
---
rangement
Poche à fermeture éclair pour ranger les trucs essentiels.
---
rangement
Pochette cachée pour téléphone de chaque côté
---
ISOLANT PRIMALOFT®
L'isolation synthétique est placée de manière à vous tenir au chaud là où vous en avez le plus besoin.
---
LYCRA®
Conserve sa forme grâce à l'ajout de fibres Lycra®

Non-Stop Bomber *Reversible
is rated out of
5
by
64
.
Rated

5

out of

5
by
BRJ16
from
Great style
I love the fit of the jacket, it hits right above my hips and has a good, flattering fit. Bonus that it's reversible. I do wish it came in a dark gray color. I am happy with the size 6, sometimes the lululemon jackets are too tight across my shoulder, and I will need to size up. Usually a 4 or 6 in tops. 5'7, 138
Date published: 2020-02-16
Rated

5

out of

5
by
SammyB127
from
Gorgeous color in a cute jacket
I'm not sure why this jacket is getting so many bad reviews. I think more people review to complain than to praise. I bought this jacket back in October 2019 on WMTM and I'm surprised to see almost all sizes in stock at this price. I've worn this jacket several times, and it's held up great so far. It's a really cute style, and the marvel color is gorgeous. I usually wear a size 6 in LS swiftlies and define jackets, and I got a 6 in this, which is perfect. I have another lulu bomber, the warm two ways bomber, and I'm super happy with that one too. If you're on the fence, buy it! I don't think you'll regret this cute jacket.
Date published: 2020-02-13
Rated

1

out of

5
by
CodeRed82
from
Great jacket, until the seams split
I loved loved loved everything about this jacket, the versatility of each side, the warmth, the style of it until I reversed it and notice on my drive to work that the seam on my arm had split about 3" and I could see the white lining inside. I am so disappointed, fabric is so frayed that it doesn't look like a seamstress could fix either.
Date published: 2020-02-11
Rated

5

out of

5
by
ElaP
from
Love this Jacket
This jacket is amazing. Fits great, perfect weight for cool to cold weather. And looks great too. I'm 5'5 and 150lbs. I'm usually between a size 4-6 in Lululemon tops and bras. I ordered a size 6 and size 8 in this jacket - i kept the 8. The size 6 fit, but was more cropped fitted than i liked.
Date published: 2020-01-27
Rated

1

out of

5
by
TamIAm
from
Ordered two, both discoloured
I originally ordered this (the deep magenta colour) in October. I wore it a few times and when I went to wear the reverse side (the down-looking one), I noticed dark patches all down the arms. At first I thought it was just the way the metallic colour caught the light, but once I saw it in natural light, it was clearly discoloured. I took it back (the Lulu team member who helped me confirmed it wasn't my imagination) and ordered another because I loved the colour so much and was hoping it was a one-off problem, but I just noticed it's happening again. I only wore both a handful of times and only with sleeveless tops, but I've occasionally gotten warm while wearing it, so it's almost like sweat/moisture is causing it to discolour. I might not have noticed if not for the fact that it's supposed to be reversible, but I can't wear the one side because of the issue. Another minor issue: it I'm not using it for working out, but if I perspire even a little, it seems to trap body odour. I've had that happen when I've worn cheaper fabrics/brands in the past, but it's never been an issue with my Lululemon clothing when I've worn it in hot conditions such as classes or for running. So disappointed because I love everything else about the jacket - fit, feel of the fabric, colour, etc.
Date published: 2020-01-23
Rated

5

out of

5
by
powerwithgrace
from
Love the versatility!
I bought this bomber to replace the Warm Two Ways Bomber that I had to return because of the filling coming out of tiny holes on the waterproof side. I adored this jacket and was pleased to find a replacement. I'm loving a few differences: 1) the neoprene like cuffs and collar 2) the simple design on the waterproof side (the Two Ways bomber had a gathered seam down the back). It runs a bit smaller than the Two Ways, but not so small I would have had to size up. It goes with everything - athletic or not - and it's warm and practical!
Date published: 2020-01-21
Rated

5

out of

5
by
annelises
from
The Cure for Cold Shoulders
After reading some of the negative reviews I was honestly surprised at how much I love this jacket. I've only had it a week, but I haven't experienced any pilling or unraveling in that time. The weight is perfect for those in-between seasons and the fit is so flattering; cropped enough to give it some shape, but not so short that it's boxy or overly breezy. Worth every penny.
Date published: 2020-01-20
Rated

1

out of

5
by
FitMomKK
from
Was so excited to get this jacket...
My husband bought me this jacket in October, by December the seam came apart on the arm (shiny side). I tried contacting customer service through email twice and provided a photo and they never responded. I love this coat but the fact that it was $150 and couldn't last 2 months is ridiculous.
Date published: 2020-01-19
Rated

1

out of

5
by
Whiteboard
from
The bomber that bombed
Really wanted to love this jacket b/c it looks so cute in the pics and the color is so pretty but there are a few design flaws that make this jacket a bomb instead of being a bomber. First, the sleeves are too long. I have many lululemon hoodies that fit well in the sleeves but this jacket just has to much material. Second, when you reverse the jacket showing the puffier side, the side pockets poof out making the shape of your body look funny. I wished they had put the zippers on the pocket like they did on the reverse side. Overall, this jacket was highly disappointing.
Date published: 2020-01-17
Rated

2

out of

5
by
Lyza
from
Cute but disappointed
I'd been eyeing in this jacket and finally decided to buy It when I saw it's on sale. When it arrived I tried it on right away and I can barely move my shoulder and arms it is super tight, I always order size 6 in tops and jackets but unfortunately this jacket run too small. I bought this jacket on sale and can't return. Very disappointed.
Date published: 2020-01-12