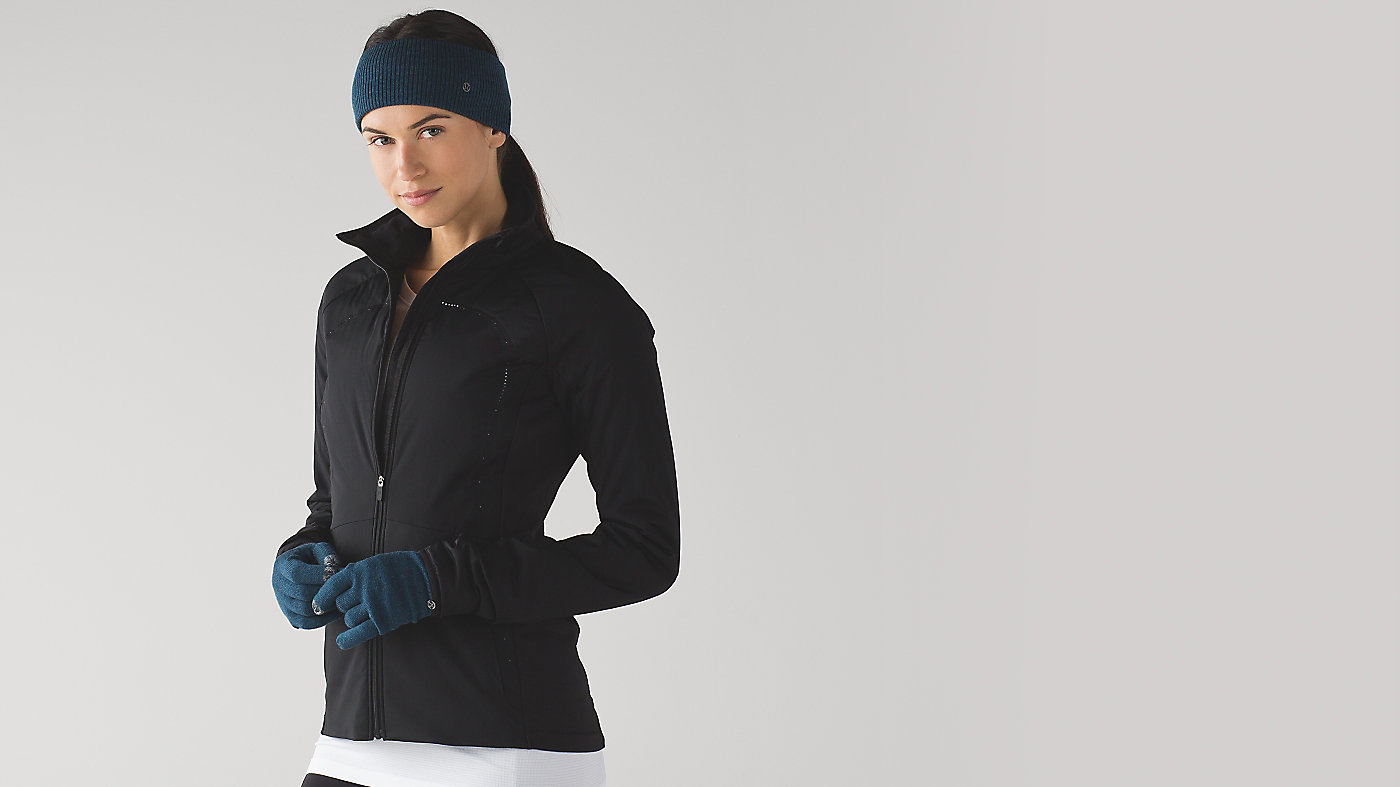 Article conçu pour
La course
---
Isolant Primaloft® Active
L'isolant synthétique vous tient au chaud
---
Tissu Fleece hydrofuge
Vous tient au chaud sans compromettre votre mobilité
---
Gestion de la sueur
Stratégiquement perforé et muni de bandes latérales qui favorisent la circulation de l'air et aident à évacuer la chaleur après un entraînement à l'extérieur
---
À vous de choisir
Enfilez-le par-dessus une couche de base qui évacue la sueur ou sous une coquille pour personnaliser votre niveau de thermorégulation
---
poches pour les mains
Parfait pour ranger tous vos trucs
---
Réfléchissant sur 360°
Vous aide à rester visible dans la pénombre
Run For Cold Jacket
is rated out of
5
by
120
.
Rated

2

out of

5
by
dchurchill
from
Want to love it, but I can't
This coat is almost perfect. It fits wonderful, feels great, looks great. It's light weight but totally warm even for cold day runs. Breathable and comfortable. It can be rolled into a tight package to fit into even a very small bag, and comes out with no wrinkles. Why don't I love it....the material inside the body area of the jacket keeps coming out so you have white balls all over your coat (mine is purple, so if you are going to get it, get it in white, maybe you will not notice it). They are on the outside and inside of the coat. A real shame.
Date published: 2017-05-19
Rated

1

out of

5
by
fitmomofsix
from
NOThappy
I loved this jacket when I tried it on. Then after only a few wears I see the filling coming out. Come on Lululemon for the price I paid you would think the material would be better!!!!!
Date published: 2017-05-17
Rated

1

out of

5
by
Janewilliams
from
Run for cold jacket
got this jacket early this year hoping to use it as an everyday jacket and jogging. When I first got it, I thought it was perfect jacket . It is light-weighed, but warm, and quite flattering. It was very disappointing when I saw the inside filling coming out after 3 wears - all of which were a total of an hour to go to the mall, not even exercising. I wear lulu clothing 80 percent of the time and this is my worst purchase
Date published: 2017-05-16
Rated

2

out of

5
by
TracyTLC
from
I wanted it to love this jacket :(
This would of been my most favourite purchase from lululemon yet however this jacket lacks the usual outstanding quality of lululemon that we have grown to love and expect. Although it fits perfectly and is suprisingly warm, after only a few short months, the interior filling is starting to come out all over the jacket looking like its covered in lint. Sadly, i would not recommend this purchase as i am super disappointed.
Date published: 2017-05-08
Rated

3

out of

5
by
Em1230
from
Nice but pills
Dang! I wish I'd read the reviews better before purchasing. It IS a warm jacket and I was SO pleased with it at first, but it began to pill soon after purchasing :(
Date published: 2017-05-02
Rated

1

out of

5
by
bmgazo
from
Not Lulu Quality
I purchased this jacket for the Spring and loved the soft material and fit. With the chilly weather still here, it is warm and perfect for morning runs. I have maybe worn the jacket 10 times and on a run yesterday, I brushed by a tree and it cut a hole in the first layer of the jacket. I was shocked- I almost only exclusively wear Lululemon and I am shocked with the poor durability of the fabric. I would not recommend buying this jacket.
Date published: 2017-05-02
Rated

3

out of

5
by
LuluEnthusiast26
from
Kind of disappointed
I bought this jacket and think it is perfect for wearing in the cool morning temperatures. It feels like you are wearing a pillow! However, the stuffing started coming out after just two wears and I can't get it to stop. This was a little bit disappointing since Lululemon usually makes such good quality gear.
Date published: 2017-04-25
Rated

1

out of

5
by
Erin5
from
Inside filling coming out
I'm very disappointed with the quality of this jacket. The filling is coming out all over the jacket after very few wears. I picked at one of the white fluffs coming out and a big piece of the filling came out and got stuck - it now looks like the front of my jacket has a bunny tail. I expect better quality from Lululemon. Disappointed, especially given the price of the jacket.
Date published: 2017-04-25
Rated

5

out of

5
by
ames14
from
Best Jacket Ever
Not sure where these complaints are coming from. Never had an issue with the insulation coming out. I actually loved this jacket so much I bought 2. I got the half zip with the hood for running and bought the full zip (on sale) for day to day running around. It is absolutely great for the middle layer when its really cold (I live in Alberta...), and for a light jacket on those fall/spring days. Very flattering cut, fits me perfectly. For reference I am 5'3" 110lbs and my usual size four fit perfect.
Date published: 2017-04-24
Rated

2

out of

5
by
dippy
from
bad quality
Ive purchased many things at the Devonshire mall location in Windsor, ON since it opened up and up until now i've been satisfied with everything but this jacket. The filling is coming out from the outside and I've only had it for a couple of months? Lululemons quality is usually good so i was shocked when i noticed that. I wouldn't recommend this to anyone especially for its price.
Date published: 2017-04-22