Pantalon de jogging Surge Court
69 cm Exclusivité en ligne
128,00 $ CAN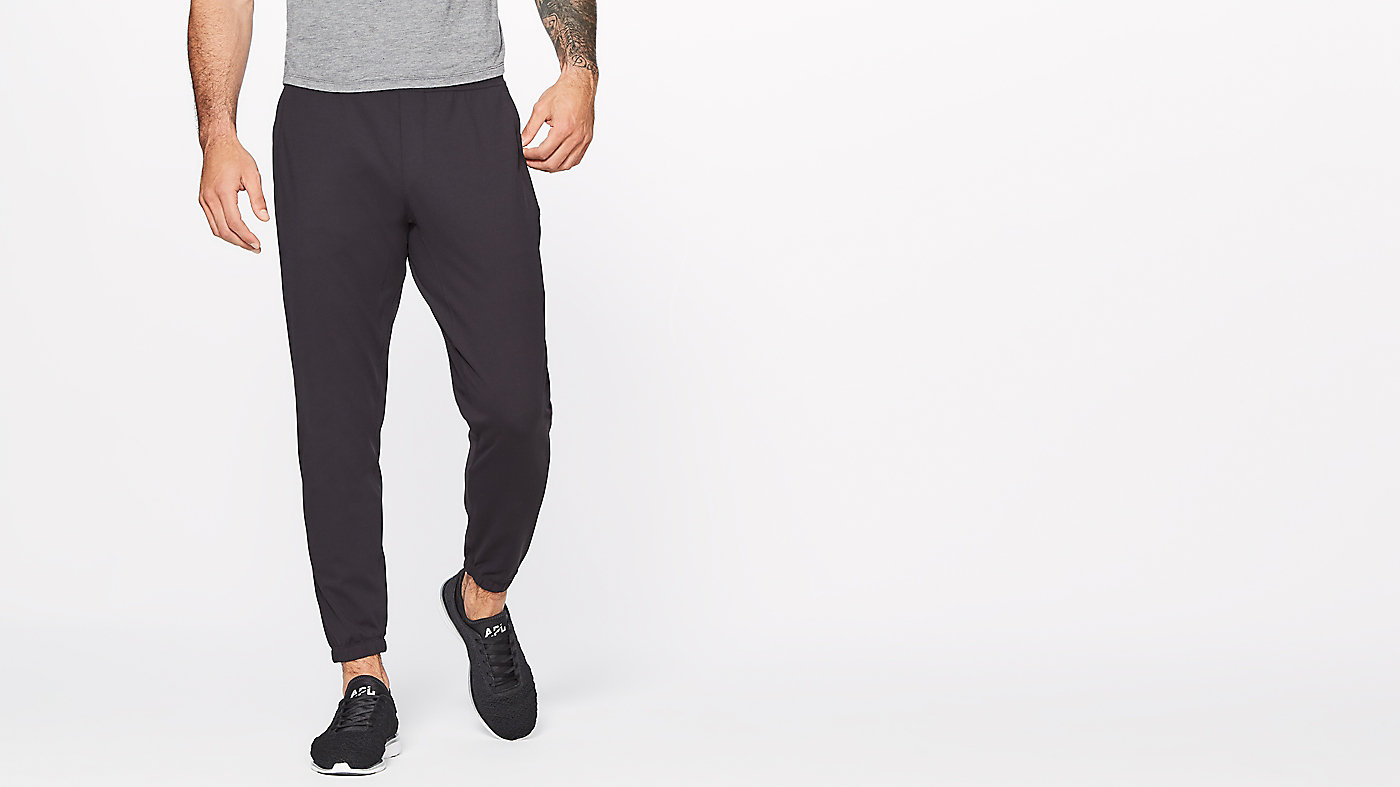 Article conçu pour
Entraînement
---
POCHE À FERMETURE ÉCLAIR
Poche arrière à fermeture éclair pour ranger vos essentiels
---
À vous de briller
Les détails réfléchissants vous aident à rester visible lorsqu'il fait sombre
---
ample
Coupe ample aux fesses et aux cuisses
---
Coupe
S'effile du genou à l'ourlet.
---
Entrejambe
Entrejambe de 69 cm

Surge Jogger Shorter *27" Online Only
is rated out of
5
by
29
.
Rated

5

out of

5
by
RunRickRun
from
Refreshing fit for short guys
i saw these in our local store in the 29" inseam. Tried them on, and the legs bunched up making them look awkward. I went online and saw the 27" inseam and took a chance on them. So glad I did. They fit perfect. I am 5'5" and 140 with athletic thighs/hips. The small was a bit snug in the hips but the MD was perfect. These stretch and fit very comfortably. They are lightweight and not warm enough for cold weather, but they are perfect when the temps go over 50. Great for the gym and stylish enough to wear for my Saturday errands and casual activities. Went back and bought in black. The blue color is ok, but I prefer darker blue. Would buy more colors if LULU makes them.
Date published: 2020-02-24
Rated

5

out of

5
by
JeffL
from
Fantastic
Let's be honest. lulu is expensive but worth every penny. Their clothing is made well and fits great. The best part? It's so comfortable. If you're trying to decide if it's worth the money the answer is yes!
Date published: 2020-02-22
Rated

5

out of

5
by
Cettiep
from
Great fitting pant
Bought this because I wanted the shorter length and could not be more pleased. Great quality and worth the price.
Date published: 2020-02-13
Rated

5

out of

5
by
CriticalCareRN
from
Athleisure at its best
These joggers are simply amazing and very flattering. I wear them to the gym, while running errands, and to casual meet-ups. They fit extremely well, and it seems the quality has improved over the years. For your reference, I am 5'6 and 160 lbs.
Date published: 2020-02-12
Rated

2

out of

5
by
PTHER
from
Comfortable but Awkward Fit
These pants feel great but are super strange fitting. The elastic bottoms constantly ride up and cause the pants to look baggy around your calves and thighs. It makes me feel like I'm wearing clown pants. I thought I would be able to wear these for work but they aren't quite professional enough to do that due to the baggy fit around my legs combined with the right elastic ankle portion. I wish I would have bought a different pair of pants from Lululemon instead.
Date published: 2020-02-11
Rated

4

out of

5
by
CoachGus
from
Great length
Great light weight jogger for guys under 5'10. Light weight fabric My husband is a fan
Date published: 2020-02-08
Rated

2

out of

5
by
Anavrin
from
Not for short people; designed for tall people who want shorter joggers
TL;DR - if you're short, don't get this because it's not designed for us. It seems as if Lululemon designers simply took their normal-length jogger design, shortened the inseam, and called it a day. Unfortunately, these joggers are not designed for short people despite being shorter length (27" as described). I'm about 5'6" and ordered a M. When they arrived and I put them on, nothing fit right. The pockets are so deep that they run far down my leg. It makes them nearly unusable because I have to reach so far down to get anything. Otherwise, the pockets flare out and it feels a bit baggy in the legs, despite the waist being snug. I wish I knew before I purchased these because now I have pretty expensive pajama pants. Granted they're comfortable for around the house and sleeping in, but the utility is severely diminished. To Lululemon designers: please design joggers for short people too, as in truly design them for short people by making the dimensions correct. We exist and would love to be able to have the same fashion choices as the taller people. There are DOZENS OF US!!!
Date published: 2020-02-07
Rated

5

out of

5
by
luluenthusiast2
from
great! continue with smaller pants please
Lulu! These are great, please continue to make pants for shorter guys! I wouldn't even mind these in a 26" ! great material and fit. Thank you.
Date published: 2020-02-05
Rated

3

out of

5
by
Anonymous
from
Fit varies
I bought a pair after trying my friends on, which fit great. However after ordering it in a different color, I found it was longer and looser than his. Since it has a cuff and zipper, lululemon doesn't do the free hemming on it either
Date published: 2020-02-04
Rated

5

out of

5
by
Lululover889
from
Great Pair of Joggers
Lululemon is a popular trusted brand, and their Surge Joggers continue to keep their reputation. Lululemon is an athletic apparel retailer from Delaware, and headquartered in Vancouver. Lululemon is known for its exceptional athleisure that is appropriate for all ages. This pair of Lululemon Joggers went beyond my expectations. Joggers are a type of sweatpant that tightens at the ankle. They are used for running or jogging, hence the name "Joggers". They are very appealing, they have different ranges of sizes, there are many features, and there is lots of provided information. I had gotten these Lululemon Joggers for Christmas and I have loved wearing them. I love the way they look. They are a darkish gray color that Lululemon calls, "Obsidian". They also come in mach blue, and black. Reflective detailing is also on the jogger around the ankles and by the logo. They are made out of a windbreaker like, water repellent material. Personally, I like the way it feels and it is different than most pairs of joggers. The materials used on the body of the jogger are nylon and lycraXtraLife. Those fabrics also allow for what Lululemon is calling a "four-way stretch". This four way stretch makes them a great pair for runners in the cooler winter months. If your tall and have a small waist or short and have a larger waist there is a size for you. Commonly most brands will have small, medium large growing in both length but also waist size. Lululemon does it by inseam. They have joggers for 27" inseams to 32" inseams. Once the inseam length is chosen they have waislengths from XS to XXL. I had opted for a 27 inch inseam and an XS size waist. I enjoy having a pant that looks as if it was tailored just for me. The joggers also have many features that make them even better. The jogger has sweat-wicking technology that draws off liquid through capillary action. At the bottom of the ankle is a zipper on both legs that goes up to the beginning of the calf. With the tightened ankle it is hard to get pants over the ball of the foot. Unzipping the zipper allows for an easier put-on and take-off method. This is very useful since ripping the jogger could be upsetting. On the waistband, there are tightening strings. This is useful for those who may have smaller waists. The strings are easily tieable and have an embossed logo on them. It is the little details that make them so great. On the Lululemon website they provide their customers information on their purchased product. This is something I hope all retailers would do. Lululemon says when washing the Surge Joggers to wash with similar colors, wash in cold water, and tumble dry on low. Lululemon provides information on things not to do to the jogger. They say "Do not bleach", "Do not iron", and "Do not dry clean". This is very useful to keep them in the best condition. With all that's good, there are also downsides too. The biggest drawback is the price. They cost 118 US Dollars. For most this is not affordable. Shelling out 118 Dollars for a pair of pants is absurd. Another downside is that towards the bottom they get a layering effect. Since Lululemon suggests not ironing them they can get a little rumpled on the bottom. The jogger is on the thinner side and doesn't provide too much warmth. For me, that is not a problem, but some would not enjoy that. In summary, the Surge Jogger from Lululemon is an exceptional pant that is great for everyone. Lululemon is a trusted athletic-wear brand that produces great products and this is one of them. All the great features and little touches put it above the rest.
Date published: 2020-02-01