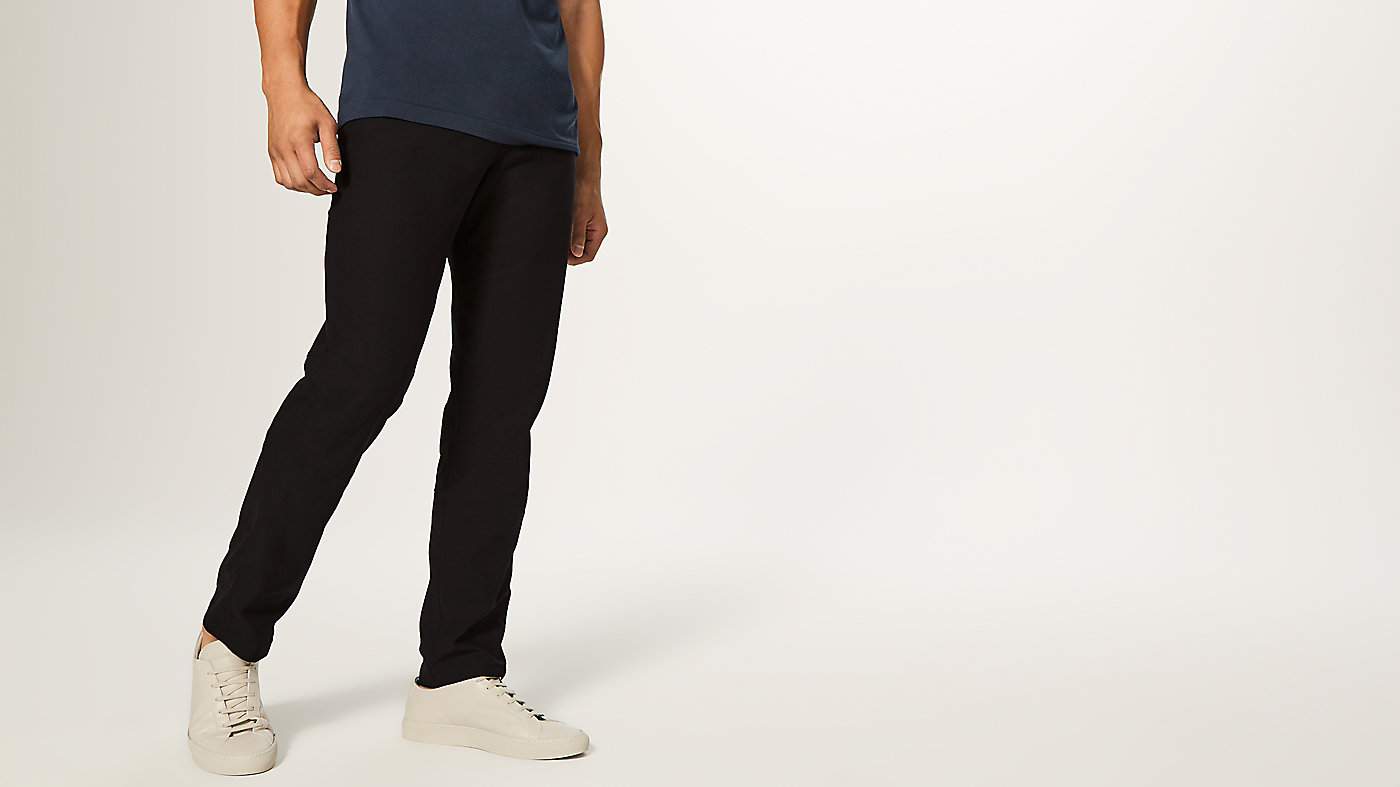 Article conçu pour
Vie quotidienne
---
soutien
La construction ACC (anticasse-couilles) permet d'y mettre le paquet sans écraser votre « paquet »
---
rangement
Poches à fermeture éclair et pochette pour téléphone à l'intérieur pour ranger vos essentiels
---
Réfléchissant
Roulez les chevilles pour dévoiler les détails réfléchissants
---
ample
Coupe ample aux fesses et aux cuisses
---
Coupe
Coupe droite du genou à l'ourlet.
---
longueur
Longueur de 86 cm

ABC Pant Classic *Tech Canvas 34"
is rated out of
5
by
13
.
Rated

5

out of

5
by
GeorgiaRuss
from
Love them!
While I wear solid color ABC pants to work I wanted a less formal pair to wear out and about. This has the look of denim but softer and of course moves with me thanks to the stretchiness. These are also a little thicker than the standard ABC which are perfect for these cooler months.
Date published: 2020-01-18
Rated

1

out of

5
by
ry34ry
from
Another Review About Lulu's inconsistent size
So, I got a gift card from a friend and was so exited to get another pair of Lululemon pants as they are so comfortable and the pants I always grab from my closet. I went to my local shop and got this pair. I loved them, I wore them all the time and they were amazing. Then one day I noticed they were pilling pretty badly around the thigh area and around the butt area. So I took them into the shop and they ensured this was not normal and wanted to get me a new pair. Unfortunately, they did not have any in my size in store, so we decided to order a pair. When they came in I was excited to be wearing these amazing pants again. But the first morning I decided to wear them I was running late and cut the tag off then put them (to save time) yes this was pretty dumb, but I got THE SAME EXACT PAIR so they should fit the same right? No, they are huge on me and look awful. I look like I am swimming in them. Yes I should have tried them on before cutting the tag off as there can be variation between pants, but there shouldn't be this much and I am very disappointed with Lulu right now :(
Date published: 2019-12-30
Rated

5

out of

5
by
HughCooper
from
Quickly became my favorite pants
What can be said that hasn't already been stated. Every time I buy a new pair of Lululemon pants the other pants I own seem to take a backseat. These pants not only look great, but they are also extremely comfortable. I hope Lululemon starts making these in more colors so I can buy them the second they hit the store shelves.
Date published: 2019-11-28
Rated

5

out of

5
by
cmt1271
from
Fashionable and comfortable
Great fit, I wear these to work and peers are unaware that they are yoga pants. Highly recommended.
Date published: 2019-10-21
Rated

4

out of

5
by
YeiYei
from
Another great pair of Lulu pants!
Big Lulu fan hear, particularly for their pants, I go all the way back to the Ascent Pant in 2013! I love the fabric! A little casual, but combined with the exact amount of seriousness you need to be able to take them to work! My only (minor) issue is that in the last 3 pants that I have bought, I get loose stitches in the pocket edges after a couple of uses. Beside from that, Lulus are my go to (and only) dress pant!
Date published: 2019-10-16
Rated

5

out of

5
by
Nicanla
from
Dependable-Perfect Fit
Always dependable and perfect fit.
Date published: 2019-09-05
Rated

4

out of

5
by
GoodtimeCharlie
from
Okay
The pants fit well now, but wont if they shrink any.. I was disappointed in that there was not any direction on washing, drying or care for the pants.. hard to get ahold of anyone to give me clarification on this ?
Date published: 2019-08-30
Rated

5

out of

5
by
jimravello
from
Tech Talk
I just purchased my second pair of ABC Pant Classic *Tech Canvas 34". Since Lulu was out of these for some time I thought they had discontinued them but it turns out they sold out fast! These pants are soooo comfortable and the fit for me, classic, is perfect. I wear them as everyday pants, going out and especially for travel. Now that I have two pair, the only negative I have is that they do NOT come in different colors. Thanks Lulu!
Date published: 2019-08-22
Rated

5

out of

5
by
yohotyoga
from
best ever
I own 8 pairs of lulu pants and these are my favorite.....you have got to try these on if you can find them in store..
Date published: 2019-08-18
Rated

5

out of

5
by
HockeyFool
from
Love this new "denim like" material
Cant say how long I have been waiting for this material. It looks good, stretches good and feels good. I hope Lulu takes the success of these (couldn't find any for quite some time) and does other colors with the same material. Huge
Date published: 2019-05-06