Pantalon ABC ajusté
Tech Canvas 86 cm
138,00 $ CAN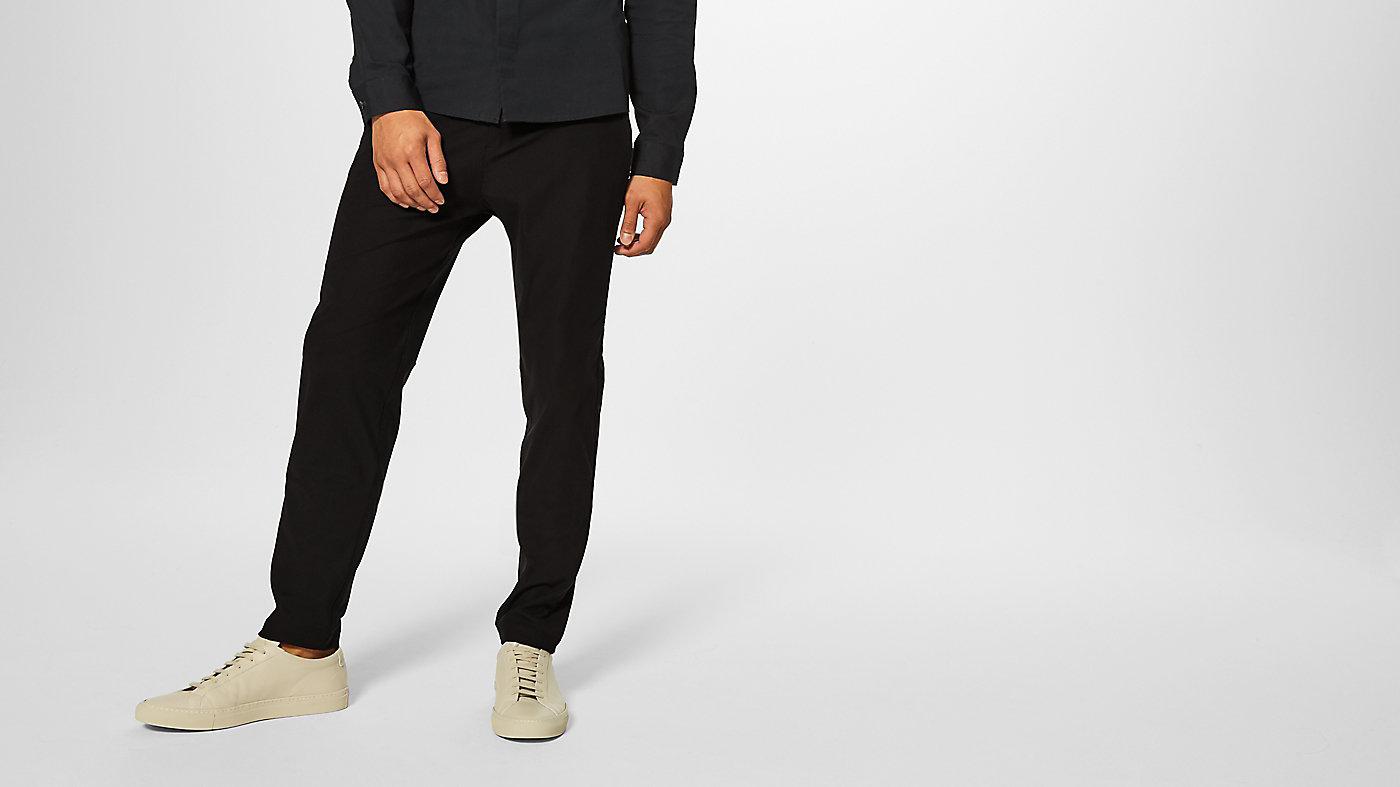 Article conçu pour
Vie quotidienne
---
soutien
La construction ACC (anticasse-couilles) permet d'y mettre le paquet sans écraser votre « paquet »
---
Réfléchissant
Roulez les chevilles pour dévoiler les détails réfléchissants
---
ajustement profilé
Réduit le volume aux fesses et aux cuisses
---
Coupe
S'effile du genou à l'ourlet.
---
longueur
Longueur de 86 cm

ABC Pant Slim *Tech Canvas 34"
is rated out of
5
by
39
.
Rated

1

out of

5
by
pwmccorm
from
Lack Durability
Pant's fit and looked great initially. Over the course of only a few months the thighs and near pocket area on both sides have significant pilling. They also tend to loose their shape very quickly after wash. Overall very disappointed in the quality of these at this price point.
Date published: 2020-02-17
Rated

2

out of

5
by
GatoGrande
from
These are not actually slim fit!
So I have over a dozen pairs of ABC and commission pants, all in a slim cut. All are tapered from the knee to the cuff. Also worth noting, I bought the ABC canvas jeans in the summer (the original color) and they had the same cut as the other pairs. I got super excited to see a darker version. Upon arrival, I tried them on and the fit was not the same. The tag, labeled slim fit, said straight from knee to hem. I do not know if they were mislabeled by the factory but they are not slim fit. I went to my local store and all of the ones in the store at the same issue. Be warned these are currently straight fit.
Date published: 2020-02-15
Rated

3

out of

5
by
Lulufan365
from
best pants I've ever owned
They're so comfortable, stretchy, and warmer than the normal abc pants made with the wars-stream fabric which I love in the cold/wind. I would've bought another pair if they had more colors but they've had the same for almost a year now :( (neglect on the mens clothing options as usual) I've loved these pants since the start and tried really hard to over look its flaws because I love them so much but its getting harder and harder as time goes on (only about 8 months of wear). First off, the threading around the hole where the button goes was already coming undone after buying the pants online/wearing them just made this worse, and I was hoping for more from pants that are over $100, secondly the color starts to fade bad to almost a grayish blue more than the true jegging look it was pulling off before the first few washes. There might be a way to fix this or preserve the color from the beginning, but I just was expecting more durability from the infamous lululemon brand considering this is the second pair I've ever owned. Overall I would recommend these pants to a friend if they possibly rethought the quality of materials being used or switched to stronger dyes maybe that don't fade as fast or maybe a tag that warns of washing with other colors or maybe more colors that would convince to overlook all these flaws once again. also a size 29 needs to be added to ALL pants PLEASE
Date published: 2020-01-30
Rated

5

out of

5
by
JohnLuluDoe
from
Perfect
New favorite pants. I need these in other colors. Not want. NEED.
Date published: 2020-01-23
Rated

5

out of

5
by
Mykson
from
Great Pants
Purchased these for my son. He is tall and slim. The fit was perfect. I wish they had more colors.
Date published: 2019-12-29
Rated

5

out of

5
by
WinterWarrior13
from
Need More Colours!!
Bought for my boyfriend for Christmas - he absolutely loves them!! They look like a nice pair of jeans that you could easily wear out to a bar or to dinner, but feels like you're wearing joggers. Also, makes that booty look A+++ highly recommend! But PLEASE lulu, MAKE THEM IN MORE COLOURS! We need a lighter-blue demin, a grey-denim, just some more options so we can get away with wearing these everyday and not get clocked!
Date published: 2019-12-23
Rated

4

out of

5
by
JonathanM
from
Good substitute for jeans
I really like these. They look enough like denim but are comfortable and durable, so they're a great solve for anyone who hates the feel of jeans or finds their jeans wear away too quickly. Recommended!
Date published: 2019-12-18
Rated

2

out of

5
by
NaVere
from
I really wanted to love this
When I first saw these I was in love with the color and fabric. Lulu finally made jeans! However, I was quickly disappointed. The fabric feels great but stretches out way too loose and they began piling like crazy. I ordered a 34, they feel like a pair of 38 now.
Date published: 2019-12-13
Rated

5

out of

5
by
zz85
from
More colors needed yesterday!
I'm writing this review, primarily because I want to register to Lulu that the biggest shortcoming of these pants is that they only come in one color. I need three or four more colors. These are the most comfortable pants ever.
Date published: 2019-12-12
Rated

4

out of

5
by
Ripitup
from
Love the stretch
I really like these pants. The fabric is really nice however they need to be available in more colours. My only complaint so far is that the waistband has absolutely zero stretch which I don't understand. The fabric has great stretch and doesn't get baggy I just wish they would do something about the waistband.
Date published: 2019-12-07