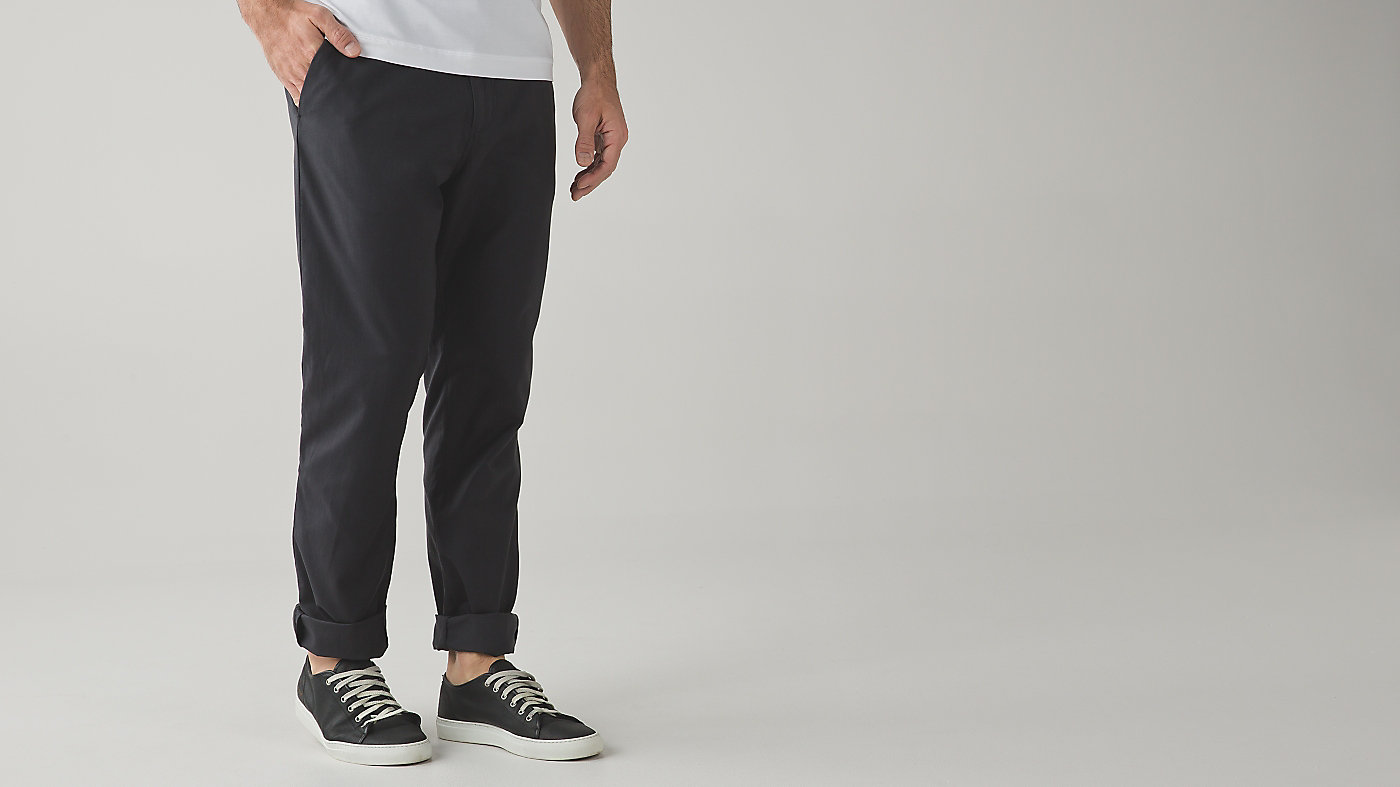 Article conçu pour
Vie quotidienne
---
soutien
La construction ACC (anticasse-couilles) permet d'y mettre le paquet sans écraser votre « paquet »
---
POCHE À FERMETURE ÉCLAIR
Poche à fermeture éclair dissimulée pour ranger votre passeport
---
POCHES ANTI-BÂILLEMENT
Les boutons-pression cachés empêchent les poches arrières de bâiller.
---
Réfléchissant
Roulez les chevilles pour dévoiler les détails réfléchissants
---
ample
Coupe ample aux fesses et aux cuisses
---
Coupe
S'effile du genou à l'ourlet.
---
longueur
Longueur de 86 cm

Commission Pant Classic *Warpstreme 34"
is rated out of
5
by
30
.
Rated

1

out of

5
by
Ab2851
from
Really sad about these
Couldn't believe how fast they faded and lost their quality.
Date published: 2020-01-03
Rated

1

out of

5
by
GoFlamesGo
from
Do Not Buy - Material Change Needed
Upon first trying these on, I thought I had found the perfect pant and decided to buy two pairs for office wear. They were slim fitting through the thigh and tapered perfectly on the lower leg but not skin-tight as the commission-slims seem to fit me. However, after a few days of wear, they stretched out and fit VERY loose through the thigh and haunches to the point where they look like a pair of 20th century knickerbockers. Cycling through the dryer does little to bring them back to their original shape and has to be done after 1-2 uses as they stretch out so quickly. Extremely disappointed in the material and regret buying these vs the ABC pants which seem to retain their shape much longer. Not worth the price. If you are on the fence, either save your money or buy the ABCs.
Date published: 2019-10-22
Rated

5

out of

5
by
danthefailsafe
from
Awesome pants, just order a size or two larger
I took a gamble with these since there were a bunch of cranky people in the comments complaining about sizing. I'm a 31 or 32 usually, with long legs and I ordered them in 36. Anyways, issues happened with Fedex and I needed to pick up the pants from their facility--21 miles away. Biked it, got home moments before it started pouring rain and the pants not only fit perfectly but they are phenomenal! Lots of different pockets, very comfy, a little reflective tape if you roll them up at the bottom, just order one or two sizes larger than you normally would get and you'll be right as rain!
Date published: 2016-07-07
Rated

1

out of

5
by
2010Alicia
from
Sizing is way off compared with other Lululemon clothing
I bought these pants for my Dad for his birthday. I have purchased him several pairs of shorts and pants in the past. He loves them, but would never spend the money to buy them himself. I got him a pair of these from the We made too much sale. His size 38 shorts I got him are too big for him now. So I decided to order the 36. Big mistake. They are tiny. They fit more like a 32 or really small 34. Now I am stuck with these pants that fit no one and of course they are not returnable or exchangeable. I would be fine with this had it been just a dislike of the pants but when it's lululemon's fault because they don't have consistent sizing I find it unfair.
Date published: 2016-05-24
Rated

5

out of

5
by
Spennymk
from
Awesome Pants
I'm 6'2" and weight 230. I'm an olympic weightlifter and crossfitter and have the darndest time finding pants that are comfortable and fit over my quads and butt. I got a 38 in these and they're amazing. the waist is a little big, but not nearly as bad as what I usually have to deal with to find pants that fit my legs. super comfy, stretchy and they look darn good.
Date published: 2016-05-04
Rated

4

out of

5
by
BGH1235
from
Good pants
Love the styling... a little more dressy than ABC and still comfortable with some stretch. Sizing is a little off (36 tight but 38 a little loose) I sized up with these and they have been fine. Material doesn't seem to breathe like other materials and trap in some heat... great for cold weather not so much for heat. Over-all satisfied and would buy again.
Date published: 2016-05-03
Rated

1

out of

5
by
P2000
from
Bad sizing
Horrible sizing on these. Do not buy final sale without trying on first.
Date published: 2016-04-27
Rated

5

out of

5
by
randstarr
from
great looking pants
So a lot of reviewers are complaining about the fit. I was also concerned about the fit prior to ordering but I went ahead and ordered my size which is 34. The pants arrived, and they fit perfectly. Because of the material as well, there is a bit of a stretch, so it didn't feel tight at all. The cut is nice and slim and tapers well to the ankles. I can bend and stretch and run in them, and the pants adjust well. Unless some of these people are just getting a bad batch of pants, or trying to fit in pants they shouldn't be, is hard to say. I did check the fitting chart ahead of time as well. All in all, the pants look and feel great.
Date published: 2016-04-13
Rated

5

out of

5
by
Brendan
from
Love these pants!
Definitely need to go one size up with these pants, but they are an awesome pant. Nice slim leg opening that can be worn with different shoes. I wear these to work and love them. Not at light or stretchy at the ABC pant.
Date published: 2016-04-10
Rated

1

out of

5
by
mlljones
from
The sizing is way off
I bought these for my Dad for his birthday in the size that he normally wears in Lululemon shorts and pants (36) when they arrived he couldn't even button them up. I just measured the waist and they are barely 34 inches. I know this is final sale but if the sizing is this inconsistent then people should get refunds.
Date published: 2016-04-05