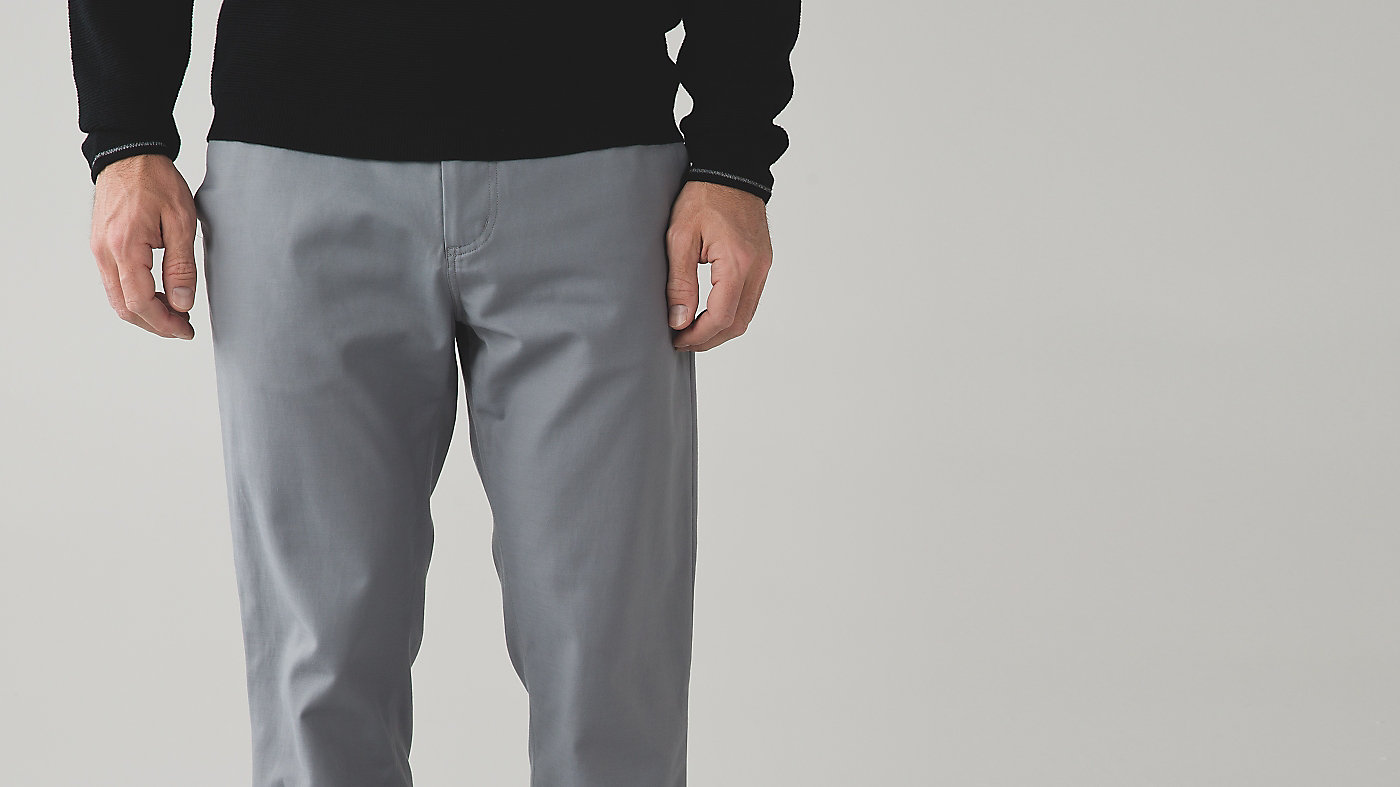 Article conçu pour
L'aller-retour
---
lycra®
Le tissu extensible conserve sa forme grâce à l'ajout de fibres Lycra®
---
Réfléchissant
Roulez les chevilles pour dévoiler les détails réfléchissants
---
POCHE À FERMETURE ÉCLAIR
Poche à fermeture éclair dissimulée pour ranger votre passeport
---
ajustement profilé
Conçu pour reposer sur les hanches; coupe profilée des fesses aux cuisses, puis fuselée des genoux aux revers
---

Commission Pant (Tall) *Qwick Chino
is rated out of
5
by
41
.
Rated

1

out of

5
by
WesleyM
from
Not Built to Last
I was so excited when I found these pants that I bought multiple pairs right out of the gate. The fit was perfect. They are lightweight. And I generally just loved the way they looked. This excitement quickly faded to disappointment, along with the colour of the pants. Over the first couple of weeks, I only wore one of the pairs a couple of times to ensure I was happy with the pants. After a few wears, and no washes, the paints quickly faded away from their natural navy blue colour, and are now left with streaks. In addition, the pants quickly lost their shape and are now baggy in all the wrong place. Very disappointed in the quality of the product, after all the initial excitement.
Date published: 2017-06-21
Rated

1

out of

5
by
AndrewA
from
Fades and loses fit too quickly
I loved these pants when I first tried them on but was let down after about a week of wearing them. With zero washes, the color has faded and now looks like old material. The waist and leg seem has stretched a considerable amount. I did ask the employee at the store if they would stretch like other pants but they assured me they would stay true to their form. Perhaps going one size smaller in the waist would have counter acted the stretching but I'm not very satisfied for the price.
Date published: 2017-06-13
Rated

1

out of

5
by
bman
from
COLOUR FADED AFTER ONE WEARING
Oh man. I bought these in Foghorn, and I loved them. They are a nice fit (slimmer in the leg than the ABCs,), lighter material than the ABCs, and very work-appropriate. Moreover, totally perfect to bike across the city because they are so comfortable. Wore them to work (rode my bike there and home), took off the pants to re-hang, and noticed that the inside of the waist had completely discoloured to a bizarre pinkish colour. Before you ask, no, I don't use any skin products that could have caused this. This is purely from sweat. This is compeltely unacceptable. Lululemon, if you're listening, here's a suggestion: recreate the ABC pants using the ABC material (or maybe a lighter-weight version of the ABC pant material),, but in the Commission Pant cut. That would be amazing. Quality control for the CP material is obviously lacking and needs to be addressed. I wish I had read all the negative reviews before buying a pair. I'm getting flashbacks to the sweat-fading that happened to my On The Fly baseball caps last season. Major problem.
Date published: 2017-05-18
Rated

2

out of

5
by
CWKF
from
Baggy after just a two wears!
The look of these pants are very nice. Unfortunately they fit very well when I got them and then within TWO wears they became baggy (no washing between them). I then washed them in cold water, hang dry appropriately, hoping they would snug back up... but nope. Very unfortunate. I have other lulu commission pants and they weren't like this. So maybe I got a bad one. All in all, not impressed with the quality.
Date published: 2017-04-30
Rated

5

out of

5
by
PMKN72
from
Great for Golf
I am a golf pro, and these pants are perfect for work. I can wear them to the proshop for an 8 hour day and then just step out on to the course for a round. They are comfortable and fit really well. One of my favorites to wear.
Date published: 2017-04-11
Rated

3

out of

5
by
JB87
from
Quality pant
These pants are a bit dressier than the ABC pant, but no where near as comfortable. The material is much thicker and wrinkles fairly easily. As a teacher, I always reach for my ABCs before my commission pant.
Date published: 2017-03-27
Rated

2

out of

5
by
CanadianDude
from
Wears easy
First off - I LOVE the fit of these pants. Unfortunately though, there is already wear noted over the right pocket where my phone would sit. And I probably only wore them a dozen times and washed them a few times. So that's very unfortunate for the cost of these pants! The pants aren't tight on me either, so I don't know why there is wear at that area. But this basically ruins the pants and I am very disappointed.
Date published: 2017-03-26
Rated

2

out of

5
by
lp2017
from
Great pants- wore out very quickly
I have two pairs of these pants and they fit perfectly. They are great for the office or just wearing casually. I did find that even though i washed them very little- the fabric wore very quickly and looked a few years old, despite only having both for about a year and wearing them only every so often. Disappointed with the price I paid, but hopefully the durability can be improved because I prefer these over the ABC pants!
Date published: 2017-03-22
Rated

4

out of

5
by
theman539
from
Commission Pant (Blue)
I live in all my Lululemon pants from travel, to work, to exercise. These pants work for everyday to formal dress up. I have the original Commission Pant and now a new pair of this style of pant. I do like the older style a bit better just because it is a light bit more durable then the new ones. This is my only issues. As an athlete (Nordic Skiing) I want to be in clothing that is comfortable and good looking. These pants really make that possible when traveling to training and different competitions. They are also light weight so when packing they are really easy to pack and travel with.
Date published: 2017-03-21
Rated

2

out of

5
by
Expos
from
Color fading quickly...
For the price, the durability of the pants are very disappointing. As pointed by multiple consumers here, the colour is fading quickly (after a couple of weeks), even with few washes. I bought 2 pairs (black and gray), and they both have the same problem. I would not recommend them for that reason (too expensive for the quality). Too bad since I like the fit and comfort of the pants. However, please note that you probably need to buy a bigger size than usual (usually wearing 32, but bought 34 for those pants)... if you really want to buy them anyway. Thanks.
Date published: 2017-03-18