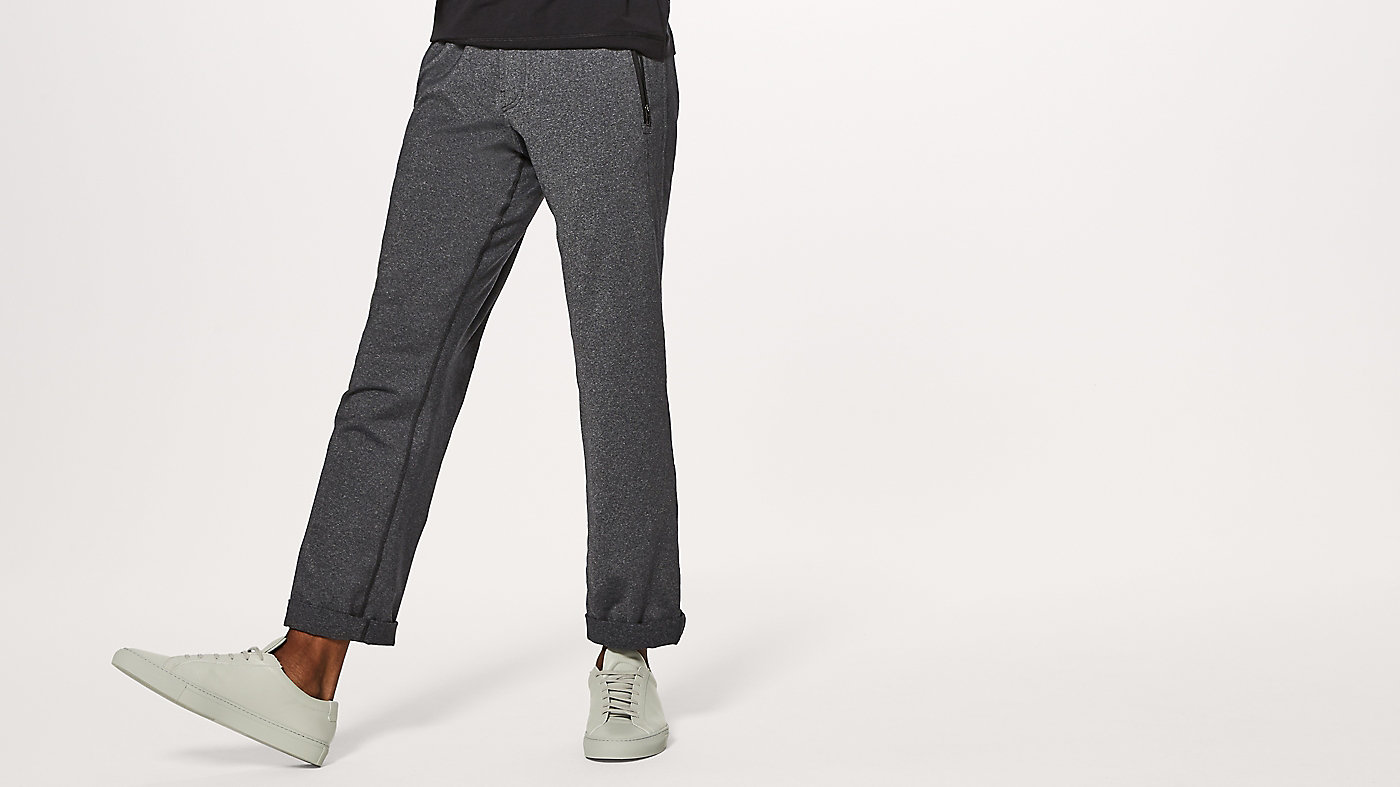 Article conçu pour
Aller-retour, entraînement
---
lycra®
Le tissu extensible conserve sa forme grâce à l'ajout de fibres Lycra®
---
détails réfléchissants
Disposés pour plus de visibilité dans la pénombre
---

Discipline Pant (Regular)
is rated out of
5
by
57
.
Rated

2

out of

5
by
JimL
from
it's a shame my favorite pants have a major case of pilling
I got these pants late 2016 and enjoy wearing them during the mild winter. They are quite comfortable and fit perfectly. I recently noticed that the backside of the pants are pilling and I don't believe that quality is that poor for the money I spent on them. I hate to retire these pants since I only have them for less than six months. I'd hope that the design team will fix this issue on a future update of these awesome pants.
Date published: 2017-05-28
Rated

2

out of

5
by
ChampagneKnight
from
Was thinking about getting this but lots of issues reported.
I was thinking about getting these pants but after reading reviews it looks like a lot of people are experiencing the same issue which is piling. No one wants to buy this for over a $100 and experience that. Lost heart in making the purchase as I really loved the style and the fit of these pants in the store.
Date published: 2017-05-15
Rated

1

out of

5
by
lazzam
from
Pilling
I have two pairs of these pants, one in blue and one in black. The blue are fine, however I have experienced a lot of pilling with the black pair, especially along the seams and along the back pockets. It makes wearing them really difficult, which is a shame because I love everything else about them.
Date published: 2017-04-30
Rated

4

out of

5
by
KingLymond
from
Alright Discipline pants...
Okay, so I bought my Disciplines one month ago. I was incredibly resistant because I LOVED the Kung Fu pants. One month ago I made a list of things that basically stated I wanted my new pants to be my old pants. After the days and weeks have gone by however, I have found that I have an appreciation for the Discipline that has exceeded what I was expecting. To be fair, I bought them with a chip on my shoulder. "These pants CAN'T be as good as the Kung Fu." Let's be clear. They are...as good anyway. Better in some ways, not in others. I applaud zipper fix for the pockets. I dislike zippers greatly, don't know why. These ones are unobtrusive, effective and *gasp* nothing falls out of my pockets anymore! What I liked about the Kung Fu thought is that without those zippers, they were commonly mistaken as a pair of nice slacks and on occasion, I used them as such because I knew people thought that is what they were. So, my uses for the Discipline have been slimmed down but I'm adaptable on my worst days so that's all well and good. As for yoga, the new pants have worked as well as they should for all my classes (both teaching and as a student.) I have blown out the crotch seam on two pairs of Kung Fu several times so we'll see how these obviously thinner Discipline pants stand up to my excessive use of them. I guess I'll just update this review later or something. I ride my bicycle basically every day and the lighter pants are nice, I will say that. On the other hand, the weight of the Kung Fu was very satisfying and mostly warm... Long story medium sized, I will buy another pair of Discipline with pleasure. I was stuck on my old pants and I'm quite happy that the new pair has exceeded my expectations. We will see what time has to say about very regular use. That is all (that I can think of right now.). Thanks for reading, hope it helps.
Date published: 2017-04-27
Rated

5

out of

5
by
brittdee
from
Awesome running pant
I bought these for my boyfriend last year and he was very hesitant by having any lululemon item. He thinks lululemon is girly... well, not anymore! He is IN LOVE with these pants and wears them running outdoors (which is nice with the zippered pockets and the reflective strips) and for outdoor hockey. He wears these to the gym as well. Literally for any activity, these are awesome pants. I bought him both the blue and black and might purchase the grey. Lulu, DO NOT stop making these (but you can put more colors on sale so we can snatch them up haha)!!
Date published: 2017-04-22
Rated

1

out of

5
by
Pookiebear
from
Poor quality of material
These pants fit great, unfortunately I do not feel comfortable wearing them. The pilling that developed on these pants after a very little number of wears makes me hate putting them on. Having many lululemon items, I am always very careful with the wash and care instructions but couldn't avoid this unfortunate result. Incredibly disappointing for a product at this price point.
Date published: 2017-03-31
Rated

1

out of

5
by
Johny91
from
Quality doesn't hold. Pilling after only a week of wear
At first I loved these pants. They fit great and were super comfy. However, after wearing them only a few times the quality of the pants did not hold. The cloth started pilling in one spot progressed throughout the pants very fast afterwards. Every wash made the pilling worse even on the delicate cycle. I'd like to mention that these are my lounge around pants. No physical excerise were done in these pants. Very diappointed in them and would not recommend them to anyone. If you spend over $100 on a pair of pants you would expect quality. These pants are far from quality... if Lululemon came out with another version of these pants with the same fit and comfort but made with a way better quality cloth then I'll probably reconsider buying them again. But for now I'm staying completely away from these pants.
Date published: 2017-03-29
Rated

4

out of

5
by
penguin5
from
Best pants
This is one of my favorite pair of pants that I own. I need to get another pair while the others are dirty.
Date published: 2017-03-01
Rated

4

out of

5
by
Tglenesmi
from
Comfy like no other
First pair of Lululemon pants, currently living in them! The hand feel of the fabric is amazing, so soft. The fit is great- trim but not skinny. I have both colors please add more! Fortunately no issue with with pilling as noted by other reviewers, I don't put them in the dryer just to be safe.
Date published: 2017-02-25
Rated

1

out of

5
by
alexp87
from
Bad Stitching Poor Quality
I love the discipline pant, and had always wanted them in a solid dark blue color, so I was really happy to see these available. I even bought 3 them at once knowing the color might not be around long. To my dismay I found that they are not the same quality I have come to expect from my other Lulu discipline pants. I have only worn the pants 2 or 3 times, and the stitching is coming off of at least 2 of them. At first I thought it was just one of them, then I discovered it on the 2nd pair, and now I'm hoping I won't find the same problem when I put on the third. .What could be so different about these dark blue discipline pants? The fit is the same as my other pairs of discipline pants, they don't feel tight at all so I know that isn't part of the issue either. Surely Lululemon wouldn't place something on sale with a no return policy knowing it was a 'lemon'. If they stand behind the quality of their clothing then I hope they will contact me to make this right.
Date published: 2017-02-06