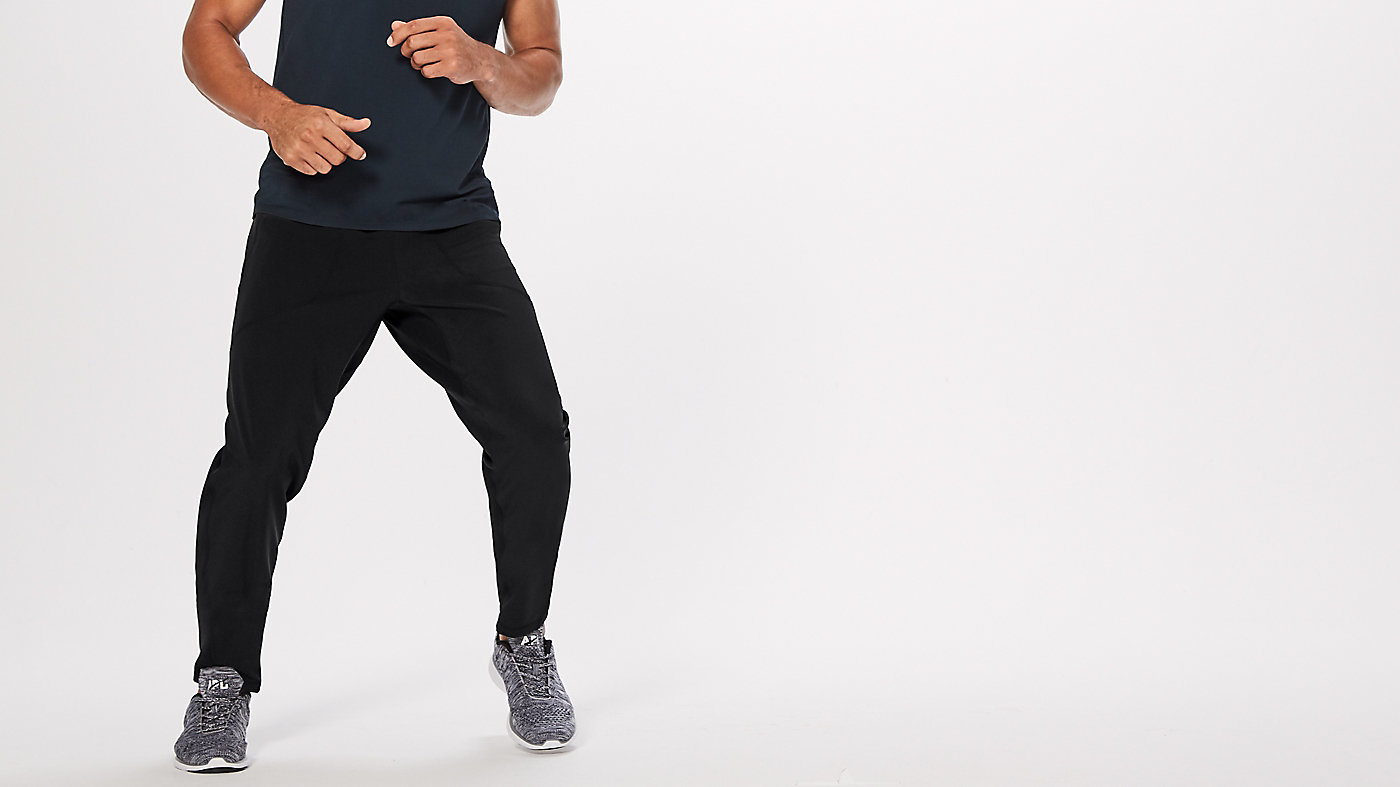 Article conçu pour
Entraînement
---
Pinces au genou
Pinces pour plus de souplesse au niveau des genoux
---
RANGEMENT À FERMETURE
Poche à fermeture éclair pour vos essentiels et poche pour appareil afin de garder votre musique à portée de main
---
ceinture
Deux options pour vous aider à trouver l'ajustement parfait
---
À vous de choisir
Bouton-pression à l'ourlet pour ajuster l'ouverture
---
facile à accrocher
La bande en tissu à l'arrière forme une boucle pour accrocher votre manteau
---
CONÇU POUR BOUGER
Conçu pour reposer sur les hanches; coupe ample des fesses aux cuisses puis étroite des genoux aux revers

License To Train Pant *30"
is rated out of
5
by
36
.
Rated

5

out of

5
by
JJatthebeach
from
A pant up for anything
Great pant to go for jog, go to game or just to go out in on a windy day. I love how well the pants protect you against wind but do not have the feel of a wind breaker.
Date published: 2020-02-22
Rated

4

out of

5
by
JJaquie
from
Great so far
I picked these out for my husband and was pleased that they fit great and he loved them. The size chart was right for him. He is 6'2 with a 32/33 inch waist and I ordered a M. They are fitted (not tight) so I was worried they wouldn't give him the range of motion he needs for weight lifting (e.g. squats, lunges). That's not the case at all. He says that the pockets do stick out a little bit but they don't look bad and the only time it's an issue is when he's doing shoulder shrugs because his thumbs get stuck in the pockets as his hands move up and down slightly with the shrug. The pockets are deep enough to hold his phone, etc. with no issues. They aren't the most breathable ever so he doesn't wear them when doing indoor treadmill runs, but then again, he's used to wearing shorts, so it's hard to get as breathable as shorts.
Date published: 2020-02-14
Rated

3

out of

5
by
Rone
from
Ok- not for lifting.
Fabric "wrinkled" after 1 use. You can feel the seams when wearing. Defensively prefer ABC Classic for lounging. I don't see how these are comfortable doing anything.
Date published: 2020-02-13
Rated

5

out of

5
by
Chadwick
from
My go to pant
Fit is great in the gym, for running and leisure. The material is thick but they offer great mobility. Pocket on the side tucks away items in the gym or offers security for valuables on a run. Wear these with the jacket through the airport now.
Date published: 2020-02-04
Rated

4

out of

5
by
HardestWorker
from
Good pants for travel, lounge, or exercise
I have a pair of lulu joggers which I had been using for travel which didn't tie at the waist. They were comfortable but I was frequently pulling them up, especially if I had a heavy phone in my pocket. No issue with these pants. They are a good fit and I find myself wearing them for both travel and exercise. It would be nice if there was a little more space in the zipper pocket to fit my phone while exercising.
Date published: 2020-01-31
Rated

1

out of

5
by
Jayru5
from
Pants didn't fit
I had to return these pants. They didn't fit anything like in the picture, they were tapered like joggers and that doesn't work because I don't skip leg day at the gym. These fit like leggings - not a good look.
Date published: 2020-01-31
Rated

5

out of

5
by
zackwil14
from
BEST SWEATS TO OWN
From the early mornings on campus, lazy days, cold training sessions to the late night practices there's nothing these sweats can't do. Water resistance is perfect and fabric is amazing.
Date published: 2020-01-30
Rated

5

out of

5
by
JB1FortWorth
from
Favorite pant
My wife bought me a pair as a gift and I liked them so much I bought another pair in a different color. I wear them all the time for workouts or just hanging out. Recently I wore them for golf on a cooler day and loved them. Very comfy and snug, not too tight, but also not loose. I had plenty of room in my pockets for golf balls and golf tees. They are kinda the perfect pant.
Date published: 2020-01-20
Rated

1

out of

5
by
JayinBk
from
Poorly Designed
I shop at Lulu quite often, and generally find their products to be stylish in as much as they are functional. While these pants may look great hanging on a store rack, they fall way short of looking good when worn: The material is a fantastic! And the cut is sleek and structured. However the pocket design and the way the pockets stick out as they do, for me pretty much renders the pants " an pretty expensive closet piece ". I had purchased all 3 colors on impulse ( without trying them on) and loved the cut and material. So much so that I wanted it to work somehow and so I tried lifting, folding, hemming them. Now perhaps I'll try having them cut into shorts! Don't make the same mistake I did. Try them on first and make sure you're happy with the pockets sticking out of the sides of your pants. If so, you'll like these !
Date published: 2020-01-18
Rated

5

out of

5
by
Kawakub0
from
Best training pant
Excellent pant for training (and heavier/thicker than their soft nylon pants) making these great for training, rainy jogs, walking the dog, and cold weather. Fit is excellent, for guys on the narrow side (I'm 5'11, 155lbs) - it's narrow in the calf/ankle, and slightly larger in the thighs for lifting, running. Pocket off to the side of thigh for wallet is brilliant. Think I may have to get another pair = )
Date published: 2020-01-17