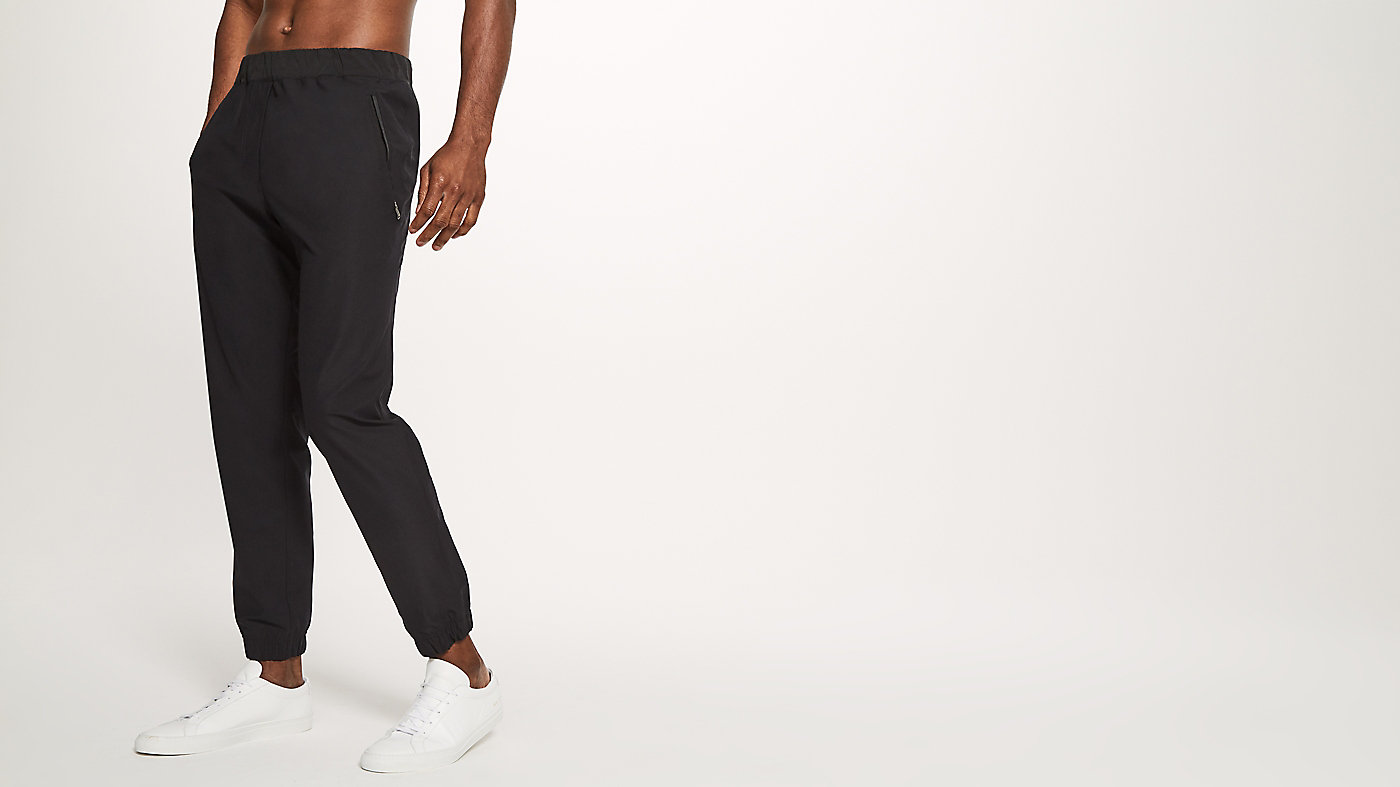 Article conçu pour
L'aller-retour
---
coupe
Ce pantalon est conçu pour reposer sur les hanches
---
ajustement profilé
Réduit le volume aux fesses et aux cuisses

Warpcity Jogger
is rated out of
5
by
19
.
Rated

3

out of

5
by
nwes
from
Great fabric, low hanging crotch
Great potential with this fabric, but the fit just doesn't work for me. The fabric is denser and feels more durable than, say, the Great Wall pants. This is exactly what I want to wear to the gym in the cold Wisconsin winters. Pants are also roomy enough to wear over a pair of shorts (the Great Wall are a bit tighter in the hips and seat). I'm 6'1" 175 lbs and ordered a medium, which has an inseam of 30", which was just a touch short. The biggest issue for me was the low hanging crotch, though. When I tried these on at home (ordered online) they felt awkward and the fabric tugged at mid-quad and felt restrictive even for a casual walk. I did a double take and then decided to measure the rise versus the Great Wall. The Warpcity front rise is 12.5" and the back rise is 15" (measured to the drawstring). The Great Wall pants, which fit me better, measure 10" and 14", respectively. As you can see, there is a significant difference. These would be a great pair of joggers if Lululemon were to lift the crotch some, and I would also request a longer inseam for anyone over 6'. I would also request that Lululemon publish exact measurements for there pants and other products online too (Everlane does an excellent job, for example). This would make it much easier to shop online and could reduce returns.
Date published: 2017-01-25
Rated

4

out of

5
by
cmmcd
from
Awesome Pants but..
I bought these pants in the navy blue and they're super sharp. You can get away with doing almost anything with these pants and looking good. However, I am 6'0, 205lbs with a 34" waist. I tried the mediums on which were perfect in the waist but could barely fit my legs into the pants. The large however were perfect in the legs which is what I elected to go for comfort wise and its a little hard to get the draw string tight enough to stop them from falling down my butt. Overall, amazing pant and am very happy with the purchase just wish the mediums had a little more room in the legs. Not many guys who go to the gym on a regular basis will get their legs into anything smaller than a large.
Date published: 2017-01-24
Rated

5

out of

5
by
kako
from
comfortable, easy to wear pants
Purchased these for my husband in a M (normally 33/30 in jeans) and they fit perfectly. They're not too tight like leggings, which he doesn't wear, but also not baggy so you're swimming in them. The fabric is great if you have pets since nothing sticks to these pants. Just wipe it off with your hand and you're good to go. Zippered pockets are an added benefit so you're not losing your belongings.
Date published: 2017-01-05
Rated

5

out of

5
by
thighcandy
from
pants for thick thighs and pretty eyes
At 6'2" and ending a juicy mass cycle, I tried on the L and XL. L: - cleaner fit (better tapper from hip to ankle) - quad curvature is tasteful, yet slightly irreverent - snugger than what the model shows, he clearly does not squat XL: - diaper butt - pants fit like Aladdin doing CrossFit So, I bought the L in black. 10/10 would recommend.
Date published: 2017-01-03
Rated

5

out of

5
by
Brandog
from
The Best
They are the joggers that I have been looking for! They fit snug at the ankles and aren't loose like some brands. They are not too tight where they look like leggings, and they aren't baggy at all. I'm in love with them!!
Date published: 2016-12-29
Rated

5

out of

5
by
PatrollerAndy
from
Awesome!
I was deciding between these and the Great Wall pants. I ended up going with these, and I love them! The pants fit great, feel great and are perfect for workouts, runs or hanging out at a coffee shop. I'm a Ski Patroller and wear these under my snowboarding shell pants - they work great as a layer. The only issue I have had with the pants is with the ankle cuff elastic. Not sure why, but the elastic in the cuff doubled over and it took about 10 minutes to flatten back out. Other than that, I LOVE these pants and highly recommend them. I also recommend when drying on low to turn inside out.
Date published: 2016-12-25
Rated

3

out of

5
by
spacemonkey14
from
Please make these in a tall!
Liked the pants but the inseam is definitely not 34 inches as noted in the sizing guide. Please make a tall version!
Date published: 2016-12-05
Rated

5

out of

5
by
ithiri
from
My favourite Lululemon Pants!
Yes! You guys really hit the nail on the head with these pants, love the fabric, the cuffed bottoms, the stretchy waist band and the zipper pockets. 6'2" 180lbs 31" waist 38" hips (muscular quads from weightlifting / holding fat on my hips) the medium fits me really well!
Date published: 2016-11-23
Rated

4

out of

5
by
Zann
from
Very good pair of pants!
This is what I was hoping the Intent Pant would be. The Warpcity Jogger is a very good pair of pants. I like the fit and the material breaths very easily. I have muscular legs and these fit great. My only critique would be the pockets. I am not the biggest fan of zipper pockets and I don't like where they are placed. But I still would buy another pair. Please make a white/light grey version!
Date published: 2016-11-23
Rated

5

out of

5
by
BluntsForTrump42069LELZ
from
very wow
These are great joggers. The material, if you're familiar, is the same as the ABC pants. The cuffs are on point, snug but not hard to get on/off. The fit is great, very slim (for a slim body), I might not recommend these pants for anyone who never skips leg day, or has really beefy legs in general.
Date published: 2016-11-20