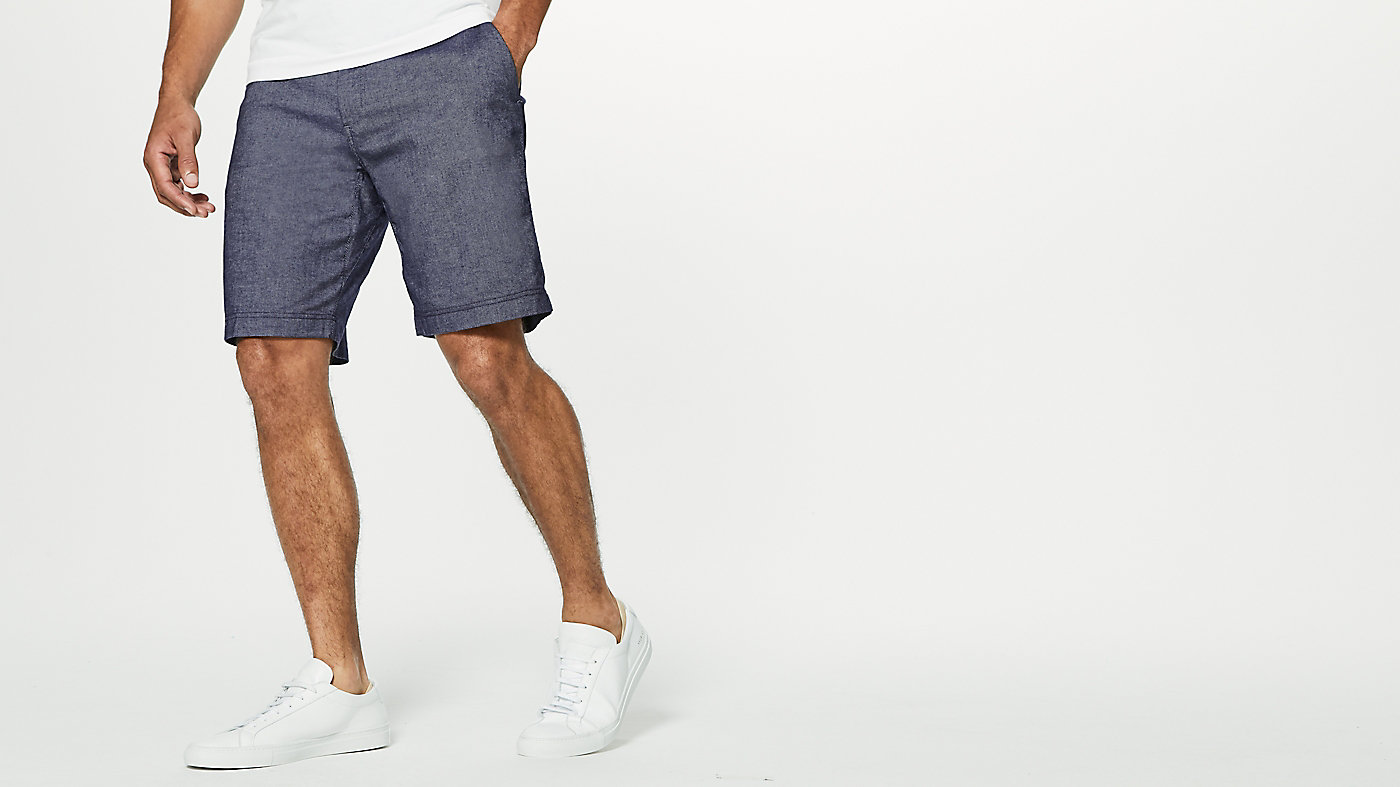 Article conçu pour
L'aller-retour
---
lycra®
Le tissu extensible conserve sa forme grâce à l'ajout de fibres Lycra®
---
soutien
La construction ACC (anticasse-couilles) permet d'y mettre le paquet sans écraser votre « paquet »
---
---
POCHE À FERMETURE ÉCLAIR
Poche à fermeture éclair dissimulée pour ranger votre passeport

Commission Short 9" *Qwick Oxford
is rated out of
5
by
36
.
Rated

3

out of

5
by
Cjss
from
Stretched out
My husband was so excited to try these shorts on in store and love them. "The perfect short" as he says about all his lulu shorts (and other items). We were told they wouldn't stretch (I was worried they may). He bought a 34 and it was a perfect fit in store. He has worn them once; out for dinner and walk with our newborn. They are unfortunately so stretched out that he says he may not be able to wear them again :( Wish we had known they would stretch and he would have sized down. I would recommend doing so! We love our lulu gear, but have to think twice after spending $90 on a pair of shorts that we were told would fit true to size and instead stretched :(
Date published: 2017-05-27
Rated

3

out of

5
by
Louie256
from
Just an Ok short, unsure worth the cost
This was my first time trying out Lulu men clothing. I was so excited for these shorts when I bought them, they fit nice in the dressing room, love the material, and they looked good. After wearing them maybe twice, pilling started to form and after the wash it only got worse. These shorts look great the moment you put them on, but after spending a afternoon in them they become baggy throughout and tend to just look sloppy. My plan was to try out the first pair then go back and buy all the colors, after this experience I may just go back to Bonobos.
Date published: 2017-05-17
Rated

2

out of

5
by
JaJo
from
BRING BACK THE ABC SHORTS!!!!
I bought a pair of these (khaki color) because salesperson said they were the new/replacement for the ABC Shorts - would perform the same/better. Fabric wrinkles easily and pills withing 2-3 washes - NOT a nice look for anything but very casual. They're OK for the beach; bike rides; etc. - but not a backyard party, casual meal in town, etc. PLEASE - BRING BACK THE ABC SHORTS!!!! They were the best - by FAR!!!! I never write with exclamation points; but feel like you guys need this customer feedback.
Date published: 2017-05-15
Rated

2

out of

5
by
beetbeets
from
Great in many ways, disappointed with the fabric
I went back and forth about whether to give this 2 or 3 stars. I think they hit the mark of being the perfect casual short for me in many ways, but the fabric brings them down. The fit is good, length is perfect, and they work well with a button down or a t shirt. I brought them on vacation and they have been versatile enough to be my only pair of shorts. The zippered rear pocket gives me peace of mind that my wallet and passport aren't going anywhere. They don't repel water, but they do dry pretty quickly. Unfortunately, after about a week of constant wear with 2 washes, they are starting to pill/fuzz and show some wear. Pilling isn't actually the right term, but the surface of the shorts has a slight fuzz over them. They definitely do not feel very robust. I have been wearing them casually and would be nervous to do anything too active in them. I think the overall design of the shorts is perfect, but they are really let down by the fabric. A better fabric with more durability and a DWR treatment, and these would be the perfect short. They are currently the only Lululemon item I own that I would not buy again nor recommend to a friend.
Date published: 2017-04-28
Rated

1

out of

5
by
FrankieChicago
from
I am 50/50 on these. No ABC short, disappointed with quality of the khaki color
I own probably (afraid to admit it) 50+ pieces of lulu clothing. I loved the 9" ABC shorts from a couple yrs ago. Durable, perfect fit. So when I saw these were very similar, just a litttle lighter fabric - I was pumped to get them back into the rotation with some of the new colors. Bought the dark olive - and friggen love them (still do). THEN, I bought the khaki color. One wear and wash - and there is some slight discoloring in parts of the fabric. Pretty annoying for an $88 pair of shorts, and I wash all of my lulu clothing the same exact way - light detergent, cold water, hang dry. Not sure what the deal is with the khaki color, but hoping someone at lulu can resolve this for me......because I really want to buy more colors as they get released (for example, just purchased the swim version of these)....but I have lost some faith with this experience......
Date published: 2017-04-24
Rated

2

out of

5
by
homme
from
Poor quality after a few washes
I have purchased over 20 Lulu item over the past year and I would have to say these were by far the worst quality item. I had to make a new account just to let people know about the issues with these shorts. I actually love the fit and everything about them. However, the color fades after two washes and piling starts to form up on the thigh area. I purchased both colorways of these pants and the same happens for both pairs. I felt like these shorts didn't live up to the quality of other lulu items I have purchased over the year and felt really disappointed. If I was able to return them I probably would have.
Date published: 2017-04-18
Rated

5

out of

5
by
NYCityAthlete
from
Best shorts. Period.
I never write reviews, but these shorts are perfect. It's hard to find well-fitting pants and shorts that can go from beach to bike to dinner generally, but an especially hard task when you have an athletic build (i.e. big legs but a normal waist) - when did everything become so tight? These shorts are the answer. The stretch compliments an active lifestyle and the oxford material looks great in just about any setting. I'd give them 10 stars if I could.
Date published: 2017-02-25
Rated

3

out of

5
by
diddy
from
The old commission short!!!!
love this commission short 9* .I own 9 pairs of this, until they change the size. So disappointed..... I am 5*7 and 140 usually wear a size 30, now the new size 30 is way too big for me. To find outsize 30 is now 32. Lulu please bring back the original size...or make size 28.......
Date published: 2017-01-04
Rated

5

out of

5
by
thefatkid
from
I finally found them
For the last couple of years, I'd been in search of properly fitting, everyday shorts to no avail. I easily purchased half a dozen pairs of shorts that fit fine at the store, but after multiple wears and washings, the fit changed, unfortunately for the worse. Issues ranged anywhere from pilling, to sagging in the seat, to excessive stretching throughout the day. And don't get me started on length. Call me old school, but just above the knee seems like the appropriate length. Guys should not be wearing 'daisy dukes,' nor capris, but I digress. Enter the Commission short. Thank you LULU for creating this short. It's a snug fit (speaks more to my level of fitness than the sizing of your garment), but it also retains its shape. I also like the moisture wicking treatment that seems to do a good job of repelling the occasional splattering of liquid (messy eaters of the world, I'm looking at you :-) ). Yes, I cringed at the thought of paying $90 for a pair of shorts. But, since this is going to be the shorts-to-end-all-shorts, I'm happy to make the investment.
Date published: 2016-12-20
Rated

1

out of

5
by
stevenglansberg
from
Crotch ripped
These were great shorts and exactly what I was looking for for the summer months. They worked out really well until the crotch/inner thigh area of the shorts started to fall apart...only after 2-3 months. Pretty disappointing for $90 shorts.
Date published: 2016-12-07