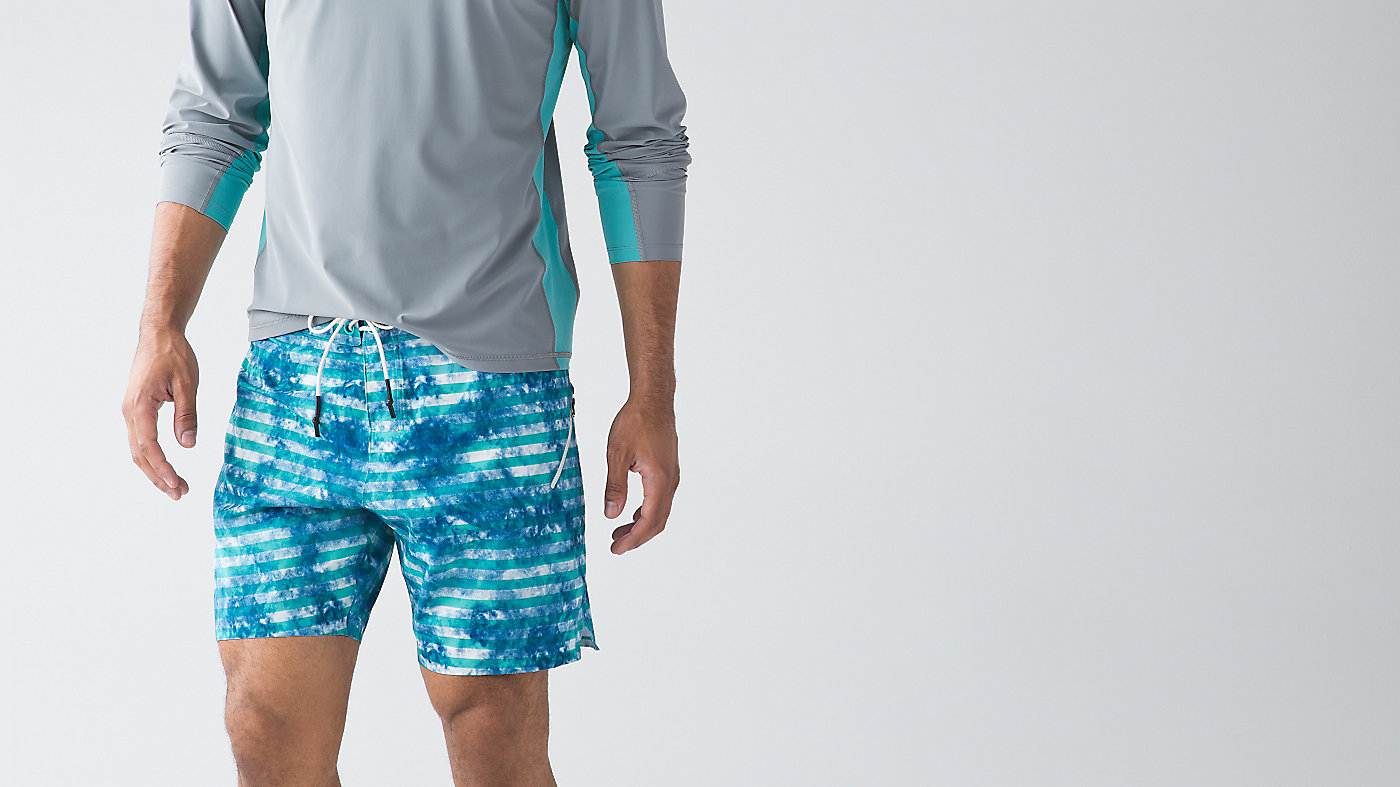 Article conçu pour
Eau, course, entraînement
---
ceinture
Deux options pour vous aider à trouver l'ajustement parfait
---
boucle pour clé
La poche à fermeture éclair est munie d'une boucle pour clé à l'intérieur
---
coupe
Ce short est conçu pour rester à la taille
---
ajustement profilé
Réduit le volume aux fesses et aux cuisses
---

El Current Short 9" *Lined
is rated out of
5
by
12
.
Rated

2

out of

5
by
Jman1
from
too small
I really wanted to like these shorts. I read all of the reviews that said to order a size up and that these ran small. I am usually between a size 34 and 36 or L and XL in all shorts and pants. I ordered a size 36 in these and can barely get them over my thighs.
Date published: 2017-03-13
Rated

2

out of

5
by
rd12
from
Nice, but run super small (size up!)
I should have heeded the other reviews. While the waist is probably (maybe) accurate, the liner changes the fit quite a bit. For someone with large thighs like me, it is almost impossible to get these up to my waist. Choose at least one size up from what you normally would for a proper fit. Otherwise, this would be a great swimsuit. Nice look, good material, zippered pocket to keep track of the hotel key in the surf (as others have noted, the pocket is small, but I'm in the "just big enough" boat), etc.
Date published: 2017-03-08
Rated

3

out of

5
by
MoPositive
from
Tight and loose at the same time
I ordered a size up as the previous reviews suggested. I think the waist size on these is accurate, actually. With the size I bought I can pull the drawstrings together all the way and I still have a lot of wiggle room in the waist. However, if I had bought my normal size, it's unlikely I would have been able to get the waistband over my butt to wear the shorts, at all! Even at a size up I have to wiggle my way into these. Thankfully, the liner is so snug that I am able to wear these with no fear of them slipping while I am in the surf.
Date published: 2017-02-22
Rated

3

out of

5
by
runner59
from
Almost Perfect
I was looking for a nice swimsuit and came across this one. It was my first online order (not my first lululemon product) and I was a little worried since there are no returns on the we made too much. I read some of the reviews and people were saying that the shorts ran small. I have never purchased clothes from lululemon that were not sized small, medium, or large. I wear a large in most lululemon shorts so I ordered a 36 since the other reviews were saying the shorts ran small, but they were too big. The size of the liner was fine (even though it wasn't what I expected). I was hoping they would be more like the 9" luxtreme liner shorts. The shorts do not have a very good adjustable waist. The adjustable string is only in the front and does not run through the waist band like their other shorts. The waist band also does not stretch like gym shorts so if they are big it is hard to tighten them without them looking funny. Luckily, I contacted lululemon, and they helped me get the issue resolved.
Date published: 2017-02-15
Rated

5

out of

5
by
Charlesb
from
Perfect for beach trip...and everything else
I told myself I wouldn't buy these when I saw the price tag, but they are by far the best shorts I've ever owned. (Far better than my arcteryx, outlier, prana, Patagonia etc) the fabric feels amazing and cool to the touch. It also is durable, doesn't pill, stretches just right and is water resistant. The liner ( i hate to call it that cuz I hate every other swim liner) is highly breathable, smooth, and durable. Now I wear these to the gym and around town. The fit is perfect. I only wish they made this same short with at least a butt pocket and in more every day colors.
Date published: 2016-06-04
Rated

3

out of

5
by
RundontWalk
from
Expensive Bathing Suit
My girlfriend got me a gift card to lululemon and I got these shorts (with some more money) with it. The styling was pretty cool for a bathing suit and I really like the under compression short type material is nice. However, the side zip pocket is rather small and really bulges out with anything in it. Also the shorts really cling to your legs when it gets wet and it seems like the sizes sit on the small side. Overall a nice bathing suit but at this price it should be the perfect bathing suit.
Date published: 2015-06-10
Rated

5

out of

5
by
tennis
from
Great swim shorts
I bought these El Current shorts for my husband for vacation. He said these were the most comfortable swim shorts he has ever owned. You will need to go up one size. They are expensive, but I am glad he loves them. Could you make some fun colors for the beach. Thanks!
Date published: 2015-03-03
Rated

4

out of

5
by
Suzaku
from
Great active swim shorts
Love the liner and shorts! Everything stays where it should be whether I'm diving, swimming or running around. Happy I made the plunge for these guys!
Date published: 2014-10-27
Rated

3

out of

5
by
Darjeeling101
from
Same Sizing Issue As Others Have Reported
Bought the El Current Lined shorts in the Downtown Austin store not long ago for running. The salesperson was certain a 34 - last pair on rack - would fit properly after a few workouts/runs. Not the case for me. Much too tight and would need at least one full size up to a 36 to come even close to comfortable. I want to LOVE these shorts as they look great, material feels pretty good despite the tight fit and would seem to make for a pliable running, or even crossfit, short. And despite what others are saying I do like the 'lined' version over the non-liner - but because of the sizing the liner can bind or ride up in a workout. Read: caveat emptor!
Date published: 2014-10-08
Rated

2

out of

5
by
kmhk
from
not true to size
I'm a huge Lulu fan, and I've purchased many shirts and shorts for my husband. Unfortunately, these swim trunks were a huge disappointment. They were a much smaller fit than size 38, and he cannot wear them. I did get them on sale, but I would recommend anyone who orders them go up at least 1 size.
Date published: 2014-09-06