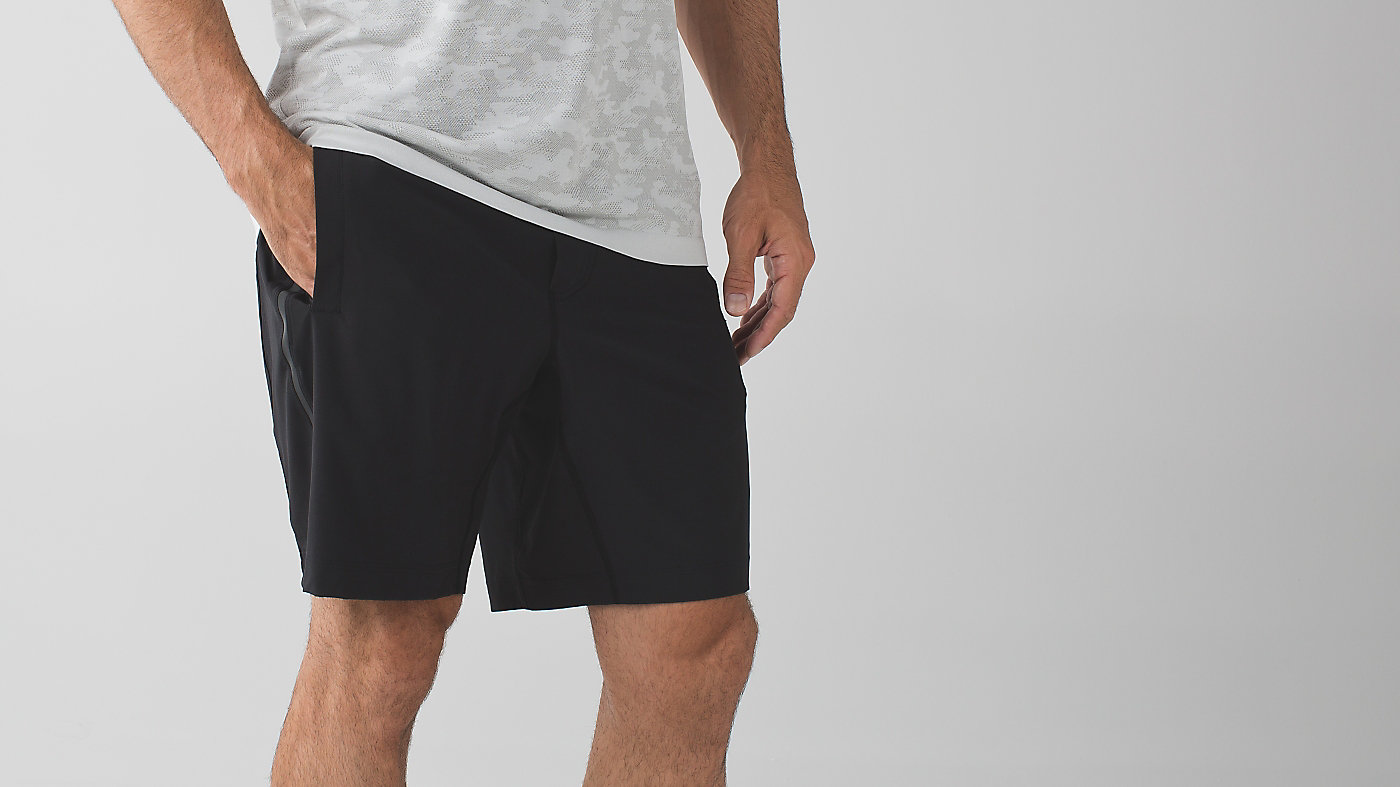 Article conçu pour
La course, le yoga, l'entraînement
---
cordon
Personnalisez la coupe à l'aide du cordon à la taille
---
poche à fermeture éclair
Permet de ranger vos objets essentiels sur la route
---
coutures plates
Aident à prévenir l'irritation des peaux sensibles
---

Pace Breaker Short *Luxtreme Liner - Online Only
is rated out of
5
by
45
.
Rated

2

out of

5
by
Binzz
from
Get the regular liner
The 'premium luxtreme' is not worth the extra cost. As others have pointed out the liner on these shorts is problematic it keeps pulling the shorts down. So as you exercise in these shorts you will be constantly pulling them up. The regular liner does not have these problems. Not sure why they keep selling this item as it is defective as designed.
Date published: 2017-06-22
Rated

2

out of

5
by
Mattybuns
from
Doesn't live up to the hype. Seems like a rushed product.
I bought these to test out the liner, really. I found that the liner is a bit too tight above the knee, which caused the shorts to constantly pull down. I really had to tighten the waist band in order to keep my backside from showing, but that made for an uncomfortable run/workout. The fabric is a bit lacking as well. The reflective material is already peeling off. Overall, it's not the best design. I will be looking forward to a different pair of running/workout shorts.
Date published: 2016-09-16
Rated

2

out of

5
by
treyflew
from
Disappointed in The Quality
I bought two pairs of these shorts about a month and a half ago and they are already falling apart. The 3M lining is peeling along the sides along with the liner fraying. For $70 a pair this should not be happening. Would not reccomend.
Date published: 2016-09-11
Rated

4

out of

5
by
Phlip425
from
I like em
I like the loose style of these shorts, and the great compression from the liner. These have been great for the gym, as well as my yoga practice. I'm really happy with them over and above my experiences with other manufacturers 2-in-one compression style shorts. These are great.
Date published: 2016-08-18
Rated

3

out of

5
by
CausualCrossFitJunkie
from
Favorite pair, but inconsistent quality
First of all I love these shorts. The fit is great and they are super comfortable with all the different movements that come with my workouts. The liner does pull the shorts down occasionally. I'm an XL, the recommended size, and they slide every now and then on certain movements, but not really an issue. My biggest complaint is with the quality of the liner. I have both the normal and luxtreme and I know it's suppose to be their high end liner and the stitching on the thighs have started to fray. I know this common for any short if you constantly use them, but I've only had mine for a month and its in rotation with my other LuLu shorts. If your thinking about grabbing the Pacebreakers, do it, but grab the linerless or normal ones.
Date published: 2016-08-17
Rated

2

out of

5
by
EatSleepSwim
from
Luxtreme liner is a no go
I bought these pace breakers in hopes that they would be just as great as my normal pair or even better, but after putting these on I did not like the length/tightness of the luxtreme liner. It feels too long on my legs and i cant pull up the shorts all the way to my waist cause it feels like they are always pulling down when I work out. I love wearing the normal pace breaker shorts. But these are not near as good.
Date published: 2016-07-22
Rated

4

out of

5
by
Pseagraves
from
Like going commando without
I was a little hesitant on purchasing these shorts. I have never had any shorts that have inside lining. I purchased them for training my clients and participating in yoga classes I offer at my gym. I must say I was pleasantly surprised by how comfortable these shorts are and how much I love them. Would highly recommend these.
Date published: 2016-06-11
Rated

3

out of

5
by
JKMC
from
Similar Story...
I thought I was the only one with this concern, but seems like Lulu's got a genuine problem with their liner quality. Mine deteriorated after a few months of wearing 1-2x per week. I'm a more muscular guy, but I've NEVER seen the same issue with shorts from other brands with built-in liners. I'd love to see this fixed as this seems to be the most consistent complaint.
Date published: 2016-06-06
Rated

1

out of

5
by
BWM7
from
Dissapointed
After getting swayed into buying these expensive shorts from the LuLu lemon sales associate, I was soon very disappointed. They shrunk so much, and the liner would ride up to the point where I found myself stopping mid workout to constantly pull them down.
Date published: 2016-06-06
Rated

5

out of

5
by
CFShelly
from
the short of all shorts
please make more of the pace breaker lux-- these are literally THE best because of the liner. I had 2 regular pace breakers and cut the liners out to wear my own compressions underneath, but with the lux, it is perfection. The liner in the lux is exactly what I need during crossfit wods so make more colors!!
Date published: 2016-06-02