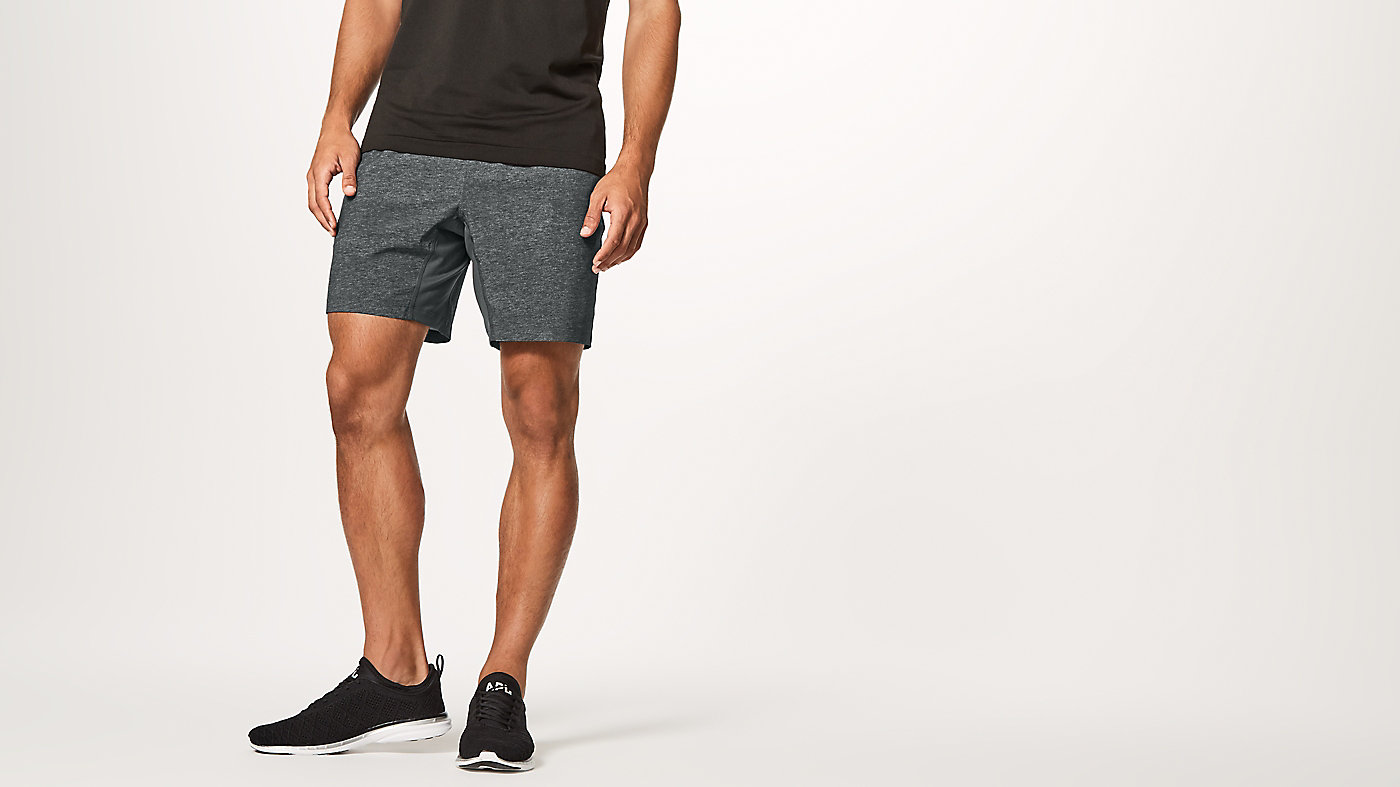 Article conçu pour
Entraînement

T.H.E. Short 7" *Linerless
is rated out of
5
by
168
.
Rated

5

out of

5
by
NateCrossFitter
from
Finally a 7" size!
I'm 5'6" and these are the perfect fit for me. I have multiple Lulu shorts in 9" and I don't love that they hit the knee. These end up being above my knee. I wish they would make this size in the License to Train shorts...please!? The only thing I don't like is the meshy softer material in the crotch. Things tend to... bulge and are much more visible if you know what I mean. Also one suggestion, is make the drawstrings shorter. I was doing cleans one day and the drawstring was on my thigh and the barbell ended up pounding the plastic endcap into my leg. Anyways, if you're on the shorter side, these are perfect shorts!
Date published: 2020-02-19
Rated

4

out of

5
by
BikerBill
from
Good for intended use.
Shorts fit well. Right length. Right waist. Right quality. I bought them for Bicycle Shorts. I don't need the padding as I ride a recumbent. They fit well, were very flexible, and very comfortable. If they were less expensive, I'd buy more.
Date published: 2020-02-16
Rated

4

out of

5
by
Dudevondudenstein
from
Great, but could be improved a little
Love the feel of the material, the fit of the waistband, and the length. The only change I'd like to see if a tighter leg opening that hugs the quads a little more.
Date published: 2020-02-12
Rated

5

out of

5
by
PMC83
from
Awesome shorts for training
I'm 6'3" and 240, pretty muscular. These shorts are awesome especially on leg days! I love the length and the comfort / stretchiness of the material.
Date published: 2020-02-01
Rated

3

out of

5
by
SnakeVenomCashStacks
from
Almost
I have tried all of Lululemons most popular gym shorts and these ones are the most comfortable to me but there are two negatives. First the waist area around the pockets is way too baggy. The shorts flair out here and look unflattering. A size S shouldn't be that baggy! This is why I won't be buying more unless it gets fixed. If the waist that's too wide gets fixed I would like to see a 6" inseam version. I would like to see a 6" inseam version that doesn't just hem the existing version shorter by an inch, I would like it to take that inch from the top of the shorts because these shorts taper. If you cut an inch from the bottom the shorts would be baggier than if you take that inch from the top. If I fold the waistband over one time these shorts fit perfect - make them like that.
Date published: 2020-01-31
Rated

4

out of

5
by
jmjm000
from
Big Upgrade From Standard Gym Shorts
These are great shorts! They feel durable, stretch well with movement, and have ample pocket space. The waistband is wide and lays nicely on your skin, and its very comfortable. Only downside of these shorts is that mine ride up a bit when running.
Date published: 2020-01-27
Rated

5

out of

5
by
JSarver
from
Love love love!
After buying one pair, I waffled about buying another purely because of cost. After a week or two I bought a total of four more because these are the best shirts for running and for cross training (and I didn't want to have remorse over not buying enough when Lulu stops making these...). Love love love them
Date published: 2020-01-21
Rated

5

out of

5
by
NamasteAndStuff
from
Bring the Colors, Though!
These are my go-to shorts for training and running longer distances - I appreciate the pocketing on these, and I find that the wider waistband on these holds them in place more so with weight in the pockets (like a wallet or a phone) than the pacebreakers do. BUT, Lululemon team, BRING OUT SOME COLORS. Right now, there's a heathered gray, a heathered blue, a heathered black, and a straight black. Literally any other colors would be great. I'd buy five pairs of these if the colors or patterns were upped beyond the color palette that men's clothing producers have put together for the last 50 years. Feels underwhelming for a brand that I normally associate with innovative designs and fun colors and patterns.
Date published: 2020-01-21
Rated

2

out of

5
by
customer99
from
Comfy and nice fit but wear out easily
These were my boyfriends very FIRST lulu item and they didn't impress nearly as much as the girls products I've had. They fit really well and were very nice for a while, but after only a few months they began to wear out between the legs. There is only a thin mesh material there and if you wear them for any type of activity they rub and create holes rather quickly. Wouldn't buy these again as they just aren't as durable as lulu usually makes their clothing. I've I've had products upwards of 5 years and this one hardly lasted a year. This product would work better as a casual wear item.
Date published: 2020-01-16
Rated

5

out of

5
by
EdSpaghet
from
Awesome
These are probably my new favorite shorts. They fit great and feel even better
Date published: 2020-01-09