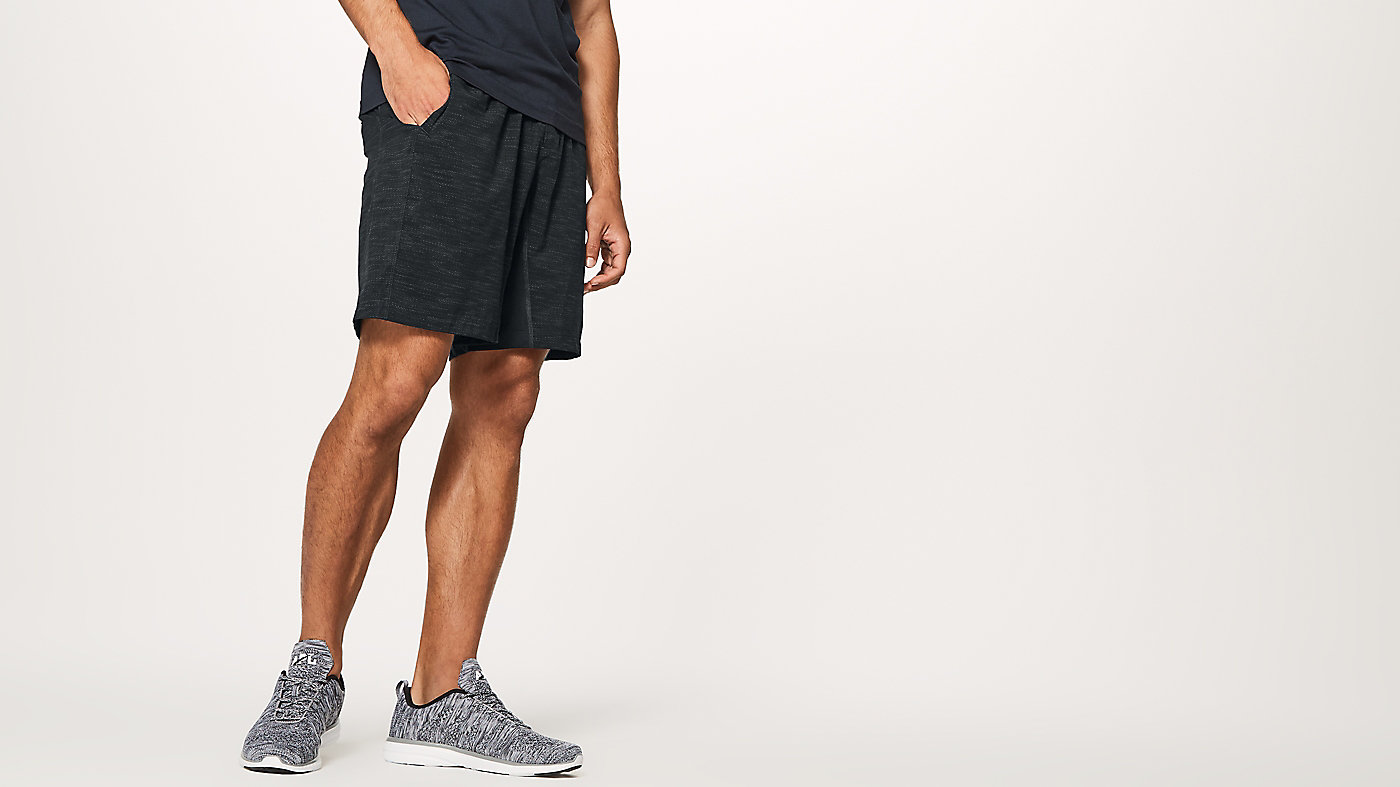 Article conçu pour
L'entraînement
---
lycra®
Le tissu extensible conserve sa forme grâce à l'ajout de fibres Lycra®
---
ample
Coupe ample aux fesses et aux cuisses
---
---
CEINTURE LUXTREMEMD
La ceinture qui évacue la sueur est extensible en quatre directions et conçue pour rester en place
---
RANGEMENT
Poche sécuritaire pour vos essentiels avec une pochette intérieure pour vos appareils
---
GOUSSET
Le tissu dans le gousset évacue la sueur et laisse circuler l'air pour aider à vous tenir au frais

T.H.E. Short 9" *Linerless
is rated out of
5
by
41
.
Rated

5

out of

5
by
takeyourbodytotheMAX
from
verstatility
great shorts for truly any exercising, nice and comfortable with great movement. Excellent material and good breathing. staple in my drawer.
Date published: 2017-06-16
Rated

2

out of

5
by
Jaacobmc
from
Quality Suffers
These are my favorite shorts hands down due to their perfect fit, and the useful pockets. They are the only pair of athletic shorts I've ever found that have been so versatile and comfortable. One hitch; the quality is not up to par with the price. I have a hard time paying $60 for a pair of shorts that start to unravel after (usually) less than a year of average use, when my cheaper Nike shorts last way longer.
Date published: 2017-06-07
Rated

1

out of

5
by
TrueReviewer
from
Would not recommend
These shorts are not durable and the waist band is terrible. I would like to trade them in!!!
Date published: 2017-05-26
Rated

2

out of

5
by
ItsKindOfLikeANinjaHandle
from
Good Looking but Lacks Durability
I was about to buy a new pair but have been contemplating immensely. The reason: The shorts fit really well and the colors are awesome. HOWEVER, with the few pairs I own, most have developed flaky textures and strands are pulled out making the shorts look and feel cheap. I also only use cold washes, with gentle wash cycles and ONLY air dry. Therefore, it is a bit of a contemplation based on price and how long they lasted. (<1 years)
Date published: 2017-05-17
Rated

3

out of

5
by
Rockstar01
from
Not Long Lasting
I have heard so much about lululemon and wanted to buy a pair of their shorts, because of the quality. I bought these shorts thinking they would last me for over two years. But, in less than three months, these shorts have started having loose threads and already has one small hole. Although these shorts are comfortable, I am very disappointed in the fact that I won't be able to wear them again.
Date published: 2017-05-12
Rated

1

out of

5
by
yansk
from
Hole After 2nd Wear
I got these for my boyfriend back at Christmas. The weather has recently allowed him to begin wearing shorts again, and these already have a hole in them. He hasn't had any issues with any other products, and said he did not snag them on anything. I'm unsure if the hole was already there when I received the product, or if the material is just a poor quality.
Date published: 2017-05-10
Rated

5

out of

5
by
Albie
from
Best short to train
I love this short. I have all 4 colors and I wear them on leg day. I usually train legs (lower body) twice a week. It's very comfortable, cool and breathable. It's a little pricey but it's worth the price. I do prefer liner less though. I know this is not part of the short review..... I wish lululemon advertise their product more for "training" instead of yoga, cycle and run. Most people I know don't do any of these activities. Good thing I was curious to try out the shorts and now I'm obsessed with Lululemon. : )
Date published: 2017-05-06
Rated

3

out of

5
by
Laxgirl2
from
Not as good as the pacebreakers
I bought these for the boyfriend. He usually wears pacebreakers but I wanted to change it up. I loved the print and the material except because the crotch is "breathable" and a different material after two wears I noticed they started to look worn out and lose stitching. Super bummed that they didn't last as long.
Date published: 2017-04-09
Rated

2

out of

5
by
bosj
from
did not last long
I really liked these shorts, but only got to wear them twice before they started to come undone at the legs seams. I really expected much better quality for how much I paid for them.
Date published: 2017-04-04
Rated

3

out of

5
by
TravelerMan
from
A great pair of shorts that don't last forever
I was excited to find and invest in a great pair of shorts to travel around the world with. I have done so with other shorts that stood up to the test but were not as comfortable. I was hoping that these shorts would be more comfortable (they are!) while keeping the durability of my other branded shorts but some threads have been peeling out in a couple places and there are growing holes in places of concern. I would love to be able to afford more of these since they are so comfortable but I would like my $60 to go longer then a few months. Perhaps Lulu's other shorts are more durable?
Date published: 2017-04-02