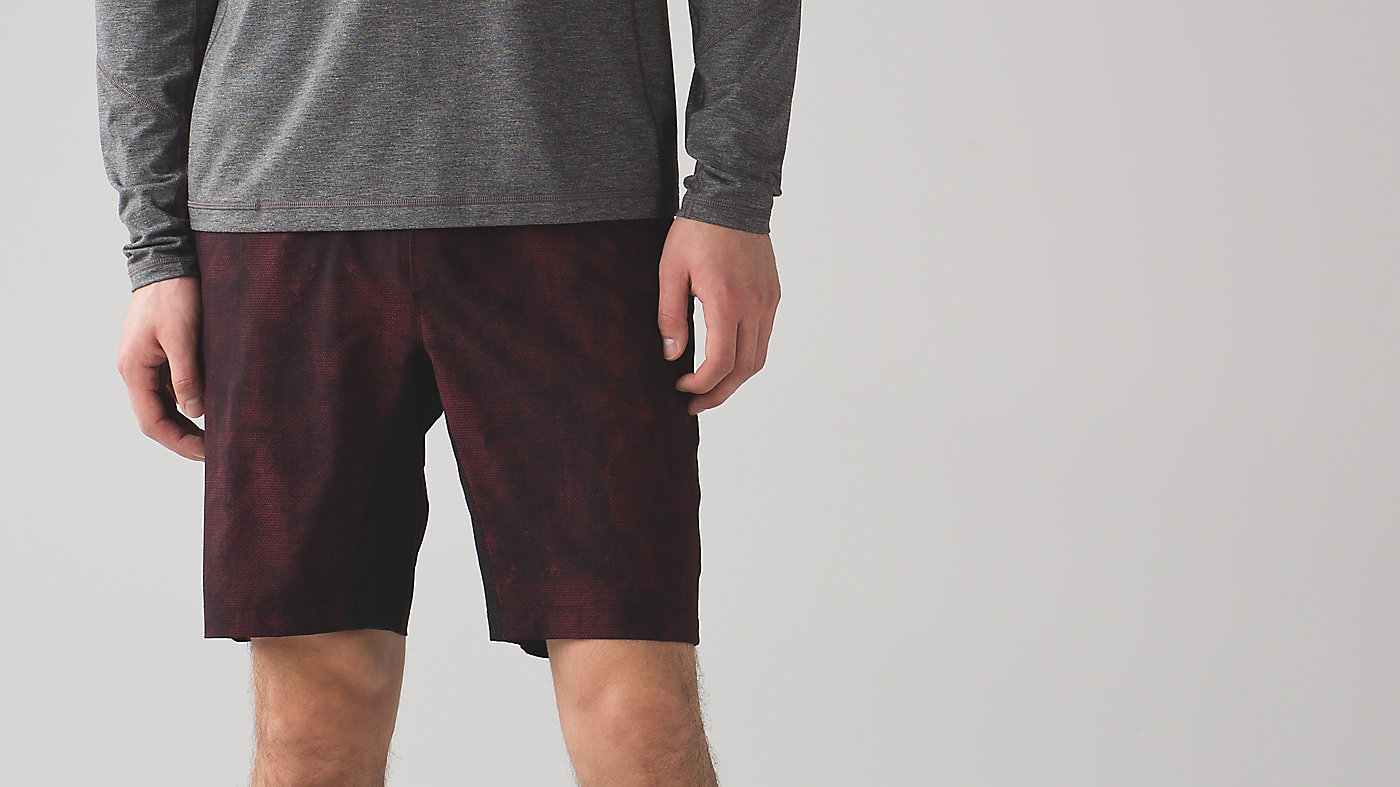 Article conçu pour
L'entraînement
---
lycra®
Le tissu extensible conserve sa forme grâce à l'ajout de fibres Lycra®
---
ample
Coupe ample aux fesses et aux cuisses
---
---
CEINTURE LUXTREMEMD
La ceinture qui évacue la sueur est extensible en quatre directions et conçue pour rester en place
---
coupe
Ce short est conçu pour rester à la taille
---
RANGEMENT
Poche sécuritaire pour vos essentiels avec une pochette intérieure pour vos appareils
---
GOUSSET
Le tissu dans le gousset évacue la sueur et laisse circuler l'air pour aider à vous tenir au frais

T.H.E. Short 9" *Linerless
is rated out of
5
by
23
.
Rated

5

out of

5
by
Erika118
from
Help!
I want to order these online for my parter but he has not tried them on before. He is 6'4", 190lbs - very tall and slim. He usually wears an XL because of his height, however, will this size be too big on him? How do they fit in the stomach? Thank you!!
Date published: 2017-02-09
Rated

5

out of

5
by
andrewolift
from
Great Shorts
These shorts are amazing. They fit perfectly, super comfortable, and look great. My only complaint is that the abrasion from barbells has faded the design off, but not significantly.
Date published: 2015-11-27
Rated

5

out of

5
by
Sunny22
from
Make MORE!
Great Short! This new red colour however is really out there... Bring back the other colours and make them an essential short. If they do come back I am getting 5 because its unlikely you will keep producing them, or just make another horrid colour.
Date published: 2015-10-24
Rated

5

out of

5
by
Pwbroo
from
Love them...but rarely available in XXL
These are my favorite shorts of all time. Love the fit, the material, the pockets, the liner. I tried the "lux" version and the liner in this version is so much better for me. The only heartbreaker is that they're almost never available in XXL. I'm a bigger guy, but still really active, and while I normally fit an XL in other brands, my LLL size is XXL. Please, LuLu, make these shorts in my size!!!!
Date published: 2015-10-10
Rated

5

out of

5
by
rkwong
from
My favourite short
I for one do like the wide waistband. After my experiences using a competitor I will not name but will just call the swoosh brand for this review, I will say that this other brand's waistband is inferior. Over time, the band's elasticity dried up and my shorts almost fell off mid-run. It's a bit tight to first put T.H.E. Short on but I know it is snug and is built to last. I am previously used to liners and do not find anything wrong with these. I enjoy long distance runs and my routes aren't always a neighbourhood loop but a run to a different neighbourhood with a necessary subway ride home. The pockets are handy and the zippered pocket is ideal for my subway pass, a credit card and some extra cash. I've only owned about three pairs of these since they were introduced earlier this year but judging from the Lululemon shorts I owned for a number of years previous, I know these are built to last. I hope this line sticks and more colour combinations are introduced over time.
Date published: 2015-10-02
Rated

3

out of

5
by
bman
from
Not My Fav
The GOOD: - nice material - sits well on my frame - light The NOT SO GOOD: - waistband is just a little too tight, i found it strange putting them on as i had to really work to pull them up... however once they are on i didn't notice the tightness and they stayed up perfectly, no slipping - just a *touch* too long... one or two inches shorter would be better - the liner is looser than i like, so i find it annoying at times OVERALL, not my favourite product, and definitely not THE short for me
Date published: 2015-08-30
Rated

5

out of

5
by
Brant
from
Fantastic shorts...Lulu's best!
Great fit, material, and pockets...the perfect sorts for virtually any workout.
Date published: 2015-08-30
Rated

5

out of

5
by
BayAreaEmac
from
Great training shorts!
Just purchased my 2nd pair today and loving it as much as the 1st pair. I prefer training with these shorts or the Assert 9" over the Pace Breakers & Core shorts. I'm still on the fence with the liner as I don't feel like it provides the same junk support I'm used to with the compression shorts I wear under my Asserts. However, this does have a better draw string system than the Asserts (not sure why) I also love the pockets and especially the zipper pocket THAT ACTUALLY FITS A PHONE haha. Got these in black and black camo so far and I would recommend these to those looking for a shorter, lighter training pair of shorts.
Date published: 2015-08-29
Rated

5

out of

5
by
8thegr8
from
Fantastic Shorts
Great for really anything, working out, kicking back, or going out, very comfortable and worth every penny
Date published: 2015-08-22
Rated

5

out of

5
by
wes2fr
from
Perfect all-around short
I wear these shorts mostly to go to the gym because they have a big, zipper pocket on the right hip that holds my iPhone 6+. It securely holds it when I am doing cardio or lifting weights. I say that just because I like how these shorts have been updated for the now bigger, thinner smart phones. That said, these shorts are very comfortable, light weight, and has that great moisture wicking capability. I actually like that these shorts fit well for a shorter body. It is like they are low waisted and just long enough to cover my thighs and not cross the knee. I'm 5'7 so they are a great length for my height and not long in the crotch (meaning, I don't have to roll the waist band down). I love playing tennis in these shorts as well (hence the perfect all-around short). The only thing I am not crazy about in these shorts is the built-in liner. That's never something I'm a fan of. However it is comfortable. I will say that I have some lululemon shorts I have had since 2006 and 2007 that had a liner. The shorts still look great, but the liner broke down and had to be cut out. Will wait to see how well the liner in these shorts hold up.
Date published: 2015-08-19