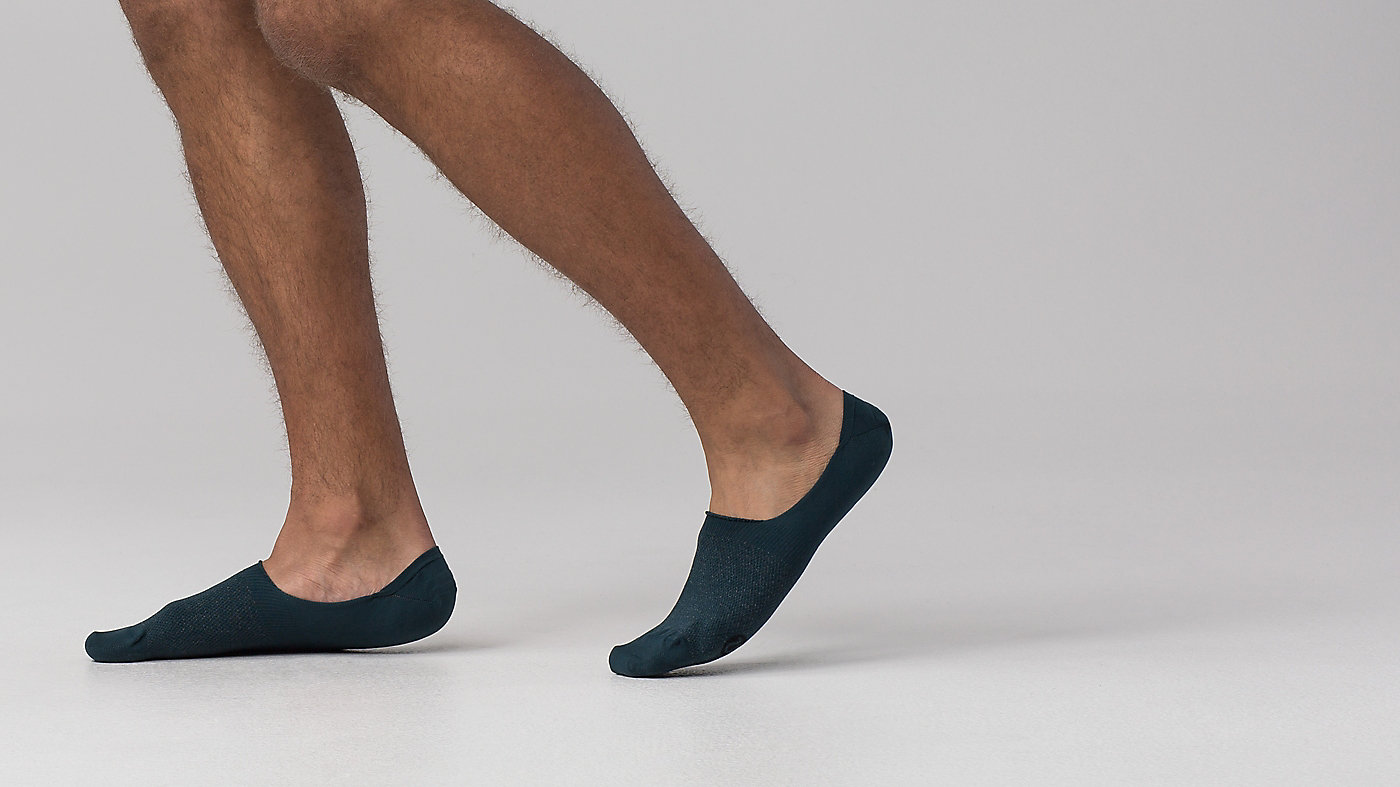 Article conçu pour
L'aller-retour
---
Technologie SilverescentMD
Propulsée par X-STATIC®, prévient la croissance des bactéries qui causent les odeurs dans les chaussettes
---
restez au sec
La maille qui favorise la circulation de l'air et les fils qui évacuent la sueur aident à tenir vos pieds au frais et au sec
---
semelles adhérantes
Détails en silicone à l'intérieur pour empêcher la chaussette de glisser
---
construction sans couture
Au niveau des orteils pour moins de volume
No Sock Sock *Silver
is rated out of
5
by
7
.
Rated

5

out of

5
by
MsVic
from
Great for ladies with big feet!
As a size 10.5 foot, women's no show socks are always on the small size for me, so they frequently slip off my foot. These socks in size M/L fit my long skinny feet well, and don't slip off! They do have a more coverage than some women's no-show socks, but they are perfect under oxfords or sneaker type shoes.
Date published: 2017-04-08
Rated

1

out of

5
by
Notverygoodsocks
from
Brutal Sizing
I got the Large/ XL size, and when I tried to put the socks on the sizing wasn't even close! You probably need about size 15 feet at least to fit these.
Date published: 2016-10-26
Rated

1

out of

5
by
KGrant88
from
Fell apart after one wear!
I wore these socks once. I got the larger size which fit perfect. I washed them and when I went to put them on the next day 2 of the 3 black sticky things broke....I buy a lot of Lululemon products and this has been my first real disappointment with the brand!
Date published: 2016-10-02
Rated

1

out of

5
by
thrt19
from
sizing is way off
I followed lululemons provided size guide. I wear a size 11 US shoe and I ordered the L/XL as recommended. The socks are huge and don't stay on my feet and are very uncomfortable to wear due to the off sizing. Unfortunately I bought these socks marked down in price and I can't exchange them for a refund/ smaller size. Pretty disappointed in the sizing lately as you never know what you're gonna get
Date published: 2016-09-30
Rated

1

out of

5
by
SurrealistJ
from
Don't buy!
I truly love most of my Lululemon gear, from bags and yoga mats, to shorts and tees... I figured, hey, why not invest in 3 pairs of silver, anti-stink socks? Horribly wrong! And because I bought them from the "We Made Too Much" section, I couldn't even consider a return. What's wrong with 'em? (1) Terrible fit. (2) Anti-stink doesn't work (and yes, I own many other anti-stink Lululemon items). (3) $18 for a pair ($9 on "sale") is bonkers for these when they don't perform as described. Summary: Avoid!!
Date published: 2016-09-13
Rated

1

out of

5
by
Brettski
from
Poor sizing and design #FAIL
I unfortunately bought 3 pairs of these terrible socks - they are the WORST. After about 30 minutes of wearing these socks they expand and start to slip off. Making matters worse the black adhesive rubber at the back of the sock (designed to avoid slipping) leaches into your heals making them black for several days. I tried scrubbing my heels with a pomace stone and I still couldn't get it off. In addition, Lulu missed adding the "R" and "L" to the socks to you help you determine which sock is which, Seriously, who was the Product Manager on this sock? #FAIL
Date published: 2016-09-04
Rated

1

out of

5
by
GEMO
from
Sizing completely off
I picked these up at the local store while in the WMTM section, thinking they looked like a good product on for a great price (50% off). I am a size 10/10.5 shoe, so I followed the Lululemon sizing chart and went with the L/XL . Unfortunately I'll never know their quality as they are WAY TO BIG and I cannot exchange them for the smaller size. It's actually laughable how big they are. So, if you are anything less than a size 12 (seriously, don't listen to the sizing chart on this one), avoid my mistake and go with the smaller size.
Date published: 2016-07-14