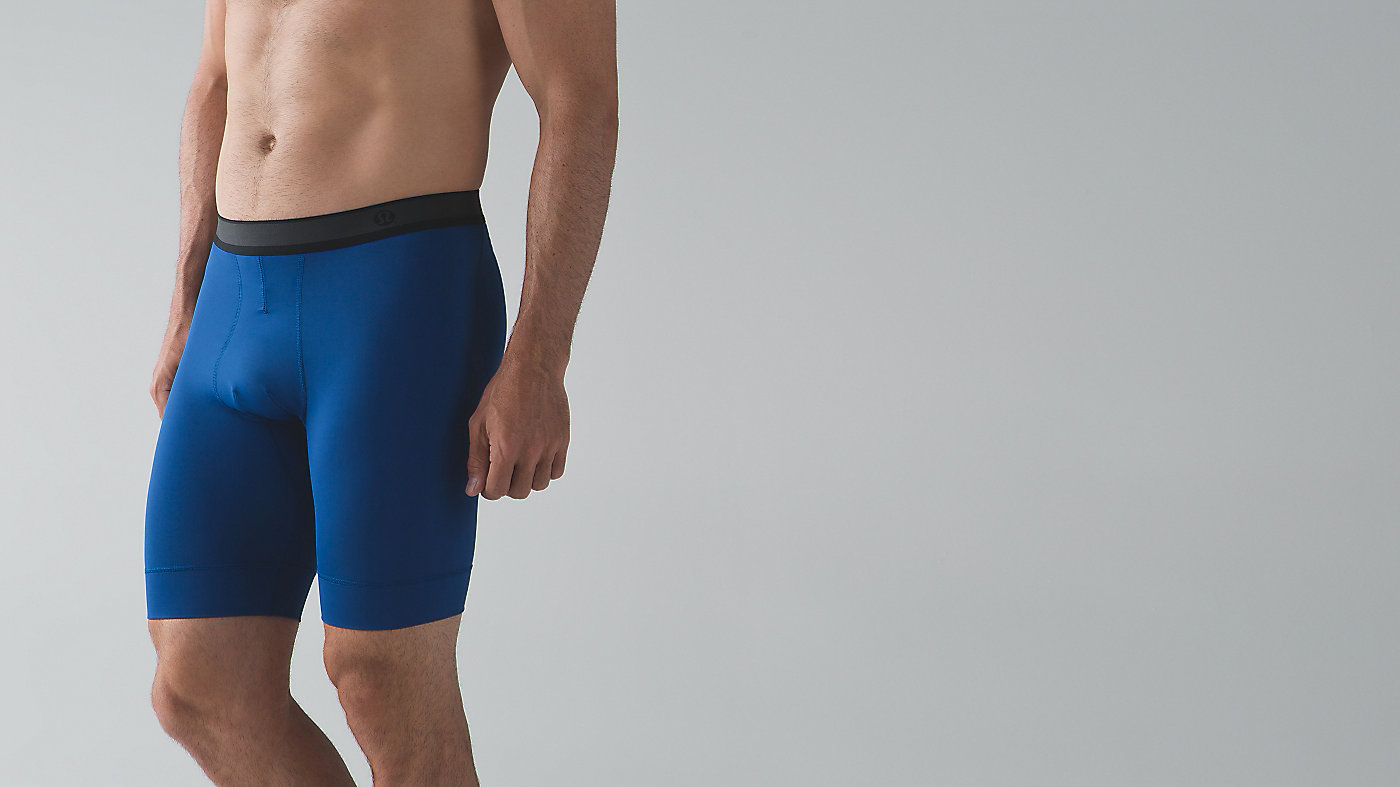 Article conçu pour
L'entraînement, la course
---
soutien
Offre du support là où vous en avez besoin
---
coupe
Conçu pour une taille athlétique
---

Lock 'Em Down Boxer
is rated out of
5
by
21
.
Rated

1

out of

5
by
FastTT
from
Longest work day ever wearing these
The fabric is great however I have had these a little more than a month and one stitch is coming undone on the inner seam and I've never chaffed so much in my life. I have some of the lululemon no boxers which are great. I walk a lot for work and these made for a very long and uncomfortable day. I would recommend the no boxers but am not happy with these at all.
Date published: 2017-05-06
Rated

2

out of

5
by
Tomlinsoncharge21
from
Quality control
I was excited to get these considering they're longer and supposed to not ride up. They do an excellent job of staying in place and good compression. The quality of these on the stitching seem quite poor. I have had these for around 5 months and wore a handful of times. The stitching on the back now has a hole about 3 inches in them. For $38 dollars a pair before shipping is quite pricey for a pair of underwear. I do wish Lulu would create a more durable protect. Limited colors and not sure if I would buy anymore.
Date published: 2017-03-20
Rated

5

out of

5
by
joshter
from
PDG
It's not the Athlete, it's his equipment... and I win with this. I have 12 pair and am addicted- dunno what people say about stink (which is pretty disgusting) - I have one issue with a ripped waist band but hey, wear & tear. Avoid the Trunks- not as good
Date published: 2017-03-15
Rated

4

out of

5
by
UPSdude
from
Great compression
I own six of these lock em' downs and rely on them for working out. I've been buying them in stages, so some are older and newer. They all have HEAVY wear and have held up VERY well. There are NO smells or snags. However, there is pilling on two of them (BUT they are over two years old-- that's normal wear and tear folks). I will keep buying these and start to replace some of my older ones. I do wish that LULU would create a high-waisted version. I like to pull these up to keep my stomach in place :-)
Date published: 2017-03-10
Rated

2

out of

5
by
dopressestoliftdresses
from
bagged out
This is my second pair of these. The first pair is awesome and hasn't changed a bit, but this second pair has stretched out almost immediately and is incredibly uncomfortable to wear (especially when it gets wet with sweat). I won't be buying these anymore, which is too bad because the first pair I bought is amazing.
Date published: 2017-03-09
Rated

3

out of

5
by
gouveia
from
brutal stitching
these are an amazing feel and fit but after my first 5 workouts they are pilling in a few different spots. its not looking good for long term use. ive used under armour compression shorts for workouts for a few years without any issues.
Date published: 2017-03-07
Rated

2

out of

5
by
Cactus8320
from
Extreme Disappointment
I bought these boxers for my boyfriend for Christmas. Initially I was just going to buy him a pair of the "No Boxer Boxer", however after talking to the lady working at lululemon she convinced me otherwise. She ensured me that these are great for guys who get very sweaty and want to prevent an odour from being created down there. Great! Sounded perfect for my boyfriend. Guess again... that whole "no sweat, no odour" promise was a complete lie. In fact my boyfriend can hardly wear these because they end up reeking so bad. I paid $40 instead of $24 for boxers for absolutely no reason. I am so disappointed with lululemon and I will not be back for a very long time as I do not appreciate false advertisement. Do not bother buying these if you even remotely break a sweat down there.. its a rip off.
Date published: 2017-01-27
Rated

5

out of

5
by
TK1987
from
Best Underwear Out There for Down There
I must admit that I was skeptical before purchasing these as they have varying reviews regarding the quality of their construction. Regardless, I went for it and bought two pairs. Immediately after purchase I wore them to the gym and my life was changed. No more pulling down the legs of my underwear due to bunching from squats or rowing, no need for adjusting my junk, and they kept me totally cool and wicked sweat brilliantly. I seriously love these things. I'd love to have 10 pairs and wear them exclusively, but, alas, that would take a small fortune. I must add that the second pair I purchased had a frayed seam that I noticed after I took out of the box, but I took them back to the store and was able to get them exchanged, which was a huge relief. Overall, I'd say definitely go for buying these. BUT: size up one size and check the seams at the store before purchasing. Otherwise, enjoy!
Date published: 2017-01-08
Rated

1

out of

5
by
Steephill
from
Thighs rub? Pass on these. Bad design, cheap stitching
Oh how the mighty fall. Lululemon, your quality has certainly degraded over the last few years and it is noticable with these boxers. I signed up just to leave this review and I hope this helps others save their hard earned money. I purchased these because I am an avid walker. I walk about 10km a day so I wanted a nice compression boxer that would hold me in place and keep me comfortable. In 2010, I purchased 5 pairs of your boxers which were awesome, and most of them are still in good condition considering how much use they've had. As a result, I had no hesitation to purchase new ones since a few older ones began to tear in high wear places. I felt confident and wanted to buy more this time because if how much succees I previously had, so I purchased 10 pairs in June ($380 worth). I will add that I am not lean nor am I overweight. I am built like a linebacker so wanted a "hockey bum" fit which these provide, but my thighs DO rub a bit. ALL 10 pairs have the stitching coming out of their seams along the outer thigh and waist. All 10 pairs have the stitching completely destroyed where they rub between my legs (bad design putting cheap stitching there). All 10 pairs will be completely unusuable within a few short months at this rate. Some people might say "perhaps you bought them too small, or aren't washing them correctly". I assure you, being a longtime customer of Lululemon and having enjoyed and even championed their mens line, I take care of these expensive products very well. As a result, I will NOT be purchasing any Lululemon products again. It isn't just because of this experience, but many of your products (that I have purchased) have, in my opinion, clearly lost their once great quality. I will not be recommending your brand to people anymore and have already expressed my disdain with what I will label your "profit-over-quality" direction you are headed. You have clearly lost your way and now lost a loyal customer. I will be giving my money to Arc'terycx and Icebreaker moving forward. I hope for the survival of your company, you start making durable and well designed products again.
Date published: 2016-11-29
Rated

2

out of

5
by
Screwed
from
Size is inaccurate
I needed to buy a compression underwear for sports, and the sales person had me try on two pairs of regular Lululemon pants to determine my size, My waist is a 32-33; he said medium! They didn't have black, so I ordered it through the store. One week later they arrived at my home. They were too small. When I went to exchange them, I was told sorry, "Final Sale." That's it! $38 plus tax down the drain. If you are going to buy them, get the larger size. And don't listen to the sales person when they have you try on a different product!
Date published: 2016-10-18