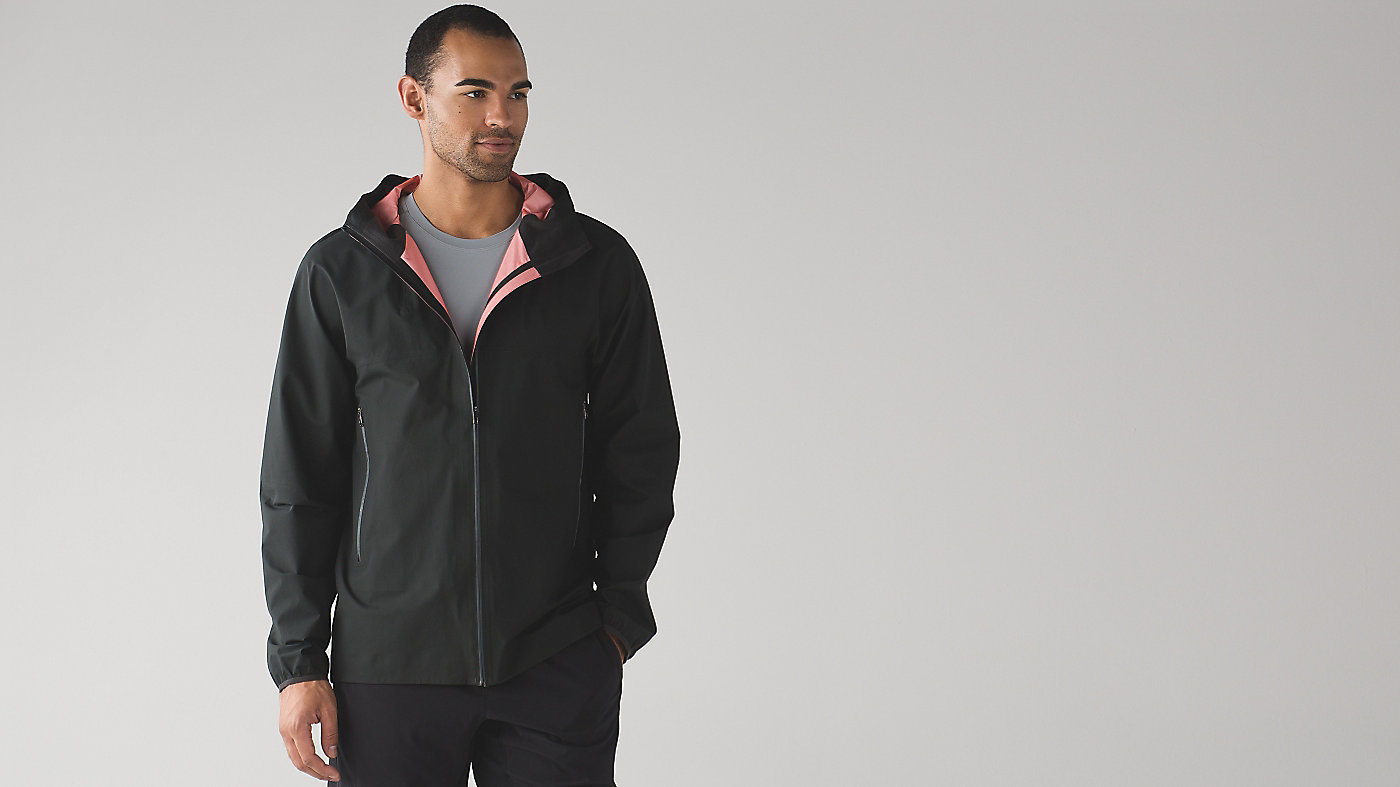 Article conçu pour
La course
---
Superposez
Cette coquille s'adapte à une couche intérieure facultative
---
détails réfléchissants
Disposés pour plus de visibilité dans la pénombre
---
détails en silicone
À l'intérieur pour que le tout reste en place
---
Restez au frais
Aération arrière et poches maillées pour laisser l'air circuler
Einn Shell
is rated out of
5
by
8
.
Rated

2

out of

5
by
Edgecombe
from
Nice jacket, but waterproofing is poor
It's a nice-looking jacket, and it seems well-designed. The first wear in the rain went well, and the water beaded off of it effectively. A few weeks and 1 wash later, I was caught in a rainstorm, and the water seeped through the fabric. I expected much better from Lululemon, especially for the price.
Date published: 2017-06-01
Rated

1

out of

5
by
Noah427
from
Jacket Fails water repelling
I have had this jacket for less than a month and have never washed it yet. I have only been in the rain twice and it was light rain. The jacket did fine, but the second time the water didn't roll off the jacket, instead the sleeves stayed wet and it was uncomfortable. I was expecting a jacket that would keep the water completely off of me, but found that this only lasted for a single time in the rain.
Date published: 2017-04-05
Rated

3

out of

5
by
HB3GC
from
Offers weather protection but needs improvement
The Einn shell offers good weather protection from torrential rain in Vancouver and the backer fabric is comfortable to wear with a T-shirt. Minimal seams, stretch fabric, large hand pockets, and reflective detailing are nice touches. The length of the jacket justifies the lack of hem drawcords. I am 5'10" 155lbs waist 30" chest 37" and I purchased a medium. Medium fits loose without layering but fits right with thicker layering. I do imagine a Small would be fine too. There are, however, several improvements needed to make it a true contender as an all round technical kit. These being: 1. Gusseted underarms – The jacket has low hanging underarms and are stitched awkwardly causing the jacket to lift several inches when arms are raised. This also creates the feeling of having "wings" when arms are lifted horizontally. 2. Vertical hood adjustments – the cinch on the back of the hood is good for keeping the hood on while running of if there is wind. In my opinion vertical hood adjustments would help decrease the crinkle around the ears and make it more comfortable. 3. Improved brim – the brim offers little to no protection even when walking. Not sure what it is but it doesn't match the function of my other lightweight technical shell jackets. Additionally, when the hood is adjusted the brim wrinkles. 4. Increased suppleness of face fabric – the face fabric is not very supple, it makes a crunchy tarp like sound. Although it offers stretch and doesn't saturate like Pertex shield +, the sound is quite distracting and limits the ability to hear cars in a downpour. 5. Velcro adjusters on the sleeve cuffs – it would be nice to seal the arms from rain and wind. Also, if used for other than running and biking it would be nice for the sleeves to stay in place. Overall, it offers good weather protection and breathability for certain activities and for urban life. However, there are improvements needed to justify the price and to make it a true technical all round piece.
Date published: 2017-03-16
Rated

5

out of

5
by
Bringitdaily
from
Excellent Jacket
Got this jacket for traveling and hiking in the tropics. Wore it as a wind breaker climbing volcanoes and on jungle hikes. It keeps the elements out fantastically but also breaths well keeping you dry. Looks awesome as a bonus since it's cut well, highly recommended.
Date published: 2017-03-05
Rated

2

out of

5
by
seattle91
from
Awful Zipper
Got one of these for Christmas and had to return after the first wear after the zipper broke. The replacement jacket was mailed to me from the store in SF and this one lasted 4 or 5 wears before the zipper busted in the exact same spot. Returned and got a gift card for the balance. Wish it had lasted, I loved the actual jacket. Great venting, comfortable hood, cool reflectors.
Date published: 2017-02-08
Rated

5

out of

5
by
Tryall
from
Outstanding
I have used Einn shell for two months through dismall weather. I've used it for hiking, running and mountain biking. It beads wonderfully, better than the two other gore tex jackets I have, and seems to breath much better too. I've already recommended this to friends. I have the Surge Thermo Vest that connects to this jacket via a couple small hooks, nice combo. Thanks lululemon!
Date published: 2017-01-09
Rated

5

out of

5
by
Rafael
from
Bombproof shell for wind and rain
Great fitted jacket/shell. I've put this piece through its paces over the last little while and I've gone back and forth on what I like to use it for most. I've spent time running and mountain biking in it and found it repels water and rain really really well while retaining reasonably good breathability. On the flip side I traveled through Europe with it and really liked it just as an all around jacket for the fall. One thing I really liked was being able to shove it into my backpack while travelling and not really need to worry about it retaining wrinkles, and since its a pretty tapered fit it still looks pretty sharp for to and from in casual wear. I've worn it layered with the Surge Thermo Vest as its gotten colder in Calgary over the past couple months and this will work well to repel elements like wind and water, while the vest provides the insulation. In that case its a great to/from piece. If you were to run with this layered with the Thermo and a Surge Half Zip or Long Sleeve, you'd be good to go all the way down to -15C or cooler (depending on your cold tolerance). Is definitely a little pricey, but its a piece that is easily comparable to other other high end outerwear shells.
Date published: 2016-12-15
Rated

5

out of

5
by
NNS0075
from
Great Jacket
Waterproof, light + comfortable. Got this and had a lot of jealous friends. Looks good and performs well.
Date published: 2016-10-31