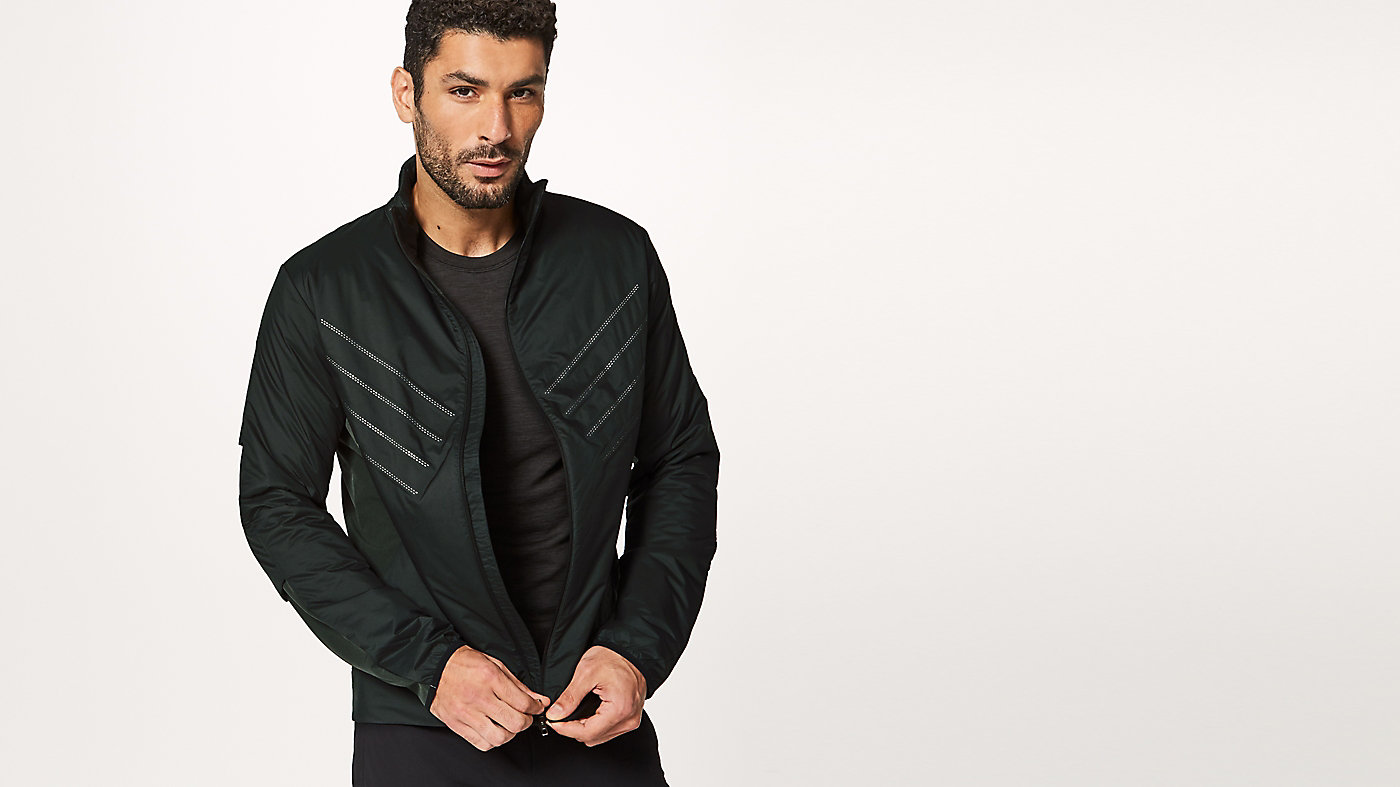 Article conçu pour
La course, l'entraînement
---
maille et circulation de l'air
Favorise la circulation de l'air pour vous garder au frais
---
Détail réfléchissant
Placé de manière intentionnelle pour aider à vous rendre visible lorsqu'il fait sombre
---
détails en silicone
À l'intérieur pour que le tout reste en place
---
Fermeture éclair bidirectionnelle
La fermeture éclair est facile à ajuster même en mouvement
Surge Thermo Jacket
is rated out of
5
by
6
.
Rated

1

out of

5
by
rmrm
from
don't buy. poor quality.
bought this jacket 8 weeks ago. great fit and comfort. wore the jacket 5 or so times before the zipper started acting up (coming undone at the bottom when fully zipped). another 5 or so times before the zipping mechanism fell apart completely. i'm left with an unwearable jacket. completely disappointed. i buy lululemon often but this is going to give me pause in the future. it's tough to drop a couple hundred when you don't know if it'll even last you for a season.
Date published: 2017-05-01
Rated

4

out of

5
by
justinkase
from
Great jacket, terrible zipper
Great fit, great material, great tech. Awesome jacket actually. But the zipper is so poor and flimsy that it falls out of the groove, making it extremely frustrating to get it back in, to unzip the jacket!! A stronger more competent zipper would have been more appropriate for this otherwise great jacket.
Date published: 2017-04-12
Rated

2

out of

5
by
Brendon
from
Great overall jacket...except for one major issue!
The jacket itself it great. I love the weight of the jacket, and has just the right amount of insulation mixed with breathability. However, after reading all these reviews, I'm not alone. The bottom of my zipper is broken and now the jacket will barely stayed zipped. Any amount of movement will cause the broken zipper to come apart from the bottom of the jacket.
Date published: 2017-04-11
Rated

2

out of

5
by
AK54
from
Great but needs work
Bought this jacket because I liked the style and looks really nice, but after wearing it a couple time the zipper would break at the bottom, the zipper in my opinion is very cheap and could use a lot of work because the jacket is nice but the quality of the materials used could be better.
Date published: 2017-03-29
Rated

1

out of

5
by
lt27
from
Great but Terrible
The jacket itself is absolutely phenomenal. The material is very soft, it is a perfect weight for 40-65 degree temperature, and it fits perfectly. Much to my disappointment, the zipper is cheaply made and is an absolute disaster. I actually had two of these jackets; the first broke on the second day of wearing it, and the second broke within the first week. The plastic piece at the bottom of the zipper falls apart very easily and is clearly a flaw in design. I would've loved to have another jacket but after two failing in so short time, I couldn't let myself down again. I am highly disappointed - simply slightly better construction would've make the jacket amazing. I expected better from Lululemon - this is the first to have any issue though it is a substantial one.
Date published: 2017-03-15
Rated

1

out of

5
by
mkjj
from
Great jacket with big issues
I have been looking for a new Lululemon winter running jacket since my old Chillstop jacket is wearing out. While that jacket was perfect in pretty much every way, this one is letdown by two big problems. First, the zipper is frustrating and just not very good. It is very very very hard to get the bottom zip to engage. If you miss it, and manage to slide the top zip up, the zipper just opens on its own. If you somehow manage to get both zippers to engage, then pat yourself on the back because it took me 20 attempts to get it, and then watch the bottom zipper disengage shortly afterwards and the zipper open anyway. I've dealt with some poorly designed zipper mechanisms before, but this is easily the worst I have ever used, which is surprising because Lululemon zipper mechanisms are usually great. The Chillstop Jacket zipper was fine and doesn't have any of these problems. Please go back to that one. Second, while the jacket material is somewhat stretchy, which is nice, the area around the waist has zero give at all and is much tighter than the body of the jacket. My size L Chillstop Jacket doesn't have that problem fits much more comfortably than a size XL Surge Thermo Jacket because of this. If this jacket was redone with a sensible zipper that actually worked, and without the unnecessary detailing at the bottom/waist area that together ruin the whole thing, this would be a great jacket, because everything else about it is spot on (material, styling, tasteful reflective details, stretch). As it is, I can't recommend this jacket. It's going to be returned, unfortunately.
Date published: 2016-12-23