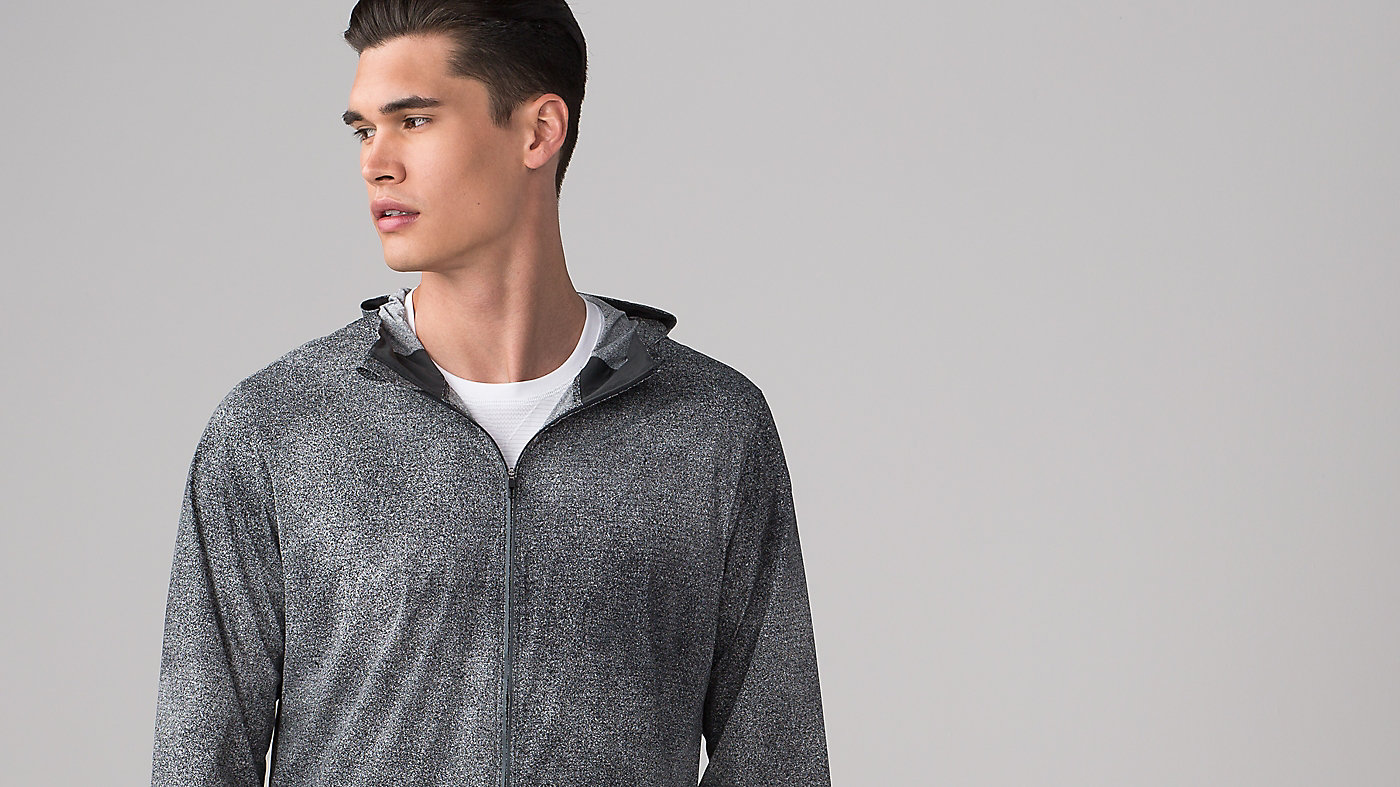 Article conçu pour
La course
---
capuchon escamotable
Vous permet de vous adapter selon la température
---
détails d'aération sous les bras
Pour une meilleure circulation de l'air
---
Coupe profilée
Poignets ajustés
---
Rangement
Poche à fermeture éclair, pochette pour téléphone
---
À vous de briller
Les détails réfléchissants vous aident à rester visible lorsqu'il fait sombre

Active Jacket
is rated out of
5
by
27
.
Rated

5

out of

5
by
Dacle
from
Perfect jacket
Fit is a bit tight so i took a medium instead of small but the fit is great. Lightweight, breathable and perfect for the mouvement. Not the most windbreaker but, perfect to let the sweat get out on my long run. I'm using it with a base layer from -15 to 0 degree, and it's great!
Date published: 2020-02-22
Rated

2

out of

5
by
AK1980
from
Fit Freak
So - ordered a medium on sale and it turns out that it's quite short in length from the front, awkwardly so. Fits around arms, chest and back perfectly - and then kind of just ends after my belly button. Always a medium in LuLu jackets so really can't figure it out. Perhaps a large size would be better for folks who work out ?
Date published: 2020-01-23
Rated

2

out of

5
by
Handsomely
from
jacket
First Lululemon item that I don't care for. The collar does not lay even when open and the arms are too tight. I cannot wear anything long sleeves wearing this. I have worn it 2 times and not happy. Can I return without the receipt?
Date published: 2019-11-23
Rated

5

out of

5
by
KiranR
from
Perfect fit, thin but a nice layer to throw on in the Fall
I love this jacket. I keep it by the door and pop it on every time I step out to run errands or go for a run. It is pretty thin, but it's perfect for crisp Fall mornings and easy to put away as the day gets warmer. I love the fit and will probably buy anything else from Lululemon of the same cut.
Date published: 2019-10-15
Rated

5

out of

5
by
DKN4
from
The Best Everyday Jacket
Date published: 2019-09-02
Rated

3

out of

5
by
Heion
from
Best Jacket I have gotten
The Jacket is great for exercise and just walking. It seems to wick sweat, so I actually prefer to wear just the Jacket without a shirt. I bought a small sized Active Jacket and it fits almost perfectly. I was intending to buy another active Jacket, however...there is a bit of an issue... I washed it for the first time and noticed that there were "strips" or those things that appear when you pull out the fabric lines. This jacket does not seem to be that durable and I wonder how long it is going to last. It is a shame because I would have liked more of these.
Date published: 2019-08-29
Rated

1

out of

5
by
CaseyJM
from
Stay away from this item
After owning this item for a month and only wearing a couple times I noticed a hole in the sleeve. It was just after 30 days so when I went in for an exchange they gave me a really hard time. They did eventually allow me to exchange for the same item, which I appreciated. I have now had the new jacket for only 2 months and I noticed another hole - this time in the body of the jacket. Neither hole is near a seam. Being that it's summer, I don't use the jacket often. Only used it a handful of times while jogging. The material is very thin, but I assumed that given the price and the fact that it's designed for training it was made with high-quality material. That is NOT the case.
Date published: 2019-08-19
Rated

2

out of

5
by
loganski
from
Stylish but maybe lacking function
Okay, I really like this jacket, tbh. It's stylish and super light so I can stuff it in my bag and bust out when I just need that one extra layer. But like others have pointed out, the water resistance is next to nothing. I live in Seattle where it doesn't rain that much but when it does, we don't use umbrellas (I have no clue why, folks... it's just the culture). That said, I like having a light jacket I can just stuff in my bag and run out the door with, just in case. I can stuff this one in and jam out the door but once the drizzle hit... it was just another layer of clothing to get soaked. Also, it's a tiiiiiny bit tight around the waist/belly. Nothing crazy but when you've moving and stretching you'll constantly be pulling the jacket down. Don't get me wrong, I like this thing. It just may not be what you're looking for if you want some light rain protection.
Date published: 2019-08-07
Rated

2

out of

5
by
pars
from
Not any water protection
The fit and looks are great. But you can't be close to the water. The water repellent technology is the same as a cotton shirt.
Date published: 2019-07-31
Rated

1

out of

5
by
Guilherme
from
Thin and Breathable but not Water Resistant
I like the style of the jacket and that it is thin and very breathable but this did not protect me from a light drizzle. Not really worth the purchase and it's final sale so you can't return.
Date published: 2019-06-26