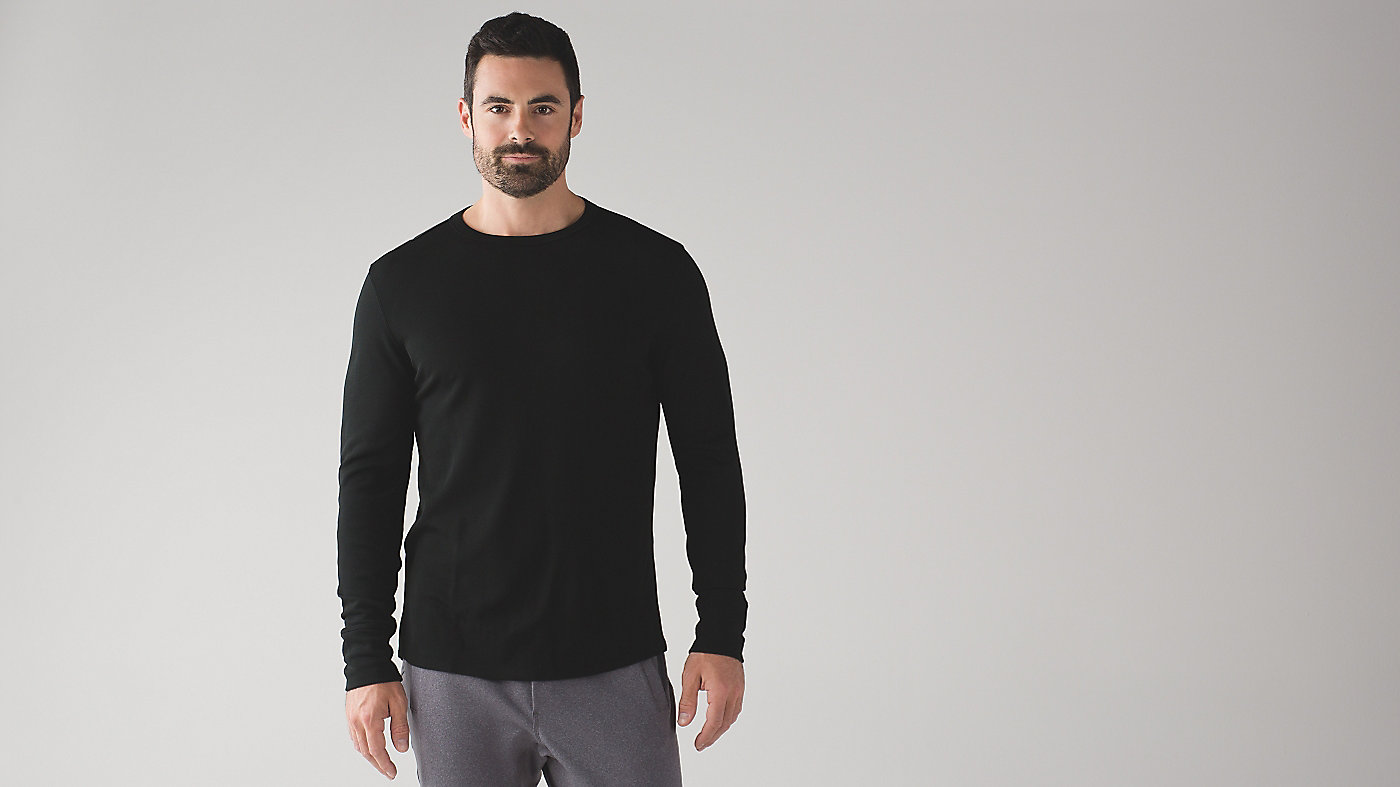 Article conçu pour
L'aller-retour
---
construction en maille
Stimule la circulation de l'air dans les zones de transpiration intense
---
détails réfléchissants
Disposés pour plus de visibilité dans la pénombre

Long Weekend Long Sleeve
is rated out of
5
by
13
.
Rated

1

out of

5
by
fl2ny
from
Pilling, per usual.
This is becoming a real trend with Lulu gear. I bought this off WMTM and after about 4 wears and 1 wash (and I only wash all Lulu gear together) the shirt began to pill unbelievably towards the bottom. Really getting tired of spending a bunch of money on Lulu gear for it to last a few wears. Do not buy.
Date published: 2017-03-23
Rated

3

out of

5
by
Charizard
from
Why is this?
Love, love the fit and look of this shirt. However, it smells awful, it smelt bad out the bag and it does not matter how many times I was it as instructed it still smells awful. This is the first lulu item I have brought that I am let down by.
Date published: 2017-03-10
Rated

2

out of

5
by
dhemi
from
Comfy, but poor quality
This shirt is extremely comfortable, but it started pilling the first time I wore it. I have worn it twice without washing, and the pilling is continually getting worse.
Date published: 2017-02-28
Rated

2

out of

5
by
Cookie19
from
Nice shirt but poor quality
Like most others I have had issues with the durability of this shirt. It almost immediately started pilling. I have only worn the shirt a couple of times and it already looks like hit has been very used. The shirt was very comfortable and stylish but that does not make up for the poor quality.
Date published: 2017-01-28
Rated

5

out of

5
by
Deek
from
Great Shirt
I love this shirt! I've read the other reviews about pilling, quality and snagging. I have had none of these issues. The only thing that may make a difference is that I do not use the dryer. I line dry this shirt. It's soft warm and comfortable and is holding up great!
Date published: 2017-01-28
Rated

2

out of

5
by
rag09
from
Long Weekend Long Sleeve
When i first bought this shirt it immediately became a favorite of mine b/c of how warm and comfortable it was but as I wore it the pilling continued and has now got to a point where i can only wear it at home. One of the few Lulu items i have owned that has not held up and for $100 i wouldn't recommend it.
Date published: 2017-01-24
Rated

2

out of

5
by
WT777
from
Great shirt, but definite quality issues present.
Like other reviewers, I almost immediately had an issue with a mysterious snag in the fabric. I bought the shirt this past week in my local store on sale and noticed a snag the first day I wore it. I have numerous Lululemon products and have noticed a trend towards more fragile fabrics with decreased durability over the last few years.
Date published: 2017-01-24
Rated

2

out of

5
by
ttam
from
Great fit and design, but concerns of the fabric holding up.
The fit on this is great, and the design and construction are on point. I've washed it once, and had no issue with shrinking. My concern is that the material seems very prone to snagging on just about everything. It just seems "grabby" in some way. I have to be careful when I wear it. I really like the shirt, but suspect it will look quite worn very quickly because of this. For that reason, I wouldn't recommend it to anyone.
Date published: 2017-01-16
Rated

4

out of

5
by
jk909
from
Comfortable but lacks durability
One of the most comfortable shirts I have in my closet and definitely something that will keep you warm in the winter, but It already started pilling and snagging after only 2 wears. Only problem I have out of my whole collection of lulu lemon shirts.
Date published: 2017-01-10
Rated

3

out of

5
by
LuluFanMan
from
Comfortable but not durable
Great fit, felt great but the shirt snagged the first time that I wore it (traveling). Went into a retail store and mentioned that the shirt snagged for no apparent reason. Store was happy to exchange the item and credited me in full.
Date published: 2017-01-03