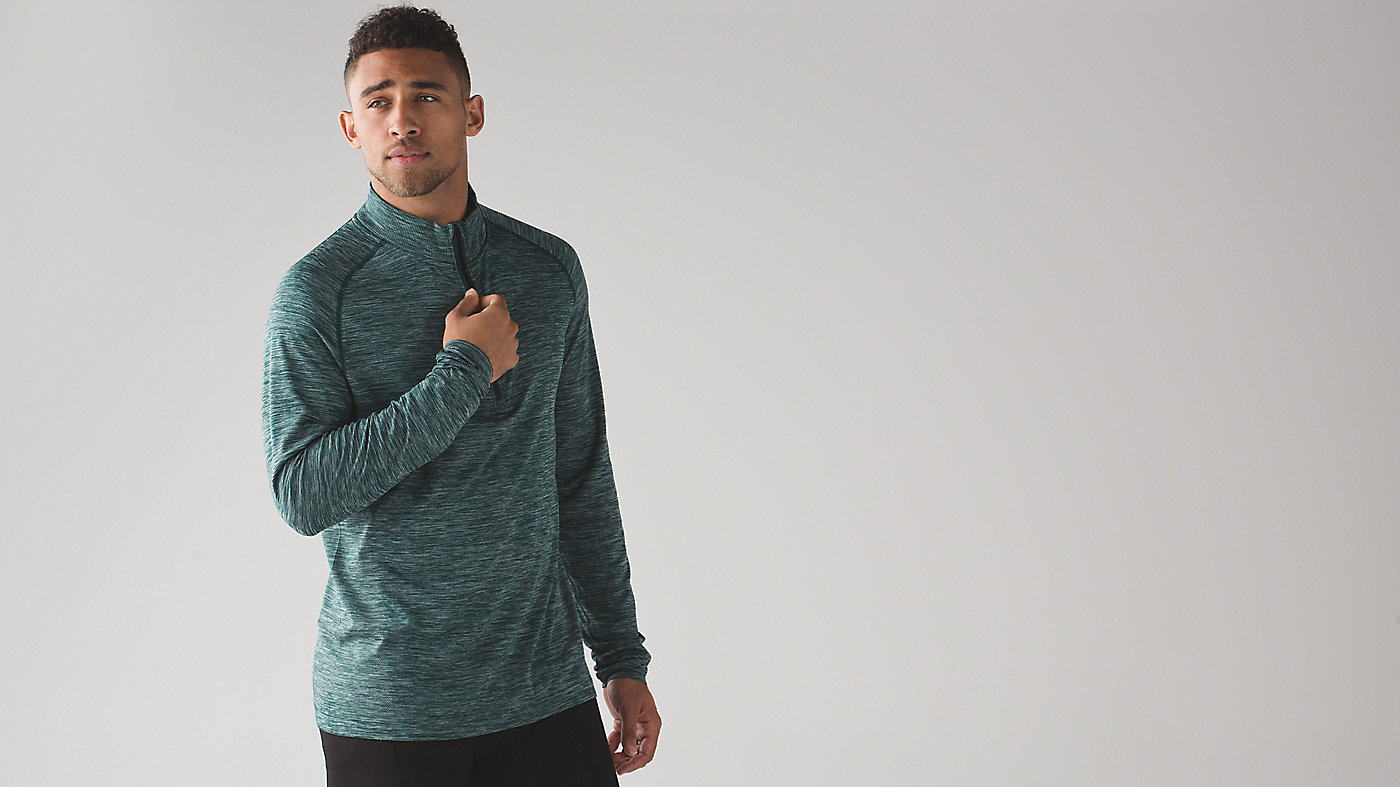 Article conçu pour
La course, l'entraînement
---
technologie SilverescentMD
Propulsée par la fibre X-STATICMD, elle entrave la croissance des bactéries qui causent les odeurs dans le vêtement
---
Détail réfléchissant
Placé de manière intentionnelle pour aider à vous rendre visible lorsqu'il fait sombre

Metal Vent Tech 1/2 Zip
is rated out of
5
by
21
.
Rated

1

out of

5
by
vjjjj
from
upset
I am upset with the stretching and pilling on it. I own several colours of this jacket and this has never happened, i followed all of the washing instructions 100% correctly and it still didn't live up to expectation. Something needs to be done. Super disappointing.
Date published: 2017-06-09
Rated

2

out of

5
by
ik06
from
Great product, terrible quality
I purchased this 1/2 zip from a local lululemon in February. I've worn it about 3 or 4 times, and its already pilling!! Near the chest area mostly and a bit on the back. I really loved this top, but the pilling is really annoying, doesn't look great and should not happen with a top that costs this much! Very disappointed, and I hope this doesn't happen to the other lululemon gear I've purchased recently. Was a big fan, but this is making me question it unfortunately.
Date published: 2017-06-09
Rated

5

out of

5
by
HHE1
from
Great!
I'm not sure why so many people have problems with ripping with this shirt. I LOVE this shirt and it's stayed in great shirt since day 1. I air dry, not in a machine, maybe that makes a difference (??). My only complaint is that I wish there were more colors. All 3 colors are too similar. Would love to have more to wear more!
Date published: 2017-06-02
Rated

1

out of

5
by
Jbird25
from
Durability is poor
I wore this 1/2 zip twice. The fit is great and the look is even better. The pros stop there. This material will snag and tear so easily you cannot wear it anywhere without ripping it. My 1/2 zip snagged on a smooth surface and developed a hole the second time I wore it. For the premium cost of this garment, I would expect a much greater durability. This is workout gear and should be able to handle rigorous activity. I cannot say I would buy another.
Date published: 2017-05-25
Rated

2

out of

5
by
jshin15
from
Great shirt, disappointing fabric quality
I just purchased this 1/2 zip shirt from my local Lululemon retailer about a week ago. The shirt itself fits and looks great, but there is one glaring problem: the fabric is pilling/fraying already. I have only worn this top leisurely while I travelled or lounged around. I don't know if that is a common problem with this particular shirt, but I was definitely disappointed as none of my other Lululemon 1/2 zips have done this. This would have been a 5 star review had it not been for the premature pilling/fraying of the fabric. I would recommend the shirt still, but definitely note that you are rolling the dice with the fabric. I do not want to feel like I have to be overly cautious while wearing this top.
Date published: 2017-05-17
Rated

2

out of

5
by
dsteven19
from
snags and fabric tears
Like other reviews, this shirt felt really great to wear from the beginning, but I did have the same experience where several snags on the shirt would occur after 2-3 wears and i also noticed a microtear over the shoulder region, it was just a horrible feeling to be wearing a quality shirt and have something like this happen.
Date published: 2017-05-13
Rated

1

out of

5
by
MikeE123
from
Great fit but poor quality
Fit, color, & feel of shirt are great ... BUT I already have multiple pulls on it after just 2 wears into the office and have not even attempted to wash yet. Quality is unacceptable and needs to be addressed given cost of clothing. I would not recommend this article of clothing.
Date published: 2017-04-27
Rated

1

out of

5
by
Rickc
from
Fabric pulls
Like all the other reviews. I absolutely love the feel of this shirt so much that i bought two of them. Only have worn a few times and one is being sent back due to a fabric pull and now i just noticed the same thing on the other one. Where is the quality control for these? For the cost this should definitely not be an issue. So disappointing.
Date published: 2017-04-02
Rated

3

out of

5
by
MplsLuluLover89
from
Poorer Quality Than Other Half Zips
The color of this half zip is great. Unfortunately as other reviews read, the quality is simply not there. It's much lighter and feels cheaper than the other half zips that I have. Mine was also shipped with a pulled thread or something of the like across the right side, making it look like there's a constant crease. If you're used to other Lulu half zips as I am, I do not recommend you purchase this (even at the discounted price). The quality simply is not worth it.
Date published: 2017-03-28
Rated

5

out of

5
by
calihiker
from
Favorite new shirt!
Bought this for my father as a gift. He is 58 with a large build. It is now his favorite shirt - he wears it to work out and to go out. The shirt can be layered or worn alone, but looks great as a casual top with jeans or can be thrown on for the gym.
Date published: 2017-02-11