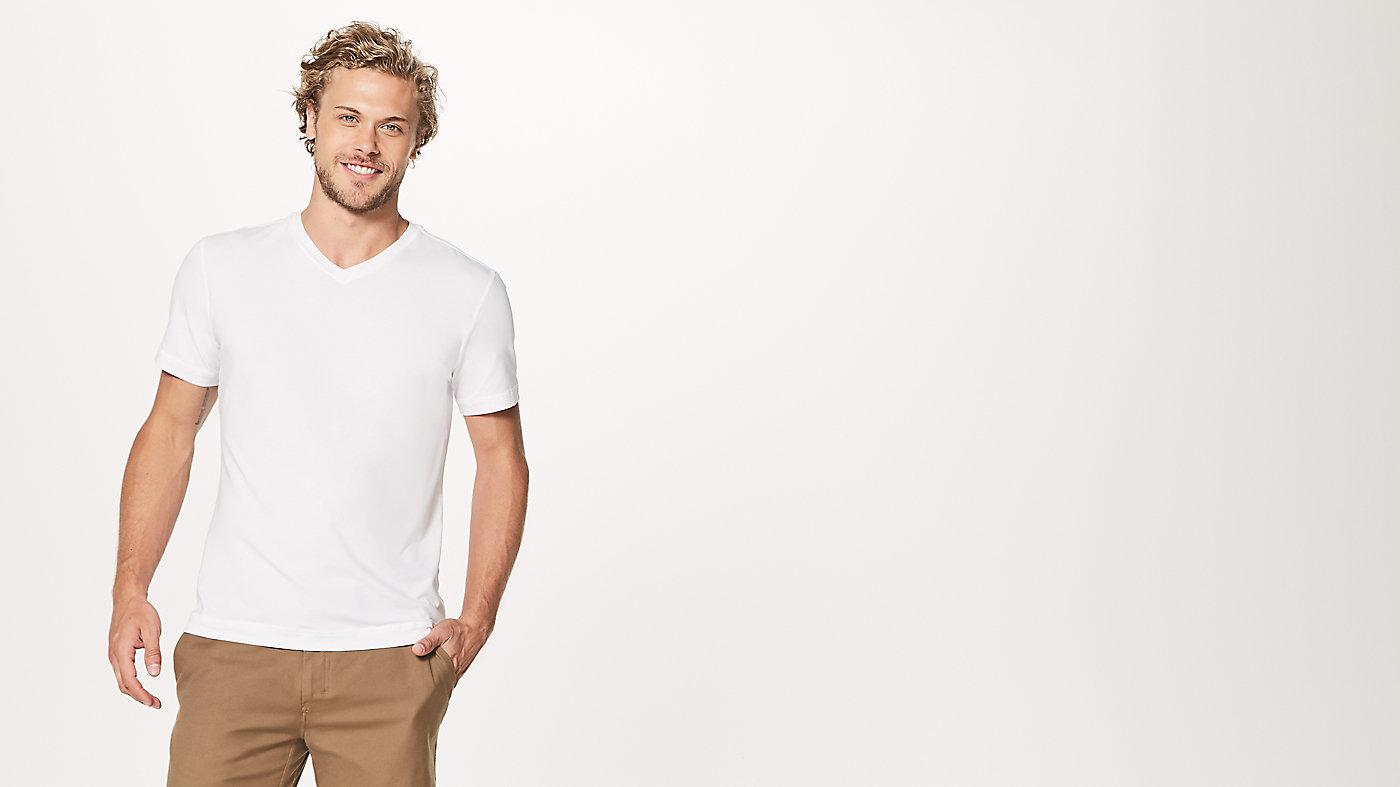 Article conçu pour
Vie quotidienne
---
LYCRA®
Conserve sa forme grâce à l'ajout de fibres Lycra®
---

5 Year Basic V
is rated out of
5
by
124
.
Rated

2

out of

5
by
YYCGuy40
from
Great shirts, beware the Chambray color
I have owned 5 year basic tees for years and loved them, so when I needed a couple of new shirts for a recent vacation I didn't hesitate to purchase a few more. I bought one in Heathered black and one in Chambray. Both were extremely soft, stretchy and very comfortable. However after only one day of wear the Chambray color shirt became discoloured, leaving pink streaks and blotches in several locations. The shirt is now basically unwearable after a single day of wear. I expected better from Lululemon given my past experience with not only these shirts but the many other Lululemon products I own.
Date published: 2020-01-28
Rated

2

out of

5
by
Eryk
from
Alright t-shirt not worth price
I bought this t-shirt not even a year ago with minimal wears, once or twice a month. With under 10 washes it has began to deform and the material degrade. Very comfortable material however given the price it is not worth it. Better off buying multiple cotton t-shirts for cheaper.
Date published: 2019-12-27
Rated

1

out of

5
by
LIFEOFADANCER
from
Extremely thin
The material is so thin that it has started to form small holes after only a few wears. Along with this the neck hole is aligned very weird making the shirt unflattering to wear. For what you pay this really shouldn't be the case.
Date published: 2019-09-03
Rated

3

out of

5
by
SrMartin
from
Great fit, stretchy, but poor die
weeks after buying this shirt and wearing it, I began to notice the same bleach-looking stains that appeared also on my tech-pique collared shirt. It is not too noticeable, but still very disappointing. If I had known that wearing deodorant with these shirts was a problem, then I wouldn't have bought it. Possibly the new and updated 5-year basic shirts have more of a resistance to the deodorant, and maybe in the future I will give it another try. However as of now, I am unconvinced.
Date published: 2019-08-25
Rated

3

out of

5
by
WKTO
from
White - V Neck not aligned
I own 4 of these V-Neck Shirts and love them. I did recently get a white shirt and found that the V neck is not completely aligned. It went unnoticed by myself but was only aware when someone pointed it out to me. However; after further inspection where the V Neck connect it was over stitched. If you plan on purchasing this shirt and want to avoid embarrassment check the stitching at the V neck. I'm also at fault for being so trusting on purchase of a shirt for over $60+ in hope that it's flawless. Otherwise overall a good fit for my body type. One last suggestion would be to allow users to post pictures of their review.
Date published: 2019-04-25
Rated

1

out of

5
by
HOMER
from
Please put an END to the Updated Fit!!!!!
My husband has so many of the 5 year Basic Tees. But I don't think we can purchase any more as the Updated Fit is absolutely AWFUL!! When I walk into my local Lululemon store and ask to see the 5 year basic tee, I always ask for the original fit. I mentioned that my husband doesn't like the new fit and the staff memeber agreed and said that he didn't like the new fit either. We beg you lululemon. Please put an END to the Updated Fit. There was nothing wrong with the original fit. I wish I could have given this review 0 stars. And paying $64.00 for a tee that sucks. Sucks!!
Date published: 2019-03-24
Rated

2

out of

5
by
LuluFanBoyzClub
from
Good Quality But Terrible Cutting
I'm not a fan of Lululemon V-neck shirt because the look is not flattering. The neck opening is too small and rounded like a crew neck except with a pointy front tip. Also it doesn't sit flat around the back of the neck. I still purchased a pair of these just because there is a colour that I really like and also the quality of the cotton blend is great. The purpose of a v-neck is to reveal that subtle masculine neck line and upper mid chest. It's to give it that sexy summer look. The cutting should go deeper into something like an almond shape. I hope to see a better re-designed v-neck from the company in the future.
Date published: 2018-09-27
Rated

1

out of

5
by
NorthShorejay
from
5 Year Basic V
I am a huge Lulu fan but this shirt is disappointing. I should have listened to the other reviews about the neck. I've had Lulu V neck tees in the past and they held up well. After a few washes this one lost its shape.
Date published: 2018-09-14
Rated

1

out of

5
by
DAVENL
from
Bacon Neck
I loved the shirt when purchased but after a few gentle washes (never in the dryer) I got the dreaded bacon neck... The shirt is not unwearable. Very disapointed as this is the only piece of lulu clothing to let me down.
Date published: 2018-08-30
Rated

5

out of

5
by
ActiveMG
from
All day every day
This shirt is my new favorite wardrobe staple. Super comfortable fabric, goes well with everything, fits like it was tailored. I would wear one every day if I could.
Date published: 2018-07-23