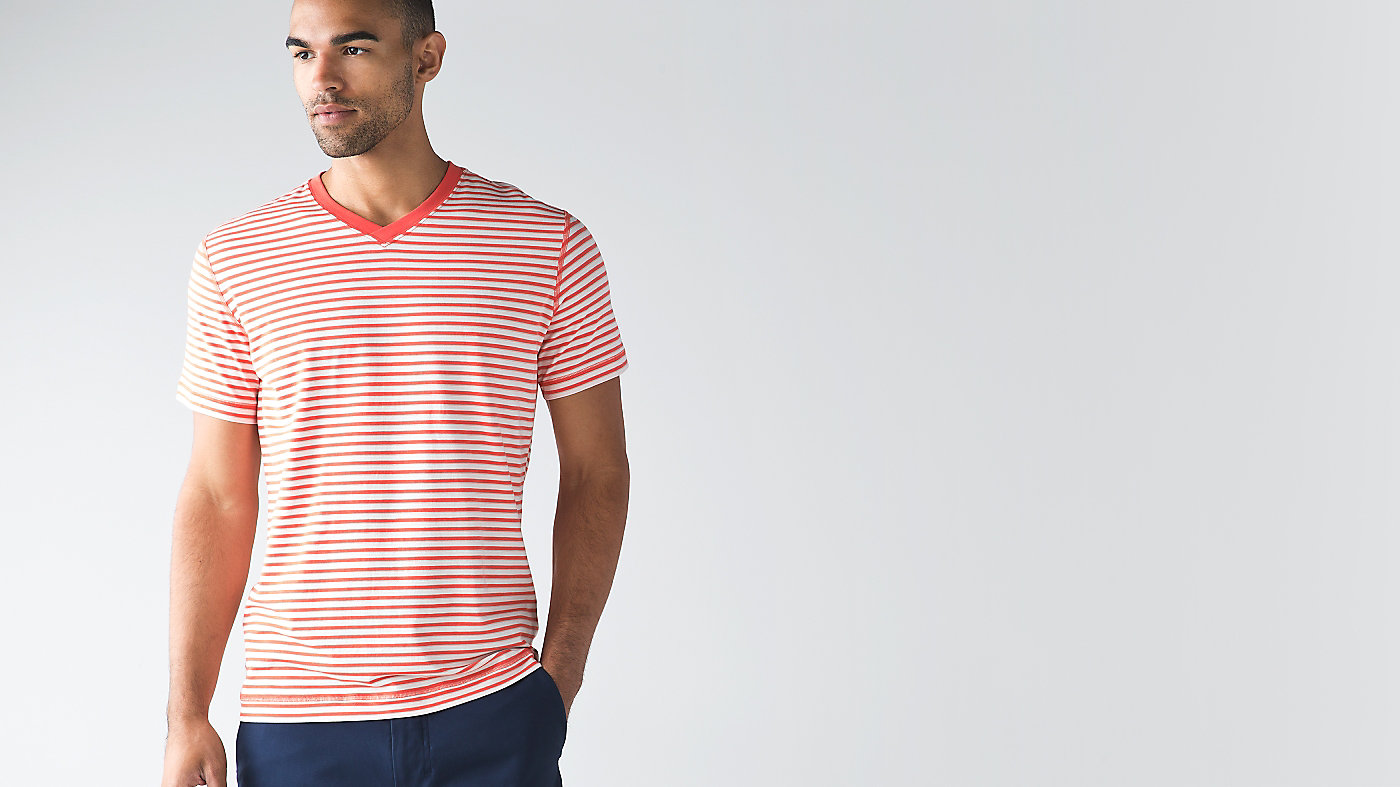 Article conçu pour
L'aller-retour
---
lycra®
Le tissu extensible conserve sa forme grâce à l'ajout de fibres Lycra®

5 Year Basic V
is rated out of
5
by
73
.
Rated

1

out of

5
by
JoeSmith
from
Great at First-Stretches out later
This shirt was great at first, but after a few washes, it stretched out in the V -neck.. I've only worn mine about 6 times, and it looks sloppy around my neck. Advertised as a 5 year T but only lasted me about two months. For $64, I expect much better quality.
Date published: 2017-04-29
Rated

2

out of

5
by
Hotpotofcoffee
from
Great at First.
I really loved these shirts at first and purchased a couple of them last summer. Super comfortable. Now, it hasn't even been a year and with minimal use the shirt now covers below my butt (not my preference) because it has stretched out. I haven't had any issues with the collar as I've read on other reviews but the shirt is now 6 inches longer than when I bought it. I follow the laundry directions to a T with all my Lulu stuff and this one just doesn't seem to have the correct material blend I would guess to keep its shape. Other Lulu tees, no problem but different material and feel of course. I really wanted these to last 5 years because they were awesome....at first. Wrong name for the product in retrospect.
Date published: 2017-04-24
Rated

2

out of

5
by
miche1
from
Stretched Collar
My boyfriend bought this shirt in January and noticed after the first month that the collar was beginning to stretch out. He says it's a very comfy shirt but doesn't wear it anymore due to the deformation of the collar. Disappointing when you pay a lot for a shirt that you can only wear for a month or two...
Date published: 2017-04-21
Rated

2

out of

5
by
nypmba
from
Collar Stretching Too Soon
I was quite pleased with the two basic Vs I purchased––one in black and another in grey––until the collars began to stretch and lose their shape after the third wash. While other products from Lululemon that I have bought have held up nicely, I'm surprised that these have not fared as well. Disappointed given the price.
Date published: 2017-04-20
Rated

3

out of

5
by
EricNguyen187
from
Great shirt weird sizing
I own these shirts in all colours but the sizing is a little weird. I got the small in the black and the white and they fit perfectly, however, the grey I bought is significantly smaller and kind of uncomfortable.
Date published: 2017-04-12
Rated

1

out of

5
by
Jayrocks82
from
Neck portion
i have about 5-7 of these shirts, and all of them ends up having the "bacon neck" collar problem, which is totally unacceptable given the price. I would gladly get more of these if the problem is fixed.
Date published: 2017-04-11
Rated

1

out of

5
by
Japalian
from
Great in the store and poor after the first wash
First off, I usually love lulu clothing. I spend a lot of money in this store. I loved the feel and look of these shirts in the store so I bought 3 of them that day. Much to my surprise after the first wear and wash( I have a load of laundry for all of my lulu stuff and follow directions) the neck is stretched out and the body of the shirt looks like a dress now. I was told in store that they had special fabric that would keep the rentention in these shirts throughout the wear of these shirts. Well that is not true cause I now have 3 shirts $58 t shirts that look ridiculous. I bought a $12 t shirt at Costco that holds up better than these $58 shirts!!!! These shirts were a complete waste of money. I just want good t shirts that last and hold there shape! Please lulu, fix these issues!!!
Date published: 2017-03-30
Rated

2

out of

5
by
vegas702
from
Production Defect?
So last week I purchased this is a size L in white and black. When I came home I noticed that the white shirt was missing the "three L" sticking on the left shoulder which the black one had. Today, I went into the store and to all of the employees surprise, only the white shirts in both V neck and crew neck size L were missing the "three L" stitching... We compared SKU numbers etc. Beyond strange... Only white shirts in size L were these stitches omitted... So Lulu.. What's up? Was this an inside joke or quality control gone awry? Even your employees were dumfounded by the revelation!
Date published: 2017-03-18
Rated

1

out of

5
by
HutchinLA
from
Lululemon only makes c**p now.
I was a big Lulu fan. I have this t shirt in every color, twice over - in addition to others. Then about a year or two ago they started selling lower end materials with colors that faded and clothes that get misshaped very quickly. I compared the quality of the materials in a long sleeve v neck that I bought 3 years ago. It looks better than one I bought 6 months ago. They only sell crew neck. No V's but for this T. Their materials are no longer superior, their quality is lacking and their designs ugly. And any time they do make something nice, or in a nice color (they had this v neck in green 3 years ago, never again) they stop making it. This is a brand in massive decline, and after my last purchases I plan to find other.
Date published: 2017-03-10
Rated

2

out of

5
by
NAlaskaR
from
Comfy, but poorly designed
This shirt is incredibly comfortable and I own two of them, one in grey and one in black. The first time wearing the shirts there were no issues, however; after one wash each with the recommended wash instructions the collars have begun to look stretched out and old. I have only worn each of these shirts twice because of this and they now sit in the back of the closet. I wear quite a bit of Lululemon because of the quality and comfortability of the clothing, I expected these shirts to outlast some less expensive shirts; unfortunately they did not meet my expectations.
Date published: 2017-03-09