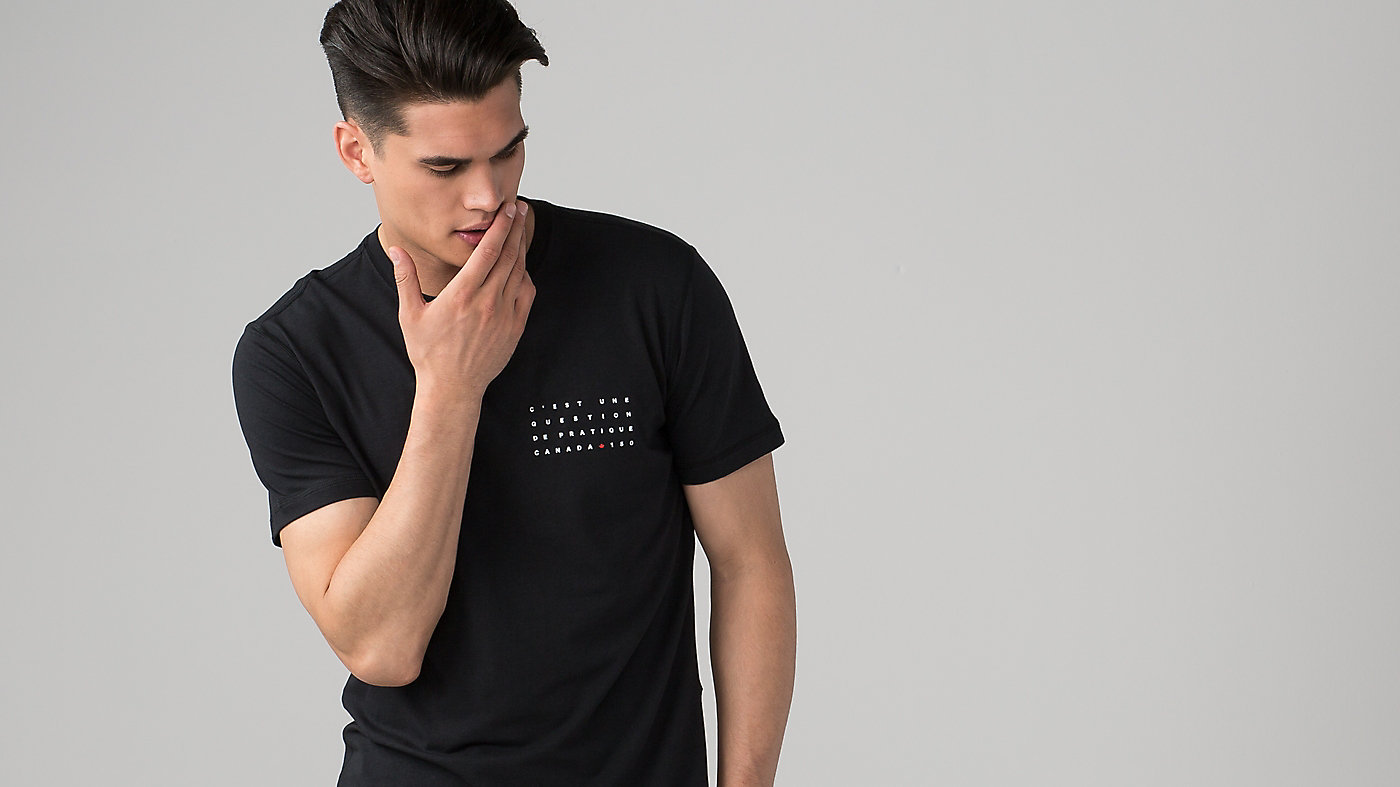 Article conçu pour
L'aller-retour
---
lycra®
Le tissu extensible conserve sa forme grâce à l'ajout de fibres Lycra®

5 Year Basic Tee
is rated out of
5
by
175
.
Rated

3

out of

5
by
HH617
from
Shirt has slight rip
So this is my third Lululemon basic tee. The first two were great, but...the quality seems to have gone down and after looking closely at the shirt, there is a minor tear along the seam. Nothing major, but i typically expect more from one of my favorite brands. I did get this on sale and it was a really good price, so I'll chalk it up to that and live with the tear
Date published: 2017-07-20
Rated

2

out of

5
by
VicGuy
from
Used to be great - what happened?
I take no joy in writing this review, but something happened to the quality of these shirts. I started buying these shirts, or some previous version, ten years ago. I still have them and they have held up amazingly over time. Sadly, the two most recent shirts I have bought do not live up to the quality. Within 6 months they have bacon necks, stretched out and generally in as bad shape as some of the 10 year old 5 Year Basic Tees I have! Something changed to the quality over the years and it's unfortunate because I used to love these shirts! Sadly they are no longer worth the premium cost.
Date published: 2017-07-06
Rated

3

out of

5
by
pabloiv
from
Faded
I really love these 5 year basic tees and I own several in different colors but I have a problem that perhaps most others experience: the black tee fades. I though it was just one shirt that I bough March of '16. Following the care instructions, after 2 months and 6 washes later, the black color had faded and even revealed some light spotting on the upper back of my shirt. I soon became an expensive wear around the house shirt. Not what I bought it for. Fast forward a year, I wanted a new black tee and thought perhaps the color fade issue had been taken care of. Maybe it was the material, idk? I was happy to have a fresh and fully black tee again. Again, following care instructions, 2 months and 6 washes later: faded. Now I have 2 expensive wear around the house shirts. Not what I bought it for. I'm very disappointed about this. Be careful about spending your $ on the black tee. It sure looks great but will soon fade. Not cool.
Date published: 2017-07-06
Rated

3

out of

5
by
Notorious
from
Bacon Neck
I really liked the fit of this shirt and used to wear it out often until I notice d the neck wrinkling and getting "bacon neck". I saw this in a previous review and didn't think anything of it but have noticed it to be pretty annoying and I have since retired that shirt.
Date published: 2017-07-03
Rated

4

out of

5
by
Albie
from
love the tee but....
I love this shirt. It's very lightweight, comfortable and keep you cool at the gym. The only complaint I have is that sizing is very inconsistent. I wear small and few smalls I bought fit like a medium some fit like a normal small. I would recommend to make sure to try it on. If it's too big you can always shrink it. I know this is not a review for this shirt but I wish lululemon take back items that is final sale. There are some items that is available in "we made too much" but not in local stores. I want to try it on.
Date published: 2017-07-03
Rated

2

out of

5
by
FatboyCayden
from
Smaller than other larges
I love my metal vent tech shirts and wear them for everything from the gym to daily wear. I also wear ABC pants for work and daily wear as well as shorts. Everything fits perfectly and is very comfortable, except these shirts. They are significantly smaller than the other Lulu shirts I have which means I rarely wear it. I have worn and washed it (why I didn't return it) exactly the same as every other shirt I own from here and it just doesn't fit right. I really wanted to like this shirt but it has pretty much lived in the closet after the first or second wash.
Date published: 2017-07-01
Rated

5

out of

5
by
Philip803
from
Love these tees!
Such a comfortable shirt. Can use as an undershirt or as a fashionable basic tee shirt. I am always getting compliments on it and it fits my profile perfect!
Date published: 2017-06-30
Rated

1

out of

5
by
HiFiGeek
from
These were so much better before...how did we get to this???
Let me first start by saying I love Lululemon Men's clothing. I have been wearing your men's gear since you all only had a handful of skus in your lineup. I own every color of ABCs for work and play, and even have made them part of my work uniform. I work in tech so I get away with wearing your comfortable clothes everyday. I love the Evo Polos, your underwear, your socks and baseball caps. The 5 year basic tees has been in my wardrobe for some time and have always been the most comfortable of my shirts. The best you all did was when the Lulumenon logo was on the lower neck/upper back of the shirt. Now you all try to hide it. I am proud to wear your clothing there is no reason to hide it. This isn't why the review is poor. If I were reviewing the original 5 year basic tees then I would give 5 stars gladly but I am reviewing the current 5 year basic tee. My latest black 5 year basic tee purchased only a few months ago has completely changed its size. Most shirts shrink over time but this one has managed to do the opposite and stretch larger. The collar is reminiscent of bacon-shape! The shirt is still comfortable so it has managed to stay in my wardrobe but only as an undershirt due to its faded black that no longer matches my black ABC pants or any of my black shoes. Overall the biggest gripe I have is how it has stretched out over time. I recently still purchased a 5 year basic V with the expectation that it will be different. We shall see once it goes through a couple of washes. Once again please listen to the terrible reviews and bring back whatever magic you all had in your 5 year basics before! I have noticed that a recently purchased Nacy colored 5 year basic doesn't have the same issue. Only the black version has this stretch problem... I still love you guys just want the shirt to live up to its name and at this rate mine will be a 6 month basic tee! Thank you for listening!
Date published: 2017-06-28
Rated

3

out of

5
by
NC331
from
5 Year Basic Tee
This shirt was easily my favorite casual shirt I have ever owned. I have a heather white one and a black one. Extremely comfortable, soft, and cool feeling. These shirts were perfect until about 5 months of light use. I washed them only in cold water with a medium spin cycle and left it to hang dry every time (Only washed my Lululemon stuff with Lululemon stuff). Then they began to get stiff, wrinkle at collar and lose their sleek shape after time. I would rate this shirt 5 stars for the first few months of use. I love Lululemon. I have 6 shirts, 4 shorts, 2 pairs of sweats and a pair of pants. By far my favorite brand, but am certainly let down with how these shirts turned out especially after spending so much money for them.
Date published: 2017-06-27
Rated

2

out of

5
by
JayBee
from
Great at the beginning, not durable
The shirt is tapered and fits a slimmer body very well, it was great for the first few wears. However, it is not durable, I have washed it three times following the care instructions and the collar is beginning to fray. I did not expect this given the high price point and lululemon's reputation. I haven't tried many other shirts so can't comment as to whether this is common or not.
Date published: 2017-06-27