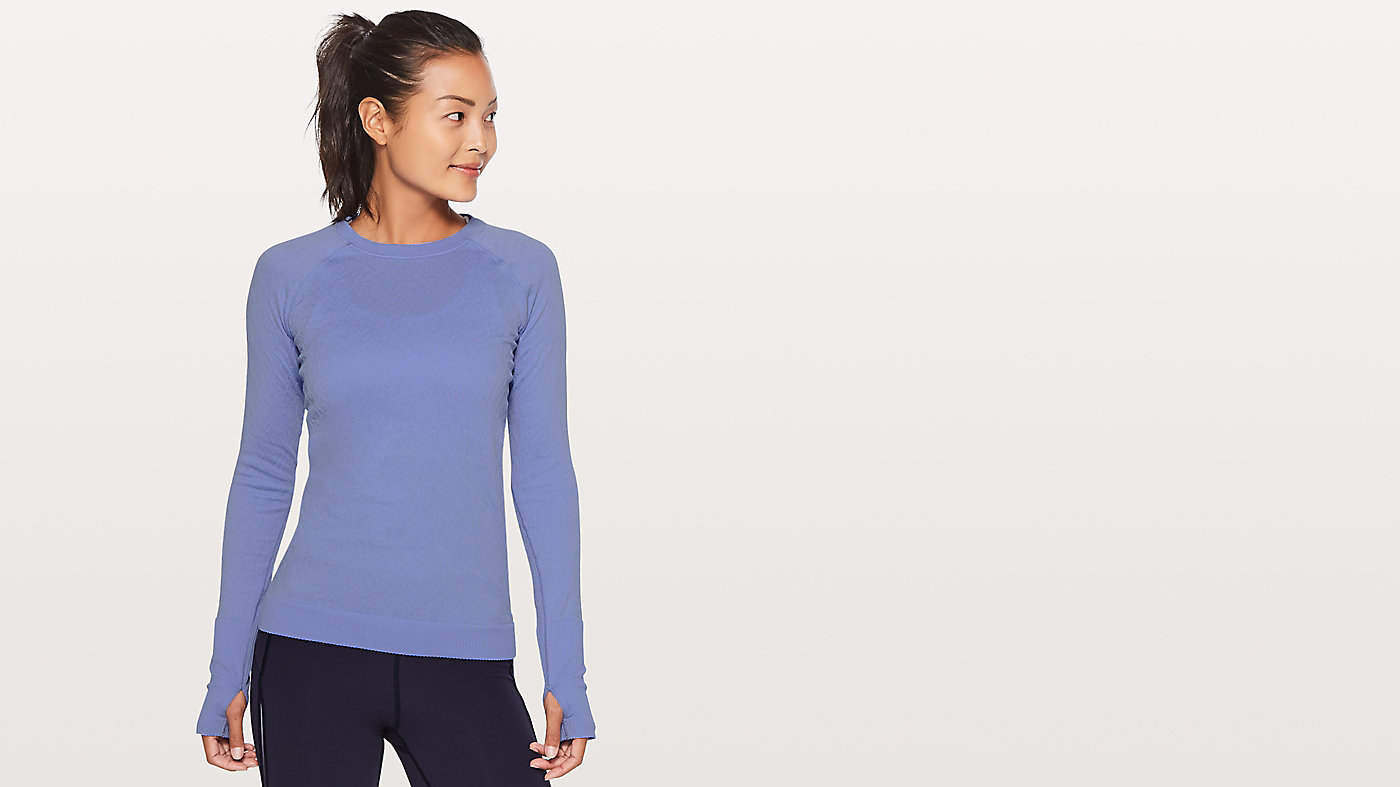 Article conçu pour
La course
---
anti-irritation
Construction sans coutures pour aider à prévenir l'irritation
---
trous pour les pouces
Vous aident à tenir vos manches en place et vos mains au chaud
---
coupe
Près du corps, à la hanche
Rest Less Pullover
is rated out of
5
by
213
.
Rated

1

out of

5
by
Alexane
from
Disappointed
When I saw this at my local Lulu store I immediately fell in love; I bought two in different colours. After my first use (at school...nothing strenuous), I noticed a small hitch in the sleeve that quickly developed into a hole. I'm really disappointed in the quality of this product. It's so cute but really not worth what I paid for it, especially if I can't get one wear out of it without it falling apart.
Date published: 2018-02-04
Rated

2

out of

5
by
Runner1157
from
Not so warm
This top is so adorable, but the bit about wearing it on cold weather runs is incredibly misleading. I find that when I wear this outside in the cold (even layered) I am freezing! It lets in cold air so easily, I might as well be wearing my swiftly tech LS. I get that it's supposed to be breathable but I find that the fabric is just too thin to justify this as cold weather gear. Additionally, this top is pretty short so it rides up under any vest or jacket I wear on top. Would have expected more functionality for this price tag.
Date published: 2018-02-01
Rated

1

out of

5
by
verna
from
Great Fit and Style. TERRIBLE Quality
The day I received this top I wore it to a TRX class. It snagged on the strap and got a HUGE hole. About an inch in diameter. I called the store and they said "well, we can cut the arms off and make it a short sleeved" and was generally dismissive. Um. really? Apparently I work out too hard for Lulu tops! Which is too bad, the fit and style is amazing and it looks super cute. I wear these clothes to work out, not to look cute. Clearly I am too rough for this top! No more Lulu for me, which makes me sad. Sure, I've had issues with other brands getting holes and snags, but they cost about 1/3 as much.
Date published: 2018-01-30
Rated

1

out of

5
by
sub330
from
Way too short!
I had to double check my receipt when I received this top. I was convinced I had ordered something from the 'Girls' section accidentally. I normally wear a 6 or 8, but ordered a 10 based on the reviews, because I didn't want a skin tight base layer. It is super short (If I lift my arms you can see my belly button), and I am only 5'5! I don't mind the snug fit, but it certainly isn't indicative of a 10! I recommend this top for shorter individuals only, and I would for sure size up at least one size unless you plan on wearing it as a tight base layer to run. That being said, it would be a very cozy base layer for a shorter individual!
Date published: 2018-01-30
Rated

1

out of

5
by
IMWoman
from
Rest Less Pullover
I was SO looking forward to getting another one of these tops this year. Bought one last year and I LOVE it. I was so disappointed, however. This years version is tight and short. It also wants to do something funny at the top on the back of the neck, it kind of rides up. I even tried sizing up, but the fit was even more awkward. PLEASE bring back the old cut. AND, please bring back more fun colors of all of your clothes...I've been asking for this for YEARS now!!!!
Date published: 2018-01-30
Rated

5

out of

5
by
skinnylittlefatgirl
from
love love love
I'm 5' and 125lb athletic build stocky. I'm short so I've come to accept that 90% of the clothing out in the world will not fit me. Thank God I know how to sew and alter my own stuff. I teeter between an 8 and a 6 in lululemon in both tops and bottoms. I can fit some 4's in tops or jackets. 8 is often a little too big and 6 is tight just right meaning if I gained a lb or ate a cookie or if its that time of the month it will be snug. I wear a 34C-36C depending. I bought this because I love hiking. I live in Northern California and my area was affected by the fires so the trails just recently opened up and during this time of year winter/spring when you hike/trail run in the morning its cold. I bought this as a layering piece and I have to say I love it. I mean really love it. I'm super careful washing it. Cold water hang dry no issues so far. I own a few of the LS swiftly t's and like I said I'm short and the sleeves are so darn long I can use the sleeves as a straight jacket to wrap around my body twice. I wish oh wish they could be hemmed but they're can't be without altering the thumb holes which I love. Well this top basically fills all the needs that the LS swiftly just couldn't. Its warmer, thicker, not as fragile, (if I even look at a rough concrete side walk I have total fear that my LS swiftly will snag) the sleeves are not so long that they're distracting, and its pretty sweat wicking. I don't know about the anti stink factor with this top. I mean I've sweat in this top but I didn't have a funk going on that I noticed anyway. My main reason of love for this top is the comfort. It's just WAY more comfortable than the swiftly. WAY more comfortable. It would be awesome if lulu make a lighter version of this in the spring and summer and of course more colors would be nice. This is just a must have for me for those out door hikes and trail runs. Love it! I bought a size 6 and so you know its a snug top but its not too snug that it's uncomfortable.
Date published: 2018-01-29
Rated

3

out of

5
by
PiF619
from
It was great until...
I originally loved this pull over. It was warm enough to just wear that (in So. California), yet, thin enough to wear underneath my hoodie. Sleeves are too tight, and the fabric not as durable. I only wore it a handful of times until i noticed a hole poked through and a few others starting to form. The style of fabric, too tight on the sleeves and pulling it up caused the holes even with very little use. I was able to return and get a different pullover.
Date published: 2018-01-24
Rated

1

out of

5
by
MMTAL
from
Not the same
Loved last years version of this shirt, I was so excited with the new colors this year. But it is a totally different shirt, its not as soft and about 2 inches shorter and much tighter then last year. I wish they changed the name so I knew it wasn't the same
Date published: 2018-01-23
Rated

5

out of

5
by
Steffffffff
from
Favourite Shirt
This shirt is amazing. Last year's colours were so great that I bought two. This is my favourite shirt to wear for running, to school, as well as out for dinners. It's so versatile and I get so many compliments on it :)
Date published: 2018-01-21
Rated

5

out of

5
by
anibinani
from
I LOVE this pullover!
I have a few and I wear this over my Swiftly tanks nearly every day. It layers great, is warm and toasty, and I love that it's not that long, since I'm only 5'4" so that the bottom of my Swiftly techs can been seen. I love the design of the Rest Less and it feels like it will last a while. I noticed right away that there are two different patterns and I prefer the one that is NOT cable-knit looking. I size up to a 10 in this top, just like my Swiftly techs, though I wear an 8 in most other tops and a 6 in jackets. I don't like "tight."
Date published: 2018-01-21