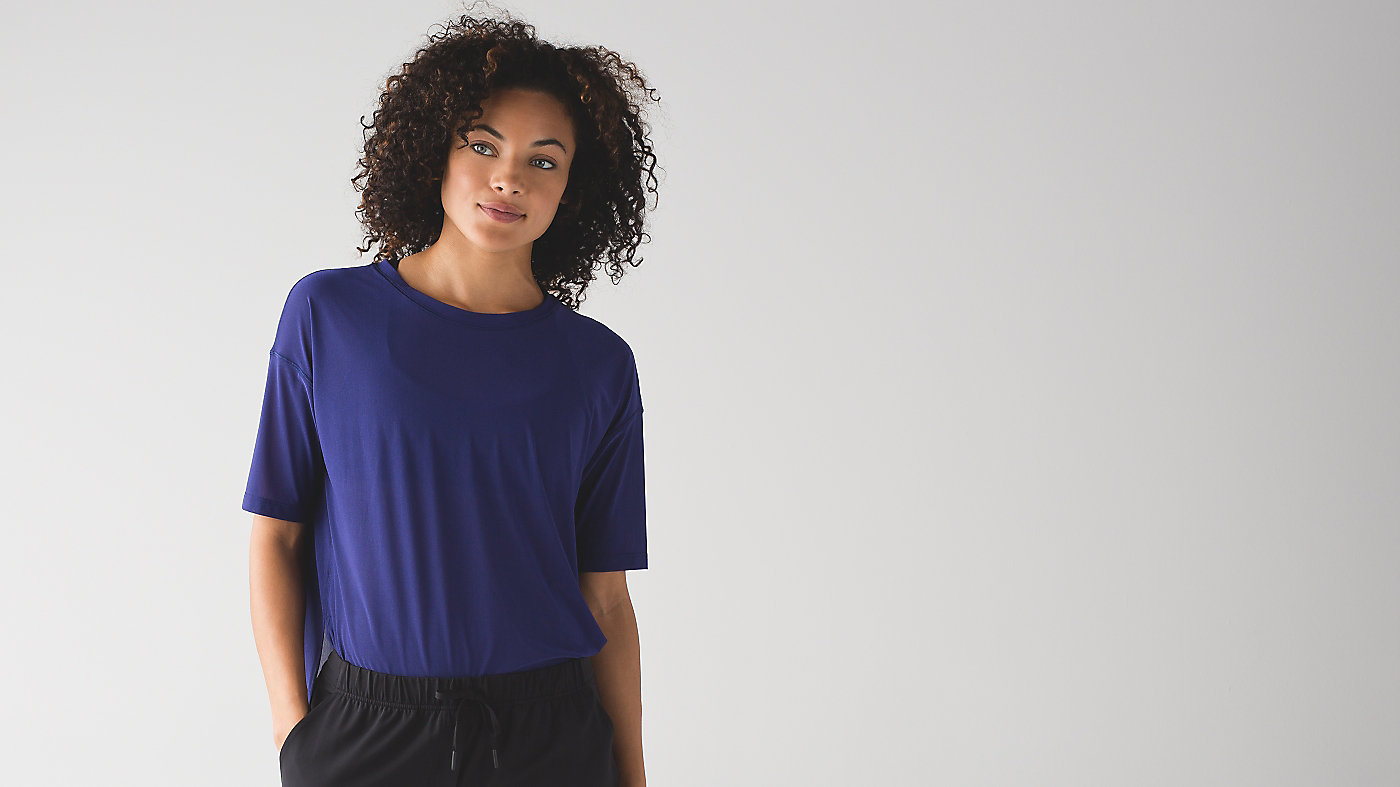 Article conçu pour
Le yoga
---
Bandes en maille
Aident à vous garder au frais
---
Longueur hanche
S'enfile facilement
---
coupe décontractée
Parfait pour une superposition aisée

Get Low Short Sleeve
is rated out of
5
by
6
.
Rated

5

out of

5
by
Lola
from
I like it a lot!
I wore for the first time to the gym yesterday, wore it with a Lulu skirt. It is a very comfortable top, and I like the mesh fabric. Mesh fabric is in style. I think it is very good quality. I bought three of these tops (2 black, 1 blue). I am 5' 2", 125 pounds, and bought Size 8. It is a slouchy loose fit. Fabric is light weight, 64% nylon, 36% Elastane. It is not too sheer at all, and the fabric does not cling to me. i wore a black bra, under the black t shirt, and the outline of the bra is visible, not so much my skin. I like the discreet Lululemon tab on the side of the t shirt, makes it more versatile as every day wear also. I have a short torso, so the top is the perfect length. The relaxed loose fit, fabric stretch, and side slits allow more freedom while exercising. I purchased them a while back ago, and now that I have finally worn it, I wish I would have purchased a couple more, I need more short sleeve loose fitting gym tops. While working out, the top wicks away moisture, and dries immediately. I know I will get a lot of wear out of these tops. They will be great tops to wear over bathing suits as well on my beach holidays.
Date published: 2017-01-20
Rated

1

out of

5
by
SteviS
from
Static Cling!!! Unwearable.
I purchased this in 3 different style tops. Short sleeve. Long sleeve. Tank top. All 3 are super cute. Look great on, and are not to sheer! Unfortunately ... I am not able to wear them. The STATIC CLING is ridiculous. I have sprayed them with static guard. Didn't help a bit. Put them in the dryer (which I never ever do to my lulus) on air fluff with a fabric softener sheet, still unwearable. Not really sure what to do now..... It's not just a little static that you can live with., it's. FULL ON STATIC CLING, the kind that sticks to every part of your body and hair. Please help with a resolution for this. I have never experienced this problem before with a product from Lululemon, but don't think it's fair that I have spent hard earned money on for something I can't wear.
Date published: 2017-01-12
Rated

1

out of

5
by
num1val
from
DON'T BUY!!!
This is a terrible top! Full of static due to the poor quality of materials used in this shirt. It feels like panty hose on your body. The style is cute but it feels awful on. Also, it is see through which you can't quite tell in the picture of the model. I purchased a 6 in emperor blue. 5'0" 130lbs (soccer, crossfit, runner)
Date published: 2016-12-31
Rated

1

out of

5
by
NinaN
from
see through and terrible fit
As far as fit goes it is very loose and large around the torso but very snug on the arms (the circumference of my arms is quite small) the size 4 is very large around my torso but snug on the arms, really odd combination. Also, I really wish I did not get this in white. It is sooooo see through and the material is terrible! it has a feel and appearance that can be comparable to a gauze bandage. I think I will either take this to my seamstress to see if we can dye it another color or I guess I will wear it around the house to do chores.
Date published: 2016-12-12
Rated

4

out of

5
by
LuluLoverrr
from
Not bad!
I ordered this in a size bigger than I normally would have an accident, a 10. Normally I am an 8 in tanks and t-shirts for reference. My mom tried this on in store and it looked cute on her, so I thought I would order it since it was on sale. I was a little worried about ordering a size bigger, but I am actually glad I did. I often have to size up in shirt, sweater, jackets etc, because I have muscular arms and most clothing is too tight for me around my arms. This t-shirt does fit snug around my arms but definitely isn't too tight and it comfortable. The material is super soft and flowy; it is pretty sheer but I still feel comfortable in it with just a bra underneath. It pretty flowy, since it is a 10 but I am still happy with how it fits.
Date published: 2016-12-06
Rated

1

out of

5
by
Olive2
from
Awful
This is laughably the worst thing that I have ever purchased from here. Honestly, I would find better workout gear at Walmart. The fabric feels and looks to be made out of the cheapest material and it's so see-through, that I wouldn't dream of wearing it in public. Very disappointed in lulu on this one. Don't waste your money.
Date published: 2016-11-30