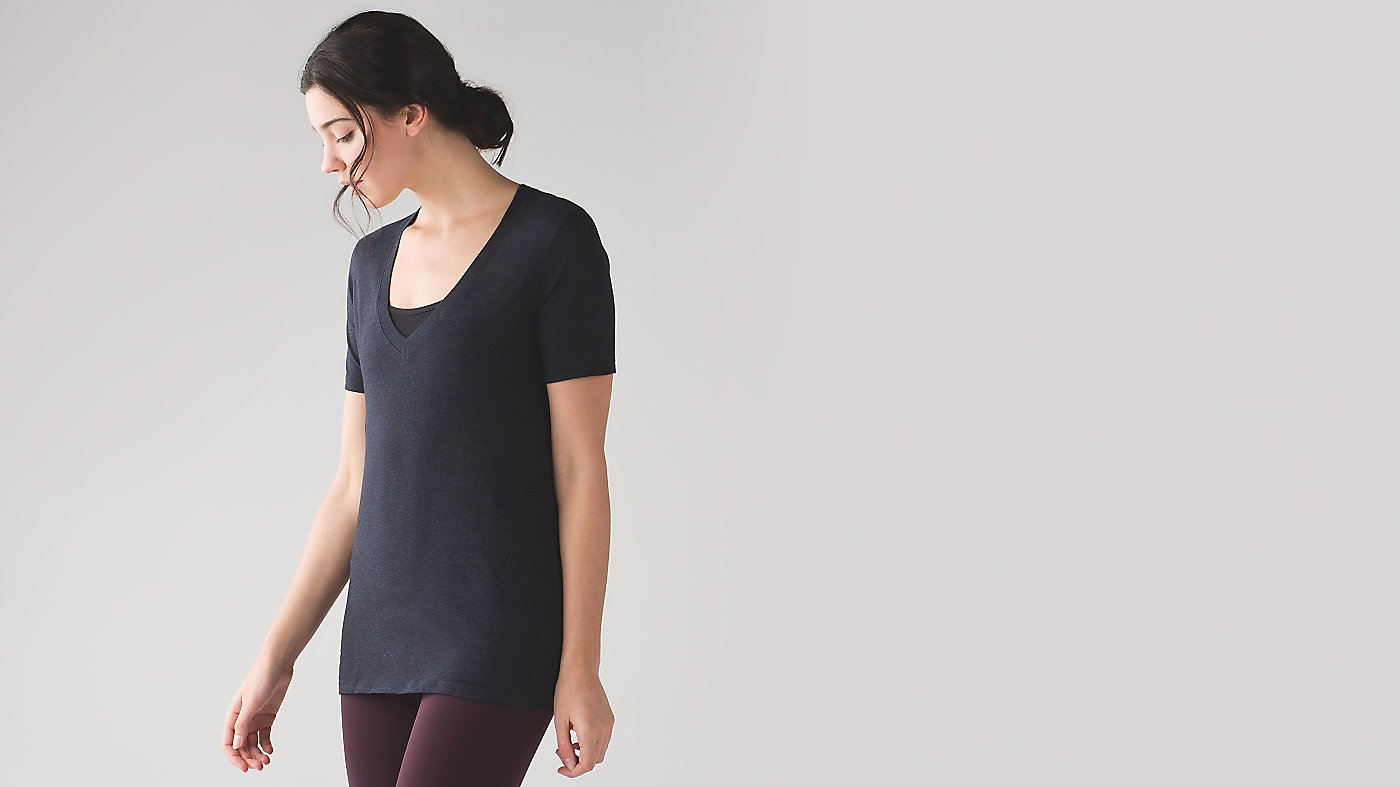 Article conçu pour
L'aller-retour
---
lycra®
Le tissu extensible conserve sa forme grâce à l'ajout de fibres Lycra®
---
coupe décontractée
Vous permet de bouger sans restriction
---
Longueur hanche
S'enfile facilement

Love Tee
is rated out of
5
by
33
.
Rated

1

out of

5
by
fleecy6000
from
piling after one wear
I didn't even wash it yet and its piling. Nothing I get from your store has quality anymore. Ready to give up shopping here. NOT IMPRESSED!. Save your money ladies.
Date published: 2017-07-13
Rated

1

out of

5
by
ClimbRocks
from
low cut
I used to love these tees but find the v-neck is just too low! I generally fit a size 4 but haven't bought a love tee in years because of the low cut v neck.
Date published: 2017-07-04
Rated

5

out of

5
by
Blondie0825
from
Perfection!
This is by far the softest most flattering shirt i own from lulu! I love the length normally i have issues with the shirts not being long enough (I'm 5'10) but this one is just perfection. if i could wear this every day of the week i would! Bring in more colors lulu!!!
Date published: 2015-11-25
Rated

5

out of

5
by
DSAL
from
LOVE! Please make more!
I love this shirt! I can wear it to work with suit pants, to the gym, or with jeans during the weekend. This is my favorite shirt that I own! I have the dark grey & black striped one. I'm usually a size 10 in tanks, 12 if it has a built in bra. The 10 fits perfect in this shirt. Lulu - please make more! I went to purchase a second shirt just in case something happened to mine (I love it THAT much) but you were already sold out of my size in the dark grey/black. Of course, my shirt got ruined this weekend, totally unwearable and I can't replace it!! I've never been so sad over losing an article of clothing. Please make more and I'll buy them all up!
Date published: 2014-12-29
Rated

5

out of

5
by
memo90
from
LOVE THIS
Ordered this tee because it was a little bit of a looser fit. im 5'6, 155lbs curvy and fit and it is by far one of my fav shirts from lulu. fits a little loose, so a little more forgiving for while im working out, weight lifting, or even out and about. well done lulu. bring on some more colors!
Date published: 2014-12-15
Rated

1

out of

5
by
eleveneleven808
from
Bust. Bust. Bust.
Fell apart after one wash! It was so cute. I washed it and a hole emerged. So disappointed. Loved the fit, but an expensive t shirt that falls apart after one wash? You got to be kidding me, lulu. Usually I love the quality but this was a terrible shirt!
Date published: 2014-11-14
Rated

5

out of

5
by
StudioOwner33
from
Love it
Love it … good fit, great material, comfortable & versatile. Able to teach in it, take workshops, go to the store and still able to look professional! Would be awesome to have the silver lining in it!
Date published: 2014-11-12
Rated

1

out of

5
by
browneyedgrl408
from
Shame!
I loved this tee on the hanger at the store. I bought it in white, and I'm sorry that I spent $58 on it. The first time I wore it it was great. However, when it comes out of the wash, it's very wrinkled (I air dry it). Also, the salesperson at the store promised me that it was harder to stain than normal cotton shirts, b/c this is pima, but it does stain in the armpit area easily. I wish I had bought the Om shirt instead.
Date published: 2014-11-10
Rated

1

out of

5
by
xtizzy
from
paper thin
Sorry but the vitasea quality has greatly decreased. Why pay $60 on a paper thin t-shirt? Same with the Om tank that went to wmtm. Hugely disappointed. Bring back the thicker vitasea please, Lulu!
Date published: 2014-10-28
Rated

5

out of

5
by
BreSalz
from
Perfect lounging tee
This shirt is super soft and fits perfectly. I am able to tuck in the front and leave the back out and it doesn't look sloppy. At 5"11 it is a just a super cute tee, but on a shorter person I can see it covering the bum.
Date published: 2014-10-27