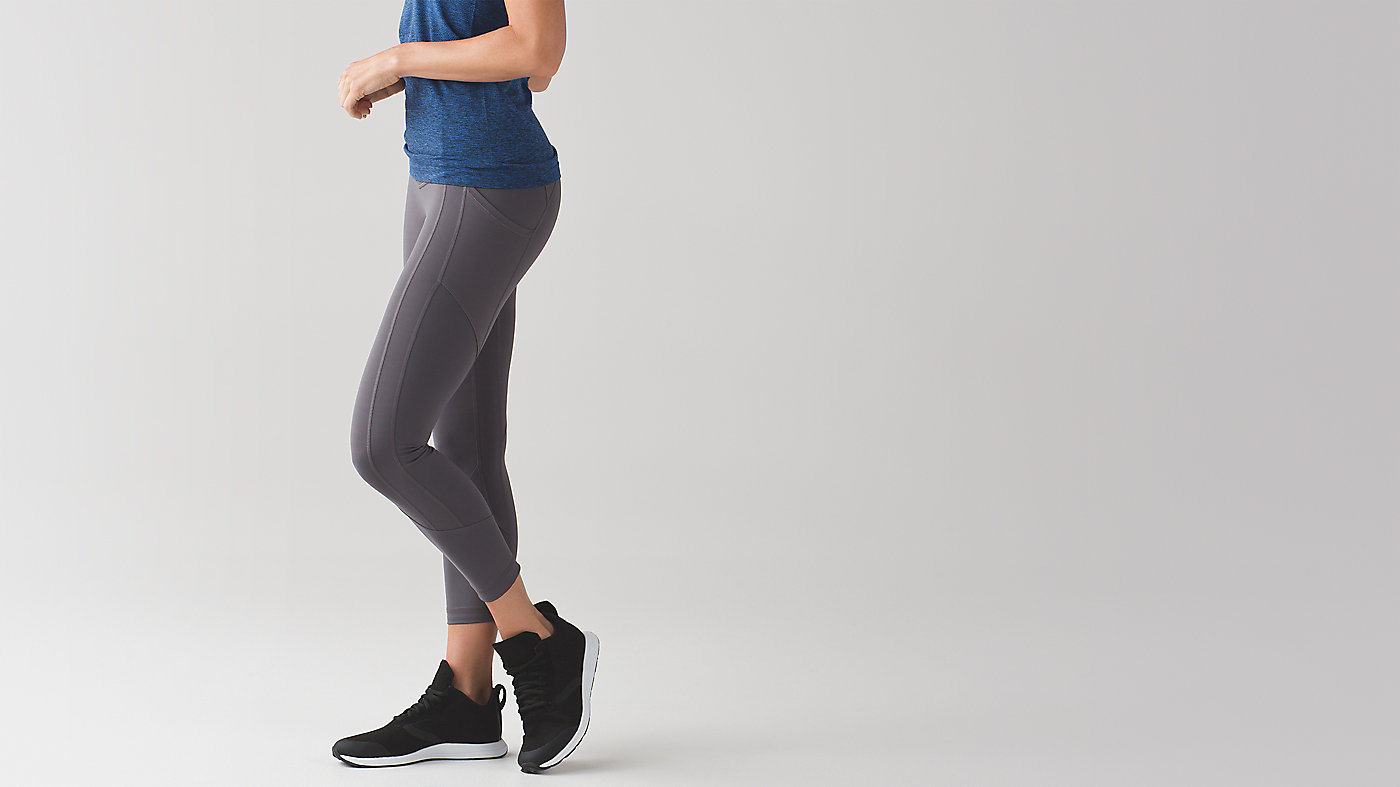 Article conçu pour
La course
---
lycra®
Le tissu extensible conserve sa forme grâce à l'ajout de fibres Lycra®
---
sans coutures avant
Fini l'effet camel toe
---
sensation soutenue
Procure du soutien aux principaux groupes musculaires; la zone de compression ciblée au niveau des abdominaux, des hanches, des fesses et des cuisses permet de se sentir en sécurité
---
Réfléchissant
Roulez les chevilles pour dévoiler les détails réfléchissants
---
poche à la ceinture
Poche au niveau de la taille pour vos essentiels
---

All The Right Places Crop II
is rated out of
5
by
345
.
Rated

3

out of

5
by
littleyogi1133
from
Comfy but smelly. More suitable for lounging
These are my favorite pants to lounge in.. however, not quite suitable for heated yoga practices. At first I constantly wore them (and are still my favorite pair of yoga pants to wear), but I just can't seem to get the stench out of them. If it wasn't for the smell I would buy every single color of these pants since they truly feel like a second skin and are perfect material for yoga! However I haven't even owned them for a year and am already having problems w/ smell. I'm just not sure what traps the stink in.
Date published: 2017-05-27
Rated

2

out of

5
by
rawvegg
from
****Before you purchase these****
So these are my most favorite leggings and were my first pair. HOWEVER. I was pretty dissatisfied that after about two months of wearing them on the regs, sweating and training at the gym, that these actually lost the compression by a lot. Which is kind of why you buy them. For the held in feeling. I am pretty upset that I invested in this pair, only to have to size down and only wear the initial pair for days that I am not bloated (5 out of 30/31 days of the month, haha) Basically, you should size down and also check that it isn't sheer. It'll be reallllly tight at first (use your best judgement, if it is too tight already, then you may be ok) but trust me, after wearing my new pair in the smaller size for about 3 weeks now, it has stretched to where my former size started at. I was not told until AFTER by the associates at the store that it is a good idea to size down to compensate for the stretching. Total bummer. I gave it the fair rating mostly for that and catch people before they invest, because I would have wanted to be told this to begin with to at least make a better informed decision. But to be honest, it deserves all 5 stars once you size down, maybe even 6 because the tummy control is EXCELLENT (which is what I lost in my initial pair).
Date published: 2017-05-27
Rated

5

out of

5
by
FallingwithStyle
from
So far so great!
I bought these about a month ago and since then have used them 2-3 times per week (so they have gone through the wash a few times). So far they are exactly what I wanted- great for running and roller blading, nice for walking, and just fine for a bit of stretching. I have not seen any wear yet. I find the seams very flattering, and overall the fit is good. My favorite feature by far is the phone pocket, I don't even bother with the waist pocket.
Date published: 2017-05-24
Rated

1

out of

5
by
musicnote
from
Seem came apart
I loved these until the seem came apart. right in the crotch the seem came undone.
Date published: 2017-05-20
Rated

1

out of

5
by
EDED
from
Disappointed...
I was really excited to order these crops, I had seen they in store however they did not have my size in the color (black current) in stock. So I decided to order them, the sales associate recommended that I should try a size 4 in the black current. I received my order in TWO days! But I felt that the size 4 was just a little big, so I returned them in store. The sales associate placed the return on a gift card and we ordered a size 2 in the black current color. Again I received my package in 2 days. I tried the crops on at home, I loved the way they fit and how they looked so I cut off the tags and I wore them to the gym the very next day after washing them. I usually do a lot of free weights but I decided to do cardio that day. The top of the crop pant continued to role down, the bottom of the pant continued to pull up so it would hug the middle of my calf muscle, lastly the seams in the pant near the groin continued to dig into my groin area. The pants were very uncomfortable to work out in, they did not hold up to the intensity of my workout. After finishing my workout I walked into the locker to grab my sweat towel and I released that I had very noticeable sweat marks around my groin, I'm ok with butt sweat but the color of this pant and the failure to wick away moisture left me looking like I peed myself. I stopped my workout there I was t embarrassed to walk back out on the gym floor wearing these crops. I went home, once I got home I realized the sweat dried up but it left a sweat RING! A very noticeable ring was left every where on this crop from me sweating during my workout.
Date published: 2017-05-20
Rated

2

out of

5
by
martimer41
from
Let down
I was so excited to get these crops and after the first couple of wears I thought I found my new favorites...I bought my usual size 6 and they fit perfect, stayed put during my workouts and were so comfortable. Sadly, it was a huge let down when I noticed the seam on the inner leg unraveling after only my third time wearing them especially given the $128 price tag!!! When I looked at the area from the inside, I could see a small hole developing! C'mon Lulu, I've washed them twice...with only other similar work out gear, on delicate, no fabric softner and hung to dry! So disappointed and of course, tags are off and they've been worn so I guess I can't return! Huge waste of money! Sure makes me hesitant to make any other purchases!
Date published: 2017-05-19
Rated

4

out of

5
by
CoffeeGirl
from
Great crops - seams and fabric are what sets them apart from others!
I was hesitant to get these after reading the other reviews, but they do work for my body type! The seam work is superb in terms of being flattering and highlighting the better parts of our lower bodies. They did stretch out a bit, but so far not too much. The pockets are great. The waist does not feel as high as other Lulu "high waists" but it's still a good amount of coverage. Might be best to try these on and not order online, but I am pleased with them!!
Date published: 2017-05-17
Rated

5

out of

5
by
jackkj
from
Best Crops Ever!!!!
I have these in black and carbon. They are the best crops i have ever owned. They come down lower on my than a crop more like a 7/8 pant but I do have short legs. They fit TTS. i am 5'5 130 pounds and my regular 4 fits me well. Hugs all the right places and the rise is high which is essential for me after having two c sections! absolutley worth the $128 thanks lulu
Date published: 2017-05-15
Rated

5

out of

5
by
AG2426
from
Holy Grail Leggings
I have these leggings in both this length and the full length and they are my holy grail leggings. I wear them both weekly and wash them weekly (hang only drying) and have had both for over 1 year and I have not experienced any of the seems coming apart or holes forming like other reviewers. I don't usually write reviews but for the sake of having a positive review on these leggings and hopefully making them a permanent item in the Lulu shop I had to say how much I love these. I will never again buy another pair of leggings unless they have side pockets and lack the front seam. They are super comfortable and really hold you in while exercising or just running errands.
Date published: 2017-05-15
Rated

1

out of

5
by
roshmagosh
from
Disappointment
When I initially tried these pants on, I loved them. They fit perfectly and felt so smooth I almost felt like I didn't even have any pants on. But unfortunately it didn't last long. After my first and only gym session in these pants, they already felt stretched out and baggy around the knees. They kept slipping down while I was working out too. The icing on the cake was that the seam came undone after just one wear, which is unacceptable. I've been buying Lululemon for several years and have never had any issues like this. As of late I've been reading reviews about the declining quality of their products and didn't believe it until my experience with these pants. Disappointing to say the least.
Date published: 2017-05-14