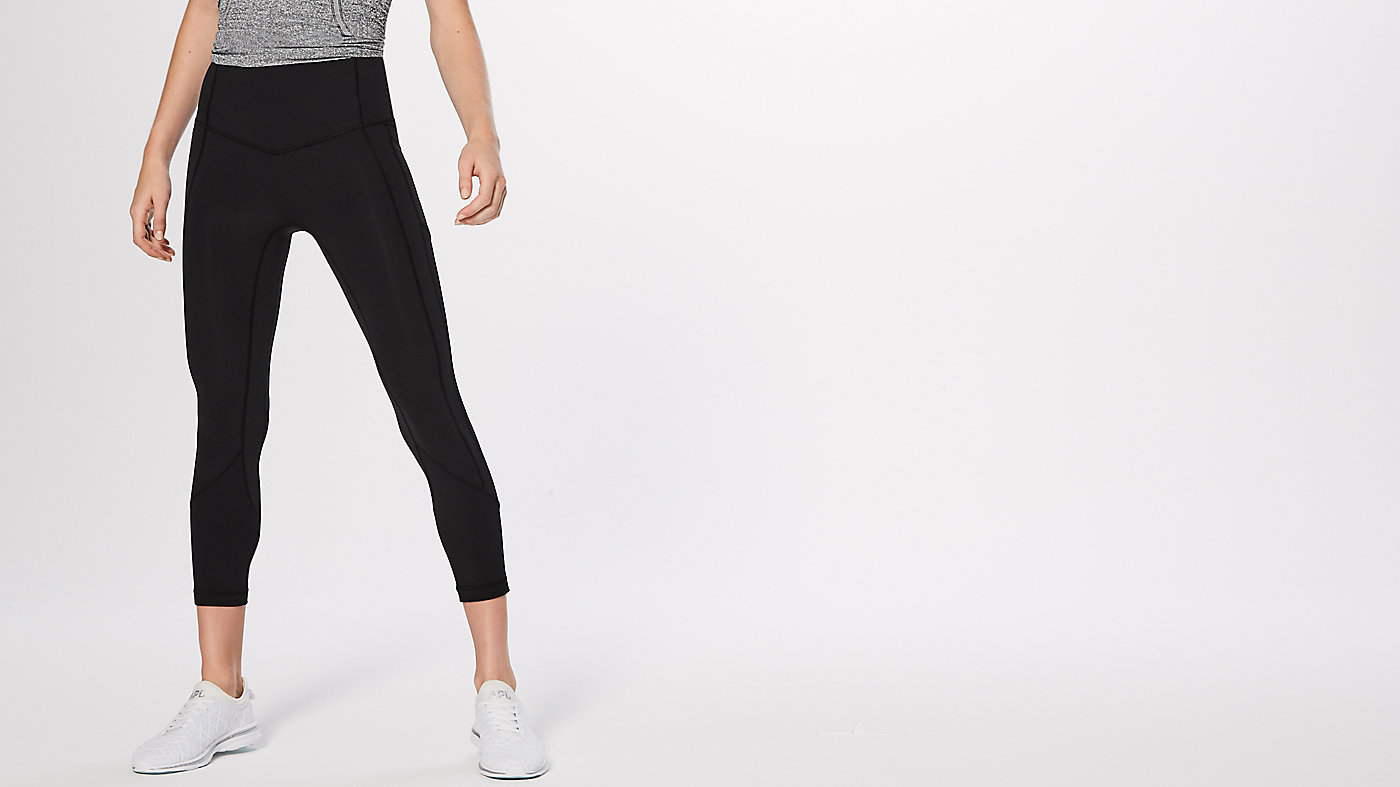 Article conçu pour
La course
---
sans coutures avant
Fini l'effet camel toe
---
Réfléchissant
Roulez les chevilles pour dévoiler les détails réfléchissants
---
poche à la ceinture
Rangez vos clés ou votre carte dans la poche à la ceinture
---
Taille, entrejambe
Taille haute, entrejambe de 58,4 cm

All The Right Places Crop II 23"
is rated out of
5
by
1319
.
Rated

1

out of

5
by
MaeJoan
from
Awful quality
I got these a little over a year ago, they were ok until a few months ago where the seams started to unravel and they stretched. constantly having to pull them up, and they look awful for how expensive they are. i follow all of the care instructions exactly as dictated. I have many things from lululemon that I love and have worked so well for me, but this is easily the most disappointed i've been. would NOT recommend.
Date published: 2020-02-22
Rated

1

out of

5
by
Anonymity
from
Fabric was not reliable
I bought these leggings specifically for yoga purposes and after one wash, the seams in the leggings started to unravel. I did not think it was a big deal at first, however, I came across another issue. I found that the fabric was partially thin, and because of this, holes started to form in my leggings. I tried to take them back, however, because I had ripped off the inside tag it was questioned if they were replicas.
Date published: 2020-02-21
Rated

1

out of

5
by
SophieYoung29
from
Disappointing
At first these leggings were amazing. Super versatile, and great for running and compression. This is my third pair of only the fly leggings, and unfortunately I have repeatedly had the same issue with every pair. My first grew very loose within the first month of using them, soon after several of the seams started ripping, I returned them, and got a new pair thinking that it was a one off. My third pair I can't wear for more than 10 mins of running before the constant urge to pull them up. Now, the seam in the crotch has completely torn apart. I love lululemon leggings, just so disappointed in this style.
Date published: 2020-02-21
Rated

2

out of

5
by
wkndwarrior
from
Below expectations
I tried these pants on in an outlet and thought they'd be great. This style is one of my favorites from Lulu but these just didn't match up. I wore them on a run and I spent the entirety of it pulling them up. It wasn't until I was sweating and it was raining that they stayed up, only because they were stuck to me. I've worn them twice casually since and again they fell. I'd recommend sizing down on these and even still you might run into this problem. Highly disappointed
Date published: 2020-02-20
Rated

3

out of

5
by
LTPU
from
Disappointed
I finally took the plunge to purchase my first pair of Lululemon leggings this past December. These fit incredible and I love the fabric, but like a few others have mentioned, they become loose at the waist area after just a couple of wear. My workouts are usually low impact weight lifting, and it still gets annoying to have to constantly pull up my leggings. I definitely can't do any jumping/cardio in these. It's very disappointing because with this price point (and the hype), I expected much better quality.
Date published: 2020-02-20
Rated

5

out of

5
by
Kerry512
from
Favorite running legging
These are my favorite leggings for running and cross training, but especially running! I love the pockets to hold my phone and gels, they are so comfortable, but still compressive. They are worth every penny and have held up so well. I have run multiple marathons in these leggings and they are my go to!! Love them so much!
Date published: 2020-02-19
Rated

3

out of

5
by
Cookie323
from
Fitting different
I've been buying these leggings for years and I think they've changed the material or construction... The leggings started to stretch out within a month or two and the waistband is slipping, I'm always pulling them up now! So sad...
Date published: 2020-02-19
Rated

3

out of

5
by
KMaddy
from
Falls down
I lovedddd these when I first bought them but after 2 wears they're huge and fall down. I bought them specifically for running and have to pull them up the whole time :(
Date published: 2020-02-19
Rated

2

out of

5
by
smgerst
from
I want to love these...
I want to love these - they fit so well and they are super flattering, but without a drawstring, I spend most of my time wearing them pulling them up. I got them for myself as a Christmas present, thinking they'd be great for Orangetheory workouts.... can't do that, so I thought, ok maybe I can wear them for walks? Nope... I spent the entire 5 mile walk pulling them up as they sagged lower and lower. These need a drawstring!
Date published: 2020-02-19
Rated

1

out of

5
by
Stephrose050419
from
Very loose and top rolls down
i am so disappointed in the way that it rolls down from the top at the gym I had to keep pulling them up because they would slide down. I would not recommend these pants at all. I honestly think these will be my last pants I buy from lululemon considering the cost and the fact that I took off the tag right away I couldn't return them I will not purchase any pants from this store again.
Date published: 2020-02-18