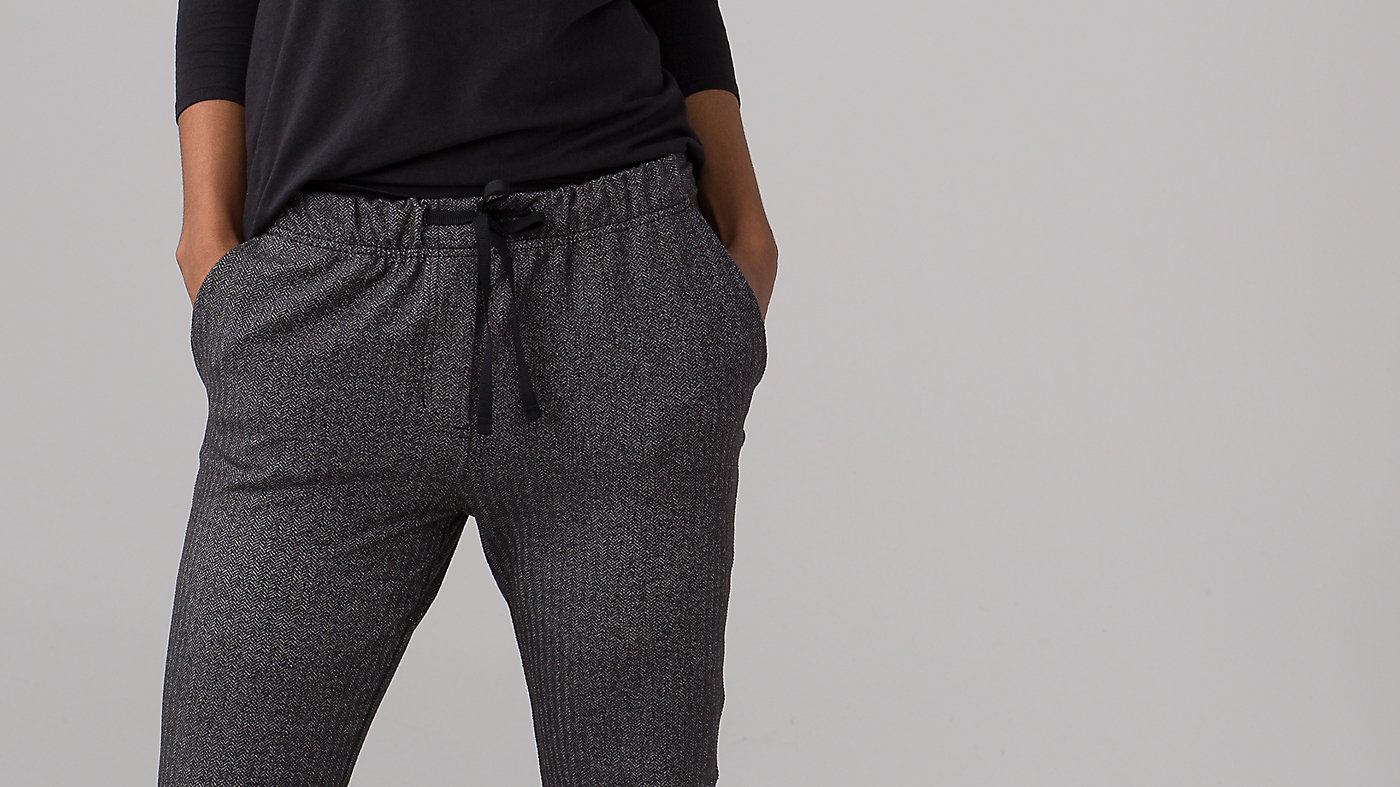 Article conçu pour
L'aller-retour
---
lycra®
Le tissu extensible conserve sa forme grâce à l'ajout de fibres Lycra®
---
poche dissimulée
Parfait pour ranger vos essentiels
---
sensation détendue
Vous donne la sensation géniale de n'avoir aucune embûche; il repose loin du corps pour vous permettre de bouger comme bon vous semble
---
longueur 7/8
Ne vous gênera pas
---

Jet Crop
is rated out of
5
by
80
.
Rated

5

out of

5
by
luvtherun
from
Awesome for on the go!
These are everything. I got so many compliments on them as well. I purchased the dark berry color in 6 (TTS) while they were in the WMTM batch. Definitely a steal. I wanted the teal color and was afraid the berry color would be too brown, but it's a nice deep maroon. I'm glad I took the risk! Also, they are incredibly comfortable!!! I wore them out to brunch with my girlfriends and later that evening with other friends for a drink. Dressed them up a little and they worked great! In my opinion, they sit just like the model; fitted at the waist and slouchy going down like they should.
Date published: 2015-10-09
Rated

5

out of

5
by
crucru
from
relaxed but not sloppy
i usually wear 4 or 6 in lulu and got these in a 6 b/c my genetically generous-shaped calves never look good in lulu 7/8 pants that are fitted on the calves. the waist is a little loose but a tug on the drawstring helps keep them up. i have gotten compliments on these everyday (black cherry, great color)--embarrassed to say that i am "literally" wearing them everyday cause they are super comfy but doesn't make me look like a slob. also the looser backside means i don't have to worry about vpl. perfect for the fall weather. and pockets that fit stuff!
Date published: 2015-10-02
Rated

3

out of

5
by
Lucca
from
Size down
After a friend suggested these comfy pants, I ordered them (and on on sale, a plus!). I have over 100 pairs of Lulu pants and hadn't tried these yet. Here's the scoop...they run large. I ordered a 10 and should have gotten an 8. They are very high waisted and look much cuter with an oversized sweat, scuba, or a top that hits below the waist. I am giving 3-stars because of the fit, but I like them because they are versatile as Fall is arriving! Wear now with sneakers or flats and in winter, w/ Uggs or other booties. Fabric is typical Luon and always great!
Date published: 2015-08-27
Rated

5

out of

5
by
NoMountainHighEnuf
from
fancy pants!
Love these! I had been shopping WMTM for a pair of pants. I was a little hesitant to purchase these because of my body type and thought I would need a size 12 and there were none, only a size 10. But based on the "roomy" reviews, I ordered. I must say, they feel like a cloud on. They look fantastic too! I got the black cherry, which is a really nice change for office wear. I see some one on here got them for 34$??? I was happy to pay 69$!! I will keep watching for more of these pants. They really are fancy pants. ;-)
Date published: 2015-08-11
Rated

1

out of

5
by
laurieM
from
I purchased these pants in my normal lulu size but found them quite big (i ordered a 6 - they seem like a 10) plus the colour is a very bright version of this blue; not at all the colour shown; and the odor from the material is offensive. I definitely will not buy again.
Date published: 2015-05-07
Rated

5

out of

5
by
Blsnell
from
LOVE THEM,
These pants are fantastic. They are super comfortable and look like a dressy sweat pant! Fit is a bit big but that's what makes them comfy. Love the color too.
Date published: 2015-05-02
Rated

5

out of

5
by
ohyeah
from
Love them!
I love them! I love the colour, the style, and they are comfortable. I'm 5'9", 150lbs, and the size 10s fit me perfectly.
Date published: 2015-04-28
Rated

5

out of

5
by
mtnmama
from
No smell, fit TTS, L-O-V-E!
Mine didn't have any smell at all upon opening them from the bag (and I was super worried after reading all the reviews…I braced myself with thumb and index finger ready to plug my nose!). These fit TTS, are super cute, just enough extra room to hit the style trend, but definitely not too harem-y. LOVE! BUY!
Date published: 2015-04-27
Rated

5

out of

5
by
Gymnist
from
Love them
I absolutely love this pants, there so comfy and supper stretchy. I love how they look like cigaret trousers but they feel like sweat pants. Defiantly going to buy another pair.
Date published: 2015-03-20
Rated

1

out of

5
by
rachtherunner
from
SMELLS SO BAD
I really really wanted to like these shorts but they just stink so much. At first I didn't think that it was too bad and that the smell would go away in the wash but it just magnified and stunk up my entire closet. This was my first real purchase from LLL and I'm kind of skeptical now because everyone talks about its great quality although I dont really see it anymore. The pants are definitely REALLY comfortable and they look good (i sized down a size) but THEY SMELL SO BAD. At first it smelled like vinegar and after I washed it, they just smell like a rotten egg. Worst purchase ever.
Date published: 2015-03-02