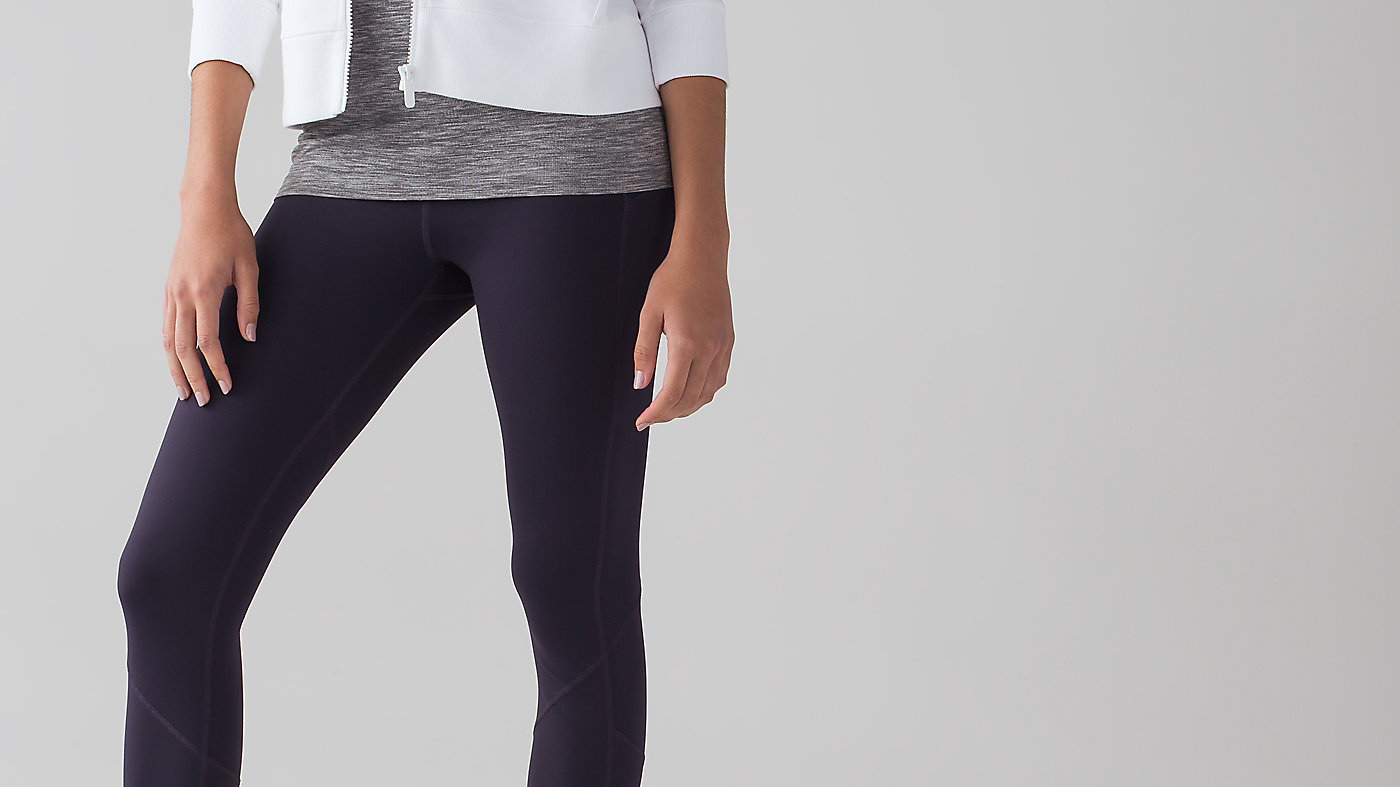 Article conçu pour
La course
---
---
lycra®
Le tissu extensible conserve sa forme grâce à l'ajout de fibres Lycra®
---
cordon
Personnalisez la coupe à l'aide du cordon à la taille
---
taille moyenne
La taille plus haute procure plus de couverture et de confort
---
sensation caressée
Conçu pour vous procurer une étreinte près du corps; il reste près de vous et bouge avec vous
---
ceinture à trois poches
Vous offre plusieurs options de rangement

Pace Rival Crop
is rated out of
5
by
174
.
Rated

3

out of

5
by
whit987
from
Size matters.
I bought these pants to replace a 5-year old pair, so my hopes were high as I donned my new pants no longer fearing that the holes in the seams would shed any undesired peep-shows. While this wasn't the issue, the saga began at the store and ended at the gym. First, I was bummed with the smaller sizing that Lu Lu Lemonnow uses. The sixes were just too tight to consider being comfortable (let alone the possibility of being see-through), and the eights fit, but I could tell that if they were to stretch out, the dinky little draw-string may not prove enough. So, despite knowing that I haven't truly gone up a size, I bit the bullet and bought the eights in the lovely teal colour. Maybe if I hadn't strayed from my usual all-black wardrobe, none of this might have happened! Just kidding. Anyway, at the cross-fit gym, as my workout went on, the pants loosened up, and I found myself pulling them up too often for my liking, and now as I have worn them [once], I am stuck with them for the duration of their life. You might say I should have used the drawstring, but I have a dislike for it. I have another pair of 7/8 pants (I can't recall the model), and I've used the drawstring, only to have the inner lining pull out. Luckily, no one will be mooned from the loose-fit, but it keeps me in discomfort during my workout whereas I would prefer to have a sort of second skin. The sixes, being the other best option, just felt way too tight for my own good. I wish there was a 7!
Date published: 2017-05-24
Rated

3

out of

5
by
scruffylookingnerfherder
from
In love but quality issues
I bought these a few months ago and while I absolutely LOVE them, I was saddened when the seams started coming apart. I now have a hole close to my rear and unfortunately cannot wear them anymore. I'm so sad as they are so amazingly comfortable and fit like an absolute glove. Hopefully it was just this once off pair that had this issue!
Date published: 2017-05-15
Rated

4

out of

5
by
IslandSweat
from
Great running crops but....
I just bought a second pair in nocturnal teal after getting a pair in navy because I loved them so much. I've run in the navy a few times now (5-10km distances) and they are great! They stay up well as long as my drawstring is tied (small waist, big butt situation here), I don't notice any issues with swass in these colours, the pockets are amazing and just the right size, AND I love the mesh. I've only used them for a few weeks so I can't comment on the durability or life of the crops that other reviewers seem to have issues with. I can say though that the nocturnal teal seem to fit a little looser than the navy. Not sure if this is because someone wore them previously (ordered them online but the pants weren't in their usual clear plastic) but I still like them and it doesn't bother me enough not to run in them.
Date published: 2017-05-11
Rated

5

out of

5
by
BlueThunder
from
MyNewFav
Love the print and the pockets are well placed. I have only had them a couple of months but so far so good, no stitching issues. Bought them for running, they're awesome! Comfy and keeps me dry and cool.
Date published: 2017-05-10
Rated

3

out of

5
by
ptm23
from
Perfect for running (if they'd stay in one piece)
I absolutely love everything about these crops for running - the fit, the pockets, the material. They stay perfectly where they need to be and I love the pocket space for my phone and the zippered back pocket for keys. However - the seams literally just started falling apart. The seam in the inner leg area is completely unravelling and there is now a hole there and I simply can't wear them anymore. It's super disheartening to find the perfect pair of crops but not being sure if you've got a lemon or if there are quality issues.
Date published: 2017-05-10
Rated

2

out of

5
by
run21
from
Not lasting
I bought one pair of these about 8 months ago, however the fabric stretched out so much I could no longer wear them. I took them into exchange and decided to give them another try. The new pair again has disappointed me. Not only have they stretched out again in the calfs, there is a growing hole in the mesh. I follow washing protocol and take great care of my lululemon. Was very disappointed in these overall.
Date published: 2017-05-09
Rated

2

out of

5
by
FabV
from
Love the crops except the stiching
My boyfriend bought me a new pair all black as a surprise gift a few months ago and loved them until I found the stitching starting to come apart on the outer hip and the inner thigh. I loved the crops as they wouldn't fall down when I worked out and kept everything in place but every time I wear them to crossfit or rowing I worry that this is the class the inner thigh is going to come apart. I love the crops but have now put them in the "at home" pile as I don't want to get embarrassed at the gym for having a rip in the seem.
Date published: 2017-05-02
Rated

1

out of

5
by
Wanderlust5
from
Keep your pace
I'm a long time Lover of Lululemon but some more recent purchases have been very disappointing. I bought these for crossfit and running with the help of a sales associate. I expressed my concern with sweat marks as I have that problem with a newer pair of wonderunders in a heather grey. The associated assured me this wouldn't be an issue with the Pace as they have a "sweat-wicking" fabric. So I left with a navy pair. I loved the hugging sensation and the stash pocket, which held up well during workouts. However, the "sweat-wicking" fabric is a fail. Whether my workouts have been light or heavy, I always have sweat marks in the crotch and rear area. As a result, I no longer wear these for workouts. Maybe I'm misunderstanding what "sweat-wicking" is meant to do but I have several other pairs of lulu and haven't had this issue. I don't mind spending good money for good product but Lululemon, I'm starting to question your quality.
Date published: 2017-05-01
Rated

1

out of

5
by
TraceyLynn
from
Poor Quality
I love these crops but I have to write about the quality. I've only worn these a few times the rip tag is still crisp and the seams on the crotch area are coming apart... the mesh area also has a hole. I have about 80 bottoms from lulu and this has NEVER happened to me before. I'm hoping it was just this pair .. I have high standards when it comes to Lululemon .. this isn't acceptable.
Date published: 2017-05-01
Rated

2

out of

5
by
zimmdoodle
from
Super Happy With Them At First, And Then *Insert Thumbs Down*
Purchased these because they seemed to be suitable for a wide range of activities ranging from Yoga to Backpacking. I noticed the stitching on one side of the outer leg started fraying a few months after purchase, but, because they were a prefect fit (which is super hard to find because I have an extremely small waist, but very muscular quads), didn't shift during the activities, and were super comfortable, I didn't think it was a huge deal. I actually ended up buying a second pair in Red. I soon found out that the red shows sweat, essentially making it look like you peed yourself in the middle of class (obviously unimpressed, and they are now sidelined except for lounging). Last night I put on my black pair, and the seam came apart. Not where they are stitched together, but where they are glued/or seam sealed.... I'm not sure how the pieces are put together, but there is no stitching in the area where it came apart. Such a disappointment because they were absolutely beast-mode at first, but now, suddenly, unwearable.
Date published: 2017-04-26